Of Inequality and Poor Internet: Online Classes a Necessity for All But a Challenge for Many In Jammu
While the privileged students are smoothly navigating the digital schooling world, the situation is adverse for those from socio-economically weak families.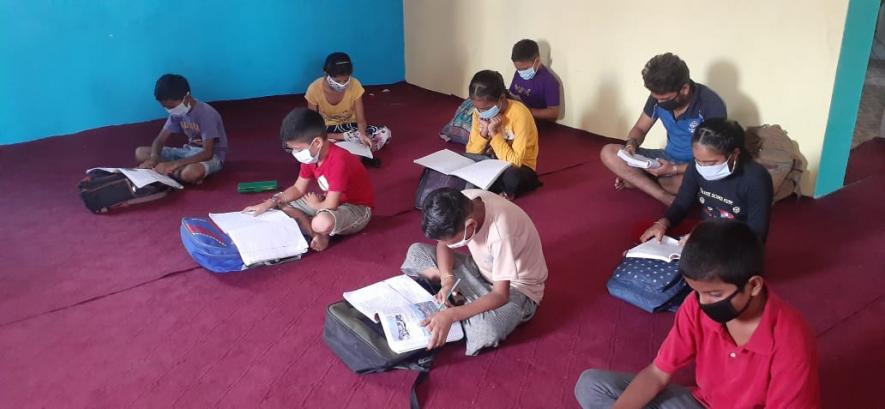 Jammu: Two months ago, Jyoti Bharti, 30, met Peeyush, an eight-year-old boy from her neighbourhood who had come to collect money to recharge his phone so that he could speak to his teacher regarding online classes, which he was unable to attend.
"I was heartbroken," she said.
That's when Jyoti decided that she would teach students from her locality every evening. Hailing from Dholian village, in the outskirts of the industrial town of Bari Brahmna in Jammu's Samba district, Jyoti now teaches 15 students on a daily basis. Dholian village, popularly known as Dalit Basti, is populated by dalits and non-local labourers from Uttar Pradesh and Bihar who work in the nearby factories in Bari Brahmna.
As the raging pandemic has led to schools and offices being shut, online classes have become a necessity. While the privileged students are smoothly navigating the digital schooling world, the situation is not the same for everyone. The lack of resources, including laptops, smartphones, WiFi, strong internet connection and technological knowledge, has made it difficult for a sizeable population, especially those from financially disadvantaged families, to have seamless access to digital schooling.
Jyoti says she caters to students who come from financially poor background with illiterate parents and can't afford to buy smartphones. She helps students finish their homework, which she receives on her WhatsApp. "They are the children of labourers and workers who are not educated. Even those who have managed to buy low-priced smartphones don't understand the homework they receive," she said.
Two months ago, 15-year-old Mandhir, who hails from Bhagwan Chak village of Bishnoi in Jammu, bought a second hand smartphone. But few days ago, his phone got locked and was given to the service centre for repair. Mandhir, who is partially handicapped with a limping leg, said that he had never used a smartphone until pressurised to buy one because of online classes.
"I am raised by a single parent, my mother, who works as a maid. So, it was very difficult to buy a phone. With the help of a friend, we bought a cheap second-hand phone and it got locked few days ago. I think this happened because I still don't know how to use it. I haven't attended any classes in the last few days," Mandhir said.
As per the 2001 census, the Schedule Caste (SC) population of Jammu and Kashmir is 7,70,155 and it constitutes 7.6% of the total population of the erstwhile state. The literacy rate among the SCs is 59%, of which 24.8% have received primary level education, 27.7% have attained education up to middle school level and 16.3% have achieved education up to higher secondary. Only 2.1% are graduates or above.
Dalit activist Satish Bhagat said online schooling has exposed the flaws of the education system and poverty in India. He said, among the dalits, the instances of parents helping their children with online schooling are almost rare because of low literacy and technological naivety of the adults.
One of Jyoti's students, Shweta, studying in Class 6th from Dholian village, elaborated on her experience of navigating through online classes while underlining that the internet connection has been an issue. "My parents have one smartphone which I use for 4 hours daily but the internet issues are there throughout the classes. At times, classes get disconnected."
It is pertinent to note that more than a year has passed since high-speed internet was banned in Jammu and Kashmir. However, high-speed internet was restored recently on trial basis in Jammu's Udhampur and Kashmir's Ganderbal district.
Commenting on the state of online education in Jammu, Anupam Bhagat, a senior teacher at Kendriya Vidhayala, shared a mixed experience. While she said that her technological skills were challenged and she learnt a lot in the process, she emphasised that online learning has been stressful both for teachers and students.
"We are failing to manage students because of low-speed internet. The number of students is less because many don't have a smartphone or a laptop. Those who are attending the classes can't be seen on videos because the connection is so poor. So we don't know whether they are attending the classes or skipping."
When asked about how students with no access to digital devices were pursuing, Anupam said: "We have encountered students who can't attend classes, so we message them the assignments. Few of them borrow phone from neighbourhood for few hours. There are also cases where there is only one smartphone for three siblings. In that case, we teachers work overtime and take individual classes to help them cover the backlog."
However, the experience has been varied even for those who have access to digital devices. Khushboo Mattoo, mother of a five-year-old, said that it felt they were raising lonely kids. "The online education has isolated the students, there is no physical activity; they feel lonely and want to meet their friends," she said, adding that it is difficult for parents who are working and cannot help children with classes.
Another parent, Asha, said that she was worried about the screen time. "My son is eight-year old and at this age, this much of screen time is somewhat a trouble."
Keeping in line with the centre, the Jammu and Kashmir UT administration has notified that schools in the region will re-open from September 21, 2020, with 50% attendance of students and staff.
"My intention will be that the students who were not able to join online classes attend the schools first so that their backlog is cleared," says Anupam.
Get the latest reports & analysis with people's perspective on Protests, movements & deep analytical videos, discussions of the current affairs in your Telegram app. Subscribe to NewsClick's Telegram channel & get Real-Time updates on stories, as they get published on our website.
Subscribe Newsclick On Telegram