Official Apathy Swamps Dehradun Villages After 2022 Flash Flood
Residents of villages in the popular tourist spot Maldevta along the Bandal River await adequate government relief and compensation.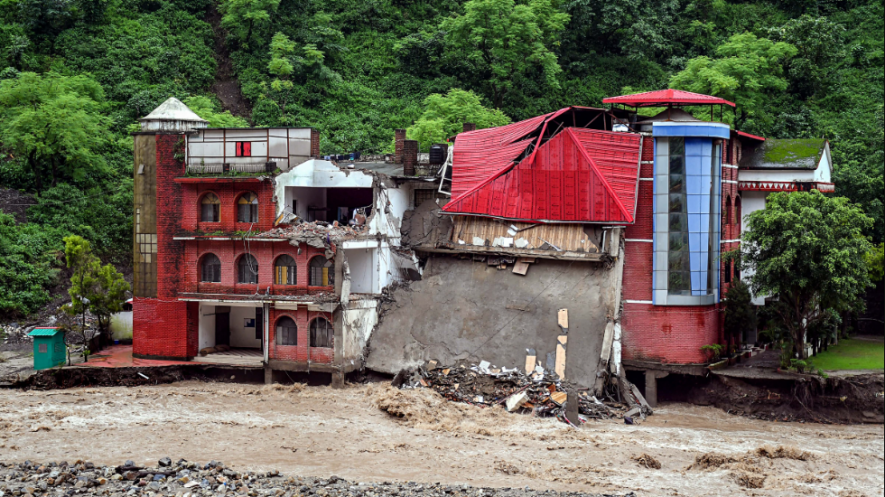 The Doon Defense College building collapses following incessant monsoon rains, near Dehradun, Monday, Aug. 14, 2023. Image Courtesy: PTI
The massive flash flood in Dehradun on August 20, 2022, wreaked havoc in several villages and destroyed vast swathes of agricultural land.
"The 2014 flood didn't do much harm. But the one in 2022 destroyed several homes," recalls Vijay Pawar, a native of Sarkhet village, as he looks at the barren bed of Bandal with a few dumper trucks and JCBs trying to create a proper barrier along the river.
Pawar, the owner of a small store and four to five bighas of farmland, is among the 200 farmers settled along the Bandal River. Sarkhet is one of the several villages in Dehradun's popular tourist spot Maldevta battered by natural disasters since 2014.
A view of the Bandal riverbed.
"The area was surrounded by lush green fields of crops along the riverbank," says Pawar.
According to his wife Aarti, the river was "hidden behind the lush fields". "We couldn't see the river from our shop," she says with her husband beside her. 
Farmlands, houses and public places, like Panchayat Bhawans, in several villages on Maldevta's stretch across the river have sustained massive damage.
In the early hours of August 20 last year, a cloudburst devastated multiple villages, including Sarkhet. Three of five people initially reported missing in the flash flood died.
The calamity severely impacted around 72 families, extensively damaged more than 40 houses and swept away livestock and vehicles as mud and debris consumed the village.
Pawar blames road construction in many villages across the hills above the river. "The river was very deep and irrigated the fields along," he says. "But the river level started rising as debris of hills cut to lay roads settled in its bed. Consequently, the river is flooded every monsoon."
In the days following the calamity, chief minister Pushkar Singh Dhami, the region's member of Parliament and other government officials visited Sarkhet and promised to compensate farmers who lost crops and people whose houses were destroyed.
"The villagers were compensated but it was too little," says Pawar adding that "we have been demanding the removal of the debris".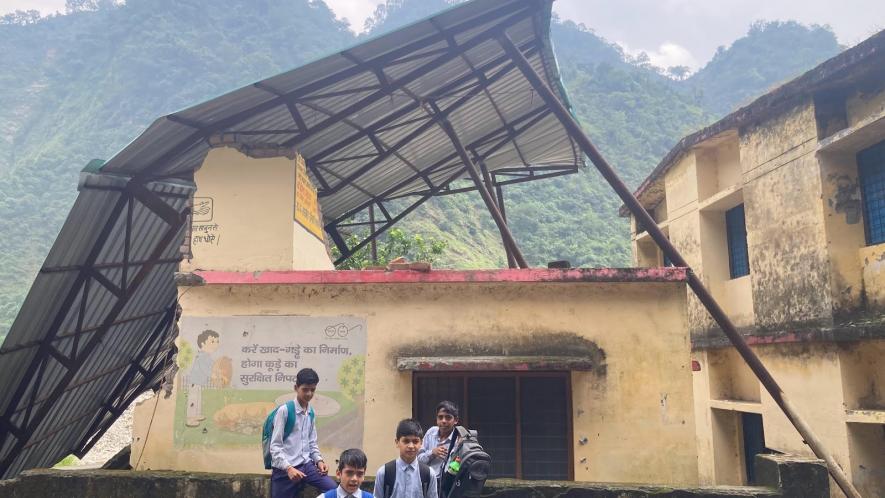 Sarkhet's Panchayat Bhawan was damaged by the flash flood.
When Pawar and fellow villagers demanded the debris removal, Dhami said that the "High Court has prohibited mechanised mining in riverbeds across the state and the debris would have to be removed manually".
"It is an impossible task. If not removed, the 2022 calamity could be repeated," warns Pawar.
In Dhantusera village, around 2-3 km up ahead from Sarkhet, the relief work has been patchy. An old GS Kaintura, a native of the village for decades, fears his house might be swept away if a similar disaster occurs.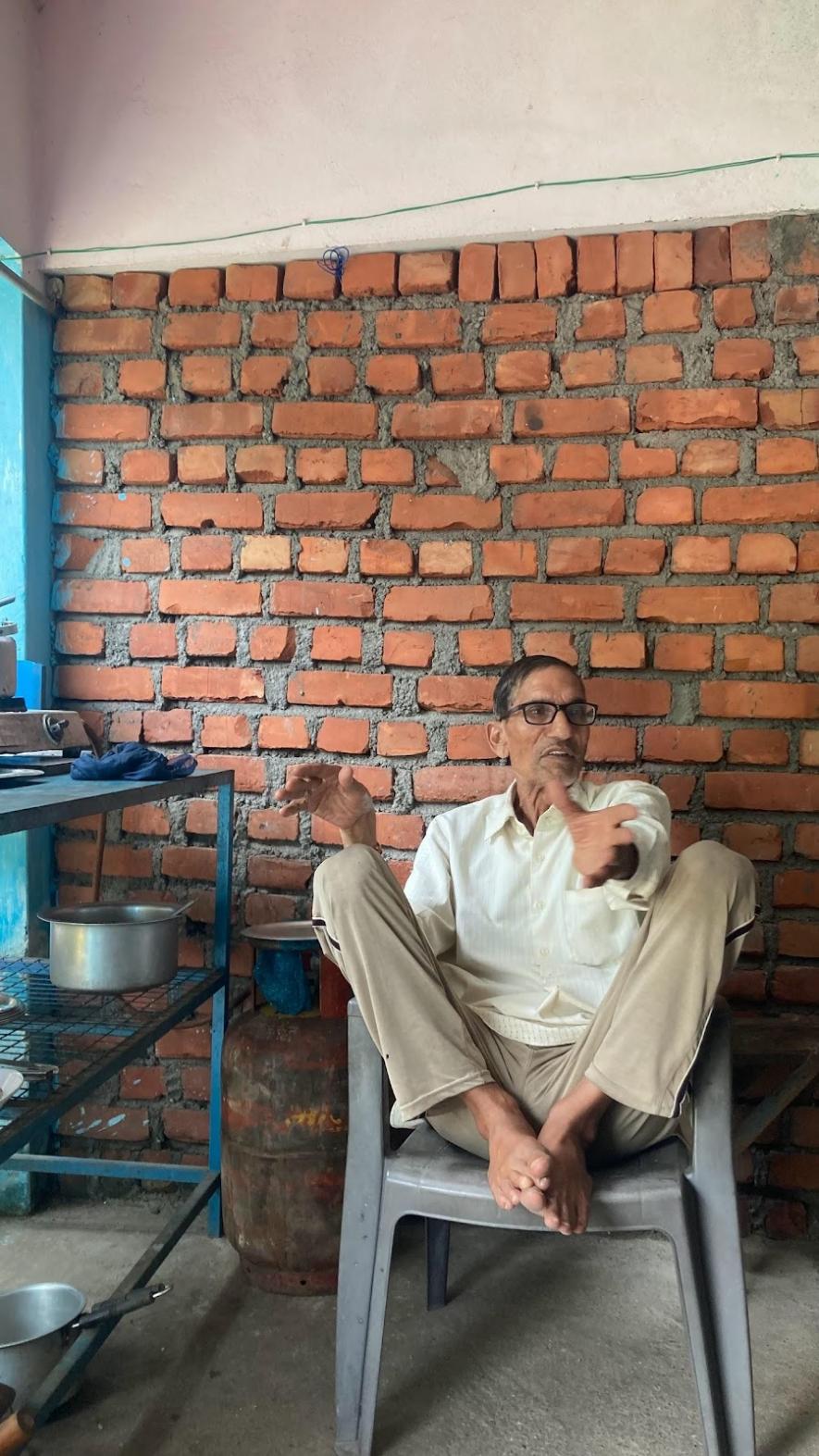 GS Kaintura at his tea and Maggi point.
"My home was flooded and damaged and farmland was crushed by the debris," says Kaintura, who feared staying in his house this monsoon.
Worse, he has "not received much compensation". "I was compensated only for the destroyed crops. Several ministers and politicians visited us but none paid heed to us," he adds. "Only people whose houses were destroyed were compensated." 
Kaintura, left with only a bigha or two of farmland, says, "It is dangerous to live here. The disaster has triggered migration to cities. Before the disaster, everyone flourished in this village."
A dejected Kaintura, whose bean crop—the only cash crop besides ginger grown in the area—was destroyed doesn't expect government assistance.
College student Arun Pawar explains that monkeys too are a big problem. "They destroy crops," he says. 
"Farming has a bleak future," says Pawar, who plans to work in Dehradun though he doesn't have much hope as his elder brothers too are daily wagers in the city.
"We lost around two bighas of our farmland in 2022. We were neither compensated for land or crop loss," he alleges. "Almost no one was compensated."
Pawar and his fellow villagers have had sleepless nights since the 2022 disaster. "If a similar calamity occurs, we might have to flee."
Roads, water and electricity have also been affected by this year's rain. "Below is a river threatening us and above is the danger of landslides—we are not safe here," his grandmother Sushila Devi says. "Perhaps, it would be best to stay in the plains."
A few houses in Dhantusera, including pradhan Neelam Kothwal's, were also destroyed. The owners moved to Bhawnta village, up the hill from Sarkhet, with the state government providing land.
However, Sarkhet's Vijendra Pawar doesn't agree with the relocation idea. "The government should've tried to relocate the residents to the plains, where there are more facilities," the farmer says.
Kothwal, who also lost her farmlands, was among the villagers relocated to Bhawnta. "We received Rs 1,05,700 compensation to rebuild their home. But our farmland was lost," says her father-in-law Karan Singh Kothwal.
The government promised new land to Kothwal's family. However, the uneven terrain is unsuitable for constructing houses unless flattened. The family has been staying in Bhawnta waiting for the government to deliver on its promises. 
"PWD officials visited twice to flatten the land but the patwari never brings the respective files and the measuring tape," alleges Karan. "The rate at which the government is working, I fear it might take two to three years to start construction," he adds.
According to Neelam, "Fourteen families were compensated. However, they remain displaced due to the delay in flattening and measurement of land. The sheer government delay is our biggest complaint."
Vijay Pawar adds that several affected families are Scheduled Castes. "They have suffered the most."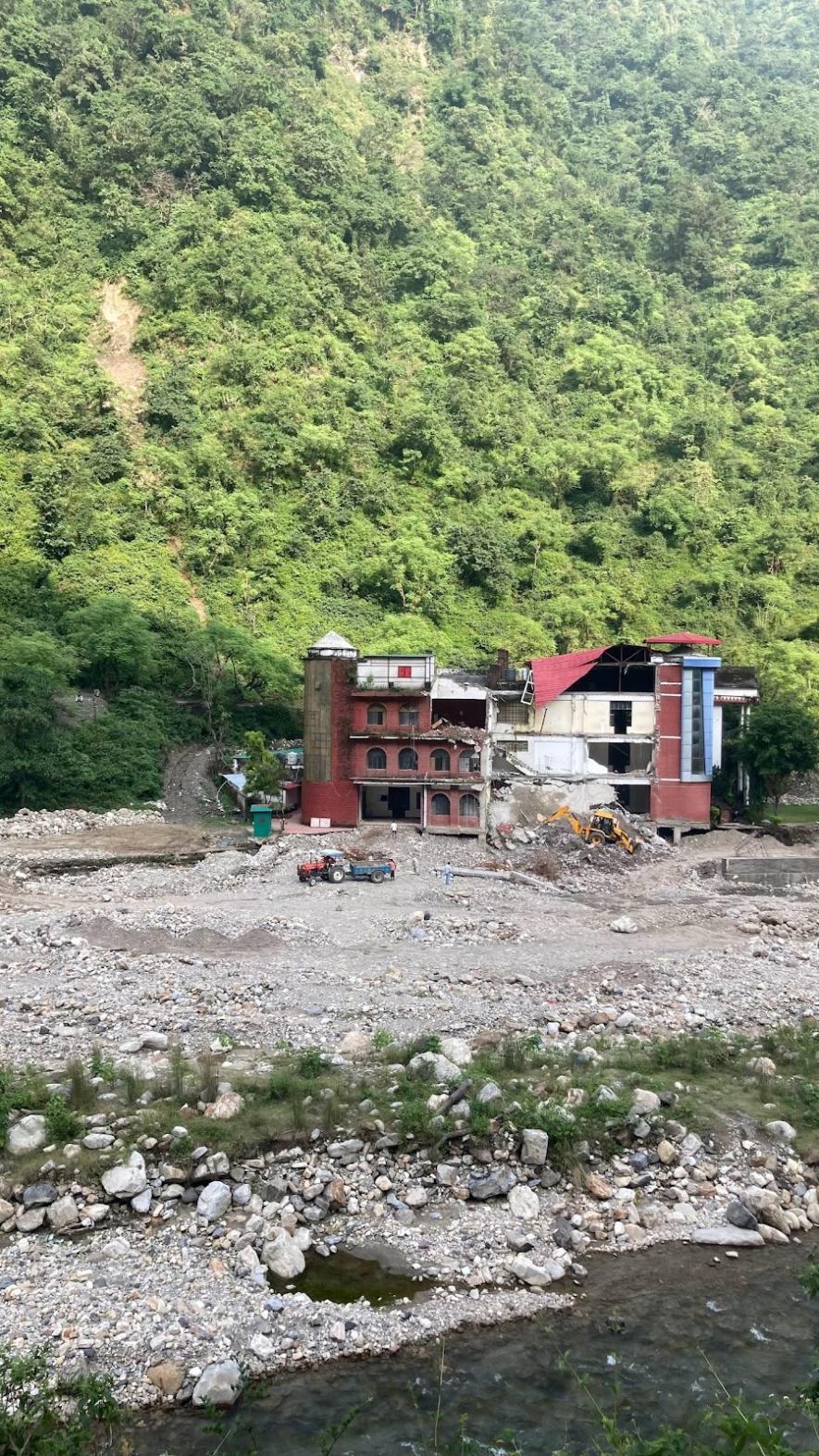 Several farmers in Maldevta said that their crops decayed due to erratic rains caused by climate change. Farmers in Sarkhet, Dhantusera and Bhawnta grow paddy and wheat for personal consumption and cash crops like ginger, French beans for the local market.
Vijendra Pawar quit farming and wants to sell his land to private parties who plan to build restaurants and cafes. "I quit farming after the flood. It's very difficult to manage water for irrigation. The gools (small canals) made by the panchayat often break during floods and other natural calamities, leading to water scarcity. I lost 6 out of 10.75 bighas of cultivable land to natural disasters in the last nine years," a frustrated Pawar says.
The writers are independent journalists.
Get the latest reports & analysis with people's perspective on Protests, movements & deep analytical videos, discussions of the current affairs in your Telegram app. Subscribe to NewsClick's Telegram channel & get Real-Time updates on stories, as they get published on our website.
Subscribe Newsclick On Telegram