Once a Moral Force Internationally, India Falls from Grace
EU parliamentarians are moving resolutions against CAA; India's image is dented yet again by BJP's domestic strong-arm tactics.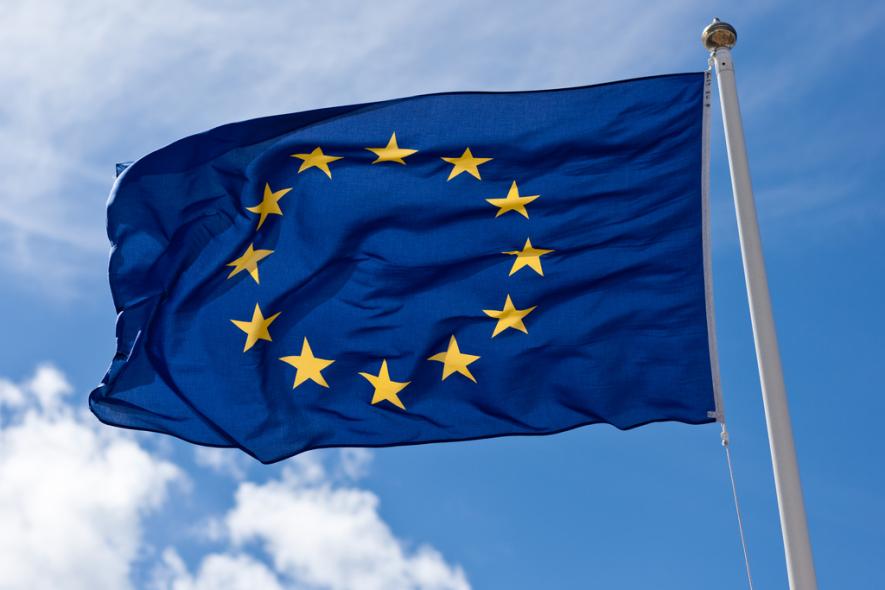 India's Constitution was a gift of the far-sighted leaders of the freedom struggle to the people of India. The Constitution remained at the heart of nation building for the first generation of Indian leaders, promising fundamental freedoms and hope that a diverse nation of multiple religions, ethnic diversity and caste divides, would finally emerge as a modern democratic country.
Many of the dreams of the founding fathers remained unfulfilled. Free India had many problems which have dogged it since Independence, like other newly-independent nations. Yet, despite the grave challenges, despite the fact that inequality, poverty and corruption seem almost endemic to the country, India's image around the world is of a beacon of democracy and secularism.
Much before the Constituent Assembly was formed, right through the freedom struggle, leaders deliberated on how best to amalgamate the best from every free country into the Constitution. Just 13 days after Independence on 15 August 1947, Dr BR Ambedkar was appointed the head of the drafting committee of the Constitution. It came into force on January 26, 1950.
India's birth as a free nation was accompanied by the blood-letting that followed the partition of the country. The non-violent movement for freedom which Mahatma Gandhi deployed with deadly effect on the British Raj was India's gift to the world. Gandhi showed for the first time in history that you did not need guns or weapons to fight for independence. It could well be done without bloodshed. Non-violent civil disobedience, or passive resistance, was a much more effective weapon. From Martin Luther King to Nelson Mandela, dozens of other world leaders were inspired by Gandhiji and India's example.
This moral integrity that Gandhi bestowed on India has become an integral part of India's image abroad ever since. "With each fast, each boycott, and each imprisonment (by a British Raj which feared to leave him free, feared even more that he would die on their hands and enrage all India), Gandhi came closer to his goal of a free India," Time magazine reported in on 30 June, 1947, weeks before India's Independence. India's freedom struggle was an inspiration for other people in Asia and Africa to throw off their colonial yoke. 
As every other new democracy, India faced many problems. Riots between Hindus and Muslims erupted ever so often. Many Hindus were not willing to give the space to Indian Muslims who preferred to live in a secular country rather than move to Pakistan, born of the conviction that the two communities could not live together. Despite all this, India's inclusive democracy remained a moral force in the world.
One of the major shocks to the Republic was the emergency when Indira Gandhi declared the emergency in 1975 and fundamental rights of citizens were suspended. There was fierce criticism of the government from across the world. India's international image took a beating. However, in 1977 she lifted the emergency and called for fresh elections. She deservedly lost the polls including her own seat. 
India is once again under threat and internationally the country's profile has plummeted. This is not because of its terrible economic performance and the downturn, but the social tensions unleashed by a democratic government's aggressive Hindutva agenda. The tendency to equate all those who are not cheerleaders of the ruling dispensation as anti-national, pro-Pakistani, the 'tukdey-tukdey gang' by senior government ministers and Hindutva supporters has been on since 2014. Yes, the BJP has won elections on the plank of a strong leader, a decisive government and development for all. That does not mean that every criticism of its policies are to be regarded as unpatriotic and crushed with state brutality.
The BJP's Hindutva ideology does not sit well with the nation's secular Constitution. With the opposition parties largely decimated by the Narendra Modi-Amit Shah juggernaut, and 300+ parliamentary seats, the BJP believes that the time has come to implement its ideological agenda.
It started with scrapping Article 370, and a clampdown on mobile and internet services, locking up of democratically-elected political leaders and doing it all in the garb of fighting terror. Next came the Citizenship Amendment Act 2019 and holding out the pledge that the National Register of Citizens would be introduced across the nation. 
The CAA took away the sheen of a secular India by conferring citizenship to all minorities from Pakistan, Bangladesh and Afghanistan fleeing from religious persecution. All save the Muslims, although Ahmadiyya Muslims continue to be targeted by terrorists both in Afghanistan and Pakistan. This is in clear violation of the Constitution. Add to this ruthless police crackdown of dissent in Aligarh Muslim University, Jamia Millia Islamia and JNU. And hounding political opponents with the Enforcement Directorate or the CBI. 
Today India has plunged ten places in the global democracy index ranking of the Economist Intelligence Unit because of the erosion of civil liberties. Corporate honchos gathered in Davos for their annual gathering of the rich and famous, are no longer buying into the India story. Everyone is asking questions about social unrest. It goes without saying that investors put in money to make a profit and an unstable social environment is the last place for that. Calls for freeing political prisoners in Kashmir have come from across the world. Now European Union Parliamentarians have introduced five resolutions against India, on CAA as well as fears of the NRC creating the world's largest stateless crisis. 
India has expectedly asked the EU not to interfere in its domestic problems and reminded MEPs that a democratic government is delivering what he promised. While a resolution or two can do little harm, it takes the shine off India's image abroad. This can eventually impact India's political relations with the EU. Despite the rise of right-wing forces in Europe, EU remains strong on human rights and democracy. Prime Minister Modi will be travelling to Brussels for the EU-India meetings in two months. 
India's great strength has been its inclusive democracy. Western governments have generally preferred doing business with a country where the rule of law is respected and social harmony is the norm rather than the exception. Though China is much ahead of India, Delhi's credentials as a democratic power are respected and preferred across the world. At the United Nations General Assembly, India's pluralistic and inclusive Constitution have been the country's selling point.
India's neighbours, including Bangladesh, are concerned as the NRC could directly impact them. Though the leaders have tried not to air their concerns publicly, they have raised the issue in closed-door meetings. Bangladesh Prime Minister Sheikh Hasina said in a recent interview that she felt that the CAA and the NRC were not necessary, though she maintained that these were India's "internal matters". Bangladesh has no choice but to be concerned, as the BJP uses the issue of illegal Bangladeshi immigrants regularly in its election campaign, promising to send them across the border.
Nepal and all others suffering because the South Asian Association for Regional Cooperation has not held its Summit after India pulled out in 2016, are desperate to revive it. Sri Lanka and all other member states all want it, but can do little to persuade New Delhi. 
India's image on democracy indices everywhere has been tarnished. The push-back by women and the young is perhaps the only silver lining. The world is watching. As an ambitious country hoping to get a place in the high table, Prime Minister Modi and his team need to rethink their strong-arm tactics. 
The author is a freelance journalist. The views are personal.
Get the latest reports & analysis with people's perspective on Protests, movements & deep analytical videos, discussions of the current affairs in your Telegram app. Subscribe to NewsClick's Telegram channel & get Real-Time updates on stories, as they get published on our website.
Subscribe Newsclick On Telegram