One big Step for Sabir, One Giant Leap for Seemanchal's History
A talented 25-year-old man from a modest family in Bihar's Katihar district beat financial obstacles with a passion for science and a strong will to become part of the Chandrayaan-3 mission.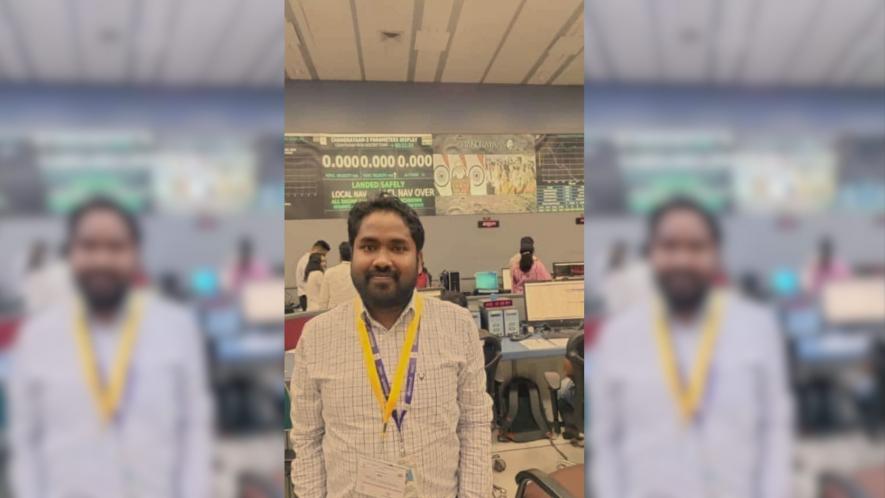 From admission to class 10 and securing a BTech in aerospace engineering from IIST, Thiruvananthapuram, Sabir Alam cracked every exam and funded his education through scholarships.
New Delhi: Progress knows no boundaries and can be achieved irrespective of circumstances. The inspiring story of Sabir Alam, a young scientist from the Indian Space Research Organisation (ISRO) belonging to a modest family from Barsoi, in Bihar's Katihar district, shows one can shoot for the 'Moon'.
Having a deep passion for science since childhood, Alam defied financial obstacles by proving his mettle as a part of the Chandrayaan-3 mission.  
"With my limited means of earning and arranging for quality education that could help him achieve his dreams, it was very difficult for me," his father Md Harun Rashid, a retired upper primary school teacher, told Newsclick. 
After completing upper primary schooling in his village Chhoghra (25 km from Barsoi on the Bihar-West Bengal border), where his father was posted, the 25-year-old was undeterred by challenges. He cracked the Jawahar Navodaya Vidyalaya (JNV) entrance exam, which offers free residential quality education to bright students in every district.
Alam was admitted to JNV at Kolasi, Katihar. After passing the 10th board examination with flying colours in 2012, he again secured admission to JNV at Puducherry for 10+2. 
In the succeeding months, he was groomed by Avanti, an NGO which in association with Tata Motors nurtures young minds to crack competitive examinations like IIT–JEE. Alam joined the coaching programme along with 17 of his other classmates.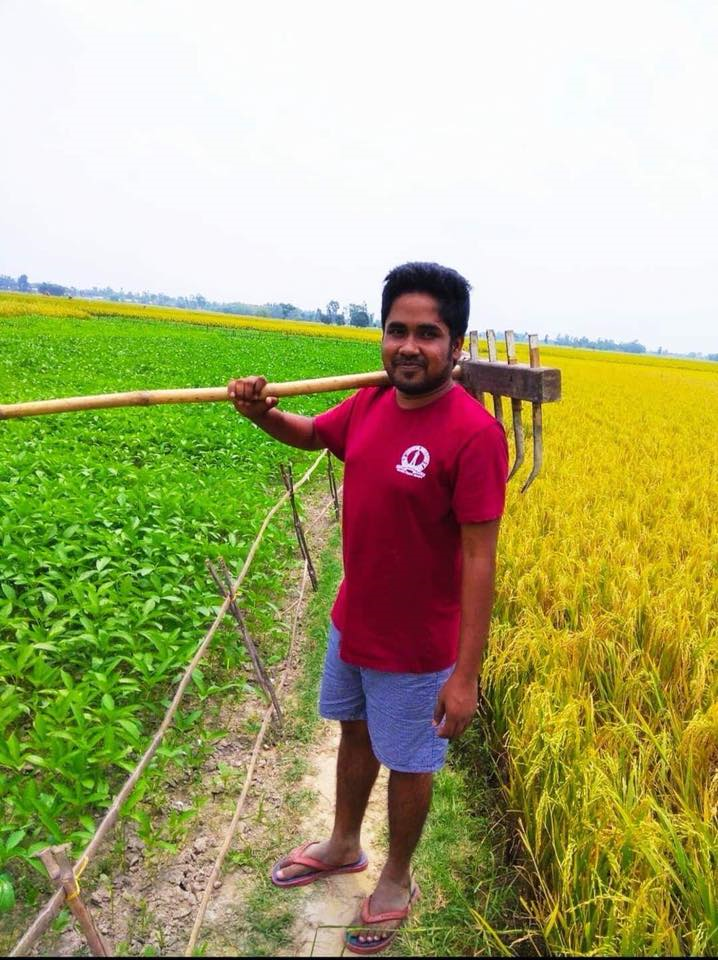 Sabir Alam was different from other youths of the Seemanchal region in his approach, temperament, willingness and resolve to learn and succeed.
Subsequently, he earned a BTech in aerospace engineering with good marks from the Indian Institute of Space Science and Technology (IIST), Thiruvananthapuram, in 2018. He was placed as an engineer/scientist at ISRO's Vikram Sarabhai Space Centre in the same year.
It was a moment of both joy and emotions back home when Alam, the family's eldest son, rang his father after the Vikram lander and Pragyan rover landed on the Moon on August 23. India became the first nation to reach the Moon's south pole and the fourth country to land on the Moon after the erstwhile Soviet Union, the United States and China.
"It was like Eid for us. People queued up at my house to congratulate us and shower blessings. It was quite natural as a young man from their area, which often grabs headlines for poverty and educational and economic backwardness, contributed his bit to the country's successful lunar exploration programme," Rashid said adding that both the parents offered supererogatory prayers.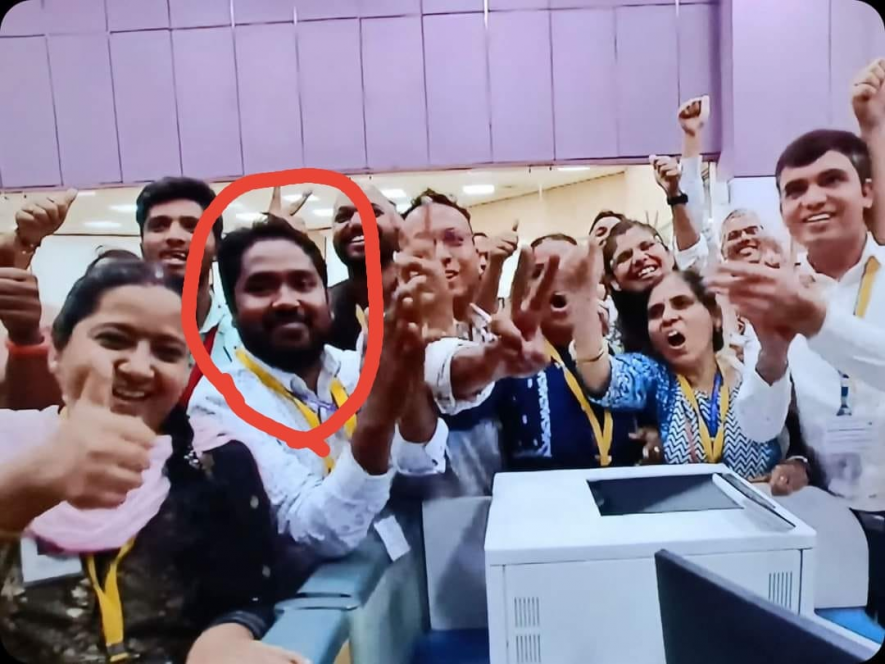 Sabir Alam and his fellow scientists celebrate the landing of Chandrayaan-3 on August 23.
Sabir's mother, a homemaker, does not know much about her son's achievement but is aware that he was part of the Chandrayaan-3 team—that's enough for her to boast.
"As a mother, I cannot express feelings in words. All I know is my son has not only made Seemanchal proud but the entire nation," she told Newsclick trying to control her emotions.
Asked about the economic challenges they faced while ensuring that their son got the technical education he desired, she said there was "zero investment" in his education.
"To be honest, he had to spend nothing on his education. He pursued primary and upper primary education at the village's government school, where his father was a teacher. Later on, he kept succeeding in all his attempts because of his firm determination and strong will," she said.
"In secondary and higher secondary schools, we had to spend nothing as the JNV bears all expenses of its students. During higher education, he got scholarships—and this is how it went on," she narrated.
Did she ever imagine her son working at ISRO and being part of such a prestigious mission? "I was unsure what he would do in the future. But I was sure that he would be successful in his endeavours," she said with a smile. "During his visits to the village, he often jokingly told me that he would take us to the Moon one day."
Mumtaz Naiyer, a UK-based scientist who also hails from Seemanchal, said that he had known Alam for the past eight years and never doubted his talent and abilities. 
"He was extraordinary since the beginning. He was different from other youths of the Seemanchal region in his approach, temperament, willingness and resolve to learn and succeed. Thanks to Sabir, we, the Surjapuri-speaking people, the Seemanchalis and the Biharis are part of this history now," he said.
"This will certainly motivate people, the youth and young students of this backward region to dream big. Last but not least, I wish to thank Sabir's parents as their son has brought glory to Seemanchal."
'NOT A FINAL GOAL, JUST A MILESTONE'
After getting into IIST, Alam wrote on the Facebook page 'Humans of Seemanchal': "To be honest, I don't think I have achieved something extraordinary or have made any breakthrough in my field of work. I don't think I need to write much about the Seemanchal region as its literacy rate itself speaks volumes about the region. I was just lucky to circumvent the problem of skyrocketing cost of education."
Although the quality of education at JNVs is undoubtedly good, he wrote, "we are living in an era of unprecedented competition where mere schooling is not sufficient for students to crack tough competitions, and students need extra coaching to prepare for major entrance tests like JEE, AIIMS and NEET". 
"Unfortunately, the charges for good coaching are exceptionally high and parents of rural students, who mostly depend on agriculture, cannot afford it. Once again, I managed to escape this huge burden due to simple awareness," he narrated. 
An NGO called Dakshana Foundation conducts the Grand Dakhsana Selection Test (GDST) at JNVs all over the country. Those who qualify for the test are given free coaching from the country's best coaching institutes. 
"I wrote the test, and by the grace of God, qualified it. I got selected for the residential coaching classes, which normally cost Rs 4-Rs 5 lakh, for free at Avanti. It has a huge success rate. Every year, around 70%-80% of students make it to the country's premier institutes like IITs, NITs or prestigious medical colleges," he said.
Even after cracking these tough examinations, he wrote, it happens very often that many students find it difficult to manage the hefty fees of engineering/medical colleges. Many resort to loans from banks, but he was lucky here too. 
"I learned about the Indian Institute of Space Science and Technology, Trivandrum, Kerala. This is a Central government-funded college which comes under the Department of Space, ISRO. You don't need to pay any fees unlike other engineer/medical colleges, including the hostel and mess fees, if you score a GPA above 7.5, which is quite an easy thing to do," he wrote.
"Also, while a lot of students even after completing graduation from good colleges are unable to find themselves a decent job, students of the IIST who are able to maintain an overall CGPA above 7.5 are recruited as the scientist/engineer 'SC' in ISRO without facing any competition or interview," he added.
Alam wrote that getting into ISRO is not his final goal but "just a milestone in a much larger journey and endeavours to come". 
As message to youngsters, he wrote "No doubt, there are hundreds of problems for people who come from backward areas, but you can still overcome them with dedication, hard work, strong willpower and most importantly awareness."
Get the latest reports & analysis with people's perspective on Protests, movements & deep analytical videos, discussions of the current affairs in your Telegram app. Subscribe to NewsClick's Telegram channel & get Real-Time updates on stories, as they get published on our website.
Subscribe Newsclick On Telegram