One Dead, 36 Injured in IED Blasts at Religious Gathering in Kerala
The blasts occurred at an international convention centre in Kalamassery where hundreds of followers of Jehovah's Witnesses had assembled on the concluding day of their three-day-long prayer meeting.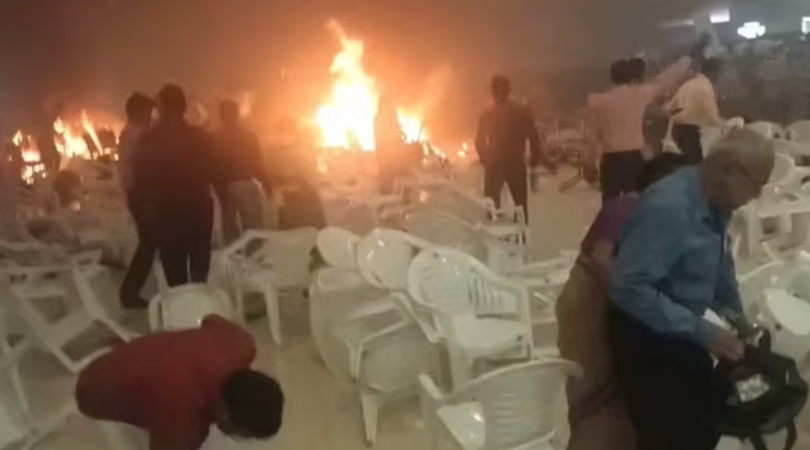 One woman died and 36 persons were injured, some seriously, in multiple blasts at a Christian religious gathering in a convention centre near this port city on Sunday morning, sending shockwaves across Kerala.
State Police Chief Shaik Darvesh Saheb told reporters in Thiruvananthapuram that according to the preliminary probe, an improvised explosive device (IED) was used to carry out the blasts.
The blasts occurred at an international convention centre in Kalamassery where hundreds of followers of Jehovah's Witnesses had assembled on the concluding day of their three-day-long prayer meeting.
Jehovah's Witnesses is a Christian religious group that originated in the United States of America in the 19th century.
"This morning at 9.40 am approximately, there was an explosion in Zamrah International Convention Centre in Kalamassery in which one person died and 36 people are undergoing treatment as per our information," the DGP said.
"We are examining it," he said, adding that a Special Investigation Team (SIT) will be constituted once he reaches the site.
A police source told PTI that there were three blasts, of which two were strong and the third was of low intensity.
On being asked whether tiffin boxes were used for packing the explosives as claimed in some news reports, the source said that it cannot be confirmed at this stage as the blast site was being examined by multiple agencies, including the state anti-terrorism squad and the National Investigation Agency (NIA).
The DGP, meanwhile, said he cannot say anything at this stage, and only after further investigation can he confirm whether it was a terror act.
"Only after the investigation can I confirm the details. We are examining all the angles. We will find out who is behind this and take stringent action against them," the top police official said.
He also urged people to maintain peace and remain calm and asked them not to spread provocative or hateful messages on social media.
The spreading of provocative or hateful messages on social media would invite strict action, he warned.
The incident was termed as "shocking" by Kerala Governor Arif Mohammed Khan and "extremely unfortunate" by Chief Minister Pinarayi Vijayan.
"Shocked to hear about the blast at a religious gathering at #Kalamassery, Ernakulam district, Kerala, killing one person and injuring over 20.
"Heartfelt condolences to the kin of the deceased and prayers for speedy recovery of the injured," the Governor said in a post on social media platform X.
Speaking to reporters in Delhi, Vijayan said, "It is an unfortunate incident. One person died, and two others are in serious condition. An investigation has been launched, and further details will be available later. The incident is being viewed very seriously."
The CM also convened an all-party meeting on Monday in the wake of the blasts at the convention centre.
CPI(M) State Secretary M V Govindan, who is in Delhi along with Vijayan for some party programmes, said any terrible actions aimed at diverting attention from the Palestine issue would entail strict action.
"When Kerala stands united with the people of Palestine, any terrible action to divert attention from it will entail strict action. The government and all democratic persons will together condemn it," he said.
Govindan also said that on viewing the incident politically in the prevailing situtation, it appears to be part of a terror act.
"That needs to be examined seriously," he said.
Kerala Revenue Minister K Rajan said no one, including the media, should take any steps or circulate information based on misconceptions about the incident.
Eyewitnesses recounted the terrifying moments following the blasts which occurred minutes after attendees began praying with their eyes closed.
Recounting her shocking experience, an elderly woman said, "When I opened my eyes after hearing the first blast, all I saw was a fireball in front of me.
"Nothing...nothing more...just a fireball. Everybody ran, scattered here and there. It was a sprawling hall, and a large number of people were inside."
Among the distressed crowd at the venue were senior citizens, including women who had participated in the morning prayers.
A man in his 70s, his voice trembling, described the shock of witnessing a blast in the midst of the densely populated prayer convention.
"I was standing at the side of the hall, praying with my eyes closed. Suddenly, a shocking blast was heard from nearby. I saw only fire around and ran to the door along with others," he said, wiping away tears.
In all his years of attending the convention, he said, he had never witnessed anything like this before.
Another woman, her hands placed on her forehead, struggled to find the strength to recall the events during the prayers. "There were several elderly people and children among the participants," she said, her voice quivering with emotion.
Visuals of the incident on TV channels showed fire rescue and police personnel in large numbers evacuating the site.
Outside the convention centre where hundreds had gathered, faces were etched with anxiety and tears. Inside, amidst the gloom and mystery that enveloped the site, police officers and firefighters searched for injured attendees.
Disturbing visuals of the blast inside the convention centre showed multiple fires inside the hall as people and children were heard screaming in fear.
The video also showed some people trying to quell the fires as the hall was littered with scattered and broken chairs, many of which were ablaze.
Following the blasts, police and district administrations across the state were put on alert.
State Health Minister Veena George urged all government healthcare professionals to report for duty.
Get the latest reports & analysis with people's perspective on Protests, movements & deep analytical videos, discussions of the current affairs in your Telegram app. Subscribe to NewsClick's Telegram channel & get Real-Time updates on stories, as they get published on our website.
Subscribe Newsclick On Telegram