One Year of Coup: Myanmar's Pro-Democracy Resistance Promising, But International Solidarity Wavers
ASEAN, India, and China have not only not condemned the coup but have accorded legitimacy to the coup regime in varying degrees. Normative commitment to democracy has been reduced to a banal practice in press releases.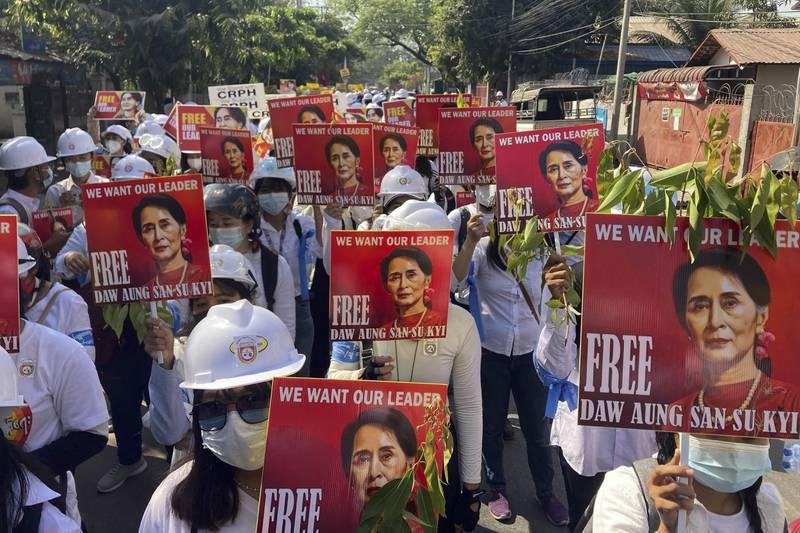 It has been one year since the military coup replaced the National League for Democracy (NLD) government in Myanmar. The military (Tatmadaw), under Senior General Min Aung Hlaing (MAH), arrested several members of the NLD, including Aung San Suu Kyi, alleging election fraud and even petty crimes. This began a chain of pro-democracy protests, resistance, and repression in the state.
Unlike in previous decades, Suu Kyi's dented credentials following her role and conduct in the Rohingya crisis has made it difficult for international civil society to stand behind her. Meanwhile, the Tatmadaw is eliminating political rivals and using force to suppress popular resistance.
BEYOND SUU KYU
Media attention on Myanmar peaks and ebbs with developments in former state counsellor Suu Kyi's case and eventual sentencing. The Nobel laureate has been sentenced to four years in jail on charges of illegal import of walky-talkies and violation of covid norms. Political opponents, activists, journalists are all facing persecution. Ko Jimmy, a pro-democracy activist, and Phyo Zayar Thaw, an NLD MP, have been sentenced to death. Any flicker of resistance from the general public is brutally repressed.
People in large parts of the country struggle for basic amenities like electricity, food and water, internet, and access to health and education. Further, in its attempt to suppress any resistance, the military is burning villages down following the scorched-earth strategy. The death toll is in thousands, and tens of thousands of people have already fled the country without expecting any welcome from neighbours like India and Thailand. The security forces allegedly burned alive two aid workers from Save the Children.
The international community needs to take note of the civil disobedience movement and widespread people's resistance to the military. EAOs, People Defence Forces (PDFs), and unorganised groups are in an armed struggle against the junta. The weakening hold of the Tatmadaw in the Irrawaddy valley (traditional stronghold) reflects the success of the resistance. The MAH regime is not as robust as its preceding juntas. The Committee Representing Pyidaungsu Hluttaw (CRPH) and National Unity Government (NUG), composed of NLD and other political parties' members, also provide a political alternative. The promise from these platforms for including Rohingyas has been a silver lining in an otherwise grim situation. There is greater potential in the current pro-democracy protests to be inclusive.
REGIONAL RESPONSES
In such crises, regional states generally have more significant stakes and the capacity to influence the events. ASEAN, India, and China have not only not condemned the coup but have accorded legitimacy to the MAH's regime in varying degrees. The normative commitment to democracy has been reduced to a banal practice in press releases.
ASEAN came out with a five-point consensus in the aftermath of the coup. After meeting MAH, the consensus was drawn and called for the immediate cessation of violence, dialogue amongst parties, and, most importantly, a special envoy and delegation to Myanmar. Brunei's Erywan Yusof, after a delay in appointment, made very little progress as a special envoy because the military stopped him from meeting stakeholders like Suu Kyi. ASEAN's initiative has further weakened under the chairmanship of Cambodia. Hun Sen, Cambodian PM, met MAH earlier in January, drawing criticism from other ASEAN members for his practical endorsement of the junta.
India has aligned itself with ASEAN's position on the matter. It even abstained on a UNGA resolution calling for an arms embargo against Myanmar. During his visit, Foreign Secretary Shringla met with MAH and with NLD members and civil society representatives. India has continued its aid to the state, primarily directed through civil society actors instead of the military. However, BEL's supply of air defence system to Myanmar casts doubts over India's commitment to peace vis-à-vis appeasement of the junta. India's primary concerns remain its border security, refugee inflow, and saving its investments like Kaladan multi-modal project.
China has deep relations with several players like the military, sections of NLD, and even in many EAOs. China, like India, is first concerned with protecting its province, Yunnan, from any spillover effect and continuing its infrastructure projects like China-Myanmar Economic Corridor (CMEC). It called the coup a mere 'cabinet reshuffle' and has continued the supply of weapons and directly provided vaccines to the military. Like other regional states, China has called for resuming the 'democratic process'—a mere diplomatic performance at this stage.
THE FUTURE
Hun Sen complying with the regional pressure, has asked the Myanmar military to make progress on the ASEAN five-point plan to seek representation at the next meeting of the Southeast Asian states. However, the situation in the state is too far complex to be resolved by any number of five-point plans. There are multiple stakeholders with varying agendas and capacities.
States have hesitated in taking a strong stand against the coup mainly due to significant investments in Myanmar. However, companies like Total Energies, Chevron, Woodside, and Adani are moving out due to the widespread chaos. This indicates that the investing states cannot protect their investments without working towards peace and conflict resolution in the region. The military's hold over Myanmar is weaker than ever. Redlines for the military's conduct must be established before engaging with them.
Further, while the states, especially the regional countries, might be reluctant to intervene in the conflict, they can persuade the military to recognise and engage with more parties like the NUG, CRPH, EAOs. Whichever path is taken, it must lead to democratic transition, creating an inclusive society and a federal polity.
Chetan Rana is a Ph.D. Research Scholar, Diplomacy and Disarmament at Centre for International Politics, Organisation, and Disarmament (CIPOD) in Jawaharlal Nehru University. He tweets at @ChetanRana96. His views are personal.
Get the latest reports & analysis with people's perspective on Protests, movements & deep analytical videos, discussions of the current affairs in your Telegram app. Subscribe to NewsClick's Telegram channel & get Real-Time updates on stories, as they get published on our website.
Subscribe Newsclick On Telegram