One Year Later, No Justice yet for Al Jazeera Journalist Shireen Abu Akleh, Killed by Israel Sniper
Journalist Sharif Abdel Kouddous, who worked on Al Jazeera English's award-winning documentary The Killing of Shireen Abu Akleh, tells Democracy Now that the Palestinian- American journalist was a US citizen and her family deserves justice.
"Ali [al-Samoudi] has been wounded." These were the last words of veteran Al Jazeera journalist Shireen Abu Akleh (51) before she was killed in a targeted attack by an Israel Defense Forces (IDF) sniper in Jenin, West Bank, on May 11, 2022.
Akleh, a Palestinian-American, was part of a group of journalists covering an Israeli raid on the Jenin refugee camp. Her colleague Al-Samoudi was lucky to survive after being shot by the same sniper, who fired three volleys of six, seven and three bullets each at the journalists, a joint investigation by London-based multidisciplinary research group Forensic Architecture and Palestinian rights group Al-Haq revealed.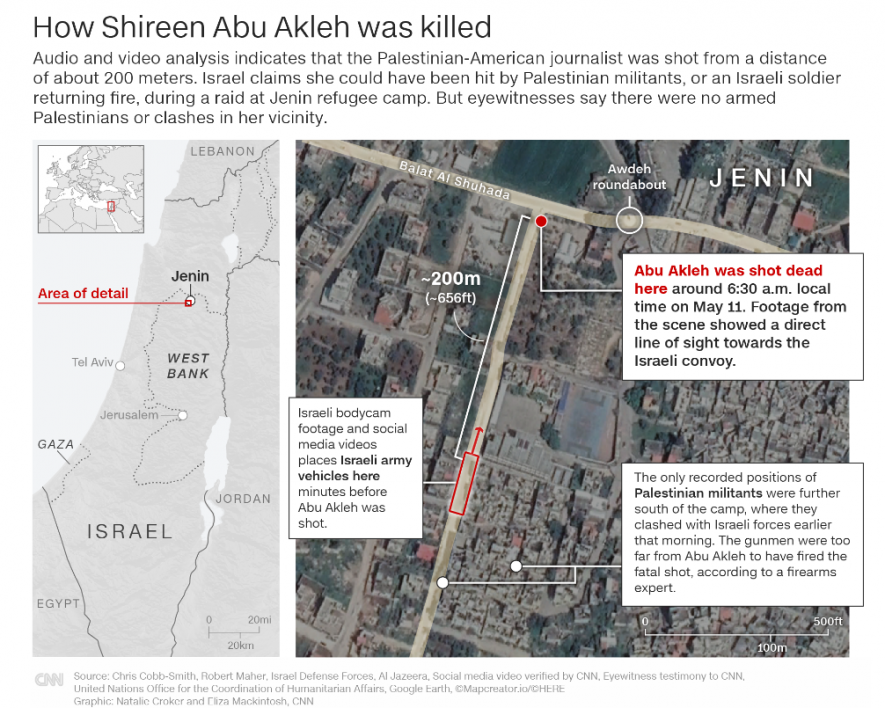 It's been a year since Akleh, who was with Al Jazeera for 25 years, was brutally eliminated—but no one has been accountable despite several testimonies of eyewitnesses.
In an interview with Democracy Now, Cairo-based independent American-Egyptian journalist Sharif Abdel Kouddous, who worked on Al Jazeera English's current affairs programme Fault Lines's George Polk Award-winning documentary The Killing of Shireen Abu Akleh, says, "There's still no justice in her case—no accountability whatsoever."
says Abdel Kouddous. While the US has been demanding the release of Wall Street Journal reporter Evan Gershkovich from Russia, Kouddous says, "Shireen was an American citizen, and her family deserves the same calls for justice and the same push for accountability from the White House."
There has been "very little pressure from—or perhaps, zero pressure from the White House, as Shireen was an American citizen, for accountability," despite US secretary of state Tony Blinken promising an investigation into the killing to Akleh's family, Kouddous tells award-winning journalist Amy Goodman, the main host of Democracy Now, and her co-host Nermeen Shaikh.
"A few months ago, the FBI, independent of the White House, informed the Israeli government that they were opening a probe into Shireen's investigation. The Israeli government said openly that it would not cooperate with that investigation. There has been no public disclosure of where that investigation stands. So, we'll have to see what comes out of that," he says pointing to America's lackadaisical attitude.
The US security coordinator, which is the liaison on the ground in the Occupied Territories, had said that "they were going to release—or senator (Maryland) Chris Van Hollen announced that they're releasing a new report, supposedly relatively soon. However, I don't think anyone is holding their breath about the findings in this report because the state department said just last week that there were no new findings or conclusions".
Questioning the Jully 2022 original report, which concluded that Akleh was unintentionally and likely killed by an Israeli soldier, Kouddous says, "They don't determine how they came to that conclusion. It also contradicts all the video evidence and eyewitness testimony. And it's also confusing because, apparently, the security coordinator in this review met with Forensic Architecture and Al-Haq, which provided the most comprehensive and detailed reconstruction of the killing."
The reconstruction showed that "Shireen and the group of journalists were repeatedly and deliberately targeted. They show a very high level of accuracy by the Israeli sniper".
However, the security coordinator's report "very closely mirrors the Israeli government's narrative that Shireen was caught in the crossfire although there's no evidence to substantiate that claim", Kouddous adds.
US President Joe Biden met Gershkovich's parents before the White House Correspondents' Dinner but "declined to meet with Akleh's family when he visited the region" last year and when they "have come to Washington, DC".
Though it is "outrageous but not surprising, because the US has been backing Israel for decades and granting it this impunity", Kouddous says.
A Committee to Protect Journalists report published a few days ago that mentioned the killing of 20 journalists by the Israeli military in the last two decades documents "very clearly a pattern of impunity and kind of very systemic similarities in Israel's response to each killing, including the most fundamental one, that no one is ever held accountable for them".
According to Kouddous, the killings "include, like, the standard playbook, which is pre-emptive denials of responsibility, pushing false narratives, discounting evidence in the case, and internal investigations that lack any kind of transparency and never lead to charges. This is exactly what happened in Shireen's case, and it shows that this is a pattern of impunity".
Akleh was one of the most prominent journalists of her generation killed in broad daylight despite wearing her press jacket and helmet with the word "press" clearly visible on them. "Much of it caught on camera with her colleagues there to witness it. If we can't find justice for Shireen, what chance does anyone in Palestine have?" Kouddous asks.
In the documentary, Kouddous asks Hollen, who "has led a group of his colleagues in pushing the Biden administration to investigate Shireen's killing", why the state department hasn't conducted an independent investigation yet?
"Their new view—not the original words of the secretary—is that they will take these other investigations that have been completed. The problem, the challenge is they have reached very different conclusions," Hollen replies.
"You have, first of all, the IDF report, which justifies the shooting and the shooting death based on claims that there was a crossfire. But you also have independent analyses that have been done that clearly dispute that claim. And the IDF has not put the facts on the table that show how it reached that conclusion. They have not made public their analysis," Hollen further says.
Hollen believes that the US didn't fulfil its duty. "I think we have a duty to do what the secretary of state originally said. They appear to have backed off. But I believe, and many of my colleagues believe, that we've got to get to the bottom of this, and it cannot be swept under the rug."
On World Press Freedom Day a few days ago, Medea Benjamin did a civil disobedience right at the feet of Blinken demanding to know more about what's happening with the investigation into Akleh's death.
Kouddous thinks "we should go to the words of the family. They just released a statement. And part of it says, 'Over the past year, our family has been forced to grieve while seeking justice and accountability for Israel's war crimes. From the beginning, we've called on the US government to act in the same way it would if any other American citizen was killed abroad.'"
"We miss Shireen every moment of every day. We wake up every morning hoping that we'll finally wake up from this nightmare. We love you Shireen", the statement further reads.
Get the latest reports & analysis with people's perspective on Protests, movements & deep analytical videos, discussions of the current affairs in your Telegram app. Subscribe to NewsClick's Telegram channel & get Real-Time updates on stories, as they get published on our website.
Subscribe Newsclick On Telegram