Only 8% of Children in Rural Areas are Studying Online Regularly, Reveals Study
The study pointed out that the predicament of Dalit and Adivasi households was worse than those belonging to other social categories, even among the underprivileged households.The study pointed out that the predicament of Dalit and Adivasi households was worse than those belonging to other social categories, even among the underprivileged households.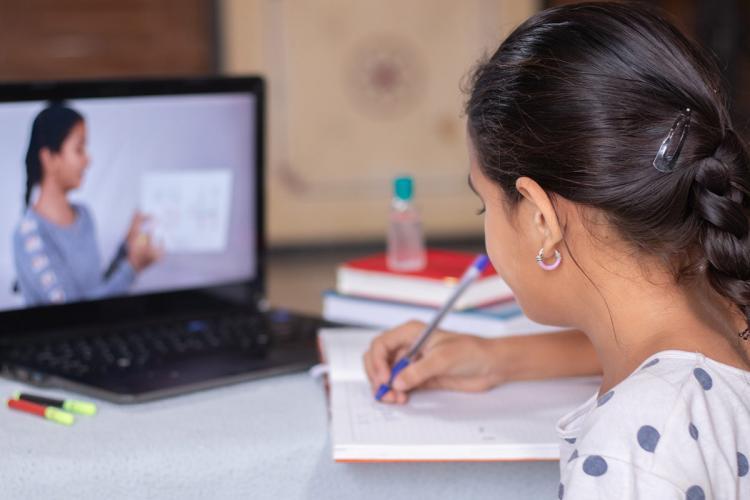 Representational Image. Image Courtesy: The News Minute
A recent survey of nearly 1,400 school children in underprivileged households highlights the catastrophic consequences of prolonged school closure in the last year and a half. According to the report, in rural areas, only 8% of sample children are studying online regularly, 37% are not studying at all, and about half are unable to read more than a few words. Most parents want schools to reopen as soon as possible.
The report, titled 'Locked Out, Emergency Report on School Education', has been written by Nirali Bakhla, Jean Drèze, Vipul Paikra, Reetika Kheram, and presents the main findings of the School Children's Online and Offline Learning (SCHOOL) survey. The SCHOOL survey took place in August 2021 in 15 states and generally attend government schools. There were 1362 sample households, and in each household, volunteers interviewed one child enrolled at the primary or upper-primary level. About 60% of the sample households reside in rural areas, and close to 60% belong to Dalit or Adivasi communitie. Four states account for about half the sample: Delhi, Jharkhand, Maharashtra and Uttar Pradesh. The sample children were more or less evenly distributed by gender and grade.
The report said, "The SCHOOL survey makes it clear that the reach of online education is very limited: the proportion of SCHOOL children who were studying online "regularly" was just 24% and 8% in urban and rural areas respectively. One reason for this is that many sample households (about half in rural areas) have no smartphone." But the report added that unavailability of smartphones is only the first hurdle, and even among households with a smartphone, the proportion of children who are studying online regularly is just 31% in urban areas and 15% in rural areas.
It said, "Another major hurdle, especially in rural areas, is that the school is not sending online material, or if it is, parents are not aware of it. Some children, particularly the younger ones, lack understanding of online study in any case, or find it difficult to concentrate."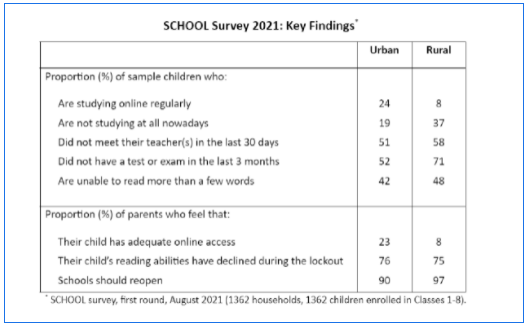 The SCHOOL Survey pointed out that among the children who were not studying online at the time of the survey, there is little evidence of regular studying. A large majority are either not studying at all, or just studying on their own time at home. In rural areas, nearly half of the offline children were not studying at all at the time of the survey.
It said that in many states, including Assam, Bihar, Jharkhand and Uttar Pradesh, virtually nothing has been done to help offline children to continue studying during the lockout. In other states, like Karnataka, Maharashtra, Punjab, and Rajasthan, some efforts have been made, for instance by giving "worksheets" to children offline as homework, or by instructing teachers to visit parents' homes from time and again for advice. However, the report added, "Most of these efforts, however, are far from satisfactory, judging not only from the testimonies of parents and children, but also from the fact that children's reading and writing abilities have been in freefall during the lockout. The youngest children, e.g. in Grades 1 and 2, have been especially deprived of support."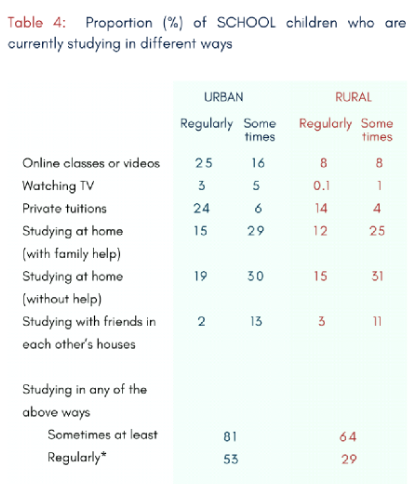 There are regular educational broadcasts for school children on Doordarshan, but only 1% of rural children and 8% of urban children in the sample acknowledged TV programmes as a regular or even occasional mode of study.
The study also highlighted the fact that midday meals have been discontinued in all the sample states with the closure of schools. It said that out of parents who have a child enrolled in a government school, about 80% reported receiving some food (mainly rice or wheat) during the preceding 3 months as a substitute for their child's midday meals, but only a small minority received any cash, and a significant proportion did not receive anything during that period. Also, among those who received some food, there were frequent complaints or indications that the parents received less than what they were entitled to (100 grams per child per day at the primary level).
The survey included a basic reading test: children were asked to read a simple sentence printed in large font. The findings were alarming: about half of the children currently enrolled in Grades 3-5 were unable to read more than a few words. In rural areas, 42% were unable to read a single word.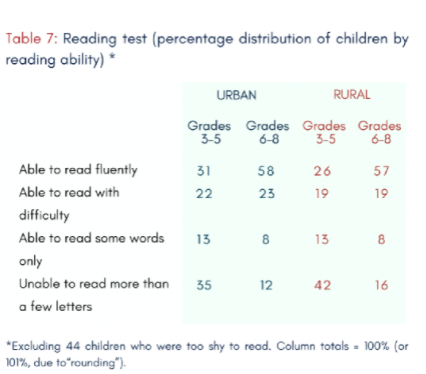 The report said, "To some extent, the dismal results of the reading test reflect the poor quality of schooling prior to the lockout. In addition to that, however, many children have forgotten much of whatever little they had learnt earlier. An overwhelming majority of parents felt that their child's reading and writing abilities had declined during the lockout."
The study also pointed out that the predicament of Dalit and Adivasi households was worse than average in the SCHOOL sample. It said, "Even among underprivileged households, the figures are much worse for Dalit and Adivasi families than for others, whether we look at online education, or regular study, or reading abilities. For instance, only 4% of rural SC/ST children are studying online regularly, compared with 15% among other rural children."
The authors highlighted that one of the likely consequences of the lockdown is a rise in cases of child labour. It said, "Even as some children have become labourers, others are struggling with idleness, lack of exercise, phone addiction, family tensions and other side effects of being locked out. This was not the main focus of the SCHOOL survey, but many parents did share worries of this sort. For instance, some parents complained that their children had become undisciplined, aggressive or even violent."
"It will take years of patient work to repair this damage. Reopening schools is just the first step, still being debated. In fact, even preparations for that first step (such as repairing school buildings, issuing safety guidelines, training teachers, enrolment drives) are virtually invisible in many states. After that, the schooling system needs to go through an extended transition period not only to enable children to catch up with a reasonable curriculum but also to restore their psychological, social and nutritional wellbeing. As things stand, the system seems to be heading towards "business as usual" when schools reopen – this is a recipe for disaster," the study concluded.
Get the latest reports & analysis with people's perspective on Protests, movements & deep analytical videos, discussions of the current affairs in your Telegram app. Subscribe to NewsClick's Telegram channel & get Real-Time updates on stories, as they get published on our website.
Subscribe Newsclick On Telegram