Open Campuses! Online Education is Hurting the Poor Students: AIFRTE
The All India Forum for Right to Education (AIFRTE) called for a protest outside the Ministry of Education headquarters in New Delhi, demanding that schools and campuses be opened for physical classes as online education is making students quit their studies.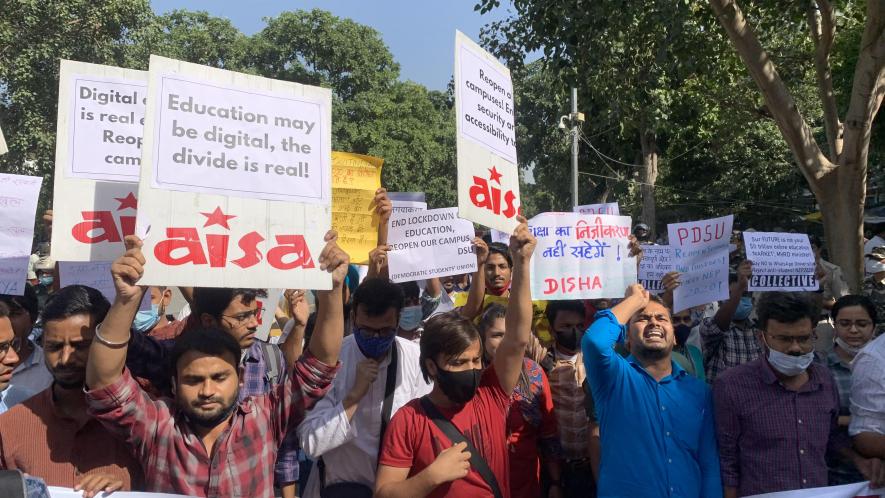 Leaving her deserted campus behind, Kamya Singh has joined the protest at Shastri Bhawan in New Delhi along with other friends to express her displeasure at closed campuses and schools. The iconic building in the national capital hosting the Ministry of Education headquarters witnessed a protest by the All India Forum for Right to Education (AIFRTE) on Thursday. The forum maintains that closed schools and campuses are destroying an entire generation of poor students by not giving them access to physical classes.
Singh, an M. Phil student at Centre for Economic Studies and Planning, Jawaharlal Nehru University, told NewsClick that learning has taken a toll due to this closure.
"The universities have already cut down the syllabus by half, and the rest is taught through dysfunctional classes where one cannot clear their doubts. They are only talking about online classes on paper. In reality, they have not given access to online journals and publications to students. Some of the students I know quit their studies because they hardly gained anything out of it," Singh said, adding that the crisis should be seen not only from an education perspective but also from an employment perspective.
"The students who could achieve something through self-studies are also suffering because they don't have access to study space. Some companies are now openly saying that they would not be employing the students passing in the pandemic period. It is a crisis of both education and employment."
Sujeet Kumar, who recently completed his Masters in Buddhist Studies from Delhi University, told NewsClick that students are suffering mentally as well as socially.
"It is mental torture to compel a student to listen to online classes when they cannot get proper signals, let alone high-speed internet, in rural areas. The students could interact with each other and clear their doubts in physical classes. No such thing is happening now. For girl students, pursuing education at home is a double barrier. Thanks to a patriarchal upbringing, everybody in the household expects the girls to do household chores. In cities, they could study without these hassles. That freedom is gone now," Sujeet said.
Prof. Madhu Prasad, former professor of Philosophy at Zakir Hussain College, believes that the perusal of online education without ground reality will lead students nowhere.
"Let me quote two facts; only 8% of families with children in the age group 5-24 have internet access, and 27% of households are living in just one room. When you club these facts, you find a horrible state of education where everyone is a loser," Prasad said.
When asked if she saw it as a blow to diversity, she remarked, "When the students from different backgrounds, including Dalit, Adivasi and other marginalised communities, converged, they brought a whole lot of diversity in academics. It helped us in understanding the different dynamics of poverty and its impact. It made academics rich. What are you going to achieve with a homogeneous set of urban, affluent students?"
The forum, in its memorandum to the Ministry of Education, said, "It is appalling that whereas the Union and state governments have taken all steps to re-open markets, malls, bars, hotels and cinemas, no steps have been taken to ensure that educational institutions are opened with sufficient health-checks in place to assure students, parents and teachers of their safety. The tragic consequence of this unnecessary closure is that lakhs of school and college students have simply had to drop out of educational institutions, and a large number have had to join the labour force in lowly paid jobs in an extremely hostile employment situation with unemployment at its highest in more than 45 years. All that Union and state governments are concerned about is how exams are going to be held and not about how the academic activities of the students are going to be restored. Without recourse to their teachers, with no access to libraries and with the totally inadequate so-called online 'solution' to the problem, the pressure on students to appear in these exams has created widespread psychological anxieties and even led to tragic suicides."
Get the latest reports & analysis with people's perspective on Protests, movements & deep analytical videos, discussions of the current affairs in your Telegram app. Subscribe to NewsClick's Telegram channel & get Real-Time updates on stories, as they get published on our website.
Subscribe Newsclick On Telegram