Oscar Tabarez: A School Teacher's Revolution Which Changed Uruguayan Football
Many Uruguayan footballers owe their careers to Oscar Tabarez's revolutionary ways, and fans in Montevideo have launched a campaign to honour him by rechristening a square in the city with the coach's name.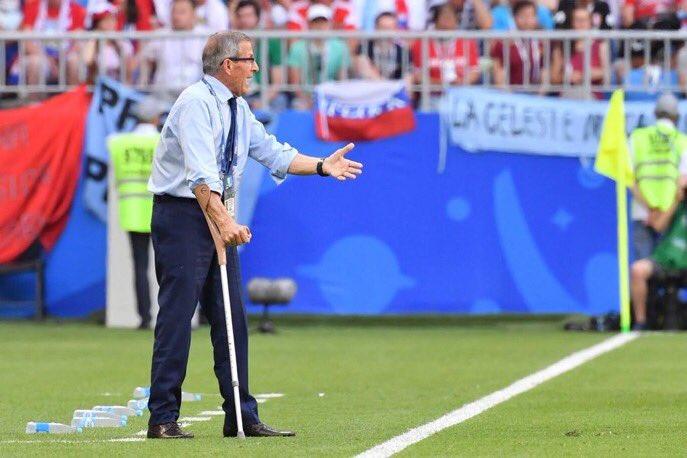 Back home, fans believe that Uruguay football team coach Oscar Tabarez's figure goes way beyond mere sports achievements to reflect values and principles in every aspect of life (Pic: FIFA, Twitter).
The man himself wouldn't think much of it. Oscar Tabarez rarely thinks much of anything besides football anyway. Head cocked to one side, if asked, he may have an intelligent answer for it. If it works out he will turn up, impeccably dressed, for it.
Fans in Montevideo have launched a campaign through the municipality's website to rename a square in the city in honour of their long-time national coach. By July 10, the petition had gathered 225 signatures – with 500 it becomes worthy of consideration.
Tabarez's figure "goes way beyond mere sports achievements" to reflect "values and principles" in every aspect of life, organisers said in interactions with the local media. Even for the casual Uruguayan football observer, this will strike true.
Also Read | FIFA World Cup: N'Golo Kante and the Art of Functional Football
Tabarez, after all, is a man who holds in his CV many unique distinctions – being a primary school teacher, holding Gabriel Batistuta back by the nipple during a riot in Santiago, defending an indefensible bite, and taking a country of three million to the semi-finals of the FIFA World Cup in 2010.
El Maestro has always had a complicated relationship with the press in his own country, who often find his methods and manner archaic, but has never denied the results they produce. He is forever a man of integrity, who defends his players first and derides them in private.
It is a stance he took in 2010, when Luis Suarez's blatant handball against Ghana took them to the semi-final, and four years later, when Suarez's bite on Giorgio Chiellini meant the striker was banned for the tournament.
In the aftermath of the ban, Tabarez railed against an 'English media conspiracy'. His sense of integrity is clear, but when it clashes with his loyalty, there is only one winner.
Also Read | Why England are Not Favourites in FIFA World Cup Semi-final vs Croatia
Tabarez first took charge of the national team in 1988, with a specific brief of cleaning up Uruguayan football's image in after their 1986 team's brutal approach to the game.
The famed 'La garra charrua' had gone too far, and the school teacher was called up to fix it. The immediate effect saw Uruguay progress through to the last-16 in 1990, and the long term effects of violent football were put to a stop. Tabarez moved on and moved next doors, to Argentina as coach of Boca Juniors. Stints with Milan, Oviedo, Cagliari followed before he headed back to where it began.
He may never have gotten back into the national fold if it wasn't for the sense of duty imbibed in him. In 2006, after Uruguay failed to qualify for the FIFA World Cup – beaten in the play-offs by Australia – the federation approached him to turn the country's fortunes around. Typically then, Tabarez decided to change the way his students viewed the game.
Uruguay has often been called South America's prism to Europe. In football, this has directly influenced their style of play. Where South American football is most associated with flair and footwork, Uruguayan football is about grit and desire. La garra charrua demands that a player be a warrior first and a technician later. Personnel fit the tactics, and if you don't fit you don't play.
Also Read | Indian Football Teams Missing in Action: Time We Look Beyond Asian Games​
Tabarez left those ideas in place and brought in newer, revolutionary thought, inspired by Europe but applied in the South American way. Where earlier, Uruguay's conveyor belt of talent relied on chance, he made it a guarantee. The national team began to be run like a club side.
Tabarez revamped the club structure and youth development -- now Uruguayan clubs are mandated to release their best young players to the national team for a few days every week of the year. At this 'camp', the players are put through the paces, allotted dormitories and given study time, all while being mentally prepared to become professionals.
Most national managers restrict themselves to tactical discussions and man-managing their senior players. Tabarez's role is almost that of a club coach. He is the man to report to, for the U-15, U-17 and U20 sides. He has also worked to ensure facilities and infrastructure is developed in a way where players do not suffer.
Also Read | World Cup: Lukaku, Mbappe and the Colonial Ghosts Within Belgium and France
The changes are there to see. Uruguay's bright stars in Russia, Rodrigo Bentacur, Nahitan Nandez and Lucas Torreira average 21 years in age. Of the squad that won the 2011 Copa America, direct replacements have been found: Jose Gimenez for Diego Lugano, Diego Laxalt for Alvaro Pereira and Torriera for Arevalo Rios. Even Suarez and Edinson Cavani will eventually be replaced. And so will Tabarez. 'The Process' ensures that the conveyor belt will keep rolling.
In his book Essential Care: An Ethics of Human Nature, Leonardo Boff quotes Che Guevara to illustrate a point about thought over commitment to a cause. Hay que endurecer pero sin perder la ternura jamas goes the quote, roughly translated as, one must grow hard without losing tenderness. The quote could have well been attributed to Tabarez, and no one would have noticed.
The school teacher's future is out of his hands now. And perhaps a deserved retirement is in order. In a not so distant future, several Uruguayan players will owe their careers to Tabarez's revolutionary ways. If all plans go through they will also celebrate their triumphs at a square named for the man who, in an obtuse way, got them there.
Get the latest reports & analysis with people's perspective on Protests, movements & deep analytical videos, discussions of the current affairs in your Telegram app. Subscribe to NewsClick's Telegram channel & get Real-Time updates on stories, as they get published on our website.
Subscribe Newsclick On Telegram