Over 500 Aadhaar Activists, Organisations Slam EC's Proposal to Link Aadhaar with Voter ID
The ECI's claim that this linking would be based on "voluntariness" is a grossly inadequate safeguard as highlighted throughout the Aadhaar project that "voluntary" on paper translates to a coercive mechanism in practice, the statement says.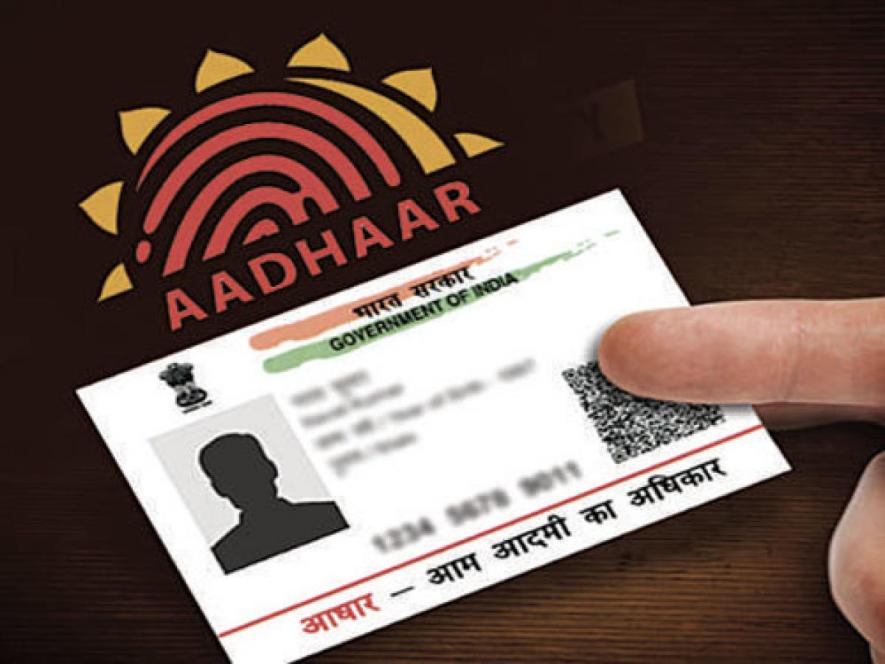 Image Courtesy: Deccan Herald
Over 500 prominent individuals, including former civil servants, journalists, social activists, researchers and students, in a statement, have strongly opposed the Election Commission of India's (ECI) proposal to link voter ID cards )and the "EPIC" database) with Aadhaar, calling it a "dangerous idea which can fundamentally alter the structure of our democracy."
Other signatories include "electoral reform group, Association for Democratic Reforms, civil rights groups from across the country such as the Peoples' Union of Civil Liberties, MKSS, Adivasi Women's Network, Chetna Andolan, and NAPM Jharkhand; and digital rights groups including Rethink Aadhaar, Article 21 Trust, the Internet Freedom Foundation, the Bachao Project, and the Free Software Movement of India."
As per reports, the government is introducing certain major voting reforms based on the EC's recommendations. According to EC, the proposal to link Aadhaar with Voter IDs is aimed at weeding out duplications. The Elections Laws (Amendment Bill, 2021 that would link electoral rolls to Aadhaar numbers would be introduced in the Lok Sabha on Monday, December 20. The Bill would allow "electoral registration officers to ask for Aadhaar numbers of applicants wanting to register as voters to establish the identity of the applicant."
The statement is as follows:
Linking Voter ID and Aadhaar is an ill-thought, illogical, and unnecessary move which could undermine our electoral democracy, and impact voters' trust in the electoral system. Indians' right to vote cannot be imperilled by irresponsibly linking databases and using an opaque algorithm to "verify" identities. Technological solutions cannot replace responsible administration. Timely door-to-door verification of voters remains the most effective method of updating electoral rolls and ensuring accuracy of voter data.
The Election Commission has claimed that this will help clean up voter rolls, and that any linkage will be "voluntary". As we noted in our earlier representation, and as the Constitutional Conduct Group has recently noted, we are deeply concerned that this will almost certainly lead to mass disenfranchisement, could increase voter fraud, given the mass discrepancies in the Aadhaar database, and could violate people's right to privacy by enabling voter profiling through the linkage of data sets. This proposal would violate the judgment of the Supreme Court of India in Justice K.S. Puttaswamy (retd.) & Anr. v. Union Of India (Aadhaar judgment) which limited the use of Aadhaar authentication solely to welfare programmes and to link with PAN numbers for the purposes of income tax. Any proposal to link the UID with Voter IDs must be rejected.
We are concerned about the following harms from such a proposal:
First, Aadhaar is not proof of the right to vote. Aadhaar is not, and was never meant to serve as proof of citizenship, which is why Aadhaar numbers were issued to all residents and not citizens. Under the Representation of Peoples' Act, only citizens who are residents in India have the right to vote. Linking the two is senseless, and would be without any basis - in addition to being a colossal waste of public funds. Deletion of voters based on whether their records in the EPIC database corresponds to Aadhaar records has no legal basis.

Second, such a proposal will almost certainly cause mass disenfranchisement. This is not the first time that the government has tried to link Voter ID and Aadhaar to "purify" the electoral rolls. In 2015, the Central government introduced the National Election Roll Purification and Authentication Programme (NERPAP), and during the Aadhaar challenge, the Supreme Court passed an interim order on August 11, 2015, asking the ECI to suspend Aadhaar voter linkage. As this was never permitted by the Supreme Court in its final judgement and order, proceeding with this would be in violation of the Supreme Court's judgement. Despite this, there was rampant misuse of Aadhaar data. In 2018, the chief electoral officer of Telangana and Andhra Pradesh linked Aadhaar data with voter identity cards. In 2018, during the Telangana Assembly Election, people found out that at least 55 lakh voters had been arbitrarily disenfranchised. It was only after public outrage around these arbitrary deletions that the government rolled this back.

Previous attempts to use Aadhaar to "clean-up" databases of other government registries, like MGNREGA and PDS, have resulted in mass disenfranchisement, and thousands of citizens have been arbitrarily deleted from systems without any notice. For example, a study from Jharkhand found that 90% of ration cards cancelled as "bogus" during Aadhaar linking were real. In 2018, even the CEO of UIDAI admitted that authentication failure for government services was as high as 12% - this translates into millions of affected persons. A recent J-PAL study in Jharkhand also found that Aadhaar based verification "either did not reduce errors of inclusion or leakage or did so at the cost of increased exclusion error", with a high error rate of between 22% and 34% of reduced disbursals. Once lost, Aadhaar has been found to be almost impossible to retrieve; whereas for voter IDs there are simpler and more well-defined ways to replace a misplaced voter ID card.

Third, such a proposal is more likely to increase voter fraud. Linking Aadhaar would dilute the sanctity of the Voter ID database. As we pointed out in 2019, self-reported errors in Aadhaar data are reportedly one-and-one-half times higher than errors in the electoral database. The assumption behind the proposal to link the two databases is that the authenticity of people's records in the Aadhaar database will be used to determine the authenticity of a record in the Voter ID/ EPIC database. However, given widespread data quality issues in the Aadhaar database, this exercise would diminish the sanctity of records in the Voter ID database. Data quality issues in the Aadhaar database – a result of inadequate enrolment practices and lack of effective correction mechanisms – have been extensively documented - including fake entries and incorrect details. The UIDAI has itself admitted this, before various courts, and multiple Courts have refused to accept Aadhaar as proof of birth, or of identification. More recent research has also shown that Aadhaar-PAN linking has introduced fraudulent entries into the system.

Fourth, Biometric authentication for voting must not become a requirement. There are numerous reports of starvation deaths across states due to a lack of Aadhaar linkage, biometric failures, absence of adequate infrastructure and lack of adequate grievance redressal mechanisms in UIDAI's implementation which has been painstakingly exposed by the Right to Food campaign. Fingerprints don't work for many people, especially those who work with their hands and older persons, and facial authentication is inaccurate and error-prone. The UIDAI has sought to circumvent the inaccuracy and issues in biometric authentication through an ill-conceived "nominee system", and OTPs in the case of welfare programs. How will this work in the case of voting? Will we have to send family members to vote instead, if our fingerprints don't work? It's also pertinent to mention that election booths are sometimes set up in remote locations, where voting has to be processed manually. Even EVMs are not connected to an internet connection, to prevent any kind of tampering. In such locations, how will biometric verification work in absence of the internet?

Fifth, linking these two databases would be an attack on the right to privacy, and scope for misuse. We have serious concerns that such a proposal would violate our constitutional and fundamental right to privacy and the secrecy of the vote. India currently has no data protection law, and the current personal data protection bill has wide exceptions for the government. Any attempts to link Aadhaar to the voter IDs would lead to demographic information which has been linked to Aadhaar, being linked to the voter database. This creates the possibilities for disenfranchisement based on identity, of increased surveillance, and targeted advertisements and commercial exploitation of private sensitive data. In 2019, the Cambridge Analytica scandal demonstrated the disastrous impact that deep and invasive voter-profiling had on individuals and on democracies. We have seen this in India: most recently, the Madras HC has asked the Election Commission to look into allegations against the Bharatiya Janata Party that it was illegally using Aadhaar data of voters in Puducherry for making political gains in the Assembly elections. In 2019, an investigation revealed that data could have been taken from the UID database in order to delete voter names in Andhra Pradesh - names were taken from the voter lists. This could be particularly harmful against minorities - a 2018 report found that 20% of Muslim adults were missing from electoral lists in Karnataka. We have learnt from other countries how a single form of identification for voting, leads to greater disenfranchisement. In some cases, onerous identity requirements are used to block disenfranchised persons from voting.
Finally, we cannot trust the ECI's promise of "voluntariness". The ECI's claim that this would be based on "voluntariness". This is a grossly inadequate safeguard. We have seen how throughout the Aadhaar project "voluntary" on paper translates to a coercive mechanism in practice; and how this changes with time and in practice.
Any proposal to link the UID with Voter IDs must be rejected."
Get the latest reports & analysis with people's perspective on Protests, movements & deep analytical videos, discussions of the current affairs in your Telegram app. Subscribe to NewsClick's Telegram channel & get Real-Time updates on stories, as they get published on our website.
Subscribe Newsclick On Telegram