Pak Religious Protests: Signs of Talibanisation?
The Pakistan government has repeatedly surrendered to religious extremist and terror outfits and even given them legitimacy by using them as proxies in furthering its foreign policy goals.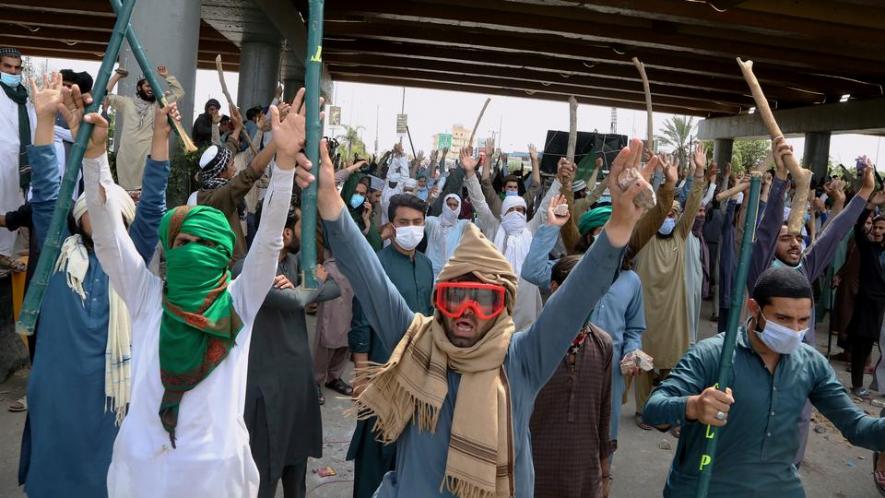 Image for representational use. Credit: TRT World
The impact of the growing spread of fundamentalism in Pakistan is now in the open with the Imran Khan government surrendering to extremist Islamist outfit Tehreek-e- Labbaik Pakistan (TLP), banned by it, and acceding to its demands after a mammoth crowd of protesters threatened to storm Islamabad. Days before, at least eight people, including four policemen, were killed in violent clashes that erupted between police and security forces and armed TLP mobs. The Pakistani regime seemed to have no other choice but to accept TLP demands by releasing 350 of its activists and withdrawing cases against them. It also agreed to 'debate' in Parliament their demand for ouster of the French ambassador following certain alleged comments by President Emmanuel Macron and some caricatures in the French media, that were viewed by the outfit as blasphemous. This show of strength by the TLP was not the first carried out by it. Neither was it the first time that the Pakistan government succumbed to right-wing extremist pressure.
SERIES OF PROTESTS BY RADICAL ISLAMIST OUTFIT
This far-right Islamic extremist outfit, which later declared itself as a political party, was founded by Khadim Hussain Rizvi in August 2016. It came into being after a massive protest in March that year organised by the Tehreek-e-Labbaik-ya-Rasool-Allah (TLYRA), that shook the political establishment, particularly the established religious parties. The TLYRA announced 10 demands including imposition of the Shariah, banning anti-Islam NGOs, an assurance that the blasphemy law would not be changed, unconditional release of all religious leaders and clerics including those arrested or convicted on charges of terrorism and murder, and removal of all Ahmediyyas and non-Muslims from government positions. After three days of violent protests, the government and TLYRA leaders agreed on a seven-point deal, which helped TLYRA to exhibit its legitimacy and clout. Following this, the TLP was set up in August 2016.
Months later in 2017, the TLP again carried out violent mass protests demanding a change in the language of  the oath taken by parliamentarians. The Pakistan government again succumbed and got the electoral reform bill passed in Parliament, changing the wordings of the declaration which Rizvi and his TLP supporters had deemed unacceptable. These protests had claimed six lives while over 200 were injured. Pakistan's Minister for Law and Justice Zahid Hamid also resigned thereafter. In May 2018, Interior Minister Ahsan Iqbal was shot and wounded at a political rally in his home constituency of Narowal. It was later reported that the attacker belonged to the TLP, a claim which the outfit denied. Investigations revealed that the culprit was in touch with senior TLP members and had sought approval for the attack. 
In October 2018, after eight years of detention and conviction by all the lower courts, Pakistani Christian woman Asia Bibi, accused of blasphemy, was found innocent in a landmark Supreme Court verdict which held that "material contradictions and inconsistent statements" of  witnesses "cast a shadow of doubt on the prosecution's version of facts".  This again prompted the TLP to launch violent protests in Karachi, Lahore, Peshawar and Multan. A leader of TLP, Muhammad Afzal Qadri, reportedly said all three Supreme Court judges "deserve to be killed". The Red Zone in Islamabad, where the Supreme Court is located, was sealed off by the police. In another case in March 2019, a TLP supporter and student stabbed associate professor Khalid Hameed of Bahawalpur's Government Sadiq Egerton College charging the victim with blasphemy. Pakistan again witnessed anti-France protests in April this year when TLP supporters took to the streets over alleged caricatures of Prophet Muhammad. The protests, which turned violent, saw hundreds being injured and several police vehicles and buildings torched. These protests led to the death of at least six policemen and left over 800 injured. 
TLP'S FORAY INTO POLITICS
Earlier in 2016-17, the Nawaz Sharif government was considerably weakened by the TLP through its massive protest demonstrations, which perhaps fulfilled his opponent Imran Khan's wish ahead of the general elections. But little did Khan know that the same TLP, which had weakened Sharif, would become a curse for his own existence too. In the 2018 general elections in Pakistan, TLP contested several seats and emerged as the fifth largest party in terms of votes polled (1.8 million) to it nationally. What was really surprising was that the TLP even left behind the Pakistan People's Party in the most significant state of Punjab and emerged as the third largest party in the province. No religious party has been able to impact elections in Punjab as the TLP did in 2018. Such a result gave legitimacy to the TLP and proved that religious extremism and unrestrained religious rhetoric paid electoral dividends, much like in Pakistan's neighbourhood. Though some analysts believed that Khadim Hussain Rizvi's death in November 2020 would lead to the waning of the movement, the mammoth crowds marching towards Islamabad a few days ago and its ability to arm-twist the government showed the TLP's relevance in Pakistan's political landscape. Its electoral rise in Punjab is likely to impact Pakistan's political dynamics, given that Punjab accounts for the largest number of seats in the national parliament. 
During this entire process since its inception, the TLP has positioned itself as the protector of Islam by painting all opposition parties as enemies of Islam. It also managed to win the support of other outfits like the Sunni extremist Tehreek-e-Taliban Pakistan (TTP) and the Shia right-wing Majlis Wahdat-e-Muslimeen Pakistan. However, the TLP, which belongs to the Barelvi sect, is not part of the jihadi outfits in Pakistan which primarily owe allegiance to the Deobandi sect. Its relationship with the Taliban (including its Pakistani version) has not been good, primarily due to the religious differences between the two sects. 
THREAT OF TALIBANISATION
But with a new Islamic Emirate emerging in Afghanistan under the Taliban rule, it would be a matter of serious concern for India if another such Emirate emerges in Pakistan, as is being reflected by the growing influence of groups like the TLP among the Pakistani people. The series of mammoth protests by the TLP over the past five years and its electoral gains, may lead to such a possibility as these reflect the outfit's influence among the people. The Pakistan government has repeatedly surrendered to religious extremist and terror outfits and even given them legitimacy by using them as proxies in furthering its foreign policy goals. But it has acted mercilessly against the secular forces and prevented them from mainstreaming. The socio-cultural impact of a Taliban-controlled Afghanistan will be far-reaching for Pakistan in the long run. The TLP and other extremist groups in Pakistan already feel emboldened by the perceived Taliban victory over Americans in taking over Afghanistan. It has become clear that Pakistan is moving close to a point where religious extremist outfits and parties would dominate the national agenda.
It should be a matter of serious concern for India and the world at large if the Pakistani political set-up transitions towards an Islamic emirate, following the footsteps of Afghanistan. Religious fundamentalism in and around Pakistan has also influenced the developments within that country. After all, communalism and fundamentalism are two sides of a coin.
(Amitabha Roychowdhury has extensively covered internal security, defence and civil aviation for the Press Trust of India for three decades. Views are personal.)
Get the latest reports & analysis with people's perspective on Protests, movements & deep analytical videos, discussions of the current affairs in your Telegram app. Subscribe to NewsClick's Telegram channel & get Real-Time updates on stories, as they get published on our website.
Subscribe Newsclick On Telegram