Panchayat Poll-Centric Politics at Play in Darjeeling Hills
The significance of the anti-Anit Thapa-Mamata Banerjee alliance lies in the fact that Bimal Gurung and BJP are again inching closer.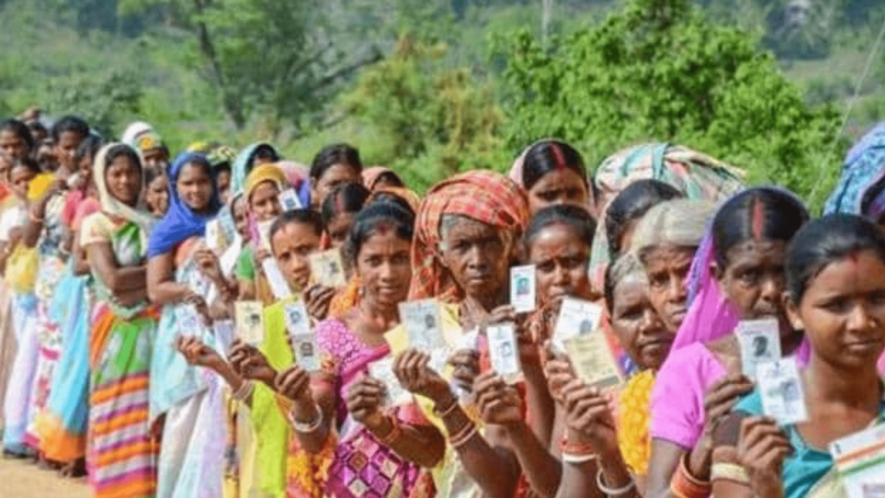 Representational Image. Image Courtesy: PTI
Kolkata: Hill politics in North Bengal keeps evolving, particularly on the eve of elections. Now, it is time for panchayat elections, an announcement about which is likely soon. The alliances struck for this grassroots electoral battle will be a sure pointer for the shape of things to come. Talks, already on at the second rung-leadership of parties, to be vetted by the top leadership before the filing of nominations, suggest there will be two main alliances: one of Anit Thapa-led Bharatiya Gorkha Prajatantrik Morcha (BGPM) and the state's ruling party, the Trinamool Congress, and the other of all other big and small outfits which include Bimal Gurung's Gorkha Janmukti Morcha (GJM), the Gorkha National Liberation Front (GNLF), the Bharatiya Janata Party (BJP), Ajay Edwards-led Hamro Party and the Communist Party of Revolutionary Marxists (CPRM), which has a small presence in Darjeeling and Kalimpong.  
There is the possibility of a third alliance of the traditional Left led by the Communist Party of India (Marxist) and possibly including the Congress. On behalf of GJM, talks are being coordinated by its central committee member and chief of its trade union wing, Suraj Nalbo. For the traditional Left, talks are being held by CPI(M)'s Darjeeling district secretary Saman Pathak.
In the hills, it will be a two-tier panchayat poll – gram panchayat and panchayat samiti – as the process of formation of Gorkha Territorial Administration, in terms of a tripartite agreement between the Centre, the West Bengal government and GJM on July 18, 2011, was gone through without amending Article 243 (M) of the Constitution. Article 243 (M), which applies to tribal areas in several states includes Darjeeling Hills. 
The Darjeeling Gorkha Hill Council (DGHC) was set up on August 22, 1988, as a follow-up of an agreement among the Centre, the state government and Subhas Ghising-led GNLF. Panchayati raj is not part of the Article 243 (M) arrangement The agreement for GTA provides for a three-tier panchayat raj but in the Constitution still DGHC is mentioned. Therefore, it has to be a two-tier election until legal hurdles remain.
The political career graph of Gurung in the past 10 years has shown inconsistency in approach and his tendency to be impulsive. He left the GTA assignment in just about two years, contending virtual state government control, raising demand for extending its jurisdiction and more financial powers. In 2017, he revived the agitation for Gorkhaland. The agitation, which lasted for over 100 days, became violent during which period the state government had slapped several charges against him. He then went into hiding for almost three years and suddenly resurfaced in Kolkata on October 21, 2020. Soon after, he called off GJM's alliance with BJP whose candidate for the Darjeeling Lok Sabha seat had been supported by GJM since 2009. Gurung thereafter slowly shifted GJM close to TMC by the time the Assembly election for 2021 became due. 
Gurung's argument was that BJP had done nothing to help GJM realise its aim and work out a 'permanent political solution', which was also promised by chief minister Mamata Banerjee. The bonhomie with TMC lasted a little over a year. As the chief minister was firm on holding elections to GTA, an exercise that had last happened in 2012, Gurung was opposed to the idea of giving fresh administrative legitimacy to an ineffective body.
Significantly, after his exit from GTA, his ties with two of his once-trusted colleagues – Anit Thapa and Binay Tamnag – came under strain. Thapa became GTA chief and later left it to pursue his political aims. After him, Tamang was at the helm of GTA for some time. The split in the top echelons of GJM was near-complete and the organisation became weak, largely because its funding sources had dried up.
 An astute hill politician told NewsClick indirectly referring to Gurung: "In hill politics, it is difficult to control a downhill journey; it then becomes an uphill task to recoup the lost position."
The person who has taken centre-stage in hill politics over the past 10 months is Thapa of BGPM. It has been a steady rise since his party got the majority in the GTA elections in June 2022. After about half-a-dozen councillors of Edwards' Hamro Party defected to BGPM, Thapa got control also of the Darjeeling Municipality (DM). The Hamro Party had then sprung a surprise as it was formed only three months back in November 2021 and had won a majority in the election held in February 2022. Now, with GTA and DM under BGPM's fold and having negotiated a functional accord with TMC, Thapa, for all practical purposes, occupies Gurung's earlier pre-eminent position.
In the words of veteran hill politician Harka Bahadur Chhetri of Jan Andolan Party, who was once close to Gurung: "Thapa knows what is deliverable and what is not. Within the given limitations, he is trying to deliver; he is being practical."
Tamang, an influential hill leader, had joined TMC in the last week of December 2021 and quit exactly a year later in December 2022, recording his disapproval of TMC's support for the Hamro Party defectors. The destabilisation in DM was undemocratic. He also gave vent to his frustration that TMC was not serious about the hill people's welfare.
The Thapa-Mamata alliance and the anti-Thapa-Mamata grouping that are taking shape have to be viewed against the backdrop of the developments that have occurred over the past two years. The significance of the anti-Thapa-Mamata alliance lies in the fact that Gurung and BJP are again inching closer.
For BJP, the Darjeeling Lok Sabha seat remains important. Gurung seems to be counting on the likelihood of NDA (National Democratic Alliance) coming back to power and going by his recent statements and interviews to the media, it looks like he is prepared for some climbdown from his original demand for a separate state of Gorkhaland carved out of Bengal. He may be amenable to accepting the Constitution's Sixth Schedule arrangement if simultaneously New Delhi recognises 11 Gorkha tribes as scheduled tribes with attendant benefits including title to land.
Gurung is now actively pursuing a proposal to hold a conference on GJM's demands at a place either in Sikkim or Assam. In the first week of March, he met in New Delhi, BJP leader Subramaniam Swamy "for drafting the demand for an autonomous region of Gorkhaland within Bengal". For the conference, he is being assisted by Tamang who "rejoined" GJM after leaving TMC and GJM's general secretary Roshan Giri.  
As for the prevailing situation in Darjeeling, two contrarian views deserve mention. According to Darjeeling MLA Neeraj Zimba of GNLF, who fought the Assembly election on a BJP ticket, "the administration at all levels appears to be directionless".
"The present ministry is not able to appreciate the need for a stable political arrangement that has the welfare of the common people as the pivot. Granting some economic demands or giving cash support to sections of people cannot be the answer to the backwardness of the area. The state government and New Delhi must realise there is a limit to people's patience. They can't be fed on promises for years on end," Zimba told NewsClick.
Senior politician Chhetri feels the situation is better. "People are not living in fear of violence, loss of lives and damage to property, as had been the case for a long time. Political dictatorship had marked the scene; instead, we see democracy in practice; it may not be foolproof; but it is much better than what we experienced," Chhetri told NewsClick.
The writer is a Kolkata-based freelance journalist. The views are personal.
Get the latest reports & analysis with people's perspective on Protests, movements & deep analytical videos, discussions of the current affairs in your Telegram app. Subscribe to NewsClick's Telegram channel & get Real-Time updates on stories, as they get published on our website.
Subscribe Newsclick On Telegram