Parliament: What About Farmers & Workers? And, Jobs?
The monsoon session of Parliament begins today with nothing on the table for suffering farmers and workers of the country.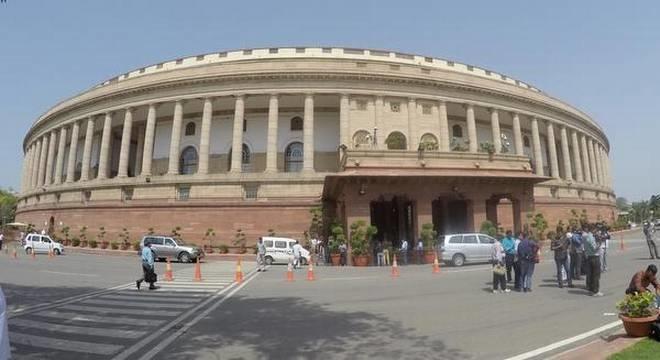 The famous three wise monkeys who refuse to see, hear or speak any evil have been turned on their head. The Indian Parliament which begins its 18-day monsoon session today (18 July) has nothing on the agenda for millions of farmers and workers of the country. Don't look at them, don't hear them, don't talk about them – that seems to be the attitude of the dominant parties, barring the Left.
The official agenda includes 25 Bills pending for "consideration and passage" and 18 other new ones that are set to be introduced, according to PRS. Opposition parties are planning to move no-confidence motion(s). The Rajya Sabha is to elect a new deputy chairperson, which will be a bitter slugfest. There will be bombastic speeches presumably, and there will be – undoubtedly – disruptions, as usual.
Also Read: Mr. Jaitley's Delusions About Jobs
None of the Bills is concerned with farmers and agricultural labourers. One Bill (The Factories (Amendment) Bill, 2016) concerns workers – it seeks to increase the overtime work limit from the present 50 hours to 125 hours, in a quarter. Workers should work more! But besides this, nothing for industrial workers or service sector employees or for informal sector workers. Unemployment is destroying lives and families everywhere. Yet no debate on jobs!
Farmers agitations
Just last November, farmers held a two-day 'Kisan Sansad' (Farmers' Parliament) on the streets of Delhi, just outside the Parliament building. They were demanding better prices for their produce and all-round debt write-off. They even drafted and 'passed' two 'Bills' spelling out in detailed, legislative language the exact modalities of doing so. 21 political parties supported them. The Kisan Sansad had been preceded by a massive Kisan Mukti Yatra covering over 10,000 kms across the country, drawing support from lakhs of farmers. There were farmers' agitations in 13 states including the highly publicised Long March in Maharashtra and the agitation in Rajasthan.
The mass movement has continued this year. Even as the Parliament is meeting, 10 crore (100 million) farmers' signatures are being collected by a joint struggle committee demanding better prices and debt write off. These will be submitted to district authorities on 9 August, the anniversary of the Quit India movement against the British colonial rulers back in 1942. Farmers' organisations have also demanded a special session of Parliament to discuss the crisis.
Also Watch: Kisan Sansad: More Than 40,000 Farmers From Across India Take Over the Streets of Delhi
Clearly, the agricultural crisis, and its devastating consequences for the farming community, are roiling the country. About half of the country's population is involved in agriculture. Yet the govt. is behaving like the three-monkeys-on-their-heads. PM Modi has announced a 'hike' in minimum support prices (MSP) for 14 agricultural crops which is an eyewash because it comes nowhere near his own promise of an increase of 50% over total cost of production. With this fraudulent announcement, he and his govt. have washed off their collective hands of the farmers.
Workers fighting for survival
Meanwhile, industrial workers and employees have been fighting a battle of survival for over three years for better wages, better job security and an end to sell-off of public sector assets. But the Modi govt. has been supremely indifferent to their repeated appeals.
Prices have increased 28% since the govt. took over more than four years ago, but wages are more or less stagnant and much below the standards set by the Indian Labour Conference and sanctioned by the Supreme Court. The govt. has sold off nearly Rs.2 lakh crore (Rs. 200 billion) worth of public sector assets to private entities. Out-contracting system – with no job security and less benefits – has permeated both the private and public sector putting millions of workers at the mercy of employers. Wholesale changes in labour laws are on the anvil to increase exploitation and lower labour costs, like the Factories Bill 2016 coming up for consideration in this session of Parliament.
Also Read: Workers' Mahapadav: Govt. Blinks, Calls for Talks, But Workers Start Moving To Delhi
Over 1.5 crore (15 million) workers went on strike on these demands on 2 September 2015. There was no response from the govt. Then, on the same date in 2016, 1.8 crore (18 million) workers struck work in what has been called the biggest strike action in the world. No response.
In November last year, the workers held a three-day mahapadav (mass sit-in) near the Parliament, just before the farmers' congregation. Over 3 lakh (300,000) workers from a range of industries (like coal, steel, transport, telecom, port & dock, other mining, oil & gas, etc.) besides govt., bank, insurance employees, and scheme workers thronged to Delhi demanding that the govt. listen to them. No response. Three-monkeys-on-their-heads.
Whom does the Parliament represent?
90% of this country's voters are farmers, workers or employees, and their families. They elect the members of Parliament. Isn't there some responsibility of the Parliament towards the plight of working people in India? Shouldn't there be a debate in the Houses on farmers and workers? Shouldn't the Parliament discuss why joblessness is raging throughout the country?
Get the latest reports & analysis with people's perspective on Protests, movements & deep analytical videos, discussions of the current affairs in your Telegram app. Subscribe to NewsClick's Telegram channel & get Real-Time updates on stories, as they get published on our website.
Subscribe Newsclick On Telegram