In This Part of Rajasthan, 'Virugiri' Becomes a Tool of Protest
Amid lack of basic amenities and slow redressal of grievances in Hanumangarh and Sriganganagar districts, locals perch on water tanks to register their protest and attract the attention of authorities.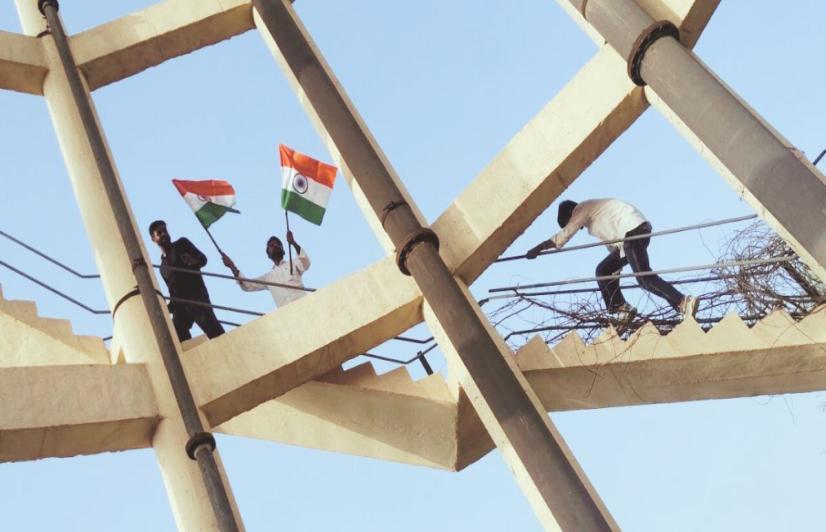 Students climb onto a tank in Hanumangarh town with flags (Photo sourced by Amarpal Singh Verma).
Hanumangarh: On a scorching summer afternoon, the villagers of Ramgarh watch in awe and disbelief as Viru, precariously perched atop a towering water tank, confesses his love for Basanti. He is protesting as Basanti's mausi (maternal aunt) is against their union. As his protests get louder, we see mausi melt or rather give in to Viru's demands.
This iconic scene from the 1975 blockbuster 'Sholay' is surely a favourite of many Bollywood movie buffs. And it seems like Viru's antics have left a mark in the minds of the residents of Hanumangarh and Sriganganagar in Rajasthan.
Here, climbing a water tank — known locally as virugiri — is the easiest way to register a protest. The last eight years have seen several such cases, with the most recent one taking place on September 1.
"This mode of protest has been around for the last 25 to 30 years. The recent spurt is also because people have so much to fight against," says Karnidan Singh Rajput (78), an independent journalist from Suratgarh.
"Hanumangarh was carved out of Sriganganagar district in 1994. Recently, on August 7, another district, Anupgarh, was also formed from Sriganganagar. Administratively, Sriganganagar has been divided into three, but the problems and needs of the area are the same as before."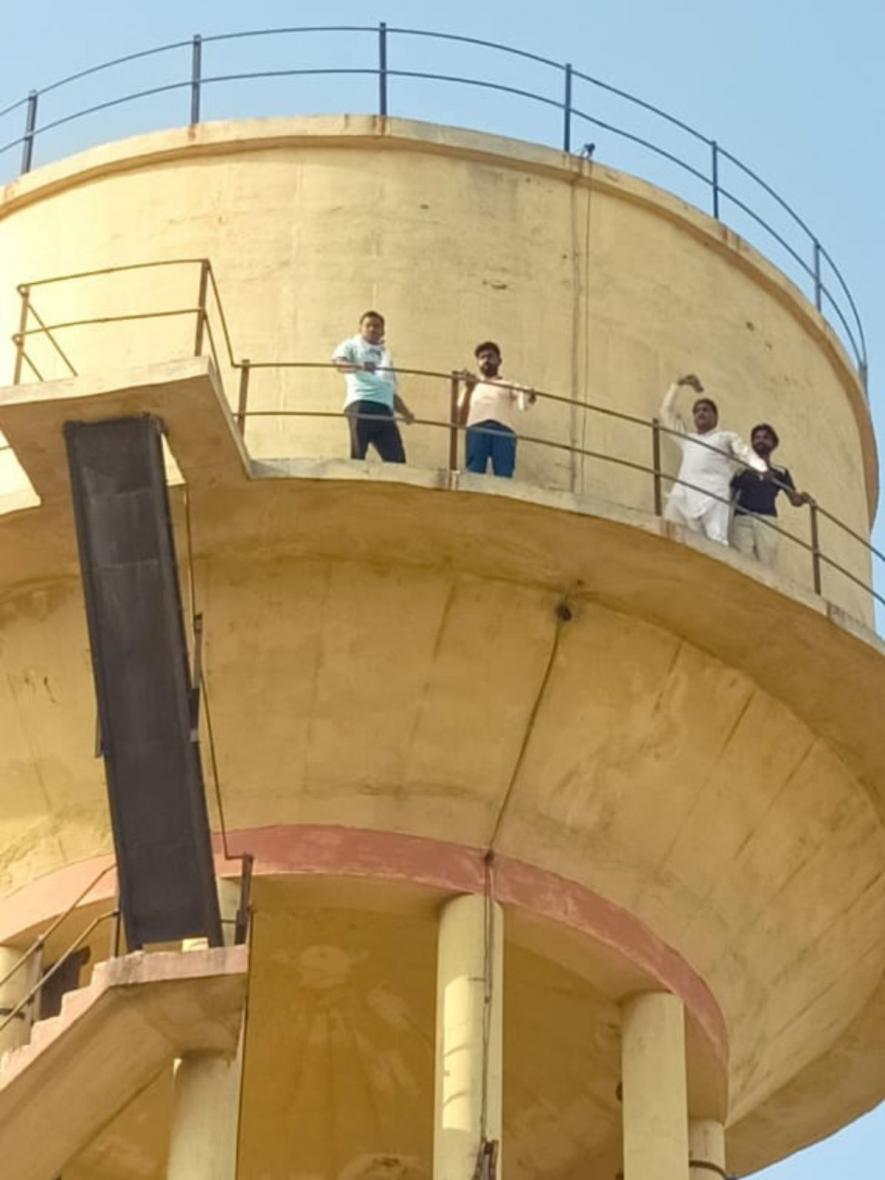 Councilor Laxman Goyal and others climbed on the tank in Pilibanga (Photo sourced by Amarpal Singh Verma, 101Reporters).
Quick fix
"Drinking water supply is not regular in villages, and ration distribution is delayed. Waterlogging occurs after heavy rains, yet water is not available for irrigation," says Rameshwar Verma, a Communist Party of India (Marxist) (CPI(M) leader in Hanumangarh.
"If you raise your voice any other way, you might not get a response. However, if you climb atop a water tank, the administrative officials and police come running. They are scared of the consequences if someone actually jumped," says Verma.
Take, for example, what happened in Pilibanga town on August 22. The residents had been protesting in front of the municipal office for 17 days under the leadership of municipal councillor Laxman Goyal, seeking proper sanitation and an end to corruption.
"When no one responded, Goyal and four others climbed onto a water tank. The administration then swung into action, with the sub-divisional magistrate, tehsildar and thana prabhari [station house officer] reaching the spot in no time," says Yash Gupta, a local resident.  
After about 10 hours of negotiation, the officials, on behalf of the district Collector, told Goyal in writing that a special audit would be conducted on the allegations of corruption in the municipality. All five came down only after getting the assurance.
"Despite the government's campaign, people are not allotted pattas promised under Prashashan Shehro Ke Sang Abhiyan. The municipality is not following government rules prescribed under the scheme. It is necessary to call a meeting of the municipal board within 60 days of its formation to discuss pressing issues, but this meeting has been pending for 30 months," says Goyal.
There are over hundreds of water tanks in the Hanumangarh, Sriganganagar and Anupgarh districts, and most have been venues of protests. Seven such incidents were recorded in August, and two so far in September.
On August 18, three students climbed the water tank in Hanumangarh to protest against the government's decision not to hold student union elections, while an elderly couple did so in Dholipal, demanding the removal of encroachment from their plot on July 23. Similarly, four farmers protested against the water crisis.
In Sriganganagar district, a farmer climbed atop the tank seeking water for irrigation on August 17. In Kersarisinghpur, three villagers sat on a tank structure for a solution to the water crisis on August 27. On September 1, a woman and her daughter perched on the tank in Sadulshahar town, seeking speedy police action against those who demolished their house. On September 2, two real estate dealers climbed onto the tank in Sadulshahar to protest against the municipality's action to evict them from the property they had bought, citing encroachment.
In Gharsana village of Anupgarh district, a person staged a protest to get back Rs 15,000 he had lent someone on August 21.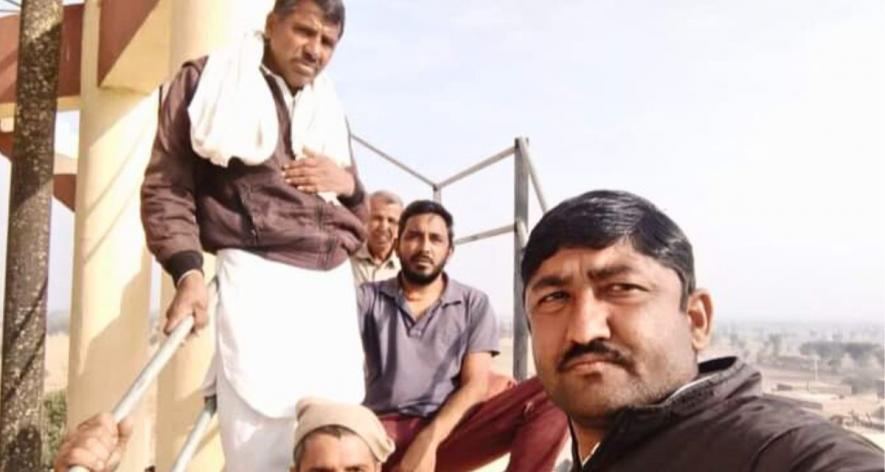 Panchayat Samiti member Mangilal Sharma and others climbed onto the tank in Badbirana (Photos sourced by Amarpal Singh Verma, 101Reporters).
More than a publicity stunt
Though virugiri is often termed as a publicity stunt, protesters say not everyone is willing to take the risk as there is a possibility of slipping and falling, dehydration and police action.
In Badbirana village of Nohar tehsil in Hanumangarh, three farmers climbed atop the tank to protest against the non-availability of water for irrigation on December 13, 2021. "They came down when the executive engineer of the irrigation department assured to solve the problem, but it turned out to be an eyewash," says farmer leader Krishan Kumar Saharan.
"So, five farmers under the leadership of panchayat committee member Mangilal Sharma climbed the tank again and did not come down for 17 days, despite the cold weather and bone-rattling winds. At the same time, other farmers sat in solidarity below the tank," he recalls.
Meanwhile, an engineer with the Public Health Engineering Department lodged an FIR under IPC Section 353 against 22 farmers at Nohar Police Station. The police later presented a chargesheet in the court against five farmers, including Sharma.
Sharma, who is facing court proceedings, says there is no sorrow for the hardships caused by the protest. "I do not even care about the court trial. Our canal received water for only three months. Rest of the time, people with political influence usurped our share of water before it reached our fields."
Raman Khariwal, a shopkeeper from Rawatsar in Hanumangarh district, has been working tirelessly to address the town's issues. He did not hesitate to launch a hunger strike after the town was submerged in heavy monsoon rains last year due to a lack of a proper drainage system.
After six days without any response, he climbed atop the water tank on August 8 last year and came down only after securing a written assurance from the local administration. "They promised that a permanent solution would be found by forming a district-level committee and by developing an action plan. However, these assurances have not been implemented yet," Khariwal says.
Khariwal was later served a notice by the superintendent of police asking him to pay Rs 1,02,728 to cover the expenses that police incurred during his protest. Khariwal challenged this in the local court and secured a stay order, which the police department contested in the sessions court.
Administration's counter
Efforts made by the administration and police to prevent incidents of climbing on tanks have proved to be ineffective. Five years ago, they took action by removing stairs that allowed access to tanks. Hanumangarh PHED Assistant Engineer Sunil Kumawat tells 101Reporters that they had to break the ladders on many tanks and install gates on the steps of others. "Nowadays, the department does not even build full-length stairs touching the ground. When necessary, department employees reach those stairs by placing wooden and iron stairs from below," he informs.
Hanumangarh district police are resorting to legal action and issuing financial recovery notices to discourage people from such bizarre protests. In Sriganganagar, the district Collector has repeatedly imposed restrictions on scaling tall towers and high water tanks, using the authority granted under Section 144 of the Indian Code of Criminal Procedure (CrPC).
Warnings are issued regarding potential legal consequences under Section 188 (Disobedience to order duly promulgated by public servant) of the Indian Penal Code against those who defy the order. Despite these measures, all attempts to deter people from climbing the tanks have been ineffective.
Banwarilal Meena, the Additional Superintendent of Police in Hanumangarh district, tells 101Reporters that the recurring instances of people climbing atop tanks are a significant challenge to the police force. "Dealing with such incidents requires a considerable effort. Police personnel have to remain stationed near the tanks for several hours or days until they come down," said Meena. 
Meena emphasises that even if the person on the tank does not have any intention to harm himself, there is still a concern for his/her safety. "Consequently, both the police and administrative officials are compelled to stay on the scene, attempting to persuade and safely retrieve those perched on the tank. In many cases, legal actions are initiated against these individuals," he says.
Meena observes that the tank protest has become a way for people to draw attention to their grievances or demands. Those who engage in such acts often have unresolved issues with various government departments. He says that if officials from all departments promptly address these concerns, the frequency of tank-climbing incidents could be significantly reduced or even prevented. 
(Amarpal Singh Verma is a Rajasthan-based freelance journalist and a member of 101Reporters, a pan-India network of grassroots reporters.) 
Get the latest reports & analysis with people's perspective on Protests, movements & deep analytical videos, discussions of the current affairs in your Telegram app. Subscribe to NewsClick's Telegram channel & get Real-Time updates on stories, as they get published on our website.
Subscribe Newsclick On Telegram