Paying the Price for Cleaning the City's Plastic!
Thousands of workers and small recyclers in Mumbai are affected by the plastic ban.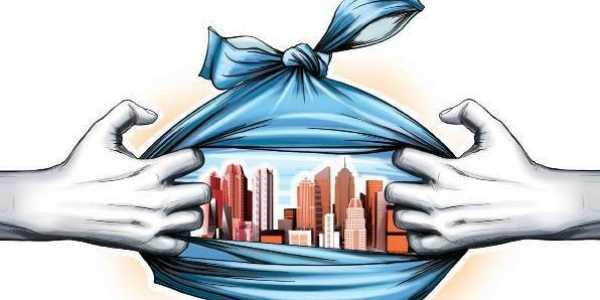 Image Courtesy: New Indian Express
Mohammed Tasleem, is a pheriwaala, a worker who purchases small amounts of plastic scrap from aggregators and shops in the suburbs of Ghatkopar and Vikhroli, and transports the scrap on his cycle, to plastic recycling unit owners at Khairani road at Saki Naka. "For the past month, many of us are not getting any work.Kaarkhana (manufacturing unit) owners are not purchasing, scrap waste from us." The reason behind this stop in purchase, is the decision taken by the Maharashtra State Cabinet (on March 15, 2018) to ban single-use plastics.
This is not the first plastic ban in Maharashtra. Since the early 2000s, regulations across municipalities such as the BMC, have sought to ban plastic bags; the minimum thickness of plastic bags has progressively increased from 20 microns to 60 microns. However, what ostensibly began two decades ago as an environmental drive has now reached its zenith – a wide-ranging ban on multiple single use plastic items – such as polythene bags, thermocol plates, small PET bottles, flexes and plastic cutlery.
Mohammed may not know the reasons for the ban on plastic, but he certainly knows the impact it can have on his income. "I used to earn up to Rs 10,000 a month. I could put my children through school all these years because of this trade. Now I am struggling." PET bottles at kabbadiwaalas (small buyers of scrap) and kaantawaalas (larger scrap aggregators who trade in quantities upwards of 30 kg), can fetch around Rs 25- 30 per kg, while plastic scrap in the form of articles such as drums and buckets – consisting of High Density Polyethylene (HDPE) and Polypropylene (PP) – can fetch an amount between Rs 25 and Rs 40 per kg. Plastic scrap from toys and household appliances (which contain hard engineering plastics) can fetch even better price.
The Recycling Chain of Plastic Waste in Mumbai
The decision to ban single use plastics has evoked a great deal of anger and resentment amongst the people working in the recycling trade, such as Govind Verma. "We collect and process plastic packaging waste from all these big pharmaceutical companies. If we would not pick these bags and recycle them, this city would be filled with waste!" Verma is a second-generation recycling unit operator in a family that has been collecting, sorting and cleaning plastic packaging waste at Khairani Road at Saki Nakafor over 30 years. Plastic bags and packaging sheets, made of Low Density Polyethylene (LDPE)from industrial and retail units across Ghatkopar, Vikhroli and Andheri findtheir way to his unit through traders and pheriwaalas such as Mohammed.
The fear of the ban being implemented has gripped the entire chain of recycling in Mumbai. Aslan Qureshi, who deals with polythene bags collected from the roadside (the chief target of the ban),is particularly troubled. Over the past two months, three units in the Roshan compound area of Khairani Road have shut down. "In any case, we deal with the lowest quality plastic. But people are scared to sell plastic bags to me and factories are not purchasing my material. I am not sure when I will have to shut operations. The neighbouring units have closed down. There were 15-20 workers in my unit, and now we are down to less than 10. If plastic bags are banned, what will I tell my workers about their jobs?"
Most of these workers employed at Quereshi's unit are old women who sort plastic sheets by hand according to their types. One such worker is Lakshmi, who has come to Mumbai from rural Maharashtra (Beed). She doesn't understand much about the ban, but knows that something is amiss. "Some karkhaanas (processing units) have shut down. We are poor, but we make an honest living by working here. We don't have any alternate means to survive. How can you just ban something? What happens to old women like me?" she questions.
It's not just the units at the Khairani road. There are at least 18 clusters of recycling units (informal and unorganised) spread across the city and its outskirts. Dharavi, Mankhurd, Kherwadi, Charkop, Kandivili, Kurla and Malad are at the centre of the plastic recycling chain. Each of these units can employ 10-15workers, of which, a vast majority are women. This constitutes a huge proportion of people who will be affected by the ban on plastics. These units can process around 0.5-1 tonne of plastic waste each day. But the chain doesn't end there.
At the very top of this recycling chain are pellet making units at Bhandup, Taloja, Bhiwandi, Ulhasnagar; Vasai and Nalasopara. These units transform sorted and ground plastic scrap into pellets. Sonapurin Bhandup is home to some of the oldest recycling units in Mumbai, with more than 150 pellet-making units. An average of six male workers (women are not employed in pellet-making units generally) in a 12-hour shift, can process up to 500 to 700 kg of sorted plastic scrap into pellets.
The pellets produced by them close the recycling loop. These pellets are used to make new plastic items: sheets, dustbin liners, pens, carpets, fibers for clothing, as well as plastic ropes and pipes used in agricultural operations. Pellet-makers such as Mohammed Irfan are worried. "Most of us deal with plastic bags. Things are tight. Many of us have reduced our intake of materials."Pellet-making units purchase cleaned polythene sheets from sorting units at Saki Naka.
In the meanwhile, traders who supply inputs across the chain have stopped operations. One such trader is Rishabh Jainfrom Khairani road, who owns a unit that trades used plastic milk pouches. "I have been here for 25 years. In any case, most people in this business are not doing that well. But now, with this ban, pellet makers are not buying from us. So, I have stopped purchasing material from pheriwaalas and kaantawaalasfor the past month and a half," he says.
This has further affected people such as Abdul Qudus,who along with 10 other pheriwaalas, operate at a makeshift godown at the Mandaka Scrap market in Mankhurd (next to the Deonar Dumping Ground). He says,"We are going to be affected. Even without the ban, things had slowed down. What happens when it is implemented? No one is buying from us." The fear of the ban has reduced demand and has created a cascading effect from pellet-makers all the way down to the chain to pheriwaalas and waste pickers.
Recycling Units of Mumbai- An Unrecognised Production Process
The Plastic Waste Management Rules of 2016 mandated that each State Pollution Control Board publish details of monitoring plastic waste and steps undertaken to deal with it. Across these rules and across many reports, the most important factor to deal with plastic waste is the presence of collection and segregation processes. The annual reports of the CPCB mention that the number of states implementing some policy for the collection, segregation of waste stands at an abysmal figure of three (Andhra Pradesh, Chattisgarh and Karnataka). The number of states that have implemented programmes for the disposal of plastic waste is seven (this includes the use of plastic waste in cement kilns and road construction).
Despite this obvious shortcoming, the ban on plastic has become a sine qua non for dealing with the plastic waste across the country. Currently, a partial or a complete ban on plastics is present across 21 states in the country.[1] In fact, the central bench of the National Green Tribunal, in a sweeping judgment, pulled up the Delhi State government and demanded that it make at least one market plastic free.
In the case of the plastic ban, an assumption made by many commentators is that the ban was long overdue as most of this plastic waste cannot be recycled. But the recycling clusters of Mumbai show that if plastic waste is collected, most of it is recyclable. These units deal with all sorts of post-industrial and post-consumer plastic waste: plastic carry bags, sheets, milk pouches, dust bin liners, engineering plastic from household appliances and toys, PET bottles, plastic footwear, pipes, containers, drums and buckets. Every plastic item is sorted by type and colour, washed, and sometimes ground into pieces. Even, thermocol is recycled by melting it and processing its granules.
The absence of collection and segregation and the failure to recognise the informal sector recycling units, is typical of the problem according to Mobinuddin Sheikh. He says, "The issue is not plastic, but its disposal. If it was collected and segregated, and we are provided with some subsidies, we can handle much of the city's plastic waste." Mobinuddin owns a pellet-making recycling unit at Vasai. But, his origins are from the 13th compound area of Dharavi where he has been working in the family business since the late 1960s.
Despite their presence for well over 50 years, recycling clusters in Mumbai have been ignored and their contribution to waste management and sustainability in the regional economy has been discounted. "We are the ones who deal with the plastic waste of this city. We are in fact doing what the enviornmentalists and the municipality must do- recycling! And that alone should be reason enough for us to be recognised. But we are not. We get no subsidies or relief," says Mobinuddin.
Most deliberations and opinions on the plastic banpay scarce attention to the concerns of workers and unit owners who are affected by this ban. This is perhaps why when referring to the ban as 'plastic-bandi', they also make a mocking reference to the previous arbitrary ban which affected them disastrously: 'note-bandi' (demonetisation).
Yet, there are some efforts being made to change this situation. Mobinuddin is part of the All Plastic Recyclers Association (APRA) at Dharavi. APRA is an association of more than 700 members based in Mumbai, consisting of recycling unit owners, traders, waste pickers and aggregators. They seek to highlight the concerns and contributions of people who recycle plastic waste. At Sonapur in Bhandup, there is the presence of a Plastic Manufacturer's Social Welfare Association which has recently been formed, whereas some others are affiliated to the Centre of Indian Trade Unions (CITU).
Anthony George of Modern Plastics weekly, an expert who covers the plastic manufacturing and recycling industry, says, "These efforts are far and few between. More such work needs to be done. These recyclers must come together and submit their representation to the government. Look at the number of people working in this sector, workers, owners, traders and waste pickers."
Currently, an empowered committee has been set up by the Maharashtra State Government to determine if certain plastic items will be exempted from the ban. This comes from the pressure applied by big plastic producers, including PET bottle manufacturers. But, there is still no clarity on the many inputs to the recycling industry that stand to be banned. Irrespective of the way in which the ban is implemented, the price for such arbitrary decisions and cavalier environmentalism will be paid by workers who are losing their employment.
[1]http://www.indiaspend.com/cover-story/25-indian-states-ban-plastic-bags-yet-600-truckloads-of-plastic-discarded-every-day-31602
Get the latest reports & analysis with people's perspective on Protests, movements & deep analytical videos, discussions of the current affairs in your Telegram app. Subscribe to NewsClick's Telegram channel & get Real-Time updates on stories, as they get published on our website.
Subscribe Newsclick On Telegram