Pfizer's 2021 Revenue Nearly Seven Times India's Health Budget
Pfizer has recorded a whopping 140% jump in its revenues between 2020 and 2021. While many poor countries still await vaccines for their population, Pfizer opportunistically chose to largely cater to the high-Income countries.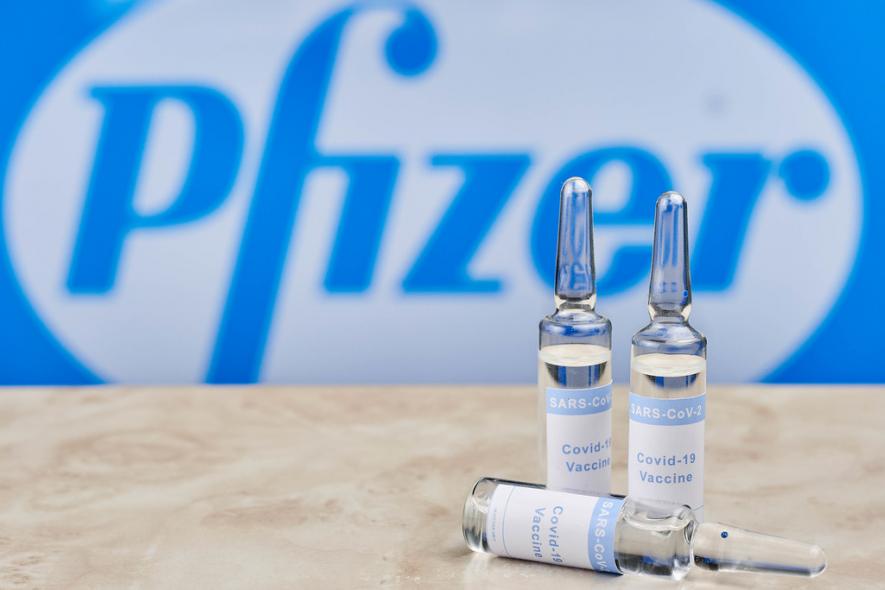 The latest financial report of Pfizer Inc. reveals that while the world grappled with the pandemic, Big Pharma was busy minting money. 
Pfizer, in particular, has made obnoxious gains. Over 12 months during 2021, Pfizer has recorded a 95% jump in revenues - from about $42,000 million to $81,000 million.  
Pfizer Inc.'s net income rise between 2020 and 2021 is a whopping 140% - from about $9,000 million to $22,000 million. 
Just as a comparison, Pfizer 2021 revenue is nearly seven times India's recently announced health budget (Rs 8,90,000 million or $11,867 million)! 
In its own words, one of the main contributors to Pfizer's revenue jump is global sales of Comirnaty – the COVID-19 vaccine it has marketed, which BioNTech developed - "Excluding the revenue contributions of Comirnaty and Paxlovid, revenues for the full year grew 6% operationally." 
Forecasts for 2022 Show Increasing Earnings 
Between 2020 and 2021, Pfizer's revenues jumped from $41.6 billion to $81.3 billion. The 2021 revenues included a contribution of $36.8 billion from Comirnaty direct sales and alliance revenues. 
According to the company's forecasts, during 2022, Pfizer is expected to earn a revenue of $98 billion – $102 billion. This includes an anticipated $32 billion of revenue for Comirnaty and an anticipated $22 billion revenue for Paxlovid. 
Market Focus in High-Income Countries 
As the low-income and lower-middle-income countries waited for vaccines, Pfizer focused its sales mainly on the high-income countries. 
Africa, to date, has only about 11% of the population fully vaccinated.
Nearly 80% of the doses manufactured by Pfizer/BioNTech were committed to the high-Income countries - the United States and Europe. 
In contrast, the Sinopharm vaccine, produced in China, committed more than 60% to low-income and lower-middle-income countries (including supply to COVAX facility of the WHO). Similarly, AstraZeneca/Oxford vaccine committed nearly 50% of its doses to low-income and lower-middle-income countries (including supply to COVAX).
In May 2021, the Chief Executive Officer of Pfizer Inc., Albert Bourla, had said that "low- and middle-income countries had opted not to order the company's COVID-19 shot." Bourla had stated that the high-income countries reserved most of the doses, and low and middle-income countries opted for other vaccines. 
However, he failed to mention that Pfizer had priced its vaccine at quite a high rate, even for poorer countries. For instance, for Argentina, the price for two doses of Pfizer/BioNTech was about $24 compared to AstraZeneca's $8. In South Africa, Pfizer priced its vaccine at $20 (for two doses), while AstraZeneca's Covishield was available at $10.50 (for two doses).
Bourla also claimed that "40% of doses, or more than 1 billion, will go to middle- and low-income countries this year. We expect the supply balance to weigh in their favour in the second half of 2021." However, only a fraction of the total Pfizer/BioNTech vaccine has gone to middle- and low-income countries. 
Pfizer – Third Largest Receiver of Public Funding 
Pfizer is one of the highest receivers of public funding for the development of vaccines. After Janssen and Moderna, Pfizer/BioNTech is the third largest receiver of public funding. It received nearly $800 million in public funding. This is almost 17% of the public funding to various vaccine developers. 
Apart from this, Pfizer also benefitted from Advanced Purchase Agreements (APAs), both government purchases and multilateral purchases. APAs were part of a strategy to provide upfront financing for developing and supplying COVID-19 vaccines. Pfizer/BioNTech cornered the highest government APAs to the tune of $6,400 million and multilateral APAs for about $11,340 million (as collated by https://www.knowledgeportalia.org). 
For the year 2022, the company already has plans to capture markets with diverse products within the category of products for COVID-19. For instance, Pfizer and BioNTech announced results from an initial laboratory study on Comirnaty's neutralising impact on the SARS-CoV-2 Omicron variant after three doses. They are also undertaking a clinical study for children six months to under five years of age. 
While the patent monopoly over their vaccines remains protected, the company is set to earn even more revenues and make ever more profits with newer products in the pipeline. As the just-retired Chief Financial Officer of Pfizer, Frank D'Amelio, had stated: "I have never been more confident in the future of Pfizer." However, a future where life-saving drugs and vaccines are accessible to all at affordable prices appears to be bleak.
Get the latest reports & analysis with people's perspective on Protests, movements & deep analytical videos, discussions of the current affairs in your Telegram app. Subscribe to NewsClick's Telegram channel & get Real-Time updates on stories, as they get published on our website.
Subscribe Newsclick On Telegram