Photo Essay: Muharram Processions Disallowed in Srinagar Again
Traditionally, the annual Muharram processions would pass through City Centre Lal Chowk and the Dalgate areas in the city. Still, since the eruption of militancy, the authorities have been denying permission citing law and order and security.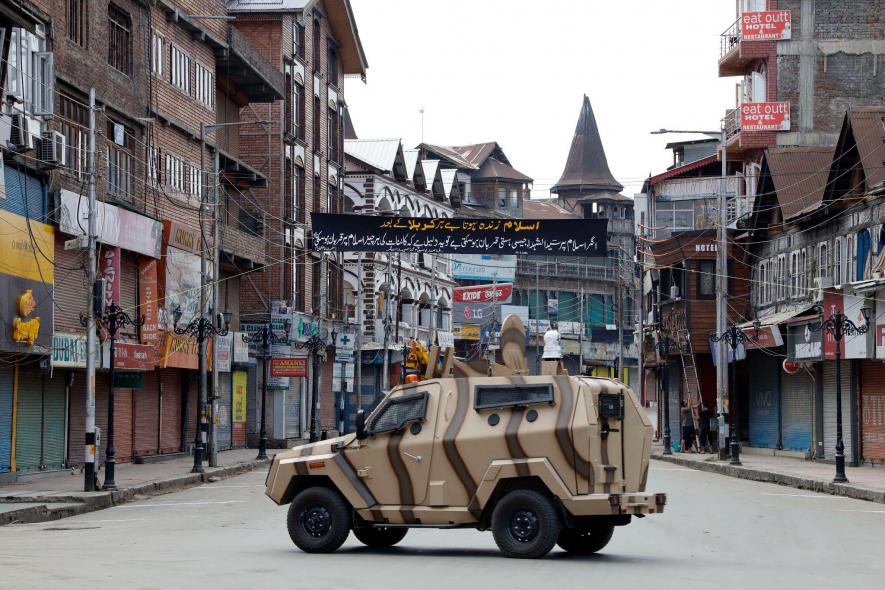 Lockchow area of Srinagar sealed to foil Muharram procession.
On the occasion of Muharram, to commemorate the martyrdom of Imam Hussain—grandson of the prophet of Islam—the Jammu and Kashmir administration once again forbade the region's Shia Muslim community from taking out mourning processions along the traditional routes of capital Srinagar.
A ban was placed on such processions along the traditional route soon after the outbreak of armed militancy in the early 1990s. Religious leaders and mourners accused the administration led by Lieutenant Governor Manoj Sinha of employing "double standards" by facilitating the ongoing Amarnath pilgrimage by providing unprecedented security cover while "restricting our freedom to practice our faith under" by invoking public order.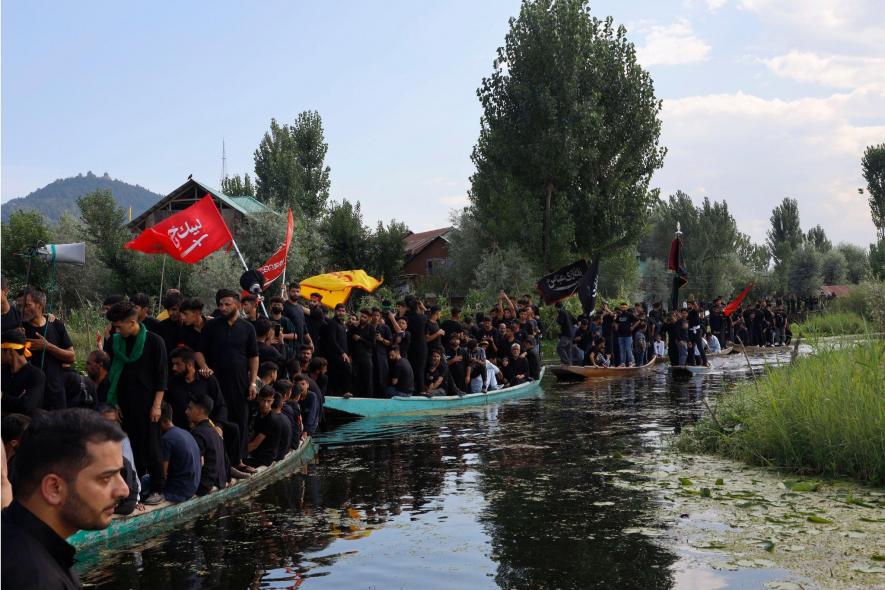 A Muharram procession carried on boats in Dal lake at Srinagar.
Traditionally, the annual Muharram processions would pass through City Centre Lal Chowk and the Dalgate areas in the city. Still, since the eruption of militancy, the authorities have been denying permission citing law and order and security. Authorities also fear that some elements use such congregations to propagate separatism. Moreover, the authorities have reasoned in the past that such processions while passing through areas dominated by members of the majority Sunni Muslims could raise sectarian tensions. However, there is little evidence to support this argument.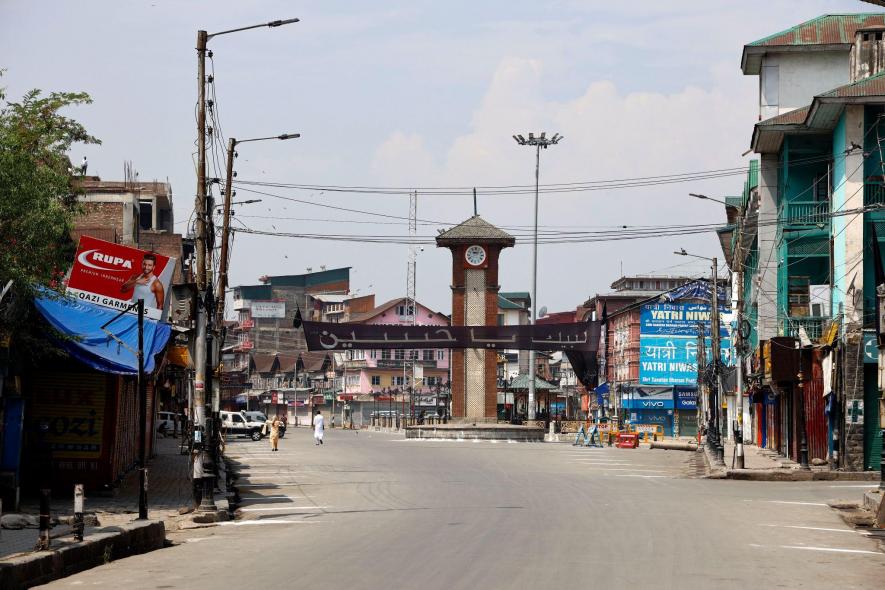 Restrictions imposed around historic Lal Chowk in Srinagar
Continuing with their three-decade-old ban, the administration on August 9 imposed curbs in various parts of Srinagar to prevent people from participating in the procession on the 10th of Muharram, known as Ashura, which commemorates the supreme sacrifices of Imam Hussain and his companions during the Battle of Karbala some 1,400 years ago. The day is observed to pay tributes to Imam Hussain and honour his martyrdom.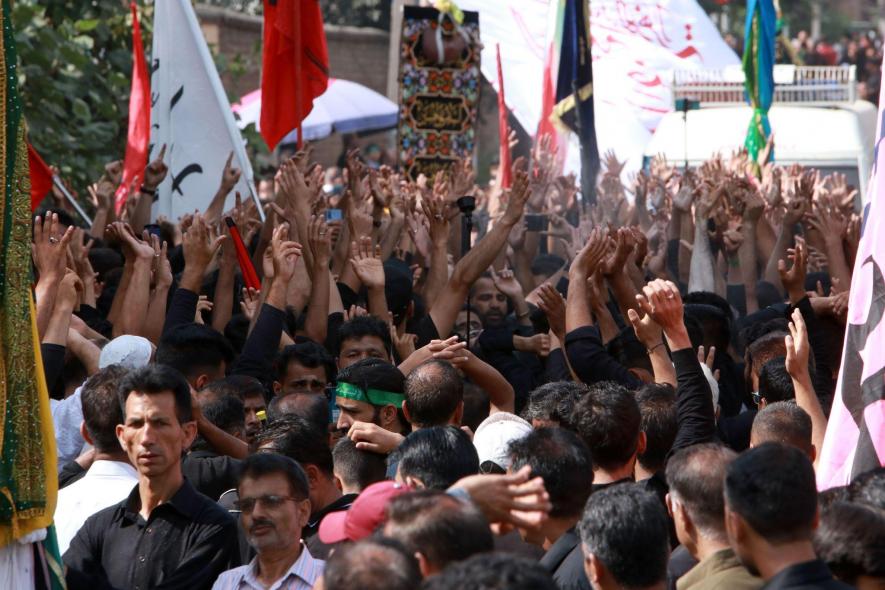 A Muharram procession being carried out at Rainawari in Srinagar
The administration prohibited mourners from coming out on traditional routes while placing the summer capital, including Srinagar's downtown, Abiguzar, Eidgah, and Soura areas, under severe restriction. On the 8th of Muharram, the authorities lowered the Internet bandwidth in many areas as a precautionary measure. Spools of concertina wire were rolled out on the roads to restrict vehicular movement to thwart the movement of mourners and their attempts to take out Zuljinah processions on the traditional Abiguzar-Zadibal route in Srinagar.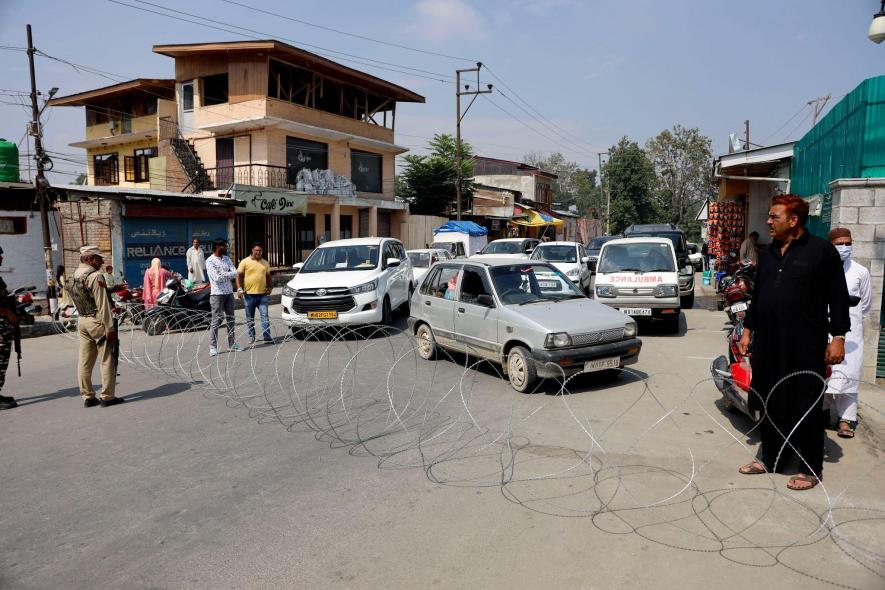 Barbed wires erected at Srinagar to impose restrictions
 On August 7, the eighth day of the 10-day Muharram mourning period, the Jammu and Kashmir police and central paramilitary personnel put razor wire and other barricades to seal off Srinagar's Lal Chowk and its surrounding neighbourhoods. Most affected areas included Shaheed Gunj, Maisuma, Kothibagh, Krala Khud, Batamloo etc.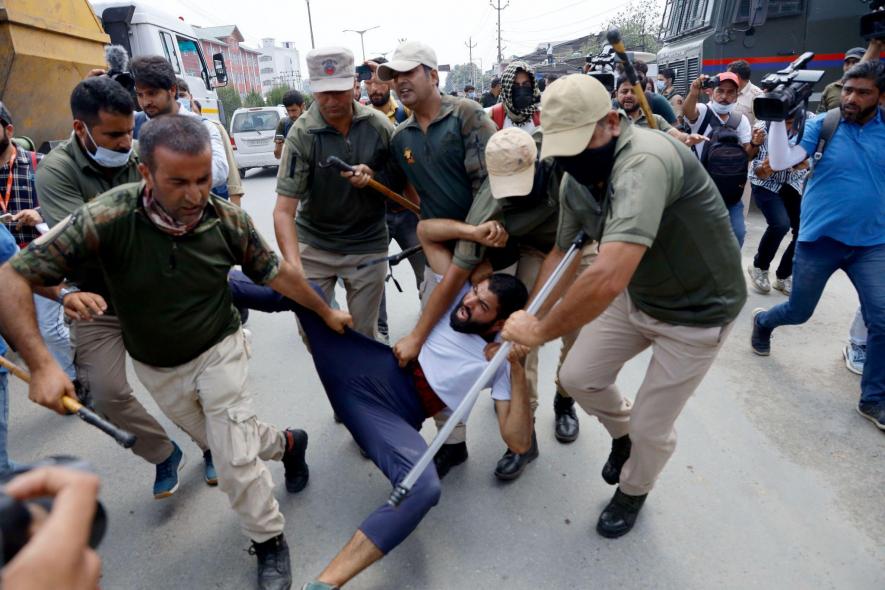 A mourner being detained by personnel of J and K police near Jehangir chowk in Srinagar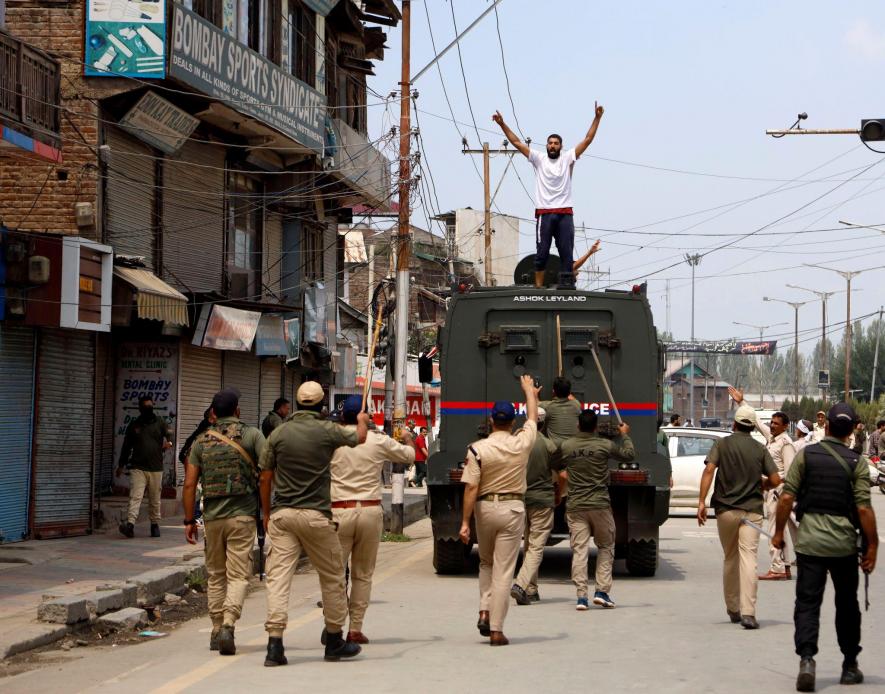 A detained mourner climbs atop a police van raising Hussaini slogans at Srinagar
The police detained several mourners to put a stop to their repeated attempts to hold a Muharram procession at Srinagar's commercial hub, Lal Chowk. At some places, the mourners resisted the police and marched on, only to be overpowered by the cops, bundled into police vans, and driven to nearby police stations such as Shaheed Gunj and Kothi Bagh.
Previously, the mourners did try to come out on the road in Batamaloo, Shaheed Gunj, Abi Guzar, and Dalgate areas of the city while raising slogans and singing rhymes in celebration of Imam Hussain.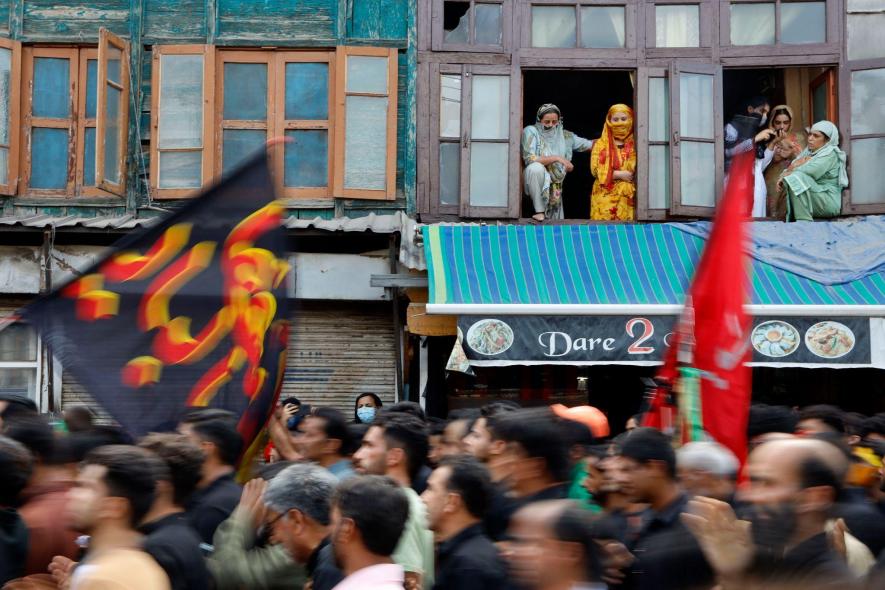 Muharram procession carried out by mourners from Shite community at Rainawari
Hussain was martyred in the month of October, around 680 (10 Muharram 61 Ah), along with 71 of his close family members and companions.
The mourners recited Mersia in honour of Hazrat Imam Hussian and Imam Hassan. "Since 1989, the government has been disallowing the processions on the eighth day of Muharram, citing various excuses. They have a fresh excuse of law and order issue," a mourner said.
He asserted that no incidents of law and order or sectarian conflict had been recorded from anywhere in Kashmir during the processions. "There have been numerous other events in the city centre, so I am not sure why the government believes law and order problems would occur in Lal Chowk because of processions even if they are not happening anywhere else. Two days back, the government organised a musical event at the city centre," he said, adding that it demonstrates their hypocrisy that if they can provide security for the Amarnath Yatra, why can't they do the same for just 4 km of road in Srinagar.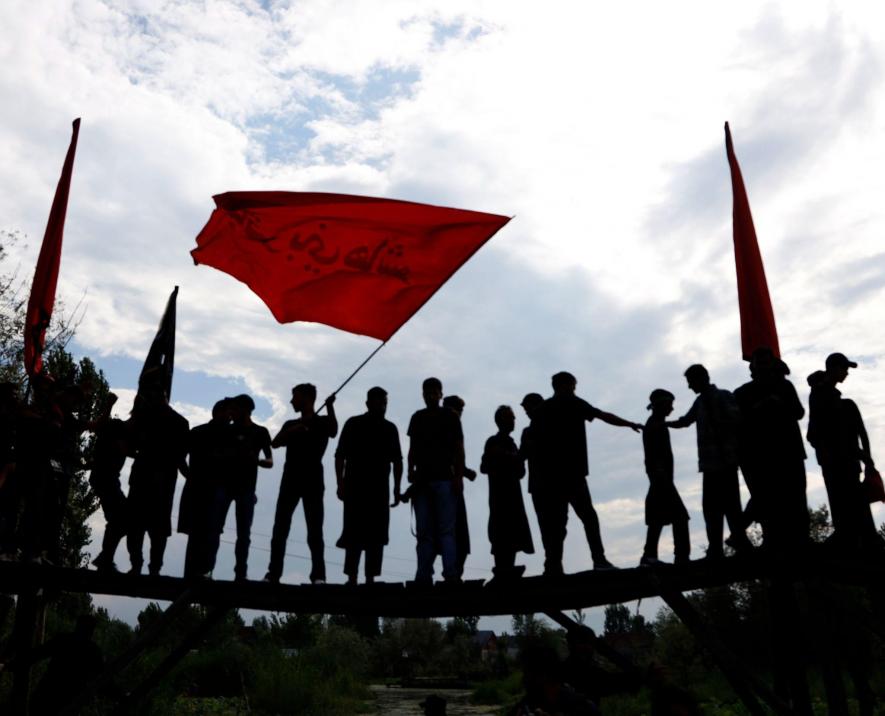 Mourners waving Hussaini flags at Sada Kadal Srinagar
Although the main Muharram procession is forbidden, a large "Zuljinah" procession was taken from Hawal to Zadibal, and mourners dressed in black were seen beating their chests in honour of Imam Hussain (AS) and his companions. Similar processions were also taken out in Budgam and other Shia-dominated areas of Kashmir.
All photographs were taken by Kamran Yousuf.
Get the latest reports & analysis with people's perspective on Protests, movements & deep analytical videos, discussions of the current affairs in your Telegram app. Subscribe to NewsClick's Telegram channel & get Real-Time updates on stories, as they get published on our website.
Subscribe Newsclick On Telegram