Physical Attacks to Break Unions Are Mounting in Himachal: CITU's Vijender Mehra
The central trade union's Himachal state president discusses the current challenges, and the evolution of industries in the hill state.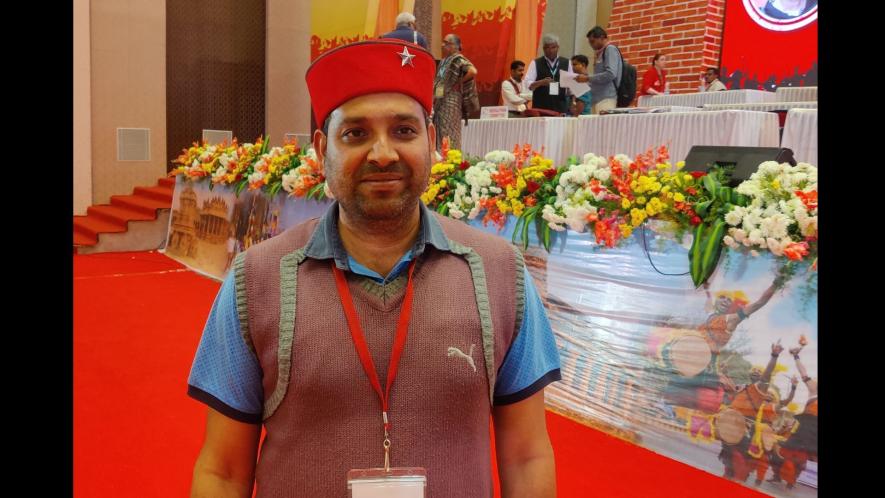 Bengaluru: The 17th All India CITU (Centre of Indian Trade Unions) conference is underway in Bengaluru, with  1,525 delegates from across the country gathering to discuss ways to improve the organisation as well as the trade union movement. NewsClick caught up with Vijender Mehra, state president of CITU in Himachal Pradesh. He spoke about police brutality, collusion between the labour department and employers and the successful movements launched by unions in the hill state to ensure decent wages for those employed in dangerous jobs. Edited Excerpts:
 Nikhil Cariappa: What are challenges in setting up a union in Himachal Pradesh?
 Vijender Mehra: In 1988, one of our comrades, Ravishankar, who was working in a factory, was murdered for his unionising activities. So, since the inception of the CITU in Himachal Pradesh, there have been physical attacks on our cadre. Further, during our interventions in the hydel (hydroelectricity) industry, a migrant worker (and union member) called Devdutt was shot dead in 1999. In 2006, the Hindustan Construction Company (HCC) were building a hydel project in the Chamba district. When we were constituting our union there, three of our members, including the CITU district president, were murdered, and their bodies were thrown into the Rabi river. The company executives are said to have played a role in it.
 NC: Were the accused arrested?
 VM: Yes, but they are out on bail. The whole ruling class got together to help them. Himachal has a strong energy sector. So many hydel projects are being constructed by private companies. Whenever there is an attempt to form a union, there is a counterattack by the management.
 In 2015, a private company was brought in to construct an IIT campus in Mandi. The management brought in bouncers from Punjab to beat up union members. But the local people resisted and four of the goons were chased by the public. In a bid to escape, they fell from a cliff and died. The police filed cases against a senior leader called Rajesh Sharma and jailed him for one and a half years. He was not even present in the location when this happened.
 NC: So there must be a lot of legal costs in fighting these cases.
 VM: Yes. There are two challenges in building a union. One is the threat of physical attacks from the management, and the other is in getting our unions registered by the labour department. Officially, we have 63 unions in Himachal Pradesh (affiliated to CITU), but in reality, there are more than a 100 unions. The others are not registered by the government for three/four years. The labour department alerts the management that these people have applied to form a union. This is due to corruption. Then, the workers are victimised. They may be removed from employment or even transferred out of the state.
 NC: If they are being transferred, then it must be public sector company that is adopting such practices.
 VM: No. Even private companies are doing this. In Una district, the Luminous company transferred 12 union leaders from Himachal to Tamil Nadu, even though the Tamil Nadu branch was in a totally different line of business. We filed a case in the labour court and won. We were awarded compensation as well. The company was ordered to pay back wages for the intervening period. The company filed an appeal in the high court, and they lost the case there as well. The judgement came last week. Now, the company has appealed to the Supreme Court. So, this is ultimately justice denied because the workers would have retired by the time the case is concluded in the SC. Also, hydel projects have a lot of exploitation cases because it employs migrant labour.
 NC: Where are most migrant workers from?
 VM: They are from Odisha, Jharkhand, Bihar, West Bengal, Andhra Pradesh, etc. The management tries to scare them because they already have a sense of insecurity. But what we have seen is that migrant workers tend to be fighters. They know their rights and are ready to fight for them.
 NC: Do you face any threats from the police?
 VM: Yes. After the 2006 murders of three hydel project workers in Chamba, we demanded justice for the deceased. We initiated a protest, and many union members, including myself, were arrested. Our national secretary, Kashmir Thakur, was beaten up in police custody. We had all the medical records with us, so we approached the session court to complain about police brutality. Subsequently, the accused police officers were jailed for one year. The court also ordered a compensation of Rs 25 lakh. However, the state government appealed the verdict in the high court. In this way, they are mounting physical attacks to break movements.
 NC: Can you tell us about industrial development in Himachal Pradesh?
 VM: There are more than 5,000 factories in Himachal, employing at least 3.5 lakh workers. Apart from this, there may be around 23,000 small-scale industries. In total, around 5.5 lakh workers are employed in industries.
 NC: This is quite a good number for a mountainous region.
 VM: Yes. In 2003, an industrial policy brought in by the Atal Bihari Vajpayee government. The state received a large package. That attracted a lot of industries to the state, especially the pharma industry, which came here for packaging of products. Many companies came here to take advantage of the tax exemptions offered by the government. But this is changing, and companies have relocated to other states.
Apart from this, there is a high MGNREGA enrollment as well. As many as 27 lakh people are registered for MGNREGA. Our state has a small population of around 75 lakh people, of which there are 14 lakh active MGNREGA card holders. Also, there are at least two lakh migrant workers in the state.
 NC: Is there any anti-migrant sentiment among the people there?
 VM: Not at all. A long time ago, Himachal had a big movement for local employment. This is because there was a lot of displacement for hydel projects. A lot of land in the state was submerged during these projects. Many villages disappeared. CITU and (All India) Kisan Sabha were actively demanding local employment, which was granted as well. Locals were given employment in many sectors, including hydel projects. The Himachal industrial policy says that 80% of employment should go to locals. The number may be closer to 50%, but there are no clashes between locals and migrants. The state also figures high in terms of education and health.
 NC: Which is the biggest industry in the state?
 VM: Most of the jobs come from the unorganised sector. In the past, construction of hydel projects was a big source of employment. A new source of employment now is the upcoming railway lines. There are very few railway lines in the state, and new construction has started. New roadways and highways are also coming up.
 NC: Can you list some achievements of the union?
 VM: We won a fight for fair wages for workers in hydel projects. For example - If a PWD worker earns Rs 100/day, we demand Rs 100 + 20% for hydel workers. Further, the workers who dig tunnels are always at risk of death, so we demanded an additional tunnel allowance of 20% for those workers. And if the projects are in the tribal regions, the terrain is even more unpredictable and risky because there is always snow there. We demanded another 10% for those workers. So, if an ordinary worker was earning Rs 10,000/month, we ensured that workers in hydel projects were earning at least double.
Get the latest reports & analysis with people's perspective on Protests, movements & deep analytical videos, discussions of the current affairs in your Telegram app. Subscribe to NewsClick's Telegram channel & get Real-Time updates on stories, as they get published on our website.
Subscribe Newsclick On Telegram