Is PM Fasal Bima Yojana Only Benefiting Insurance Companies?
Farmers allege the scheme sounds good, but on ground, it is helping insurance companies more than growers.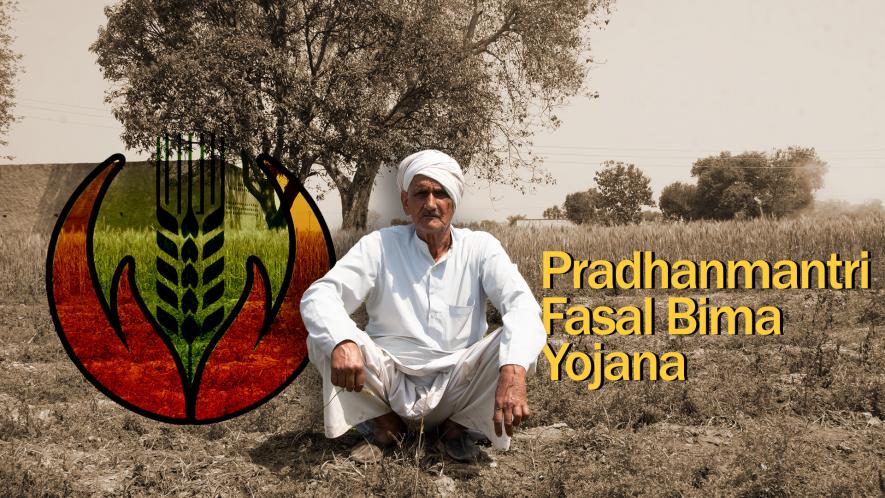 New Delhi: This year, the weather is taking a tough test on farmers. Due to continuous unseasonal rains and hailstorms, standing crops have been destroyed in many places across the country. This includes crops, such as wheat, mustard, potato, onion and chilli. Farmers have suffered huge losses. They are now looking forward to the government, but no relief is visible yet. The Pradhan Mantri Fasal Bima Yojana is there to save and give relief to the farmers from this destruction, but farmers' organisations say this scheme is making the insurance companies rich instead of the farmers.
Speaking with NewsClick, Sanjay, a 38-year-old farmer from Rithala village in Haryana's Rohtak district, said, "The unseasonal rains and strong winds have ruined my entire crop. Even recovering 25% of the cost will be difficult for me." 
Wheat crops in the entire of Haryana, especially in Rohtak, Bhiwani, Hisar and Sirsa, are facing the brunt of weather. Some farmers said they had harvested mustard but the crop was lying in the fields and got ruined by the hailstorm.
Those who farm on other's land on contract are the most troubled lot. NewsClick met one such farmer, Ranveer Singh, who broke down. He said he had made a Kisan Credit Card from Punjab National Bank with a limit of Rs 1,10,000. That is, they can take a loan of this many rupees from the bank for sowing crops. But he alleged that he has been making rounds of banks for many days, was not getting any loans.
When asked why he needed a loan when the crops have not been harvested yet, Singh said he was is a farmer of only 'half a Kila', apart from which he did farming on contract on one Kila (a land measure of about one acre), whose rate is Rs 40,000.
"It doesn't matter to the landlord whether the crop gets destroyed or not, he just wants his money. I don't have even a single rupee to give him. Even last year the harvest was not good, but I gave money to the landlord somehow and sowed new crops. Now, I have nothing, but it doesn't matter to the landlord. I have to give him money and need money for preparation of the new crop," he said.
 
NewsClick spoke with Inderjit, a farmer leader in Haryana and national vice-president of All India Kisan Sabha (AIKS), who agreed that PMFBY, the crop insurance scheme, was not farmer-friendly. Especially those who do farming on sharecropping or contract basis or are farm labourers, who do not get benefits of any government compensation.
First, the government does not give proper compensation for crop loss, but even if it does give something, it is only for the landlords, whereas the government should give exemption and relief to the farmers doing contractual farming, he said.
Inderjit said: "The crops of the farmers of North India have been destroyed due to the weather, but it is difficult to assess the extent of damage because that weather is still going on. What is visible with the naked eye is that the farmers' crops have been destroyed. The government should conduct a survey soon and announce relief."
On the crop insurance scheme, the AIKS leader said, "Its process is so complicated that it is almost impossible for the farmers to get its benefits. Insurance companies give some claims to some farmers just for show, while a large number of farmers are not able to complete their formalities."
Read Also: UP: Unseasonal Rains, Hailstorm Dash Hopes; Farmers Seek Compensation
He said by and large, the condition of farmers in Western Uttar Pradesh was similar. Their potato and wheat crops have been destroyed. In Rajasthan, too, farmers' crops have suffered heavy losses, he said, adding that farmers from all these states have demanded compensation by conducting an immediate survey from the government.
Farmers also alleged that this scheme was helping farmers less and insurance companies more. This can be confirmation by an answer by Union Agriculture Minister Narendra Singh Tomar er in Parliament in response to a question asked last year by BJP's Rajya Sabha member and former Deputy Chief Minister of Bihar, Sushil Kumar Modi. According to the data presented by Tomar in the Upper House, insurance companies made a surplus or savings of over Rs 40,000 crore from 2016-2017 to 2021-2022. The data shows that the companies paid claims worth Rs 11,9,314 crore against the deposited premium of Rs 15,9,132 crore.
Farmers have been agitating across the country at different times regarding this problem. A similar movement took place recently  in Maharashtra in the form of a Kisan Long March, which highlighted the problem of the farmers with this scheme.
Read Also: Kisan Long March: Big Victory for Farmers, Stir Postponed After Maharashtra Govt. Accepts Demands
Jagdish, a young farmer leader, who has done extensive research on crop insurance and is AIKS district committee member in Beed district of Maharashtra, accompanying the farmers on the long march, spoke at length with NewsClick and said, "The scheme looks fantastic But, its operational part is equally complex and anti-farmer."
For the first time, in 2002, the Atal Bihari Vajpayee government of the National Democratic Alliance (NDA) brought nationalised agricultural crop insurance, which was named Indian Agricultural Insurance. Later, it was renamed and with some amendments as the Pradhan Mantri Fasal Bima Yojana (PMFBY) in 2016, and was put in the hands of a private company. Under this scheme, a farmer has to pay only 2-2.5% of the insurance premium, while the rest is given by the state and Central governments. It sounds very farmer-friendly, and the government also claims so. But, while it is the responsibility of the state government to implement this scheme, it is fully monitored by the Union Ministry of Agriculture.
"Its purpose is pious but its practical side is anti-farmer. Under this scheme, the farmer can make his claim or complaint in three ways. First, through online mediums, second, offline and third, through telephone. But farmers are not tech-savvy to complain through email or websites. The second problem is that there are no offices of insurance companies in districts to make written complaints or offline complaints, and third, bad weather makes it difficult to reach the insurance company offices." 
Citing the example of his district, Jagdish says, "In 2020, insurance companies received a premium of Rs 798 crore, but they only returned claims of Rs 13 crore to the farmers. Its settlement rate was 1.5%, which is less than the old crop insurance. Second, crores of rupees were given to private insurance companies in the name of Pradhan Mantri Fasal Bima Yojana. If the farmer wants a loan, he does not get the loan without insurance. Also, he doesn't have the option of choosing an insurance company. Even SBI (State Bank of India) puts pressure to get Reliance insurance done. The biggest scam in this is that the insurance is personal, but the claim is received based on a large area. Many small and big farmers have fields. Small farmers lose everything in this, but they get a very little insurance claim."
Jagdish said in 2020, the Maharashtra government had said that farmers have suffered huge losses due to the floods and they would be compensated under the NDRF (National Disaster Relief Fund) i.e, all the farmers would be given compensation for their crops. "But the insurance companies have not given it. That's why sometimes it seems that this scheme has been implemented only to benefit private companies. Private companies are earning thousands of crores of rupees in crop insurance. Most of the companies are also in the general insurance sector but there is a reliable organisation like LIC, which is not easy for them to compete with. It seems the government has kept the government insurance company away from this sector to save it from the losses and private companies have got entry in this area," he added.
Farmers in the state have demanded that this entire process should be transparent, as they do not get to know how these insurance companies calculate the loss.
Now the Maharashtra government has made a big announcement that crops will be insured for only Re 1. On this, Jagdish said: "It sounds very good, but it is also in the interest of the insurance companies. Now the farmers will feel they are not giving anything to the company and when they do not get compensation for their losses, the company will keep silent. This is what the company wants, because it will get a full premium from the government. It is not the money of any politician, it is also the money of us farmers."
Jagdish, who is an engineer by profession, understands statistics better. He said he went to his village during the pandemic-induced lockdown and saw the ground reality and the condition of farmers. After that he started working with the farmers. He did an in-depth study about crop insurance and today he is fighting for the farmers in his district for their rights.
Due to not implementing the crop insurance scheme properly, farmers are getting buried under the burden of debt. NewsClick spoke to Rohidas Jadhav, a scholar researching crop loans from Marathwada University, during the recent Maharashtra Kisan Long March.
He said, "First of all, not everyone gets crop insurance. It is available only to some farmers. So, after a crop failure, for seeds, fertilisers and ploughing for new crops or, say, to run the house also, farmers take a loan. Apart from this, they have no option or relief."
But, "government banks do not give loans to them, so they have to take loans from private institutions and moneylenders, whose interest rate is very high. Under this pressure, farmers die by suicide," he added.
Jagdish admitted that the crop insurance scheme was more important than Minimum Support Price (MSP) because MSP is a post-harvest thing while crop insurance is a pre-harvest process.
"We, as a Kisan Sabha, are fighting to provide crop insurance to farmers across the country and have exposed the loot of insurance companies and provided compensation to farmers in states like Haryana, Rajasthan, Tamil Nadu and Maharashtra. We are also fighting against it at the national level and this issue will be raised prominently in the upcoming Sangharsh Rally in Delhi on April 5," he said.
Get the latest reports & analysis with people's perspective on Protests, movements & deep analytical videos, discussions of the current affairs in your Telegram app. Subscribe to NewsClick's Telegram channel & get Real-Time updates on stories, as they get published on our website.
Subscribe Newsclick On Telegram