PM Jobs Package for Kashmiri Pandits: No Secure Houses, Promotion
Only 17% of the proposed accommodation for Kashmiri Pandits has been completed in the last seven years.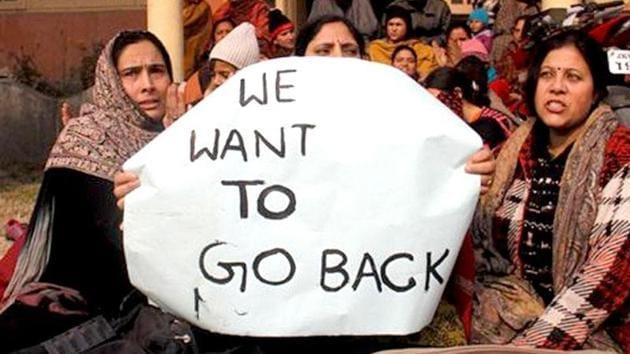 Image for representational purpose. Credit: Hindustan Times
Kamal and his family are among the 44,167 families, including 39,782 Hindus and almost all other Kashmiri Pandits, who had to leave the Kashmir Valley in the 90s because of targeted attacks by militants. This was the largest displacement after 1947 when more than 150,000 took shelter in refugee camps. 
Kamal was 1.5 years old when he and his family, which had already witnessed the rise of militancy, had to leave the Valley. When the exodus was under way in 1991, he remembers how his family was the last one to leave still hoping for the return of normalcy. 
Kamal spent around 17 years in the Battal Ballian camp with his family.
For the first three days, they could not get accommodation. On the fourth day, all they got was a small tent. "I still remember how each family member used to hold one end of the tent in order to prevent it from flying off. We always kept track of our utensils so that they would not get mixed with those of other families," Kamal recalls. 
In the subsequent years, Kamal's family had to dispose of their three-storey house in the Valley as neither it could be leased nor rented because the doors and windows had been pulled out and destroyed. 
"We came back to Kashmir to find our roots, our house, and our village," says Kamal, who got a job in the education sector under the 2008 PM special employment package for Kashmiri Pandits, when asked why he returned to Kashmir. "You can get a posting abroad but your soil will eventually pull you towards her," he added noting that he was earning well for his family in Jammu and was safe before 2017.
Safety is a major concern of the community despite government assurances. Rahul Bhat, who was shot dead at his office from point-blank range by militants in Budgam earlier this month, too was employed under the special jobs package.
According to The Indian Express, out of the 6,000 posts under the scheme, 5,928 have been filled but only 1,037 employees stay in secure accommodation with the rest residing in rented homes or rooms outside the secure zone. 
Kamal, however, claimed that only fabricated houses are provided under "safe accommodation". "The houses are so weak that even a stone could damage them. Now, new employees too are staying in rented houses," says Kamal, who has been staying with his family in rented accommodation for more than five years. Besides the lack of safety, salaries are often delayed by months. "I joined in 2017 but was paid after one-and-a-half years," he adds. 
Kamal recalls his earlier job, in the automobile sector, was well paid and also assured safety. "I even got offers from Delhi but I chose my roots over everything," he explains why he chose Kashmir over a better and more secure life in Jammu or Delhi. 
The Narendra Modi government increased the cash assistance provided to Kashmiri migrants to Rs 13,000 per family. However, some of the employees claim that several of them haven't received the enhanced assistance. 
Several employees, according to Kamal, working for years or decades haven't been promoted. The Pandits claim that they were promised promotions after nine years of service.
After being denied promotion for years, Kamal says he reports to people who are junior to him and feels "humiliated". "We are bonded labourers. It was the fault of the UPA government."
Amit, a junior engineer with the PWD RNB department who joined in 2010, has neither been promoted nor received a salary hike. "Instead of promoting us, our department has promoted employees who are three years junior and younger to us. We address them as sir; it's quite hurtful. It's a slow death."
Another Pandit with the education department alleged that members of the community face discrimination in every department.
The families of the employees stay in Jammu because of the deteriorating situation in Kashmir and various other reasons. Besides, most of the employees don't have proper accommodation or any secure place to stay. Amit claims that even if an employee wants to bring over his  family, the building owner or the landlord doesn't allow him or asks for extra money. 
Several employees requesting anonymity claimed that they were promised postings at the district levels but most of them commute 25-50 km to reach their offices. 
"I have to travel more than 50 km to reach my school. Undoubtedly, I am safe inside my house but what about the distance I travel to reach the school?" asks Neeru Bhat, who stays in secure accommodation and has been employed with the education department since 2010. She had no option but to buy a car to commute. 
Another Pandit said, "We are posted in far-flung areas. We were promised postings at the district level but cover several kilometres to reach the office."
As many as 14 Kashmiri Pandits and Hindus were killed in the Valley after the abrogation of Article 370 in August 2019, according to data presented by the home ministry in the Rajya Sabha in April. "The daily killings we see and experience is actually heart-breaking," says Amit.
The package, aimed at attracting the Pandits back to the Valley, seems to have failed. According to the Centre, only 17% of the proposed accommodation for Pandits has been completed in the last seven years. In 2015, the Jammu and Kashmir government announced that 6,000 housing units would be provided to the employees at Rs 920 crore.
However, only 1,025 units were partially or entirely complete as of February, The Hindu reported.
According to Amit, close to 1,100 employees stay in secure accommodation and the rest 4,000 stay in rental houses or one-quarter rooms. The camps have alabaster roofs, which have a shelf life of six months, he added. He claims that families have been staying under such roofs for more than 11-12 years without maintenance even during extreme winter.
The Internet connectivity is so bad in some of the camps that people find it hard to connect with their families. Another major issue is of sanitation. People in some camps have to travel 10 km to fetch water.
"Is this the kind of security we were promised?" asks Amit. "Modi Ji has this policy of providing tap water for the entire country but it seems that such policies don't apply to Kashmiris," he says.
One Pandit notes how the community is afraid to practise its religion with people often staring at the Pandits. "They fear being recognised by militants. If I were a tika, I am questioned," he says. "My wife was questioned for wearing bindi and her attire."
The writer is an freelance journalist. She writes on education, health and politics.
Get the latest reports & analysis with people's perspective on Protests, movements & deep analytical videos, discussions of the current affairs in your Telegram app. Subscribe to NewsClick's Telegram channel & get Real-Time updates on stories, as they get published on our website.
Subscribe Newsclick On Telegram