PM Modi's Pet Bullet Train Project Hits New Hurdles
With farmers already up in arms in Maharashtra and Gujarat, confusion over funding is further souring Modi's 'big dream'.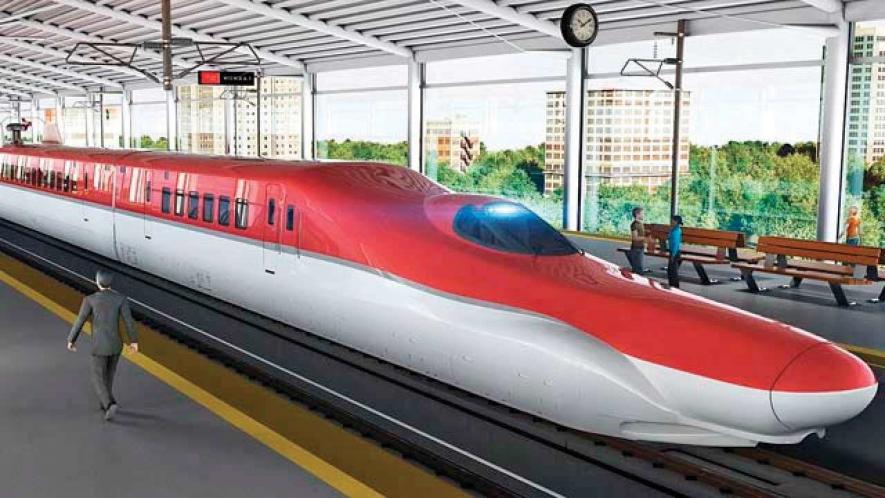 Image Courtesy : Indian Express
There is still a  lot of confusion regarding Prime Minister Narendra Modi' pet bullet train project, as uncertainty over financing continues. Earlier, there was news that Japan has stopped the funding for the project over farmer issues. Soon enough, NHSRCL (National High-Speed Rail Corporation Ltd), the nodal agency for execution of the project, stepped in to say that the report was not true. However, the protests by farmers over this project cannot be denied.
In both states through which the train is supposed to run --  Maharashtra and Gujarat -- farmers are protesting against land acquisition for the MAHSR (Mumbai- Ahmedabad High-Speed Rail).
According to farmers from Gujarat, the government has diluted the Land Acquisition Act, 2013, as Japan and the Indian government entered into the contract on September 15, 2015. The dilution of the Act resulted in a reduction of the compensation package offered to the affected farmers. They are also alleging that there is negligence of social and environmental concerns and have also moved the Gujarat High Court against the land acquisition process. In addition, the farmers also invited the Japanese Ambassador to India to visit the affected areas to understand the situation at the ground.
After 70 years of Independence, India is still facing inequality not only in housing, healthcare, wealth accumulation, income generation but also in accessibility and affordability of transportation. PM Modi's ambitious bullet train is unlikely to achieve its purpose as the use of highly advanced technology will isolate the middle class and poor sections of the society. This disparity is already visible if one assesses any high-end train in India.
Just as children living in the slums of Mumbai, who see planes flying above their heads every day and dream of flying on those at least once in their lifetime, can never see them fulfilled, so will the bullet train be out of reach of the common people. If the government conducts an open survey, 90% of the population of Mumbai, the financial capital of India, will not opt to travel by the bullet train as the fare would be beyond their means. So, the bullet train will primarily cater to 'Rich India', not 'Poor India'. If two of the richest states of India -- Maharashtra and Gujarat -- unable to provide access to their middle class and poor to this mode of transport, then one can easily imagine what the picture of the whole country will be like.
The Bullet Train Project
MAHSR (Mumbai Ahmedabad High-Speed Rail) has been proposed between Mumbai and Ahmedabad, the two major cities of India, one is the financial capital and another major economic hub of India. As per the proposed plan, there will be 12 stations in the MAHSR. These will be Mumbai, Thane, Virar, Boisar, Vapi, Bilimora, Surat, Bharuch, Vadodara, Anand, Ahmedabad and Sabarmati. The distance of this project is 508 km with an estimated cost of Rs 1.1 lakh crore.  The scheduled date for completion of this project is August 15, 2023.
Special Purpose Vehicle Formed
The National High-Speed Rail Corporation Limited (NHSRCL) has been created for implementation of this project. NHSRCL is an SPV with equity participation by the Ministry of Railway (Central Government) and the governments of Gujarat and Maharashtra.
According to NHSRCL, about 1,400 hectare land is required for the project and only 0.9 hectare has been acquired so far. In Maharashtra, compensation to the landowner will be five times the market rate and in Gujarat it will be as per the 2016 Act with a 25% premium.
As per the proposal, 35 bullet trains with 10 coaches each, which will be run on the Mumbai- Ahmedabad route, will have one business class coach and nine standard coaches each
False Claims of Ridership
As per reports, a daily ridership of 40,000 in 2023 has been forecast for the bullet train. The figure is clearly exaggerated. A daily air traffic of 4,700 between Mumbai and Ahmedabad has been suggested by these reports. But, the agglomeration of all modes of transportation still misses the forecast figure. Switching from one mode to another is determined by many factors other than price. The data has been clearly fudged to project a favourable number
The growth in domestic air traffic, decrease in jet fuel and improvement in technology have brought air fares down. The fares of a Mumbai-Ahmedabad flight may go down to below to Rs 3,000, as per the trend, which will be lower than or on a par with the proposed price of Rs 3,000 for the bullet train.
The 'Willingness to Pay' Concept
Through the ' Willingness to Pay' survey, the government is attempting to forecast the potential traveller between the routes. However, 'wllingness' to pay is about the desire of a consumer, rather than his/her capacity to pay. This deliberately designed survey aims to reach the popular mark of 40,000 ridership daily. The government should have an enquiry based on the scientific approach and ground realities before proceeding with this project.
Claims of 'Cheapest' Bullet Train
The Indian bullet train will not be the cheapest in the world, as claimed by the government. Both Turkey and China have cheaper fares for a similar distance, and even in the feasibility report, the government has accepted that the fares will be higher than HSR (High-Speed Rail) fares in Taiwan, Turkey and China in PPP (purchasing power parity) terms. The Taiwan HSR has been closed due to low ridership as its has been unable to reach even half the predicted ridership.
National Transport Development Policy Committee
In 2012, the government of India had set up a high-level committee named National Transport Development Policy Committee (NTDPC) with the objective of developing a long-term national transport policy. In its report, the committee had recommended that priority should be semi-high speed rail (160-200 kmph), not HSR, till the time the HSR projects are found commercially justified or operationally necessary.
A study by the scholars of IIM- Ahmedabad showed that 100 daily trips at full occupancy would be required with a fare of Rs 5,000 between Ahmedabad and Mumbai to make the bullet train financially viable.
Economic Sense and JICA Financing
MAHSR is being financed through JICA which is lending Rs 88,000 crore at an interest rate of 0.1%. The payback period is 50 years with a moratorium of 15 years. But  Japan is not doing any charity but serving its own purpose. A favourable interest rate is being offered as Japan's advanced technology and capital are in search of new markets like India. Also, Japan is facing fierce competition with France and China in the HSR sector.
Strength of Currencies a Big Concern
India has a much higher inflation economy than Japan. And the Indian rupee is continuously getting depreciated against the Japanese yen. As we can see, in September 2007, one Y#yen was worth Rs 0.35  but 10 years later, in 2017, each yen is worth 64% more, at Rs 0.58
This means that a yen loan taken in 2007 has grown 1.64 times by 2017. If this trend of rise in currency continues, then a 50-year loan worth Rs 88,000 crore will turn three times higher than the principal/original amount which will put a huge burden on the economy and monetary policy of the country. Governments will come and go, but the citizens of the country will have to bear the brunt of the debt forever.
Environmental Dangers  
According to the feasibility report, the route of MAHSR project dissects multiple reserved forests and mangroves and, as per one estimate, around 80,000 trees will have to be cut down. A
Social Impact
The bullet train project will displace people in thousands. In affected area, 50% of the population has not completed elementary education, and almost 45% of people work less than 1 km from their homes. Rajdhani/semi high-speed trains run on the same tracks that are used by the other trains,  saving lands, forests and displacement of people, while the HSR route will have an exclusive Right-of-Way (ROW), will destroy forests, displace people and take away farmlands and other livelihood.
With India already grappling with a myriad of problems, the country should be prioritising its needs, not its wants.
Get the latest reports & analysis with people's perspective on Protests, movements & deep analytical videos, discussions of the current affairs in your Telegram app. Subscribe to NewsClick's Telegram channel & get Real-Time updates on stories, as they get published on our website.
Subscribe Newsclick On Telegram