UP: Police Action to Deter Fight for Dalit Rights, says Retd IPS Officer Darapuri
A peaceful protest that took place on October 10 for the right to land for Dalits in several Gorakhpur, led to criminalising of the protest and arrest of activists.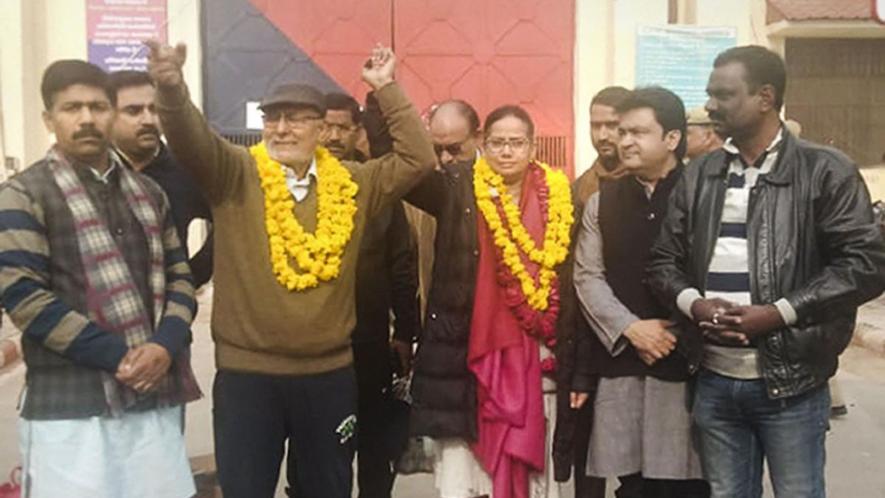 Retired officer and activist S.R. Darapuri was only granted bail on October 28 following a three-week long incarceration in Gorakhpur jail. Darapuri, who is an octogenarian and suffers from Parkinson's disease, was detained on October 11 after participating in a protest called by the Ambedkar Jan Morcha at the Gorakhpur Divisional Commissioner's office. The protest had sought to secure land for landless Dalit families and resulted in the arrest of Darapuri and eight other activists.
A native of Jalandhar district in Punjab, S.R. Darapuri has had a long career as a retired Inspector General in the Uttar Pradesh Police. Darapuri was the third highest ranking officer in the state of Uttar Pradesh. After his time in public service, Darapuri has been a vocal advocate for the rights of the marginalised. According to National Herald, in 2019, he was arrested just before he was about to attend an anti-CAA protest in Lucknow. He has also been associated with a range of human rights organisations, including the People's Union for Civil Liberties (PUCL), Jan Sangharsh Morcha, Right to Food Committee in UP, and the Society for Promoting Buddhist Knowledge, to name a few. He has also worked for the forest and labour rights. Currently, he is the National President of the All India People's Front.
However, in October 2023 he, along with other protestors, was arrested when he was protesting the land grabbing of Dalit peoples. The charges against him and the others were serious and included allegations of vandalism and even an attempt to commit murder under IPC Section 307. A French research scholar, Valentine Jean was also taken into custody in a case under the Foreigners Act for his involvement in the protest. A report by the Wire suggests that most of those arrested were from the Dalit community.
Darapuri has asserted that the arrests were orchestrated by the local police and administration to discourage future protests. He has also stated that the attempt to charge them with murder was an afterthought aimed at increasing their incarceration and punishment. He added, "All the IPC sections mentioned in the FIR were bailable. So, they added the IPC Section 307, which is non-bailable. The entire FIR was fictitious. There was no truth in any of the allegations. Our protest was peaceful, and I was there for just one hour."
Darapuri firmly maintains that these allegations lack any factual basis and were motivated by a clear agenda: to instil fear and suppress the legitimate demand for land allocation to Dalits. He suggests that the government's primary objective was to send a message that those who advocate for land rights could face similar repercussions. In a statement released by the All India People's Front, Darapuri has asserted that, "Yogi Raj mein, Dalit ke zameen ke badle jail! (Under Yogi's rule, a Dalit gets jail in exchange for giving away his land!)
The former officer also reiterated that the protest took place peacefully and even government authorities had been present in conversation with the protestors, in a statement he has released, "The police and magistrates were present at the site, and the entire program was conducted peacefully and in an organised manner. The authorities did not raise any objections. Later in the evening, the District Magistrate arrived at the scene and assured the protesters that their demand for land allocation was legitimate and promised to form a committee. This led to the conclusion of the sit-in protest."
Although Darapuri was eventually granted bail by the Gorakhpur Additional Sessions Court on October 28 and released from Gorakhpur jail on Tuesday, October 30 evening, three of the nine arrested persons are still awaiting the completion of their paperwork.
Dalits and the issue of Land Grabbing 
In September 2023, 3 members of a Dalit family were killed in Kaushambi, UP, according to a report by the NDTV. A total of eight people were arrested in relation to the murder, which was motivated by the occurrence of a land dispute. One of the arrested include a police constable, Suresh Singh. The accused were from a backward caste and wanted to evict the victims from a piece of land. Similarly, in UP's Mainpuri, a 33 year old Dalit man was found murdered after he could not pay back the loan to an upper caste man. Police here too suspected the issue of land grabbing.
What is worse is that the family also alleged that this is not the first instance of murder due to land grabbing. Another brother of the victim had also been murdered similarly in 2015, "Upper caste men from the village want to grab our land. The life of my entire family is in danger. We have to leave the village."
Land thereby remains a contentious issue for the Dalit community in the districts of eastern Uttar Pradesh (UP) known as the Purvanchal region. In Purvanchal itself more than 3 decades have passed after land redistribution was enacted, however land continues to be under the control of Zamindars, according to Himal Magazine, these landowners across the region persistently work to ensure the land does not go out of their control.
Scroll.in highlights that across 13 states in India, over 31 cases of land conflict are occurring, and about 92,000 Dalits are involved in trying to get their land back. Historically, the emphasis on the need for land ownership amongst Dalits has been given great attention.
According to Frontline Magazine, the British government issued a historic order, the Government Order in 1892, which marked a path-defining moment for social justice and paved the way for future land redistribution schemes for the marginalised in India. This order established the Depressed Class Land Act 1892, designating certain areas of land as "Depressed Class lands." These lands were allocated to the erstwhile untouchables of that era in the then Madras Presidency, and also included areas which are now Tamil Nadu and Andhra Pradesh, along with portions of present-day Kerala, Karnataka, Telangana, and Odisha. Thereafter, such land redistribution schemes were also taken up by the Indian government post-independence. Over time, these lands have become commonly known as "panchami" lands, a term associated with the marginalised and deprived communities. Interestingly, the designation "panchami" continues to be used today to describe land allocated to Dalits through various social welfare initiatives of State and Union governments. This initiative was a pioneering one as it laid the foundation for the equitable distribution of land to Dalits within the Madras Presidency, a significant step forward for social equality and justice.
However, Dalits today are still fighting for the land rightfully allotted to them under these schemes. In 2015, BSP Supremo, Mayawati, blazed out the ruling Samjawadi Party government for allowing amendments to the UP Zamindari Abolition and Land Reforms Act which would make it easier for non-Dalits to get land owned by Dalits. According to the law, a Dalit person would be required to report to the Magistrate on account of selling his land to a non-Dalit if he owned land that accounted for less than 3.5 acres. In 2023, a similar move has been made by the BJP government; several Dalit organisations, including the Bhim Army, have condemned it broadly according to Mooknayak.
Vicious avenues for land grabbing
According to Scroll, in 2013 close to 60% of Dalit households did not possess any agricultural land. Simultaneously, the 2011 Census revealed that nearly 70% of Dalit farmers worked as labourers on farms belonging to others, according to a report by Scroll.in. Thus, these harrowing figures suggest that there are very few Dalits who own land, and thus, if we look at the murders we discover that those that do are thus vulnerable to having their land taken away from them. The government in certain cases, such as Punjab, has also been accused of taking away Dalit land. In fact, Patanjali, which is endorsed by Ramdev who is known as a yoga guru, businessmen and supporter of the BJP, has also been accused of taking Dalit land. According to an incisive report from 2022 by NewsLaundry, Patanjali has been accused of going around regulations by organising a complex land acquisition strategy in Uttarakhand's Haridwar. According to allegations, Patanjali utilised its influence to ensure the transfer, sale, as well as resale of approximately 600 bighas of land between 2005 and 2010 through the use of a series of "donation" deeds and land registries in the names of Dalit villagers.
The method, as described by the villagers to Newslaundry, was one where Patanjali's associates would reportedly provide monetary incentives to numerous Dalit families, allowing the company to utilise their land without transferring legal ownership – a transaction they couldn't undertake. The monetary compensation enabled many villagers to acquire land in the names of their family members, and in some instances, even their drivers and servants. Those who resisted the arrangement were allegedly subjected to coercion.
Apart from individual land acquisitions, the conglomerate allegedly also made attempts to secure hundreds of acres of gram panchayat land, although these efforts faced opposition from villagers. Villagers have asserted that village patwaris have also played crucial roles in facilitating numerous land registries on behalf of Patanjali. Following these events, Patanjali has utilised this land for cultivating medicinal herbs, sugarcane farming, and establishing cow shelters, as claimed by the villagers. This harrowing picture brings our attention to the condition of Dalits who still continue to suffer from various structural disabilities. Statistics thus reveal to us a stark reality; Dalits have poverty rates at a staggering 65.8 percent of which about 71% of Dalits are forced to toil as landless labourers, and are mainly relegated to working on land that they do not own. In rural areas the situation is far worse with about 58.4% of Dalit households deprived of any land ownership. This systemic injustice is perpetuated by a conglomeration of caste-based discrimination, a corporate-government nexus that often exploits their vulnerability, when certain state entities that align themselves with corporate interests, all of which conspire to rob Dalits of their livelihoods and their right to land. The issue of Dalit land grab is not just an economic crisis but a profound human rights concern that calls for immediate to rectify historical injustices and empower Dalits to reclaim their lives and land.
Get the latest reports & analysis with people's perspective on Protests, movements & deep analytical videos, discussions of the current affairs in your Telegram app. Subscribe to NewsClick's Telegram channel & get Real-Time updates on stories, as they get published on our website.
Subscribe Newsclick On Telegram