Police Brutality, Harassment Dampen Battle Against COVID-19 in Kashmir
As cases continue to rise, many favour easing of lockdown, say use of force to implement it is proving counter-productive.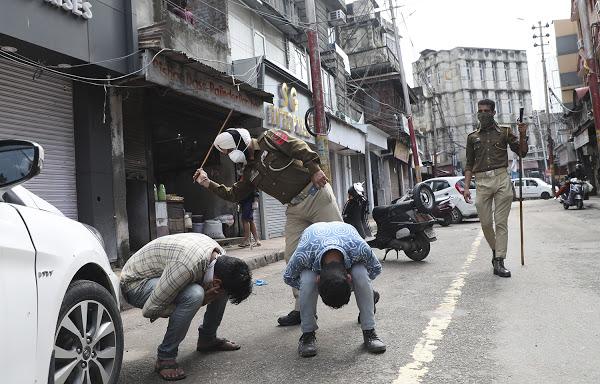 Representational Image. Image Courtesy: The Caravan
Srinagar: Srinagar residents Arshie Qureshi and her brother were in their car last Saturday when police personnel stopped them at a checkpoint in Srinagar's Lal Bazaar area, not allowing them to pass through. When Arshie's brother tried to reason with the police, he was badly beaten up. 
"Not just him, an elderly man with a hospital prescription and a cancer society card was beaten up as well. I had to get down to defend both of them," Arshie told NewsClick. 
When Arshie posted his on Twitter, about the same time former star footballer, Mehraj ud din Waddoo, posted about his own bitter experience while he was on his way to see his mother, who was in a critical state. Mehraj was stopped by police near Budshah Kadal and detained for hours. 
"Spoke to the police officer in-charge but what he did and said was shocking to hear, "If your mother is dying let her die." These were the words from the officer in-charge there. Yes, 100 per cent correct, why would you care?" Wadoo wrote. Even as Waddoo deleted the tweet later and thanked the district magistrate for helping him out, not everyone is fortunate enough to be a star footballer.
Scores of local residents, such as Arshie and Mehraj, face excesses on the roads. These are not people who are out for leisure or recreation, in fact, many among these are healthcare professionals on duty. 
In a statement dated May 25, the Resident Doctor's Association (RDA) of the Government Medical College (GMC), Srinagar, condemned police "harassment".
Samia Rashid, Principal, GMC Srinagar, tweeted: "The behavior of the police has been deplorable to say the least - we as frontline workers have been working day in and day out risking our lives and families only to be harrassed. We as the administration have raised the issue with concerned authorities and hope for swift action (sic)." 
Two months have passed since the country-wide sudden lockdown was imposed to thwart the spread of the coronavirus pandemic but the number of cases continues show an upward trend in Kashmir. 
More cases are being detected despite a strict lockdown, severe restrictions and quarantine, which are aimed to help people. Healthcare experts say the benefits of lockdown are gradually wearing out. The excessive use of force by police to enforce the lockdown, administrative mismanagement, such as inside the quarantine facilities, and an uncertain future is dampening people's fighting spirit against the pandemic. 
Medical experts are also concerned that use of violence and extending the suspension of all economic activity will ultimately lead to lockdown fatigue, overwhelming the fear of infection among people. 
"The lockdown can be problematic if its extended for a long-term...It will be counter-productive if it begins to threaten people's survival," says Sheikh Shoib, a consultant neuropsychiatrist at Srinagar's Jawahar Lal Nehru Memorial (JLNM) Hospital.
Suhail Naik, president, Doctor's Association Kashmir, says indefinite lockdown cannot replace vaccination against the disease. According to Dr Naik, the disease has entered third the stage in Kashmir and the community transmission has already begun. "This is an ominous sign, as we are about to complete three consecutive lockdowns, but in our case there are other factors which indicate we are doing much better," he added.
In this region, the recovery rate, Dr Naik says, has been between 30-35% and the mortality rate is less than 2% and about 90% people are asymptomatic, which is good. 
"The lockdown was enforced to prepare our healthcare system against the crisis and mitigate the burden on the system. Now we have designated COVID-19 and non-COVID hospitals, designated staff to deal with COVID-19 patients, centres and quarantine centres. Earlier, there was no lab in the region, now we have that and can do testing locally. The lockdown provides time to prepare for a health distaster, which we did... we have a response mechanism ready," he says.
Dr Naik believes the world will take between six months to a year before it recovers from the pandemic. "We cannot put life to a grinding halt. Future life will be with protocols, guidelines and health advisories, and that is what we need to prepare for," he adds. 
In over 1.3 lakh cases across India, as many as 1,621 cases have been detected in the Union territory of Jammu and Kashmir. Among these, over 800 people have recovered while 21 victims have died so far, most of them had co-morbidity issues. 
Healthcare experts also claim the surge in positive cases is not only due to the increase in the number of tests. The numbers, they say, will increase with easing restrictions but that should not act as a deterrent, given that a response system is already in place. 
Deputy Commissioner Shahid Choudhary, told NewsClick that the lockdown exit policy has to be "graded and slow". 
"As of now, there is a lockdown in place till May 31, but we are also working with a strategy for economic activities to resume. We have, in fact, started with industries and are planning other activities, such as handloom," Choudhary said. 
While the administration in Kashmir does not seem to rely on social-responsibility or people's fear of infection but, experiences of police brutalities, administrative mismanagement, economic instability and victim shaming, the healthcare experts believe, will have repercussions leading to more problems than solutions. 
Many persons who have stayed inside quarantine facilities allege there is administrative mismanagement, victim blaming and humiliation, which add to fatigue amidst the looming uncertainty. This is another major dampener in the fight against COVID-19.
For instance, many who stayed in quarantine facilities in South Kashmir's Pulwama, said these were in the "worst" shape.  
"The rooms and washrooms are dirty. I was sharing my bathroom with more than 20 people whose test results were yet to confirmed positive or negative. It was a nightmare but, the worst part is how the administration treats you, like criminals," a medical student told NewsClick. 
This is not an isolated case. Another local of Pulwama who stayed in a different quarantine facilities, had a similar experience. The person, who wished to remain anonymous fearing reprisal, stayed in a quarantine facility for almost 10 days. "My sample was first taken in Jammu and I was shifted to a quarantine facility in Pulwama, as the result was pending. My sample was taken for a second time but, after nine days, the test results of Jammu sample came and I was discharged," the Pulwama resident said. 
In Srinagar also, scores of persons claimed the authorities resort to victim blaming when questioned about lack of proper facilities or medical updates. 
"We are a group of seven girls who have been kept inside a building which has an overwhelming population of quarantined boys. There are only shared washrooms here and we have to move three floors down to use it and then we also have to clean it. No one should go through what we are experiencing, the officials are rude and accuse us of being thankless," Gafira Qadir, 21, told NewsClick. She is currently quarantined in Srinagar's Zakura area and has been waiting for the test results since May 17. 
In many cases, this kind of "callousness" has been exhibited by the hospital administration and medical staff as well. A woman was left lying on her back on the stairs of Srinagar's CD hospital by paramedics after she was shifted from SMHS hospital. The woman, suspected to be COVID-19 positive, was accompanied by an attendant who held her in her arms, a picture that caused online outrage.  
Naveed Shah, Professor and Head at the CD hospital, said about 12 patients were confirmed positive that day and nine of them from SMHS hospital were being shifted to CD hospital. "They were not abandoned, but sent with just one attendant and ambulance drivers who left them inside the hospital premises. The referring hospital should have ideally sent someone from the medical staff with them for coordination but, they had not," Dr Naved said. 
The staff at CD Hospital, a designated COVID-19 hospital, could not shift all the nine patients in one go. The patient, according to Dr Naved, continues to remain under CD Hospital's care. "She has completed seven days in the quarantine and her condition has improved considerably since then," Dr Naved told NewsClick.  
Echoing others, Dr Naved says the lockdown was meant for buying time. "It has definitely reduced the number of transmissions and could have been better but the cases are bound to rise. Prolonged lockdown cannot be a definite response. We have to learn to live with the virus now," he added.
Get the latest reports & analysis with people's perspective on Protests, movements & deep analytical videos, discussions of the current affairs in your Telegram app. Subscribe to NewsClick's Telegram channel & get Real-Time updates on stories, as they get published on our website.
Subscribe Newsclick On Telegram