UP: Police Crackdown Instils Fear Among Those Commenting on Israel-Palestine Issue
CM Yogi Adityanath has warned of strict action against anyone indulging in activities that oppose the Indian government's stand on the ongoing Israel-Hamas conflict and voicing support for Palestine on social media.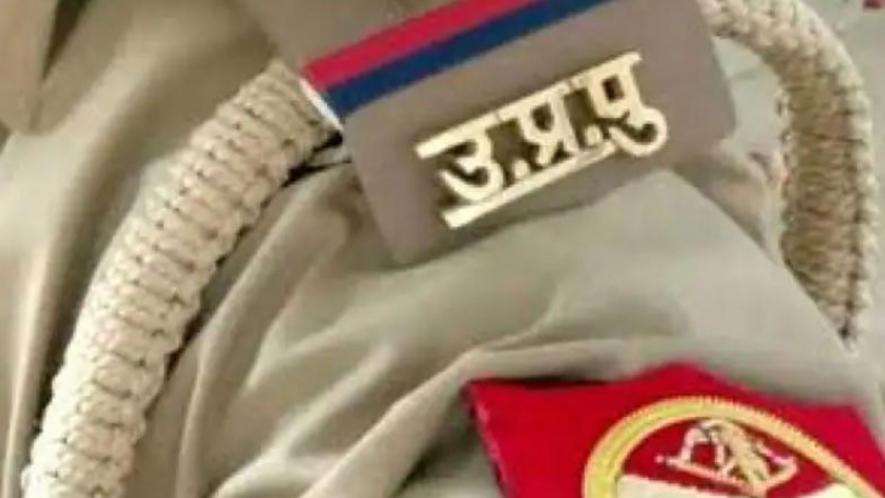 Lucknow: Arshad Jameel* has never felt so insecure about his job as a government teacher. His anxiety comes in the wake of ongoing action described by the Yogi Adityanath-led government in Uttar Pradesh as a 'crackdown' on those supporting Palestine amid the ongoing Israel-Hamas conflict in West Asia. 
Jameel has stopped writing on social media platforms about the Palestine crisis despite having so many thoughts in his mind. He writes and deletes but does not dare to post in support of Palestine out of fear as the UP Chief Minister has directed police to take strict action against anyone attempting to make "inciteful" statements either on social media or from places of worship. 
"A few years back, we saw a lockdown in the wake of COVID. The government is putting a similar ban on our pens and minds. We cannot write what we see with our own eyes or what we think. We don't feel that we are free citizens of a free country anymore," Jameel told NewsClick. 
Recalling the UP Police crackdown on the anti-Citizenship Amendment Act (CAA) and the proposed pan-India National Register of Citizens (NRC) in which at least media
23 Muslims died across the state, he said, "One of my friends was arrested and sent to jail for three days for sharing a post of mine on social media condemning CAA and NRC as being against the Indian tradition of inclusiveness and idea of a pluralist democracy. He spent his salary of nearly a year in legal expenses."
Shadab*, a Muslim police official, also lives in constant fear after a constable was suspended for allegedly sharing a post supporting Palestine on social media. 
"I don't write anything on social media, but I share videos and photos I like. However, videos coming from Gaza are heart-wrenching. Hundreds of people died in the horrific airstrike by Israel. I wanted to share those videos of how cruel Israel is taking innocent lives, but due to fear of legal action, I am not sharing anything. In fact, I stopped using the internet. Our colleagues are keeping tabs on our social media and what we (Muslims) are writing/sharing on social sites," he said.
Suhail Ansari, a constable who was posted in the Lakhimpur Kheri district, was suspended, and a departmental enquiry was initiated against him for allegedly sharing posts in support of Palestine. According to the police, he had launched a drive on social media to collect funds to help Palestine. 
Ansari, a resident of Bareilly, posted on his Facebook account, according to the police. 
"Help Save Palestine. I Repost=$1 All Donations Are Directly Sent To... Add To Story To Help Save Palestine," the post reads. 
Talking to media persons, Kheri deputy superintendent of police Sandeep Singh, who is posted as circle officer (city) there, said an additional superintendent of police rank officer was inquiring about the constable and his inclination as well as supportive posts for Palestine on social media.
He said the inquiry was probing all aspects, and stern action could be taken against him if he is found the culprit.
However, the Ansari family refuted the allegation of collecting funds for Palestine. 
"Suhail did not write anything in support of Palestine but shared a forwarded message that sharing posts will credit one dollar to Palestinians. What is crime in this? Everyday people keep sharing forward messages on social media, but no action is taken against them," a relative told NewsClick. 
In a similar case, the police registered a case against an unidentified youth in Bareilly district who had posted pictures of aerial bombings on Gaza. 
Adityanath has warned of strict action against anyone indulging in activities that oppose the Indian government's stand on the ongoing Israel-Hamas conflict and voicing support for Palestine on social media. 
The directive came close on the heels of a 'pro-Palestine' march in support of Palestinians held in Aligarh Muslim University (AMU) campus last week. 
Meanwhile, several Muslim youths and clerics have been detained for their posts on Palestine. 
A Muslim cleric was arrested in Uttar Pradesh's Hamirpur for posting content in support of Palestine on social media. The accused has been identified as 23-year-old Suhail Ansari.
The police on Friday booked Ansari and another cleric named Atif Chowdhary under Indian Penal Code Sections 153A (promoting enmity between two groups) and 505(2) (statements creating or promoting enmity, hatred or ill-will between classes) in the case. The police are conducting raids to take Chowdhary into custody.
A doctor identified as Parmendra Maheshwari has also been booked in Bareilly for allegedly making objectionable comments against Muslims on WhatsApp after the Israel-Hamas war broke out.
Maheshwari has been charged under Indian Penal Code Sections 153A (promoting enmity between two groups) and 295A (deliberate and malicious acts intended to outrage religious feelings of any class by insulting its religion or religious beliefs). He has not been arrested yet.
Resentment Over Police Crackdown on AMU Students
The Aligarh Muslim University (AMU) campus witnessed uneasy calm as hundreds of security personnel guarded the main gate of the varsity. Throughout the day, the campus streets bore silence, while students completely avoided writing anything related to Palestine. 
Resentment is brewing among students soon after four students were booked for participating in a protest march on the university campus to express solidarity with Palestinians. Aligarh police registered a case at Civil Lines police station against the four students mentioned in the first information report (FIR).
On October 8, approximately 100 students gathered at Duck Point in the AMU campus for the march. They proceeded to march to the main gate or Bab-e-Syed gate of AMU, chanting slogans in support of Palestinians and condemning Israel for its "dominance and atrocities against civilians".
Both the university and district administration said that the protest march was held without the required permission for such activities on the university campus. 
According to the FIR (seen by NewsClick), a case has been filed under Sections 153A (promoting enmity among different groups), 188 (disobedience to orders promulgated by a public servant), and Section 505 (statements conducing to public mischief) of the Indian Penal Code (IPC). 
Commenting over the ongoing situation, Sarfraz Nazeer, a lawyer in Siddharthnagar, told NewsClick, "When the Ministry of External Affairs supported the establishment of a sovereign, independent and viable state of Palestine, why is the state government taking action against its citizens? The reason people are afraid of writing on social media is that police first book for post, and then they call for interrogation. In the name of interrogation, they run from police station to court, and nobody wants to run from pillar to post for merely sharing a post on social media."
Get the latest reports & analysis with people's perspective on Protests, movements & deep analytical videos, discussions of the current affairs in your Telegram app. Subscribe to NewsClick's Telegram channel & get Real-Time updates on stories, as they get published on our website.
Subscribe Newsclick On Telegram