UP Polls: How Lockdown Added to Woes of Girls from One of India's Most Backward District
The ground report looks at stories of two girls from Shravasti district who nearly died and how their vulnerabilities owing to their lower socioeconomic status were compounded by the COVID-19 lockdown.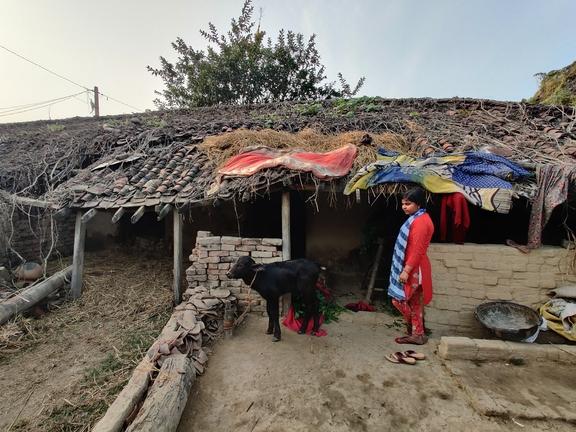 Jalani Devi standing outside her thatched hut. Photo by Saurabh Sharma.
Shravasti: Thirteen-year-old Rajvanta Yadav, a resident of Vishunapur in Shravasti district of Uttar Pradesh nearly died after she sustained burn injuries while cooking during the last lockdown. The reason why she was left to die after initial medical treatment was the very poor financial condition of her family of five. 
The Shravasti district in Uttar Pradesh is among the most backward districts in India situated on the India-Nepal border. Bhinga, the district headquarters of Shravasti, lacks basic facilities like colleges for higher education, railway station or even bus station for road transport. The main source of income for the residents of Shravasti district is agriculture, labour, and business.
Rajvanta's mother Kiran tells NewsClick that her daughter had got burned with steam from the pressure cooker while she was cooking food. Kiran is an agricultural labour and her husband is a migrant worker who has stayed in different cities in search of daily wage jobs. She says, "It has been a year since Rajvanta got burned. I was in the field, working and came home for lunch only to see my daughter lying unconscious and burned from her neck to the legs. With the help of a few villagers, we went to the nearest community health centre for her treatment. She was getting treated there, but we had to buy a few medicines from outside and they were costly. Later, we stopped taking her to the hospital because of our financial crisis and started treating her at home, but her condition started getting worse. A bad stench started coming from her body and since we had no money for the treatment, I prepared myself for the worst. I was mentally prepared that she will die soon."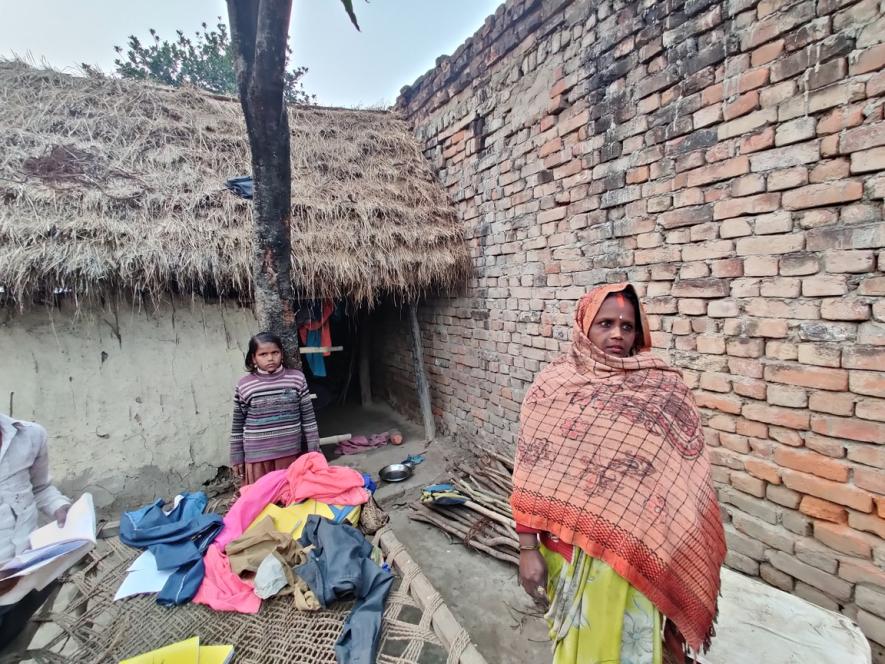 Rajvanta's mother Kiran outside her thatched hut in Vishunapur village. Photo by Saurabh Sharma.  
Rajwanta, however, was later helped by a non-governmental organisation. The family was also provided ration and other essentials. Her condition, at the time of filing, was alright; she is making a slow recovery. But her family is still struggling to make ends meet.
Lagheema Tripathi, a social worker from Rajvanta's village, says that the girl was in a very bad condition when she first saw her. 
"When I visited their house, the first thing that I encountered was a very foul smell and muscles coming out of Rajvanta's burnt body parts. The girl was in too much pain and her mother was using talcum powder to treat her thinking that the wound would heal soon with it. On being asked, her mother broke down and told me about the actual condition of the family. They did not have money and said they were waiting for the worst," she said.
"We got Rajvanta admitted with the help of the Nanhi Kali NGO to a state-run hospital for about a week and now the girl is now recovering. But the family continues to struggle. The father, who is a daily wager, is still outside Shravasti in order to find a source of livelihood while the mother works as a farm labourer," added Tripathi.
About 20 kilometres North of Vishunapur – towards the Indian side – is situated the Ranjeetpur village. The village houses the maternal home of Jalani Devi, who was assaulted by her husband and was left half paralysed.
Wearing a red salwar suit and with a red bindi on her forehead, Jalani Devi looks more like a child bride as she gazes at other children – who are roughly her age – playing marbles near her house. She cries inconsolably whenever she remembers what had happened to her. 
Jalani Devi, who, as per the government record, is about 21 years old, says that she got married in a hurried ceremony last year in February. She has been assaulted by her husband who is about 35 years old. 
Jalani's mother tells NewsClick that her son-in-law had dropped Jalani back after beating her black and blue a couple of months after they got married. 
"We do not know the exact reason why my daughter was beaten every day. The last time she came home, she was half paralysed, unable to walk or talk. We tried to talk to our son-in-law in this regard, but all we received was abuse from him. He is not ready to take his wife back with him. Now, we also think she is better off without him. If he can leave our daughter half dead, he can also kill her. I can not let that happen," says Nirmala Devi with tears rolling down her eyes.
The mother of five further tells this reporter that the family's only source of income comes from agriculture and they have spent a lot of money only on the treatment of their daughter. She even indicated that her daughter was underage and had resisted the marriage, but her son-in-law did not listen to her then.
"We were in no mood to marry off our daughter, but then the lockdown happened and our financial condition started worsening. We had this boy in our mind for marrying Jalani, but not this soon. My son-in-law forced us a lot to go ahead with the marriage and then he had a jaimala (garland) ceremony in the temple. We never went to the police because we are poor and do not have much money to spend on these issues. I also thought somewhere that one of our liabilities is gone. But that has not turned out to be true," she says.
Shiv Kumar, a neighbour of Nirmala Devi says that the condition of Jalani Devi was very bad when she came to her house after her marriage. 
"The girl was partially paralysed and it looked like she was not going to make it. But, fortunately, she survived. She was assaulted badly by her in-laws. A few people in the village tried to stop Jalani's marriage, but the family was in a hurry because of the lockdown; it had added to their financial woes. In one attempt, the villagers were able to get the wedding called off, but then everyone looked like a villain to Jalani's family. It is a very small close-weaved village and it pains us a lot to see one of our daughter's suffer this way," says Shiv Kumar. 
Shilpi, an office bearer of the Nanhi Kali non-governmental organisation in Shravasti, blames illiteracy, lack of awareness for such incidents.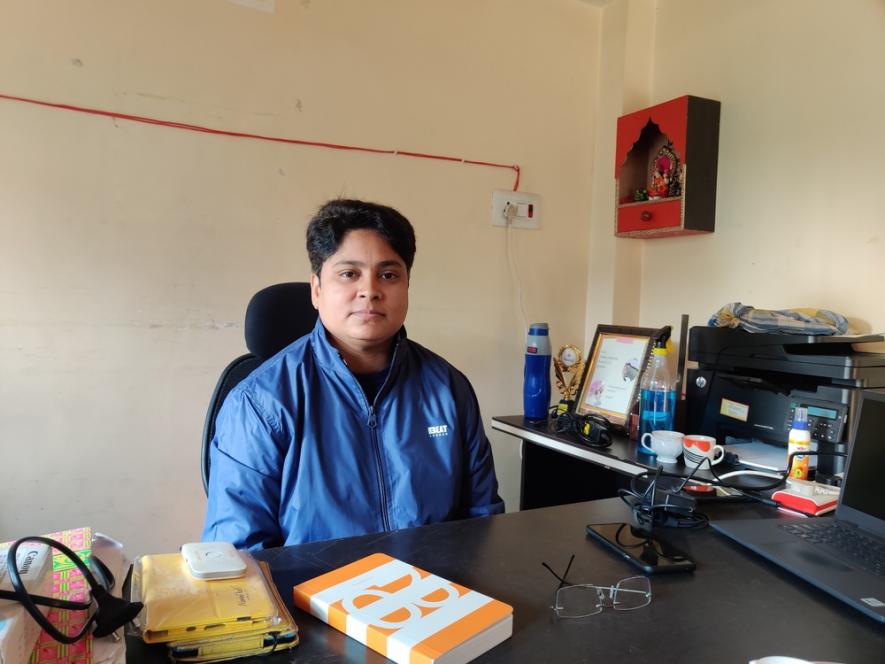 Shilpi, an office-bearer from Nanhi Kali.
"The government data suggests that the literacy rate in rural Shravasti is about 46.1%, but in reality it looks much less on the ground. People here think of girls as an economic burden on the family and want to get rid of them by marrying them early. Discrimination between a girl and a male child can easily be been seen in this small district and the only reason I see is lack of awareness and education," she says, adding, "These are not just two cases in the entire districts. A lot of early marriages or child marriages have happened during the Covid-19 lockdown and a lot of marriages have even been stopped. The male child here is seen as an economic asset by their families which is the reason the girl children are not given much importance."
Had the district been developed like other districts of the state. the situation here would have been improved. But this district has been a recipient of apathy of its legislators – no matter from what party they came in.
Get the latest reports & analysis with people's perspective on Protests, movements & deep analytical videos, discussions of the current affairs in your Telegram app. Subscribe to NewsClick's Telegram channel & get Real-Time updates on stories, as they get published on our website.
Subscribe Newsclick On Telegram