Poor in Varanasi Displaced by 'Development' of Ganges Banks and Waiting for Govt aid
People who lived and worked around the river Ganges in Varanasi were displaced by the massive 'development' of the riverfront there.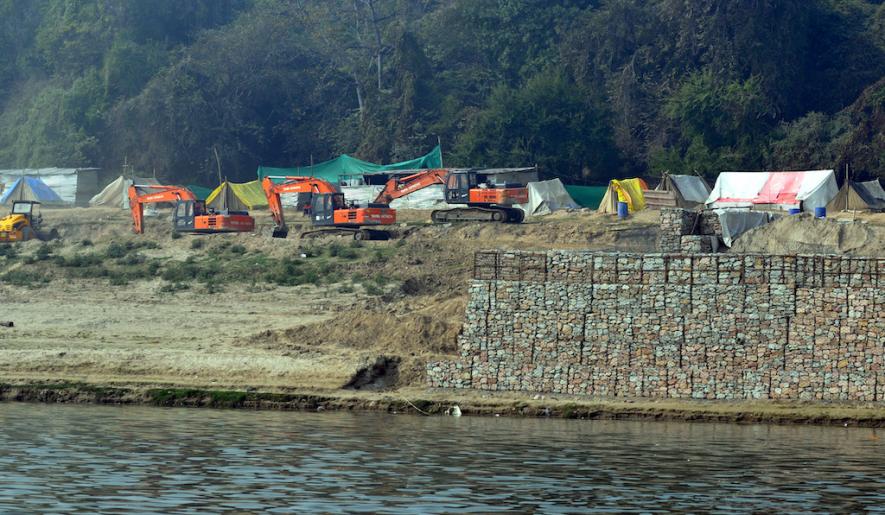 Construction Work on Ghats. Photo by Ravi Batra
Massive construction is underway on the banks of the Ganga in Varanasi. Madhu Sahni used to run a small tea shop under a neem tree near the Dufferin Bridge, also called the Malviya Bridge. "We used to bathe in the river, we lived so close to it, and it was the source of our livelihood – now we can no longer approach the river. We have been given assurances, but nothing has been done for us yet," she says while showing this reporter her hut, shaded with a plastic sheet, near the bridge.
Madhu Sahni and her neighbours were all displaced by the massive "development" of the riverfront at Varanasi, which is set to have two helipads, restaurants, an art gallery, an amphitheatre, and a CNG station for boats to refuel.
Large stone walls are being constructed very close to the river, and if the river swells up at Varanasi, there is a likelihood of some of these structures being flooded. Saurabh Singh, who works for the NGO Inner Voice Foundation in Varanasi, states that the whole area is flood-prone, and construction is now happening right on the river's edge. The Rs 20,000 crore Namami Gange project was planned to protect the River Ganga, but the allocation of money for large construction projects along the banks is now being questioned.
In December 2020, it was expected that construction of the over 11-acre area near the river in Varanasi would be completed by July 2021. However, when this reporter visited in February 2022, work was still ongoing.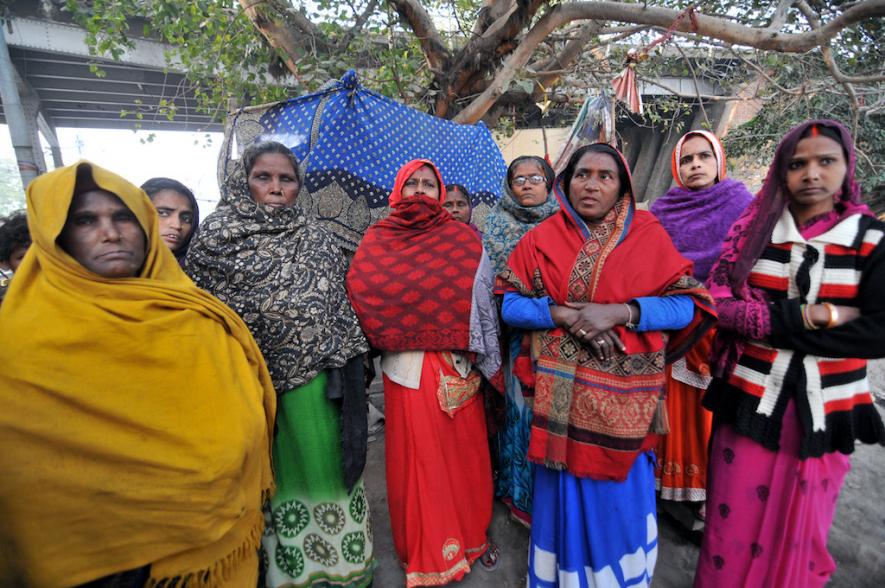 Madhu Sahni in Red Saree. Photo by Ravi Batra
A helipad is planned at Khidkia Ghat, from where Madhu Sahni was evicted. Heli-tourism is expected to take off, and much is touted about developments through the public-private partnership mode.
Saurabh Singh has been regularly in touch with many who have lost their traditional livelihoods on the banks because of the massive construction. He has raised funds to provide blankets to help the homeless tide over the cold winters and offered rations when called upon to help. "What we needed here were only developments that kept the local residents at the heart of the planning process. What we have instead is a focus on tourism promotion that has no place at all for those who have lived near the river for generations and make their living from it. Besides, such tourism is not quite what pilgrims seek," he says.
A tent city is planned on the opposite bank of the river. The promotion of inland waterways was also a plan that the current Union Minister of Road Transport and Highways, Nitin Gadkari, spoke of some years ago when he served as Shipping Minister. Conservationists baulked at the plan funded by the World Bank.
Meanwhile, the construction at Khidkia Ghat has left at least 90 households displaced. Kannur Devi recalls that she had gone out to wash dishes in homes nearby where she worked as domestic help. "When I returned that December day in 2020, my stuff was all strewn outside. We had earlier been promised that our houses would not be destroyed before we were given alternative accommodation," she says.
Gulab, a resident of Sujabad in Varanasi, said his family has been evicted several times over. In 2020, when Prime Minister Narendra Modi visited his constituency, a helipad was constructed to land the PM's helicopter; this resulted in several jhuggi dwellers getting evicted from their homes. 
Gulab. Photo by Ravi Batra
Saurabh Singh says, "Policemen would then harass the homeless women, and we complained about sexual harassment by policemen. That resulted in some of the men in uniform being suspended from work."
Boatman Mannu Lal can still take tourists for a ride, but he fears that his livelihood too will not last as motorised boats are being introduced, and the whole place is fast losing the character of an ancient ghat that had manually rowed boats. "There is change already. We could earlier catch Rohu and Catla fish in the river. These days it is mostly Tilapia," he says. 
"We are not against construction and improvement. But what we have here are just these massive projects, and no space at all for the working people in the minds of those who imagine these developments. How will we get by? Electricity is now more expensive; even a gas cylinder costs so much now," Lal added.
Get the latest reports & analysis with people's perspective on Protests, movements & deep analytical videos, discussions of the current affairs in your Telegram app. Subscribe to NewsClick's Telegram channel & get Real-Time updates on stories, as they get published on our website.
Subscribe Newsclick On Telegram