Post-9/11 Attacks: US Lawmakers Table Resolution to Condemn Hatred, Xenophobia, Racism
Arab, Muslim, West Asian, South Asian, and Sikh communities have long experienced discrimination and violence in the US, which intensified after the terror attacks.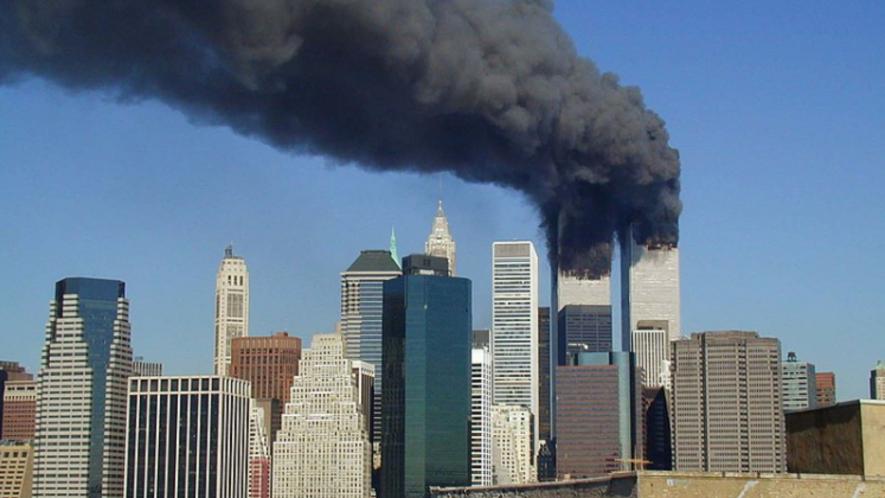 Image Courtesy: Wikipedia
Washington: A group of US lawmakers, including Indian-American Congresswoman Pramila Jayapal, has introduced a resolution in the House of Representatives to call out the hatred, xenophobia, and racism that plagued Arab, Muslim, South Asian and Sikh communities across America following the 9/11 terror attack.
The September 11 attacks, commonly known as 9/11, were four coordinated Islamist suicide terrorist attacks carried out by al-Qaeda against the United States in 2001, killing nearly 3,000 people.
Arab, Muslim, West Asian, South Asian, and Sikh communities have long experienced discrimination and violence in the US, which intensified after the attacks. Just during the first month after the attack, community organisations documented 945 incidents of bias and hate against Americans perceived to be of Middle Eastern or South Asian descent.
This climate of hate also led to bullying and violence in their everyday lives and in their workplaces, businesses, community centres, and houses of worship.
Jayapal along with lawmakers Ilhan Omar, Rashida Tlaib, Judy Chu and Andre Carson introduced the resolution on Saturday, two days ahead of the 22nd anniversary of the 9/11 attacks, recognising the tragedy and calling out the hatred, xenophobia, and racism that occurred following the attack. 
"On September 11th, 2001, we lost thousands of lives to the worst terrorist attack to ever happen on American soil. Nearly 3,000 lives were lost in the attack and more than 4,500 others have died since from related illnesses – this day irrevocably changed our country and its impact is still felt," Jayapal said.
"As we mark this tragic day, we must also reflect on the lasting damages faced by Arab, Muslim, Middle Eastern, South Asian, and Sikh communities in the aftermath," the US representative from Washington's 7th congressional district said.
The murders of Balbir Singh Sodhi, Waqar Hassan, and Adel Karas in the days following the attack were shocking displays of hatred, she said.
"Xenophobia and racism have no place in this country, and today we recognise the shared trauma that these communities faced as they experienced stigma, discrimination, and losses of liberty," she added.
Congresswoman Omar said September 11, 2001, was a catastrophic event in American history.
The fabric of our nation was changed indelibly. Sadly, in the wake of these attacks, the people in power betrayed our democratic ideals through mass surveillance, torture, indefinite detention, wars of aggression, and rampant violations of civil liberties. Muslim, Arab, Sikh and South Asian Americans across the country were viewed with suspicion, harassed, and even detained based solely on their identity, she said.
"As we mark the anniversary of these horrific attacks, we must learn from these mistakes. We must acknowledge that our strength as a nation ultimately comes from our ideals—religious freedom, freedom of speech, freedom from unlawful detention, equality before the law and democracy. This resolution is a critical first step to acknowledging these past harms and beginning to heal," she said.
"In the years since 9/11, our Arab, Muslim, Middle Eastern, South Asian, and Sikh communities have endured persistent racism, xenophobia, and discrimination. It's long past time for our government to acknowledge the trauma it has and continues to inflict on our communities through the harmful policies, racial profiling, and unjust targeting of so many of our neighbours," said Congresswoman Tlaib.
The road to truth and reconciliation is long, but this resolution is the first step towards the justice and healing that our communities deserve, she said.
The attacks on September 11th were attacks on the whole of America, and in the days and weeks that followed, the country came closer together. But many in the Muslim, Middle Eastern, Arab, Sikh, and South Asian communities were excluded from that unity and instead became subject to an increasing atmosphere of suspicion, xenophobia, and violence, said Congresswoman Chu. 
Congressman Carson said the resolution calls for a community-based approach to reduce acts of hate, support Muslim Americans, and help our entire country continue to move forward." 
The resolution put forward a series of recommendations to support those affected by the hateful profiling and targeting that has occurred during the 20 years since the September 11 attacks.
The recommendations include a call for the creation of an interagency task force to work with community-based organisations to review government policies, investigate and document their impact, and dismantle those policies that continue to profile and unfairly target these communities and hearings by congressional and civil rights bodies to explore the findings and recommendations of this interagency task force in consultation with and centring community-based organisations.
They called for supporting allocating resources to community-based organisations outside and independent of law enforcement that centre the experiences and demands of Arab, Muslim, West Asian, South Asian, and Sikh communities.
Other recommendations include calling on the Secretary of Health and Human Services, the National Institute of Health, and the National Science Foundation to work together to study the impact of hate, government targeting, political rhetoric, and profiling on physical and mental health.
The government also targeted Arab, Muslim, West Asian, South Asian, and Sikh communities with overreaching policing, surveillance, and criminalisation policies that resulted in wrongful interrogation, coercion, detention, deportation, arrest, and incarceration, a statement by Jayapal's office said.
Principles like due process, presumption of innocence, and evidence of wrongdoing were replaced with humiliation, mob mentality, and guilt by association. Border officials and government authorities also cast aside constitutional rights
This hate and government targeting impacted the ability of these communities to exercise their constitutionally protected rights including to organise, speak, travel, and worship freely. 
Several organisations like the Muslim Justice League; The Sikh Coalition and the Sikh American Legal Defense and Education Fund (SALDEF) have endorsed the resolution.
Get the latest reports & analysis with people's perspective on Protests, movements & deep analytical videos, discussions of the current affairs in your Telegram app. Subscribe to NewsClick's Telegram channel & get Real-Time updates on stories, as they get published on our website.
Subscribe Newsclick On Telegram