Post-Flood Kerala: Rebuilding Gains Fast Pace in Kuttanad
During July and August 2018, Kuttanad had witnessed floods three times which forced lakhs of people to leave their houses.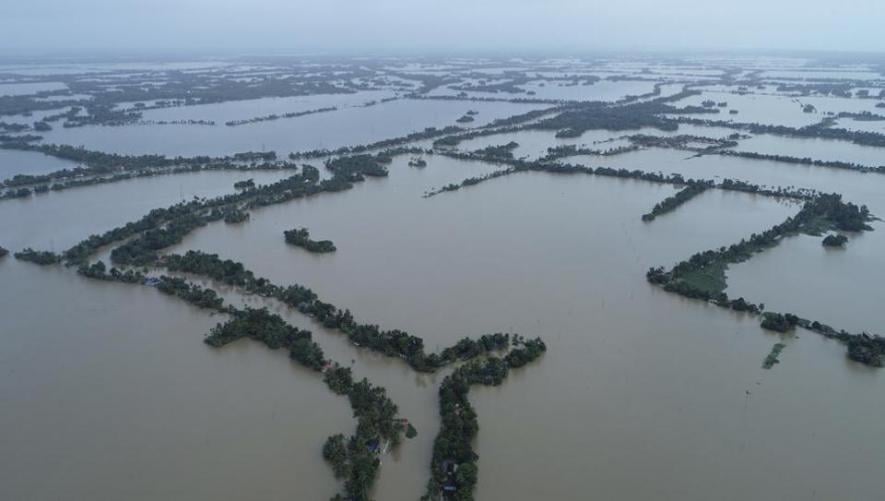 Representational Image. Image Coutesy: Hindustan Times
Amid the post-flood rebuilding operations in various parts of Kerala, Kuttanad- one of the worst flood-affected part in the state- is slowly back on its foot. The region covering Alappuzha and Kottayam districts, is a low lying area and is known as the rice bowl of Kerala.
During July and August 2018, Kuttanad had witnessed floods three times which forced lakhs of people to leave their houses. As the water level receded the people who were housed in rehabilitation camp returned and the process of rebuilding has begun. A total of 575 houses were damaged and all families will get Rs 4 lakh each as compensation to rebuild their houses. All families have received the second part of their financial assistance which is being distributed in four parts.
The financial assistance for partially damaged houses has been parted into four categories. As per this categorisation, 13,555 families in Kuttanad whose houses were damaged up to 15% were given Rs 10,000. The houses which suffered damages in the range between 16-29% will get Rs 60,000. About 9,182 of such families have received this financial aid from the government.
Read More: Kerala Flood Relief: Close to 7 Lakh Persons Have Received Financial Aid, Says CM
As many as 2,726 houses were damaged upto 30-59% and those families were given Rs 1,25,000. Finally, the houses which have damages between 60-74% are entitled to an assistance of Rs 2.5 lakh and a total of 922 families have received this financial aid. In addition to the direct involvement of the state government, local bodies are also actively involved in this rebuilding process. Through Life Mission, more than a hundred houses were built in every Panchayat. Care Home project under the co-operative department has also taken up rebuilding work.
The District Disaster Management Authority, which coordinates rebuilding activities are taking a lead role, along with other government bodies. Even as fresh complaints arise, the government has decided to take note of all the complaints. A few days back, in a meeting to assess the post-flood work, Chief Minister Pinarayi Vijayan directed the respected authorities to complete the rebuilding activities as soon as possible.
Kuttanad has been facing floods at intermittent intervals. The wetlands extend from the southern part of Vembanad lake with outflow controlled by the Taneermukkum Barrage, the polder areas in and adjacent to the lake, and the polder areas south of the lake with a southern boundary of the Pamba river and an outlet canal controlled by the Thottappally Spillway (to block saltwater intrusion and discharge of floodwaters).
A study on water balance in Kuttanad in 1989 highlighted that floods in the region have a return period or recurrence interval of two years, five years, ten years, 25 years and 50 years. According to this study, based on historical data, floods with a return period of 10 years are severe. The last severe flood in Kuttanad was in 2005.
Read More: "Kerala has Received Widespread Acclaim for its Handling of Dam Systems"
In 2007, a report by MS Swaminathan Research Foundation titled 'Measures to Mitigate Agrarian Distress in Alappuzha and Kuttanad Wetland Ecosystem' stated "increased frequency and period of flood and consequent losses arise from decreasing flood plane area including the Lake. The Thotappally Spillway (TSW) and the leading channel engineered to reduce the flood intensity in much of the Lower Kuttanad and the Lake area is declining over years in its flood regulation capacity due to poor 10 maintenance and lack of coordinated action on its operation. Farmers of Purakkad Kari in Kuttanad, where paddy is grown in 3,500 ha during monsoon season, are facing the brunt of this decreased flood flow capacity and inefficient management of spillway. Measures recommended include modernisation of TSW, deepening and side bund protection of leading channel and improved management of spillway operation."
Following this in 2010, the Kuttanad wetland ecosystem development package had been implemented. The package included proposals for ecological restoration, flood control, development of agriculture and fisheries, sanitation and drinking water supply. However, the progress of this project was very slow and later in 2017, the package was revived to gain ecological security of the region.
During floods 2018, "due to such high rainfall, there was an absence of appreciable storage in reservoirs upstream, along with the shrinkage of carrying capacities of lakes, rivers, and the porous land. The limited capacity of Vembanad Lake and Thottappally Spillways worsened the flooding in the Kuttanad region and the backwaters. Many areas were submerged under water for more than two weeks," says Post Disaster Needs Assessment.
The study report on Kerala floods of August 2018 of the Central Water Commission (CWC) also gives a thorough hydrological analysis of the effects of the heavy rainfall on the Muvattupuzha, Meenachil, Manimala, Pamba, and Achankovil rivers that drain into the Kuttanad wetlands.
 
In the Kerala Budget 2019, a second Kuttanad Package worth Rs 1,000 crore has also been announced.
Read More: Kerala Floods: Extreme Rainfall Was a Major Cause, Says Amicus Curiae Report
Get the latest reports & analysis with people's perspective on Protests, movements & deep analytical videos, discussions of the current affairs in your Telegram app. Subscribe to NewsClick's Telegram channel & get Real-Time updates on stories, as they get published on our website.
Subscribe Newsclick On Telegram