It's the Power of Unions That's Made Farmers Challenge Modi Govt
The peasant movement has once again proved the power and necessity of collective bargaining or organisation.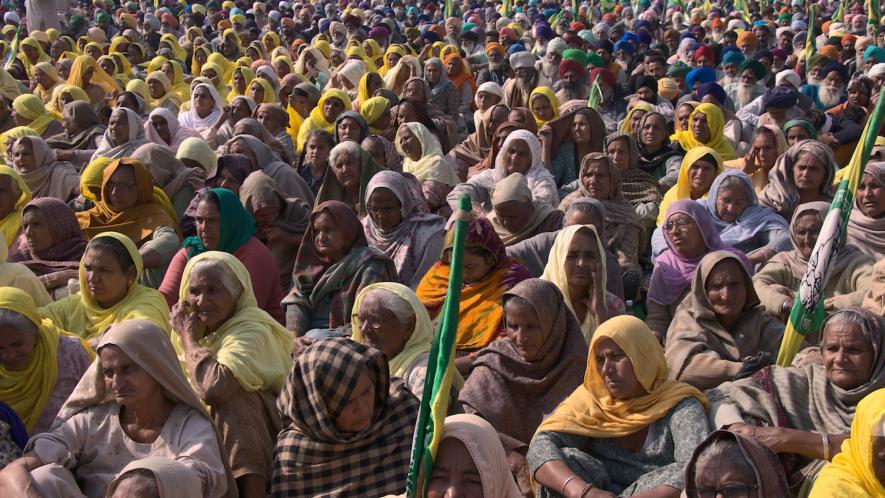 The power of organisation with us. It has taught us to fight for our rights. We have faith in our jathebandi (union). We trust it like our family and sometimes even more. Otherwise, could we have been on the streets of Delhi for over a month, under the open sky? There is no question of going back. Every day our strength is increasing. Without jathebandi, it would not have been possible for use to stay alive here or in Punjab-- Kanawljeet Kaur, 46, Bathinda, Punjab.
All are family members have been raising their voice against these three agricultural laws of the Modi government since August. After school hours, we also used to join their dharna in front of Fair Price. We even tell our friends that it is very important to raise our voices together. At first, I was shy of shouting slogans, but I thought if I join others, my voice won't be noticed. Ours became a collective voice. My favourite slogan is - Inquilab Zindabad. -- Vishwapreet Kaur, 13, Class VII, Sangrur.
I feel a very cold here, but I get a lot to learn. The games we play have also changed. We hoist flags on poles, run around to serve tea and food... and then catch the connection (internet) and download our class homework.. I used to feel sleepy in online classes at home, but this is not possible here in Tikri.  It seems like we are fighting for freedom. We have read in our books how people came out of their homes to save the country. All of us are also on the streets to save agriculture under the banner of our jathebandis (unions). We are also making history --- Jaswindar Kaur, Class IX, Jalalabad, Punjab
I can spend the rest of life sitting here, but cannot hand over my farming to Ambani and Adani. Modi thinks we farmers are stupid, but he does not know about farming as much as we do. I can tell him how the changes in Essential Commodities Act will hit the pockets of not only farmers but citizens like you, too. Only corporates will benefit from these changes.  The agri trade black law will snatch our land and the third law will contract all our land to companies. The whole game will go. We are connected (with) jathebandi  and know every detail. -- Baljit Kaur, 67, Jalandhar, Punjab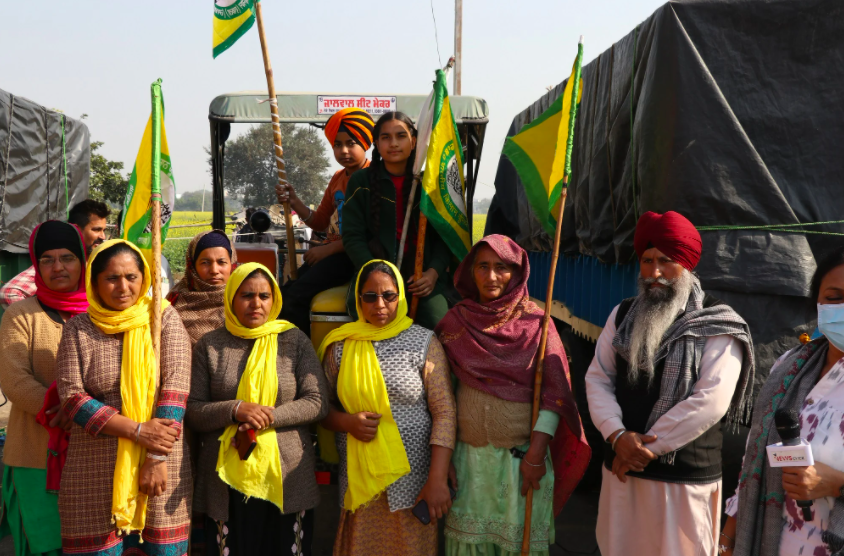 It has been a month since the India's largest peasant movement has surrounded surround the country's capital, Delhi. The torch was first lit in Punjab, where farmer unions started mobilising after the passage of the three agro ordinances on June 20. From August 9, Punjab's farmers began the protests.
The All India Kisan Sangharsh Coordination Committee (AIKSCC) also protested against these ordinances on August 9 in several places in Andhra Pradesh and Telangana. Then, in September, the agitation intensified after these laws were hurriedly passed in Parliament (on September 17 in Lok Sabha and September 20 in Rajya Sabha).
 All the farmer unions and organisations across the country declared that adoption of the three laws -- Essential Commodities (Amendment) Act 2020, Farmers Producers Trade and Commerce (Promotion and Facilitation) Act 2020 and the Farmers' (Empowerment and Protection) Agreement of Price Assurance and Farm Services Act 2020, which is associated with contract farming, --  were a "death warrant" for agriculture.
There is so much anger against these laws on the ground that the Shiromani Akali Dal of Punjab was forced to end its alliance with the Bharatiya Janata Party-led National Democratic Alliance (NDA). Dushyant Chautala, who is backing the BJP-led Khattar government in Haryana, is also under pressure to withdraw support. All political parties, except BJP, are against these laws.
A Unique Agitation
Amongst other things, this peasant movement is unique as it has the power to take all the battles to save Indian democracy to a different level. The key behind  this power lies in the organised strength of peasant unions, and it is very important to talk about this. All the farmers who have reached the outskirts of Delhi, having withstood the harsh cold, the deadly corona crisis, the various barricades put up by the Modi-Khattar governments, water cannons etc., are a living example of the organised strength of farmers.
The above testimonies of women and girls show that they are not only part of this militant peasant movement, but are also clear that it would not have been possible for women farmers to reach Delhi and remain safe without jathedari (union). In the era of capitalist propaganda, the conspiracy to give a negative colour to the word 'unions' and eliminate them, has weakened the opposition to all the wrong laws that have been enacted.
As a result, all the rights of workers have been taken away in the name of 'reforms'. Workers have been turned bonded labour. Government undertakings were sold at throwaway prices, the Railways is being sold and the Modi government played a shameless game of pushing some laws  that impact citizens of the country, all in the name of 'national interest' of the country, and is still playing it.
This is what is being challenged by the farmers through their unions, which the farmers term as a fight for their rights and the 'freedom struggle' to save agriculture. It is also evident from the sharp edge of this farmer movement that their unions have been sharpened on the whetstone of ideology and protest movements.
The protesting farmers have no illusions about who is their friend and enemy. The jathebandis are the strength behind the large number of women farmers who are camping in Delhi. The fact that every woman feels safe and all their needs -- from toilets to bathing – are taken care of shows the organised strength of the unions.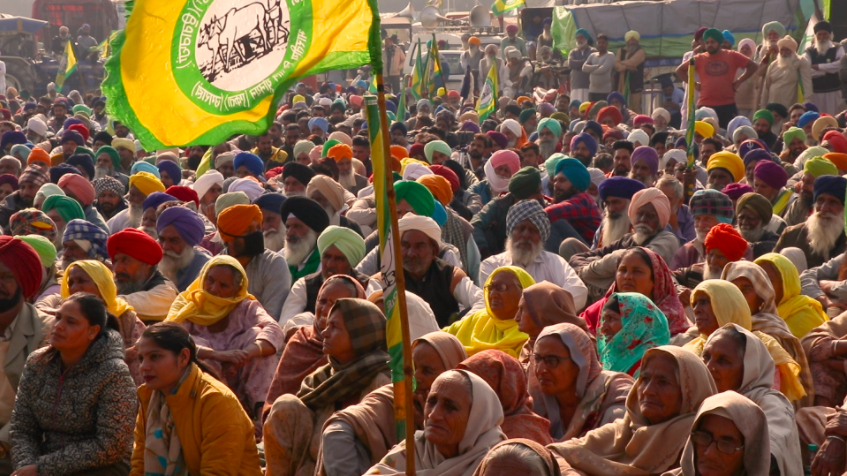 Bindu, a woman leader of the Bharatiya Kisan Union (Ugrahan), told us that about 20,000 women farmers had registered their presence at the Tikri border. Most of these women have been associated with the union for at least six to 10 years, while many got involved in the past six months. Since all these women are cultivators, they have a grip on the problems of farming.
Kanwalpreet Kaur, who is sitting on the dharna, told us that she has been associated with BKU (Ugrahan) since the last seven years. She owns 10 acres of land, on which she herself cultivates and sows a variety of crops but is devastated by the government's wrong policies. This time she grew potatoes and had a very good crop. But when she went to sell, she was getting a rate of Re 1 or 2 a kilogram.  She was so angry that she threw away all the potatoes.
Being associated with the union, Kaur is well aware that this is due to the wrong policies of the government. She says she will continue to protest till the Modi government repeals the laws. She said she came to know through the union that the Modi government has also brought a new Electricity Bill, which will make electricity very expensive, on the lines of petrol and diesel whose prices have spiked after decontrol.
The farmers' voices are politically sharp because of their association with the peasant union or jathedaris. They are able to smell the large-scale conspiracies involved. This is probably the first such large peasant movement in Independent India which has targeted two top corporate houses of the country that stand to benefit from these laws --  Ambani and Adani.
Every farmer – man or woman – and even children in Tikri border talks about openly about Modi and his Ambani-Adani relationship. There are posters calling for boycott of Ambani and Adani products everywhere - from Singhu to Tikri border. Everyone is well-equipped to explain why the Modi government has brought these laws and how these will benefit his corporate friends.
And it is not that the appeal of these farmers to oppose Ambani-Adani has had no effect. In support of their appeal, people ported the number of Jio to another mobile operator (got it changed). This panicked Jio owner Mukesh Ambani, who wrote a letter to the Telephone Regulatory Authority of India (TRAI) seeking its intervention. On the other side, Adani had to issue front page advertisements in Hindi newspapers, claiming how these laws were beneficial for farmers and that the Adani group is farmer-friendly. This can only be termed a victory of organised demand of farmers.
Apart from this, the manner in which the agitators have tackled big media houses and 'godi media'  (lapdog media) is also noteworthy. Banners and posters can be seen calling for boycott of some of these TV channels. The effect of this was that Zee News had to run a disclaimer in its programme, saying that it was with the farmers' movement.
Women associated with the All India Kisan Mahasabha have been actively participating in the distribution of books and setting up libraries at the protest site. Jasbir Nat raises slogans, gives speeches, oversees the arrangements for women, as well as assists her comrades in bringing out a newspaper named Trolley Times, to counter the government narrative.
Meanwhile, Maharashtra's farmers, led by the All India Kisan Sabha or AIKS, have also reached the Delhi-Rajasthan border, indicating a long fight ahead. AIKS leader Ashok Dhawale rightly says that it is this organised power of the farmers that is posing a tough challenge to the Modi government, otherwise this 'autocratic power' intended to crush the farmers' protest.
Dr. Darshan Pal of the Krantikari Kisan Union is, however, worried about how this movement should be made nationwide so that its impact on the Modi government is strong, while Joginder Singh Ugrahan anticipates a big change in the political scene by the organised rise of farmers.
At least one thing is certain that this peasant movement has underlined the power that flows from the organised strength of unions and federations. The manner and preparation with which the peasants, including women farmers, left their homes and set up their villages at the doorstep of the nation's capital, could not have been possible without mobilisation by farmer unions.
Get the latest reports & analysis with people's perspective on Protests, movements & deep analytical videos, discussions of the current affairs in your Telegram app. Subscribe to NewsClick's Telegram channel & get Real-Time updates on stories, as they get published on our website.
Subscribe Newsclick On Telegram