Prashant Kishore: Someone Who Personifies Everything that is Wrong with the Indian Political Scenario
Prashant is a 'Mentor' to IPAC, which calls itself a cross party advocacy group that aims to bring 'Transparency' & 'Accountability' in politics. However, on ground and in their campaigns what they do is exactly the opposite.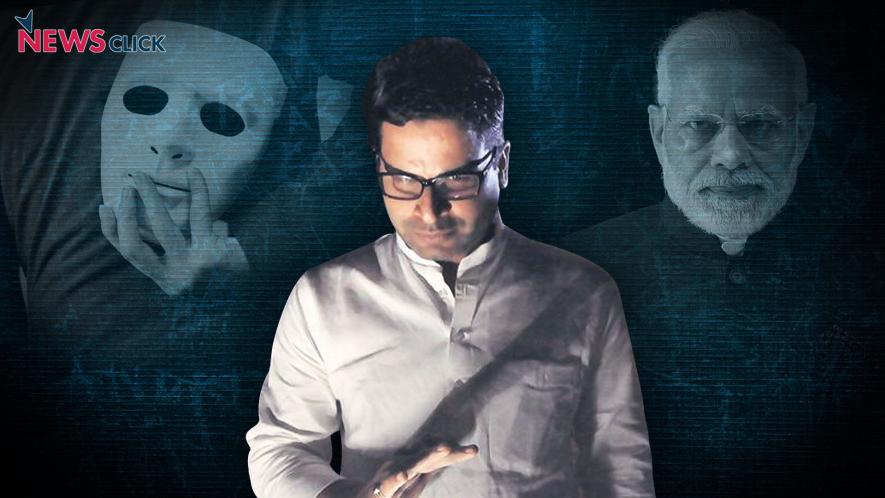 A successful Political Strategist in terms of electoral victories is what Prashant Kishore is known for. His campaign centric work for Modi in 2014, bore victory. Post that he was successful in curating victories for Nitish Kumar in Bihar in 2015 and Captain Amarinder Singh in Punjab in 2017. This gave Prashant Kishore a substantial amount of glamour in Delhi Media and Politics. Now again, he is back to help Narendra Modi in 2019. Who exactly is Prashant Kishore? Will his influence be decisive enough in the outcome of the 2019 elections?
Success defines a person and once successful, a halo is created around that person. They are suddenly seen through the lens of that success and are made to seem larger than life. It is exactly in this process that people forget to see things for what they are. Something similar happened with Prashant Kishore. He got massive credit for Narendra Modi's victory in the 2014 elections and ever since then, that is what his image has come to be defined by. The victory got him fame not just in the media, but also in political circles. The unknown mystery factor worked in his favour. Modi's special man, his strategist, that's how people knew him. Getting Prashant Kishore on your side was looked at as a shortcut for electoral victory by politicians across party lines. He was someone who was perceived as a revolutionary in terms of political campaigning and strategy, but the one thing which contributed to everything was the mystery; what he does, how he plans, what kind of a person he is. All that was seen, were the things he wanted everyone to see, the rest remained unknown. 
Prashant is a 'Mentor' to IPAC - Indian Political Action Committee, which calls itself a cross party advocacy group that aims to bring 'Transparency' & 'Accountability' in politics. However, on ground and in their campaigns what they do is exactly the opposite. In 2014, Prashant worked for Narendra Modi's campaign under a company named CAG - Citizens for Accountable Governance. But does he really have as big a role to play in Narendra Modi's victory? Did he invent newer, more economic, more effective ways of campaigning? Was there any value addition or new thought, new principles, new philosophies that he brought to campaigning? Did he even try to sow the seeds of accountability, transparency and social change at a grass-roots level? Sadly, the answer is NO. IPAC is nothing but a glorified Event Management company and Prashant its manager behind the scenes. A 3D rally and Youth connect program called 'Manthan' were Prashant and CAG's only contributions to Modi's campaign. Everyone knows Modi's image building contract was with APCO and not Prashant, but somehow he still managed to get the reflected glory of Modi's image and his victory, which he smartly celebrated. Prashant Kishore is not a change campaigner. He is a businessman. His campaigns are driven by the aim of 'Big, huge & larger numbers' rather than the need for advocacy or any real social change.
Prashant Kishore is Prashant Pandey, a Bihari by origin. In the past he has worked in UN health and implemented their programs in Africa. Excellent, advanced and service oriented is what UN's general image is, which can be contested, but these aspects are completely missing in Prashant's work based on what I saw. It doesn't seem to have reflected in his way of thinking, nor his work ethics. We might think that someone who has worked in the UN & globally might have a 'world view', but all he had was the basics of Indian politics, the same old nonsense. His thoughts are advertisement and PR centric, which basically means playing around with a person's image & people's aspirations and no doubt he did a great job there. But at what cost? Increasing the quantum of money in politics, where black money is already a big issue. Projecting leaders whose intent was to lie and those who are still lying? In his supposed contribution to the Modi campaign, he is responsible for destroying the whole system of 'Parliamentary Democracy' in India, where the PM is the head of Cabinet and not a unilateral power holder, like the President in a 'Presidential Democracy'. He has set a precedence for leader centric campaigns, rather than those driven by local issues.
He claims to be someone whose company aims at working on transparency and accountability in politics. But the fact that he is working around the narrative of the so called 'Gujarat Model', and doing his share in making someone tainted with 2002 riots a national leader says a lot about his ethics. The youth connect for Modi's campaign organised by him never allowed space for real issues to come up, which was a grave disservice. Post 2014, he got in bed with Nitish Kumar, which shocked everyone. But it also proved their point of the so called cross party advocacy. There are various stories about the fallout with Modi, and the prominent one is that Prashant got too ambitious and wanted a parallel bureaucracy where he could fit in his boys who helped in the 2014 campaign. Maybe, that's when BJP realised it is time to cut him down to size.
Prashant being shaky on his morals and ethics and a master of compromise, joined the JDU, campaigned for the 'Mahagatbandhan' the grand alliance and claimed credit for this victory too. Now a new image was created, Prashant Kishore who can help Modi win can also make BJP lose. In reality Bihar's victory was due to the caste equation and coalition which Lalu managed very well. But once again, Prashant emerged as a kingmaker.
Post that, in UP, his team worked for the SP-Congress alliance, which proved to be a disaster. The congress party and its leaders in Uttar Pradesh were unhappy with him. He brought no new strategy nor any innovative campaign there. In Punjab on the other hand working for Captain Amarinder Singh, he copy pasted other people's campaigns. In a meeting, he said that he was very impressed by Akhilesh Yadav's scheme of giving free smart phones to youth aged 18-25 once he comes to power & the process was to get them registered on an online portal. Prashant asked the Punjab team to "design" this campaign under the name of 'Captain Smart Connect' and suggested adding 1 year free internet with the smart phone, so it doesn't look like an exact copy paste job. That was his idea of 'strategy', which was nothing but data collection, and further using this data to bombard them with messages and IVRs. The whole machinery of Prashant's so called campaign involved massive & large scale advertising, posters, banners, newspaper inserts, autos making announcements, etc. Basically he increased the money in politics by increasing the scale of the same old things that politicians did but in an event management style. The blatant lying in terms of numbers to the media about how many missed call campaign registrations happened, how many people attended events, how many forms were filled up was a daily deceit that he seemed fairly comfortable with. The worst part is, I initially thought this was happening without his knowledge, done by directors and senior employees to please him. But in fact, this was all being done under his directives.  
I have studied Media Campaigning & Social Change and people centric change campaigns are at the centre of my work. I was aware of the severe drug problem in Punjab and wanted to do something about it, that is what I joined IPAC's Punjab campaign. A social change campaign for a burning issue will not only develop credibility for the leader who is working on it as a part of his electoral campaign, but will also generate large scale awareness and initiate some change in tackling it. So it was a win-win. In one of the initial meetings, I talked to Prashant about the campaign. I wanted to work in line with a social change campaign which will give political results. He asked me to prepare a plan for it, which didn't really didn't go well across the 'leadership team', as their whole interest was in supply chain management. I made a plan, reworked it to make it executable, gave a rough campaign plan which would involve awareness, youth participation and also emotional targeting which would then create a road map for captain to tackle the issue of drugs when he came to power. Repeated meetings with the 'leadership team' turned out to be a waste, and eventually they started stalling. Giving it a last try I contacted Prashant to say that given the amount of money we are pouring in events, there should be at least one good initiative which could help the youth of Punjab. Once again, he asked me to talk to the leadership team. This was not really a surprise, since their expectations from employees was just to do event management & supply chain management, & no real campaign work.
In another meeting a colleague of mine raised an issue about the delayed payments of cabs and hotels, which caused severe inconvenience. At dozens of places the teams were locked up in the hotel by hotel owners and not allowed to leave for meetings and programs, because their payment was pending for months. Same was with cab vendors. Prashant's reply to this was,"Can't you delay someone's payment for a couple of months? You don't have that much in you? How will you grow in my company and do campaigns? There are directors your age who manage crores of rupees, payments and you complain about a few thousands?" So basically the kind of 'skill' you require to work under Prashant is to know how to cheat someone, delay their payments and do scores of illegal and immoral things to prove your worth, which involved dealing in cash, which accounts for black money. Another detailed piece on the 'work culture', 'cash payments', illegal and immoral things which are part of employees work profile will follow up in couple of day, but for now its about Prashant's aura.
Earlier this year Prashant and his team started working for Jagan Mohan Reddy in Hyderabad. There was an incident that happened in Hyderabad long after I left, which reiterates my point and reflects his general sense of morality, ethics and specifically his attitude towards women. One of the senior Executive council members at IPAC forced himself on a girl the night of her farewell party. The whole incident is terrifying, but that's not the focus here. She complained to the harassment committee, which tried to brush it under the carpet. She was asked what she wanted, she named 3 things that would stop her from going to the police. She asked for a written apology over mail, she asked that the guy should step down from EC and should be suspended for 3 months. (This was after the male chauvinist leadership team tried to calm her down, saying the guy doesn't remember anything as he was drunk). I talked to a senior EC member who left the organisation soon after the incident for personal reasons. That person said, 'When Prashant was in Hyderabad, he told the committee and the leadership team that the incident happened after the day the girl resigned and that these things keep on happening. Don't make it a big issue.' He also asked the alleged perpetrator, who is still his blue eyed boy not to write an official apology, as that will be proof with that girl for a lifetime. And guess what? This man got back into working for IPAC within a month and was given team leadership roles as though nothing had happened. This is the mentality of a person who supposedly wants to change the politics for good.
To end with, I always say Prashant is an example of a political hitman. He lacks basic ideology, sense of what is right or wrong, legal illegal, and what he calls the main principles of his organisation, 'transparency' & 'accountability'. He & his organisation IPAC are currently running a sham campaign in the name of 'National Agenda Forum' under the name of Mahatma Gandhi and his 18 point agenda. The process is selecting issues which one feels concern India most currently and then choosing a leader who will be the white knight to solve said issue. The whole campaign is again a front for huge data collection without any third party verification and is a way to show to the country that Narendra Modi is still the leader of choice for the youth. A separate detailed report on the NAF will also follow. 
Prashant and his organisation seem to function with motto 'All is fair in love, war and politics'. My issue with this is the disservice they are doing the country by misleading the youth into believing that IPAC is really changing Indian politics for good, when in fact they are doing the exact opposite of that. Right now, Prashant Kishore is a person who personifies everything that is wrong with the Indian Political Scenario.
Disclaimer: The views expressed here are the author's personal views, and do not necessarily represent the views of Newsclick.
Get the latest reports & analysis with people's perspective on Protests, movements & deep analytical videos, discussions of the current affairs in your Telegram app. Subscribe to NewsClick's Telegram channel & get Real-Time updates on stories, as they get published on our website.
Subscribe Newsclick On Telegram