Pre-Budget: Jobs Remain Elusive, Quality Jobs Even More so
The bitter fact, analysts say, is that closure or scaling down of operations of many MSMEs has affected many more workers.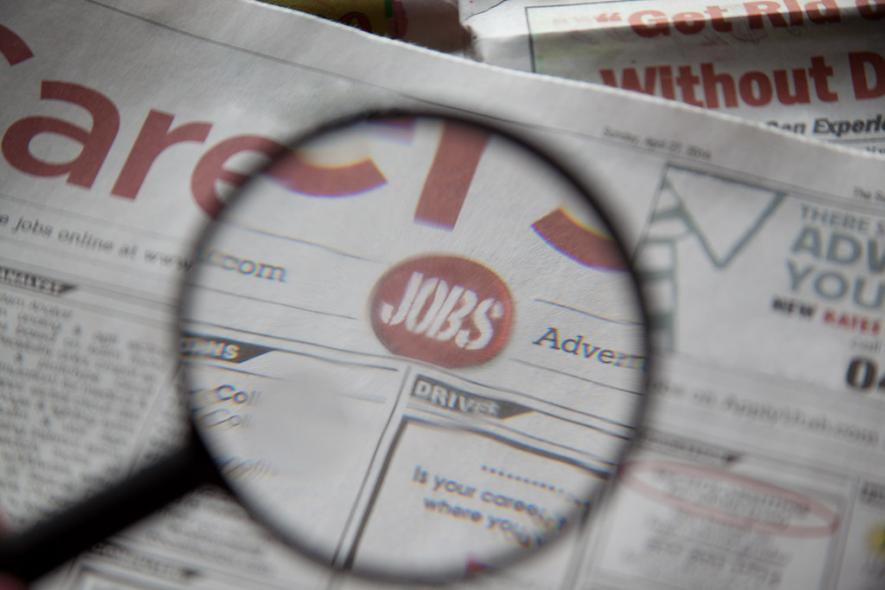 Kolkata: Sanjay Maiti, 43, is hurrying down Kolkata's Burrabazar to reach the small firm, whose accounts ledger he prepares after handling cash at an eatery off Strand Road.
After losing his job as an accountant in a metal works in Howrah, soon after the Covid pandemic broke out three years back, and a period of being cooped up in his two-room flat near Posta market during the lockdown, he had landed first the part-time work at the wholesaler firm dealing in gunny bags and then the cash counter at the eatery.
"I juggle two jobs now… and earn about the same money that I was getting at the metal works... but my quality of work life has gone down. Longer working hours, no safety net for health or old age," said Maiti (surname has been changed to protect his identity).
Maiti is not the only one complaining. As the economy slowly picks up after the pandemic-induced business meltdown, jobs are trickling into the market but their quality is often patchy, as most of them are in the informal sector.
At the same time with population growth and more new entrants joining the job market jostling with those who lost work during the pandemic, job opportunities are still too few and far between.
"Growth is being driven mostly by large corporates who have recovered from two years of Covid-19, but the micro, small and medium enterprises (MSME) or the semi-formal sector is part dead and in part hasn't recovered from the double whammy of demonetisation and the pandemic," explained Pronab Sen, noted economist and former chairman of the National Statistical Commission.
The MSME sector accounts for three out of four formal sector jobs in India. The bitter fact, analysts say is that closure or scaling down of operations of many MSMEs has affected many more workers like Maiti.
Economists pointed out that unemployment which used to be under 3% in 2011-12 and about 6% in 2017-18, is now hovering near 8%.
Data compiled by the Centre for Monitoring Indian Economy seems to indicate unemployment has risen from 6.6% in January last year to 8.3% in December 2022. However, this dipped by a tad to 7.1% as on January 29, although urban unemployment remained high at 8.6%.
In eastern India, unemployment remained high at 19.1% in Bihar, with Jharkhand standing neck-to-neck at 18% for December 2022. West Bengal reported a far lower figure of 5.5%, but economists say this is partly because of the success of its rural jobs programme, which had 10.33 million active workers, besides "export" of construction labour to other states.
"There is greater formalisation of the economy on the one hand and a rise in the informal sector… in the process, the MSMEs have been squeezed out and that is what has hit the job market and the quality of jobs," said Sen.
The problem, economists suspect, is that with the withering of the MSME sector, urban unemployment has been rising. The last National Sample Survey on MSMEs was done in 2015-16, and it showed the number employed by this sector was a whopping 110 million.
Economists fear the number of jobs in the sector has shrunk by 10-15% since then, though the numbers are not available, as the NSSO has not compiled any data since 2016.
Even the formal economy represented by big corporates has not been immune.
Rupak Mukherjee, 33, used to work for British Telecom, but had to quit just as the pandemic started. Since then, he tried his hand at real estate broking before finally landing a job last year with the Indian multinational Wipro.
"Obviously there have been compromises made by all… the job market is still sluggish," said Mukherjee, who lives a few lanes away from the famous Kalighat temple.
"Manufacturing sector has not revived the way we would all like to see it. While the services sector led by IT firms was rebounding, it is now again shedding jobs. The infotech firms fear there will be a downturn and are hedging against that day," said Biswajit Dhar, former director-general of Research and Information System for Developing Countries, a Delhi-based think tank.
News reports quoting human resource experts forecast between 80,000 to 1.2 lakh tech jobs may be lost in 2023, partly as such firms over-hired after the pandemic that tapered off and partly because artificial intelligence is replacing humans for entry level jobs.
Dhar feels the only way to revive "prosperity, jobs and quality of jobs" is to facilitate and invest in the manufacturing sector. "More projects will create demand for manufactured goods and that in turn will lead to jobs," he pointed out.
CMIE data suggests that some Rs 1.4 lakh crore worth of projects were completed in the private sector till now, which could go up to Rs 2.6 lakh crore by the end of the fiscal year, compared to over 3 lakh crore before the pandemic in 2018-19 and 2019-20.
This means though private firms have stepped up spending on adding production assemblies, they are not spending as much as they used to earlier, adding less jobs than before.
Dhar feels the way forward is to expand and improve the productivity linked incentive scheme to help set up more factories, while Sen advocates easing lending to MSMEs.
"Some spectacular NBFC failures have scared the non-banking financial sector, which is the monetary mainstay of these small firms and their funding has dried up despite the state-ordained MUDRA loans," said Dr Sen.
To compound the common man's woes. consumer inflation averaged 6.8% last calendar year.
"At times, I am dipping into my savings to live… everything has become costlier from transport to food to clothing," pointed out Mukherjee.
To make matters worse, income levels in most jobs have not risen much since the onset of the pandemic. Though wage cuts instituted just as it began are being restored, inflation has been eating into earnings.
"Till we are able to create more jobs, a demand slowdown can be expected to compound our economy's woes as incomes are not going up and inflation is eroding purchasing power," warned Sen.
Get the latest reports & analysis with people's perspective on Protests, movements & deep analytical videos, discussions of the current affairs in your Telegram app. Subscribe to NewsClick's Telegram channel & get Real-Time updates on stories, as they get published on our website.
Subscribe Newsclick On Telegram