UP: Preparations on to Run 'Bulldozer' on Media as Well
"An attempt to control critical journalism under the guise of addressing negative news," say numerous journalists in a strong response to the letter issued by state Chief Secretary Sanjay Prasad.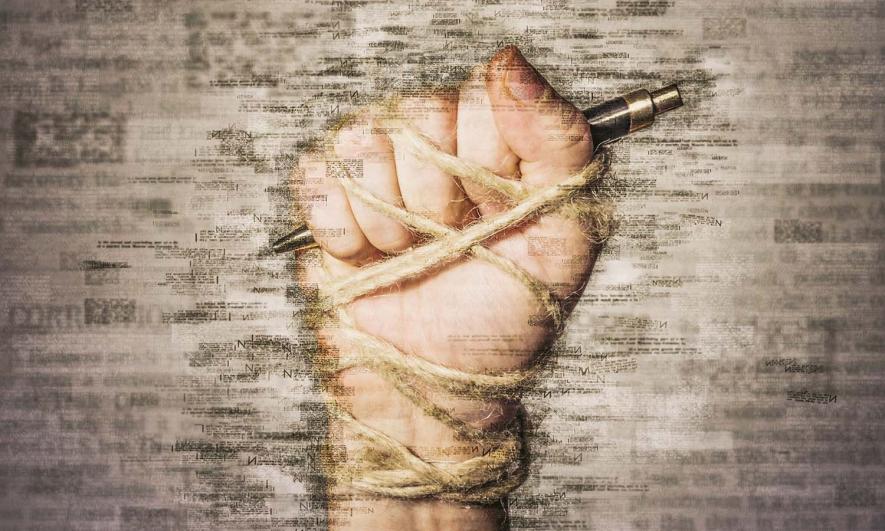 Image for representational purpose. Credit: Indiaspend
In Uttar Pradesh, newspapers writing "negative" news against the government will now have to deal with a demand for an explanation. District administration officials have been ordered to keep an eye on any news that "maligns the image" of "governance and administration".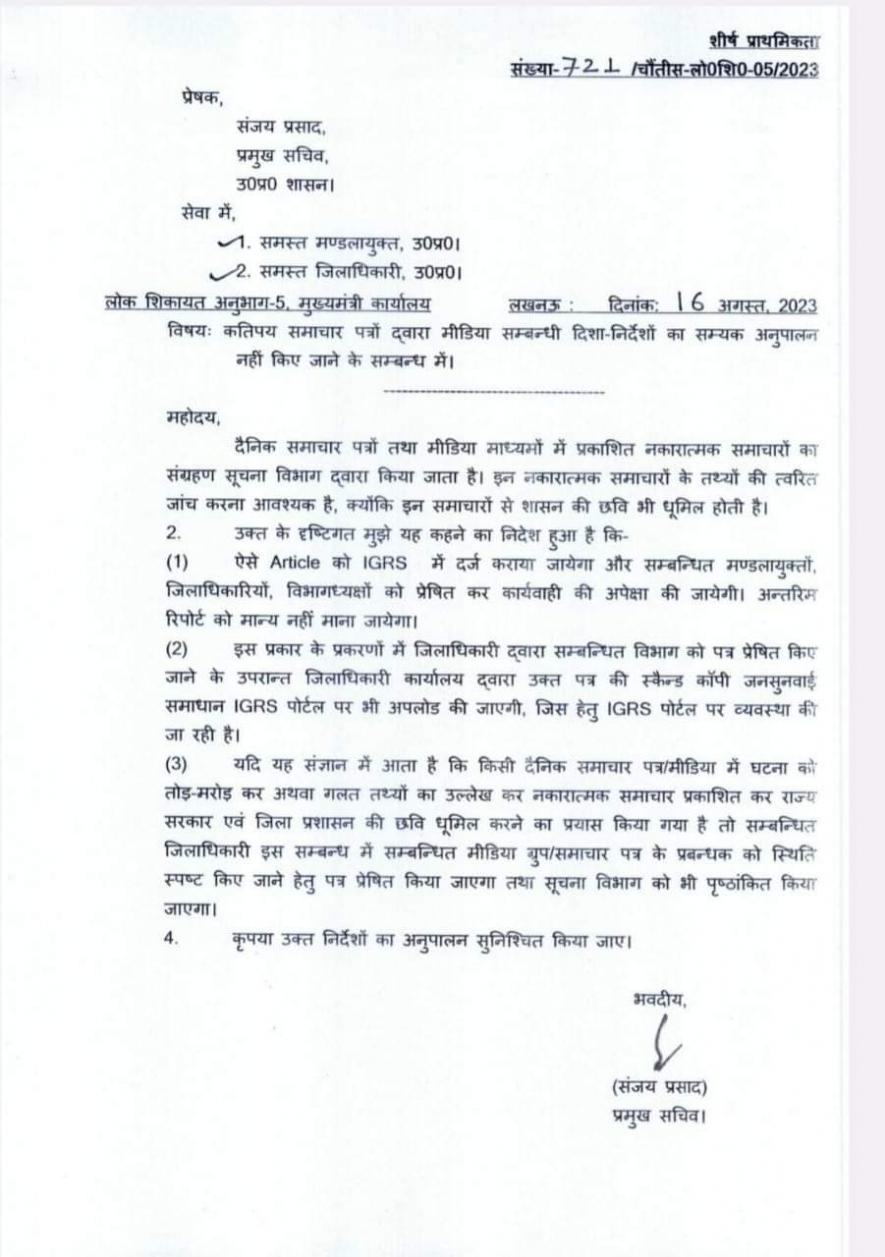 State Chief Secretary Sanjay Prasad has sent a letter to all divisional commissioners and district magistrates saying that the information department collects negative news published in daily newspapers and media. It is necessary to check facts and figures in such news items because such news "tarnishes the image of the government."
As per a government order, if it comes to notice that an attempt has been made to "tarnish" the image of the state government and the district administration by publishing negative news in any daily newspaper/media by distorting the incident or mentioning wrong facts, the district magistrate concerned should send a letter in this regard to the manager of the media group/newspaper concerned seeking clarification. This should also be endorsed by the Information Department.
The UP government's fresh order is being seen as an attempt to clamp down on small and big media houses ahead of the upcoming Lok Sabha elections in 2024. Senior journalists in the state believe that this order will have a "negative" impact on critical journalism. In addition, this government order might compound the problems faced by journalists working in far-flung and rural areas.
While several editors and journalists also believe that often unverified and fake news float around in social media, they feel that the matter does not come under the jurisdiction of any district-level officer for the purpose of investigating such news or acting on it.
Senior journalists also point out that one of the reasons for occasionally publishing one-sided news is that officials in question no longer engage with field journalists and often neglect to respond to their calls when seeking the official version.
According to senior journalist Utkarsh Sinha, while it's true that unverified news can be published or broadcast, it's not the role of district-level officials to assess and send notices. Organisations like the Press Council of India and the Editors' Guild of India are responsible for handling these issues.
 It has been reported that often government officials in small districts harass journalists by prosecuting them, he says, adding that "through this decree of the government, there is an attempt to control critical journalism through the backdoor."
Atul Chandra, the former senior editor of The Times of India, said that the government is moving towards keeping a strict watch on the media, and the most negative effect of this will be on news emanating from small districts. This is because officials there "usually do not give their reaction sought by journalists for the relevant reports".
If journalists write reports without an official response, it could be labeled as "one-sided news," potentially leading to harassment of both journalists and media organisations.
Chandra says what is really needed is that there should be such a formula that journalists can get timely confirmation of news or responses. This can help prevent factual errors, if any.
Naved Shikoh, a former member of the Uttar Pradesh Accredited Journalists Committee, believes that after this order, difficulties will increase not only for journalists writing department-related news but also for those reporting political news.
He said, "Often journalists write news by quoting their sources. But now, if a report is not convenient for the people sitting in power, they will dismiss it as baseless and immediately a notice will be sent to both the journalist and the media group concerned."
Shikoh says if this happens, after some time readers will have only "press notes" to read in the name of news.
He pointed out that higher-level officials usually don't want news about corruption or similar matters in their districts to be published. This could lead to the misuse of such orders and, in the end, result in a decline in press freedom.
Mudit Mathur, who represents journalists from several organisations, says that it is the duty of the state to create an open environment so that journalists can practice free and fair journalism, which is not possible with one-way communication.
He said the way officers, especially police officers, give information to the media about "commendable" work done by them; similarly, they should also answer questions posed by journalists, so that their reports are factual.
Hemant Tiwari, president of the Uttar Pradesh Accredited Journalists Committee, told NewsClick that such curbs on reporting cannot be expected in a democratic system. There should be freedom of expression in a democracy. Tiwari said that he, along with a delegation, will discuss this matter with the government so that there is no hindrance in the work of journalists.
The opposition Congress has also condemned this order of the government. Congress leader Sanjay Singh said the Yogi Adityanath government's letter to District Magistrates is an attempt to curb the independence and impartiality of the media.
He said after coming to power at the Centre in 2014, the Bharatiya Janata Party government has controlled a large part of the media. "Now, the Yogi government has issued an order to completely control the media; under which media houses critical of the state government and administration are directly being threatened," he said.
The Congress leader said things will be difficult for those journalists critical of Chief Minister Yogi Adityanath, his governance and administration. "The Yogi government basically wants to silence especially those journalists who write critical news," he added.
Singh alleged that there as an atmosphere of "Jungle Raj" in Uttar Pradesh over the past six years. "Contrary to the claims of the government, many irregularities had been reported, including corruption, commission khori, etc. The government does not want any news against them to be reported, so it is now making an attempt to silence the media by intimidating them," he added.
t's important to note that a significant number of actions have been taken against journalists in Uttar Pradesh in recent years. Individuals who have faced prosecution include The Wire editors Siddharth Varadarajan, Pankaj Jaiswal (now deceased), Ismat Ara, Rana Ayyub, Saba Naqvi, Mohammad Zubair, Supriya Sharma, Siddique Kappan, and Siraj Ali.
It is also noteworthy that India currently ranks 161 out of 180 countries on the World Press Freedom Index (according to the index published by Reporters Without Borders).
When attempts were made to contact Principal Secretary Sanjay Prasad about this letter, his phone was engaged. Subsequently, his office answered the call but mentioned that he was unavailable to speak at the moment.
(Translated from Hindi)
Get the latest reports & analysis with people's perspective on Protests, movements & deep analytical videos, discussions of the current affairs in your Telegram app. Subscribe to NewsClick's Telegram channel & get Real-Time updates on stories, as they get published on our website.
Subscribe Newsclick On Telegram