Prices of Food Items Rising Unchecked…
…while the government continues to remain clueless.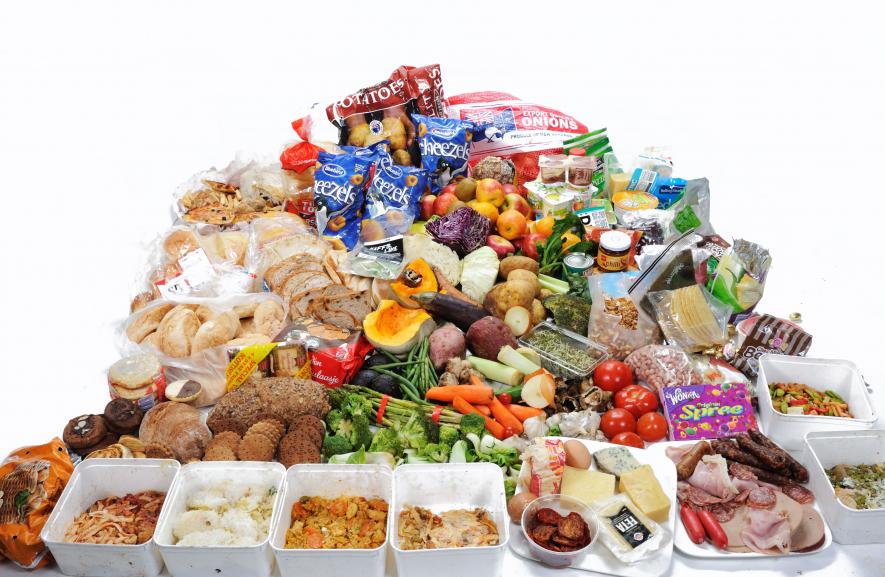 Representational Image. Image Courtesy: Wikimedia Commons
By the end of June, wheat and flour prices were on fire with an incredible 10% inflation rate, according to the latest data available with the ministry of statistics and programme implementation (MoSPI). That means prices were 10% higher than in June last year. Just six months ago, in January, the inflation rate for wheat was 5.1%—uncomfortable but not yet lethal. This devastating rise in prices of a staple cereal can be attributed to the earlier policy fiasco of pushing export leading to a fall in procurement, and the subsequent U-turn.  
But the relentless rise in prices of essential food items is not limited to wheat alone. As shown in the chart below, vegetable prices have zoomed up from an inflation rate of about 5% at the beginning of the year to 17.4% in June. Some of this is a seasonal price rise in the summer but it is still way beyond that annual feature this year.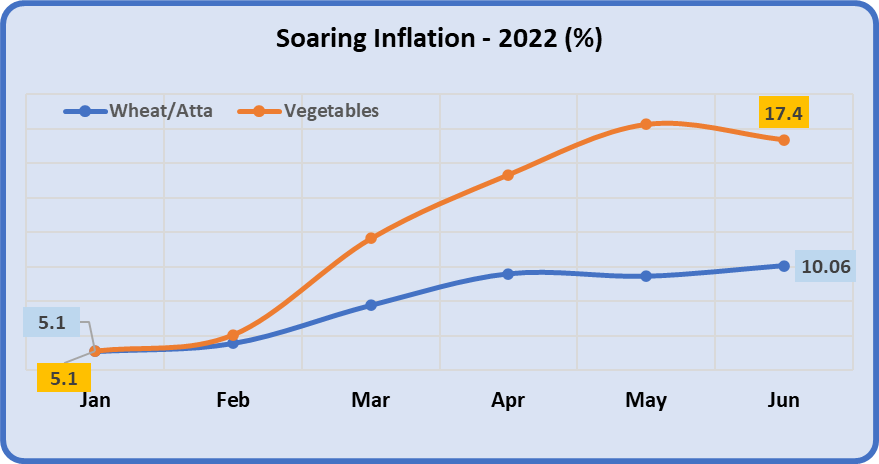 The reason for this rise in vegetable prices is primarily the high cost of transportation arising due to the high fuel prices—again a direct consequence of the government policy of squeezing maximum taxes out of petroleum products. The heat wave also contributed to this unusual hike in vegetable prices.
But the price rise is not confined to these usual suspects. As shown in subsequent charts derived from the same MoSPI price index data, prices of several other items or food groups have been high for some months.
Cooking oils were on fire for a large part of last year primarily because of high palm oil prices in the global market. While there has been some easing of inflation in this key food item as shown in the chart below, note that inflation has simply eased from an unconscionable near-19% to about 9.4% over the past six months! An annual inflation rate of nearly 10% after months of double-digit inflation can hardly be called relief. Families continue to suffer huge damage to budgets because of this since cooking oil is an essential of Indian cuisine. And, it becomes even more hurtful when it is accompanied by the high prices of other essentials.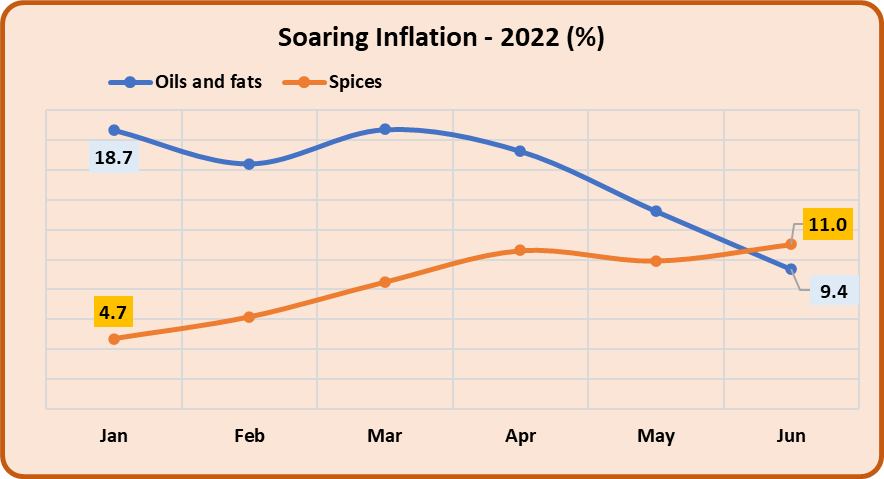 The chart above also shows annual inflation rates of spices—another category of food items that are showing a huge spike in prices. Price inflation has increased from 4.7% in January to 11% by June. Though used in smaller quantities and amenable to reduced usage, this price hike is still costing families a lot.
Two major sources of protein—milk and products, and meat and fish—have both become costlier, as shown in the chart below. Inflation of meat and fish prices has jumped up from 5.5% in January to 8.6% by June end while milk and products have exhibited an inflationary hike from 4.1% to 6.1% in the first half of this year.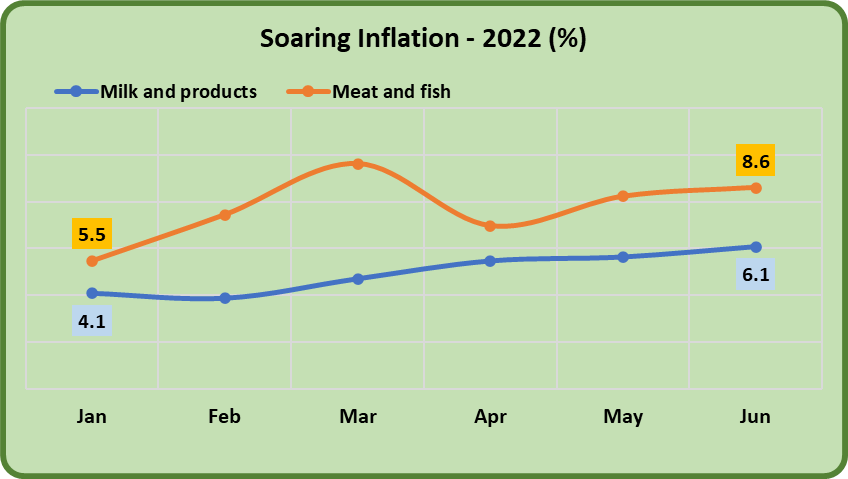 The only other group of commodities that is showing very high inflation is 'fuel and light', which consists of mainly petroleum products. The inflation rate of this group has increased from about 9.3% in January to 10.4% by June. As mentioned earlier, this is also driving up the prices of other commodities, especially perishable ones.
What Can government Do?
The Narendra Modi government has largely given up on controlling the price rise. There has been no significant policy announcement that initiates price-control measures. The only measures announced were restrictions on the export of wheat and subsequently of wheat flour although reports suggest that flour export has continued under various exceptions.
Union home minister Amit Shah put this paralysis succinctly when he reportedly said that the price rise is beyond the control of any nation. He went on to point out that inflation rates are higher in various other countries—perhaps, implying that Indians should feel happy about that.
This fatalism hides the government's refusal to take concrete measures to curb prices, which could include—expanding the basket of commodities that is available in the Public Distribution System (PDS), expanding the coverage of PDS to include more families that are left out, cutting petroleum fuel costs, taking strict measures against hoarding and black marketeering and providing income support to families still suffering from the pandemic's consequences. Besides these immediate measures, it can initiate viable programmes to increase the production of oilseeds and other agricultural commodities.
Far from thinking in this direction, the government's attitude is revealed in the recent decision to withdraw the Goods and Services Tax (GST) exemption on several items of daily use like curd, lassi, paneer, and pre-packaged pre-labelled wheat, rice, flour, etc—this would add 5% to the prices of these commodities.
Get the latest reports & analysis with people's perspective on Protests, movements & deep analytical videos, discussions of the current affairs in your Telegram app. Subscribe to NewsClick's Telegram channel & get Real-Time updates on stories, as they get published on our website.
Subscribe Newsclick On Telegram