Pride Month 2023: Events, Parades Throughout Urban, Rural India to Celebrate Diversity, Inclusivity
'This home is for you, me, him, her, they, them''- LGBTQIA+ community celebrating pride month across in India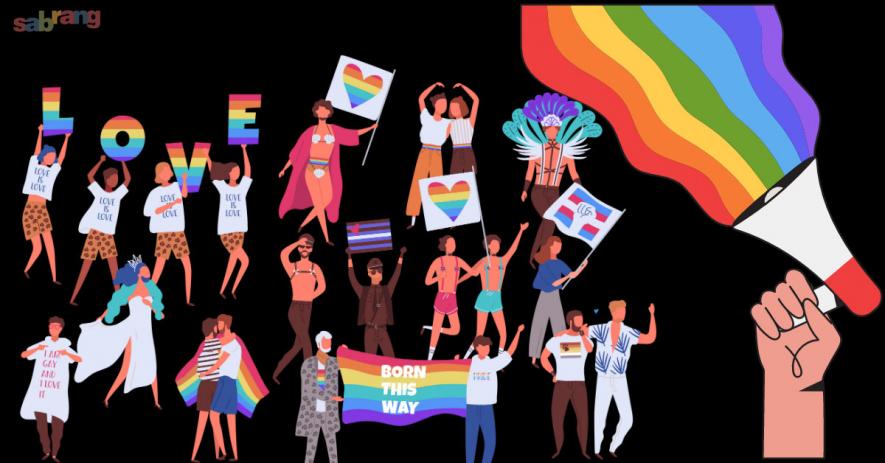 The month of June is widely recognized as Pride Month, to commemorate the impact that LGBTQIA+ individuals have had on the world's history locally, nationally, and internationally. Pride Month is an annual celebration and recognition of the LGBTQIA+ (lesbian, gay, bisexual, transgender, queer, intersex and asexual) community, their history, accomplishments, and contributions to society.  The celebrations held in this month include pride parades, picnics, parties, workshops, symposia and concerts , which act as a platform for raising LGBTQ+ rights awareness, promoting inclusivity, advocating for equal treatment and acceptance and outlawing of the discriminatory laws and practices still in practice.
Why celebrate Pride Month in June?
The month of June was chosen for historical reasons, with the aim to pay an ode to the ones who started this movement, and lost their lives fighting for it.
It commemorates the Stonewall revolution, which happened in New York City, United States, in June 1969. The Stonewall revolution happened in response to a police raid on the Stonewall Inn, a safe haven for the people of the community, a prominent gay bar.
Since all forms of homosexual acts where illegal in every state of the United States except Illinois, and bars and restaurants could get shut down for having gay employees or serving gay patrons, police raids were considered common, but it was on that particular night when the community members had fought back. Even though it still remains unclear who or what act started the revolution, due to minimal documentation of the night, two transgender women of colour, Marsha P. Johnson and Sylvia Rivera, were said to have resisted arrest and thrown the first bottle (or brick or stone) at the cops.
These events represented a crucial moment in the homosexual liberation movement and are credited with sparking the modern LGBTQIA+ rights movement.
Where does India stand?
The LGBTQIA+ community of India has also been campaigning, fighting and demanding for equal rights, legal recognition as well as acceptance. In India, the decriminalization of homosexuality under Navtej Singh Johar vs Union of India, 2018 judgement by the Supreme Court of India in the year 2018 was the first legal step taken in India towards accepting, acknowledging and uplifting the queer community. In the said judgment, the Court had held that Section 377 of the Indian Penal Code, which criminalised gay sex, was unconstitutional, a colonial-era legislation that criminalized consensual same-sex partnerships. This decision was a significant victory for LGBTQIA+ rights in the country.
Pertinently, even when our society has somewhat recognised that LGBTQIA+ individuals are an essential part of our society and that the community has been able to attain some degrees of equality, in 2023 India, there is yet a long way to go. Equality and Dignity for the LGBTQIA+ is still a work in progress to obtain equal rights in marriage/divorce/adoption, reservation in employment and other crucial legal safeguards for everybody.
Primarily about immersion, inclusion, equality and acceptance, the meaning of pride in todays' world is multi-faceted.
Many members of the community also associate "Pride Month" with celebrating and accepting who we are, as we are, and living freely, proudly and openly.
Throughout the month of June, many organisations, community groups, and activists organise various activities to raise awareness, develop acceptance, and advocate LGBTQIA+ rights in India. LGBTQIA+ people frequently face societal stigma, prejudice, and stereotypes, which can lead to exclusion, rejection, and marginalization, and these platforms provide a safe haven to the members of the community, creating a sense of "chosen family". Therefore, it is critical to hold such events that not only raise awareness about the issues confronting the LGBTQIA+ community, but also act as a catalyst to ensure equality in the true sense of the LGBTQ+ community's members.
Celebrations of Pride in India
On July 2, 1999, India conducted its first pride parade in Kolkata—"The Kolkata Rainbow Pride Walk"—which was also the first Pride march in South Asia. Following this event, Pride marches were held in over 21 Indian cities. In the year 2008, Delhi, Mumbai, and Bengaluru had their first pride parades, with Bhubaneswar and Chennai organising their maiden marches the following year. The state of Kerala hosted the first such event in 2010, with Pune following suit in the year 2011. In the year 2014, Guwahati had hosted it's the first Northeast Pride Walk. As recently as 2017, Awadh, Bhopal, and Dehradun had held their maiden Pride marches, with Jamshedpur following suit in 2018 with its own event.
Every year, the celebration of Pride Month is centered around a different subject, which encourages people to join in debates and raise awareness about important challenges that members of the community continue to face. The theme for 2023 pride celebration is Rage and Resilience, which reflects the present worldwide context, which includes the rise of anti-LGBTQIA+ policies and laws.
Notably, the current year of 2023 is a special and important year for the LGBTQIA+ community in India. Only two months ago, in the month of April, the Supreme Court of India had heard extensively a bunch of Public Interest Litigations (PILs) to legalise same-sex marriages in the country, the judgment for which has been reserved.
So, it's time to take a walk-through June 2023, to see how the pride month is being celebrated in India:
Mumbai International Queer Film Festival- KASHISH
Kashish, which kicked off on June 8, is India's first LGBTQIA+  film festival to be staged in a mainstream theatre, as well as the country's first queer festival to be approved by the Ministry of Information and Broadcasting. The subject of Kashish 2023 is 'BE FLUID, BE YOU!', which gives wings to the aspirations of today's generation, which is fluid in their thoughts, actions, and sexualities, and which is conveyed via universally appealing films, art, and poetry.
LGBTQ Pride Summit
This summit, slated for June 21 at Mumbai's ITC Maratha from 9 a.m. to 6 p.m., will focus on the top professionals in the industry to address why diversity is vital, as well as diversity as a top priority for an organization's development.
Queer Made Weekend in Delhi: A Pride-worthy Celebration
Queer Made Weekend, coordinated by Tinder India and Gaysi Family, will take place from June 17-18 at DLF Promenade in Delhi. At a dedicated venue for all things queer-made, one is invited to mingle with, peruse, and shop from queer entrepreneurs and small business owners!
Chennai Rainbow Pride Parade
In June-July, Chennai celebrates its 15th year of Pride. This season's events highlight the visibility of alternative sexualities and gender identities while also affirming self-respect as a crucial goal of the movement. The Pride march will take place on June 25, subject to police approval.
Pune's Pridesio Bazaar
Flea markets at FC road Socials, in Pune have be arranged that promote shopping, music and performances by the most creative queer artists in Pune.
Satrangi Mela (Pride Edition), Indiranagar SOCIAL, Bengaluru,
Satrangi Mela, India's first all-day queer festival organised by a hospitality chain, will hold its third Bengaluru edition on June 18 at 12pm in the Indiranagar Social, Bengaluru. Satrangi Mela is a festival of gay people, for queer people, and by queer people. It is dedicated to supporting queer talent and queer-owned companies. Their inclusive approach changes the focus away from a tokenistic rainbow flag and towards the more important and under-represented aspects of the gay experience, as exemplified by a drag showcase in Pune and an LGBTQIA+ exclusive floor in Bengaluru.
It is essential to note here that the above-mentioned celebrations are some of the urban festivals organized in India, the list of which goes on. However, when we speak on the issue of pride parades, acceptance, and inclusivity, we limit them to the urban areas, think of it as an elitist and urban concept, and end up ignoring the celebrations of love and pride that take place in the rural part of India.
The rural parts of India have not yet seen many pride parades. This year, 2023, however, a number of rural parts of India too saw pride celebrations. Pride parades in remote communities give the LGBTQIA+ community visibility and representation. These celebrations show that LGBTQIA+ people exist in all sections of society, including rural villages, and that they have the right to express themselves openly. This visibility challenges prejudices and misconceptions, creating a more welcoming and inclusive environment.
Vasai-Virar Pride festival
The Vasai-Virar Pride Festival 2023, celebrated on May 27, was a one-day event that celebrates the variety and perseverance of the LGBTQIA+ community. Many people and allies from Maharashtra attended the same. The Vasai-Virar Pride Festival 2023 was seen as a watershed moment for Maharashtra's LGBTQIA+ community and a significant step towards the creation of a more welcoming and inclusive society. They devised a route that would pass by churches, temples, and Vasai Road to boost visibility on the day of the Pride March.
On April 7, a pride parade was held in the city of Mysuru, which is 3 hours away from Bangalore. A march from Government Guest House to Jaganmohan Palace in the city was organised on March 19 at 2.30 pm as part of the annual 'Namma Pride and Queer Fest' celebrated by the LGBTQIA+ community.
Dharmshala (sometimes written Dharamshala), a Himalayan town in the Dhauladhar range, saw its inaugural Pride march on April 30, 2023. People carrying posters with slogans such as 'This home is for you, me, him, her, they, them' marched from the main market to the Dalai Lama temple at McLeodganj, a Tibetan hamlet in Dharmshala. The march was later resumed in the town's Kotwali bazaar, a bustling market area. This was Dharmshala's first such public meeting in support of the LGBTQIA+ community, and many of the attendees came from the state's countryside and small towns.
Challenges faced by the rural LGBTQIA+ community:
Rural India has different cultural, social, and economic characteristics and connotations than the urban ones. These places have more conservative attitudes and traditional traditions, which might contribute to the LGBTQIA+ community's issues and barriers, resulting in a different set of problems that the community members have to face there.
Access to information and resources about the LGBTQIA+- identities and rights are limited in rural places. Stereotypes, prejudices, and discrimination against LGBTQ+ people can be perpetuated by a lack of awareness and understanding. Rural areas in India frequently adhere to traditional gender roles and conventions, making it difficult for LGBTQIA+people to publicly express their identities. These societal expectations might result in stigma, social isolation, and conformity pressure. Because of the conservative milieu in rural places, LGBTQIA+ members often find themselves afraid of coming out about their gender or sexuality, or being open about their identities. They may experience rejection from their families, communities, or even violence, necessitating stealth or invisibility. LGBTQIA+ support networks, community organisations, and safe spaces may be scarce in rural locations. Individuals may find it difficult to obtain services, seek help, and connect with others who have had similar experiences due to a lack of infrastructure.
It is important to address and put forth the challenges faced by the rural LGBTQIA+ community. These challenges can be tackled in the following ways.
Education and Awareness: Initiatives to educate rural populations about LGBTQIA+ identities, rights, and issues should be implemented. Workshops, information campaigns, and collaboration with local schools, universities, and community organisations can all be part of this.
Sensitisation Programmes: Sensitization programmes can be designed to educate community leaders, educators, and healthcare providers about LGBTQIA+ concerns in rural locations. This can assist them provide support, inclusive services, and safe environments for LGBTQIA+ people.
Grassroots Activism: Empowering local LGBTQIA+ activists and community members can help bring about change. Grassroots organisations can be formed to lobby for LGBTQIA+ rights, give assistance, and start talks in remote areas.
Collaboration and Partnerships: Collaboration between urban LGBTQIA+ organisations, non-governmental organisations (NGOs), and rural community groups can assist bridge the gap and expand resources and support to rural LGBTQ+ individuals.
Positive depiction of LGBTQIA+ people in rural media venues, such as television, radio, and local magazines, can serve to challenge prejudices and build acceptance.
A long, yet colourful, road ahead
Finally, it is critical to recognise the unique problems that LGBTQIA+ people confront in India, both in urban and rural parts, and strive towards creating an inclusive culture that celebrates diversity and respects the rights of all people, regardless of sexual orientation or gender identity.
The government in the past has denied permission to queer parades. However, this year there has been no such denial. This showcases the fact that India is on its way to becoming an inclusive country. The center is, however, against the legalization of same-sex marriages on the grounds that it is "unnatural." Statements like these by the rightwing, religious fanatics and the government show that even though the LGBTQIA+ community is accepted on the face of it, in reality, there exists deep-rooted homophobia in the country, as is evident by the refusal to reading down discriminatory laws and policies by the center, based on their understanding of what is natural and what is not.
The LGBTQIA+ struggles in India have only been able to yield silver linings and some crumbs till now, and yet this inclusive, all-accepting, and rainbow community is refusing to give up. Since the day a member of the community recognises the weight and unfairness that comes with their identity, they fight against inequities in the law, the police, the state, heteronormative society, and even their own family. It takes fortitude to oppose in the face of criminal persecution, and to continue to oppose this in the face of persecution.
After all of this, if the courage of LGBTQIA+ individuals and communities is any indication, the fight for equal rights and acceptance celebrations has only just begun.
Get the latest reports & analysis with people's perspective on Protests, movements & deep analytical videos, discussions of the current affairs in your Telegram app. Subscribe to NewsClick's Telegram channel & get Real-Time updates on stories, as they get published on our website.
Subscribe Newsclick On Telegram