Privatisation of Pawan Hans: Some Unanswered Questions
The privatisation of Pawan Hans Limited – the Indian government-owned helicopter operator – is shrouded in mystery. The entity that has acquired a controlling stake in Pawan Hans is Star9 Mobility Private Limited, a consortium led by a Dubai-based company about which little information is available. Indian regulators had imposed sanctions on this company, which appears not to have satisfied the eligibility criteria for bidders for a controlling interest in the public sector corporation. This is an investigation by The Wire and NewsClick to find out the facts.
New Delhi: On April 29, 2022, the Cabinet Committee on Economic Affairs approved Star9 Mobility Private Limited's bid to buy the government's 51% stake in public sector helicopter service provider Pawan Hans Limited for Rs 211 crore. Two weeks later, several questions about the privatisation of this once-iconic public sector company remain unanswered and there are questions about the identity of its new owner.
Star9 Mobility is a consortium of three different entities – Maharaja Aviation Private Limited, which owns 25%, Big Charter Private Limited (with 26%) and Almas Global Opportunity Fund with the remaining 49%. The consortium will also acquire the remaining 49% of Pawan Hans – which belongs to the public sector energy giant ONGC – at the same price per share.
A Ministry of Finance  press release stated: "The strategic disinvestment transaction was implemented through an open, competitive bidding process supported by a multi-layered consultative decision making mechanism involving (an) Inter-Ministerial Group, (a) Core Group of Secretaries on Disinvestment and the empowered Alternative Mechanism."
Our investigation shows that this 'transparent' decision based on a "multi-layered consultation" has resulted in the purchase of Pawan Hans by a consortium whose leading stakeholders have placed little or no information in the public domain about themselves and their ability to run such a company. In fact, the largest stakeholder in the consortium has been sanctioned by the National Company Law Tribunal (NCLT) and it is not clear whether it has fully met the eligibility criteria laid down by the government for bidders. 
This is not the first time the Narendra Modi government's sale of government assets to private companies has raised questions about the new owners. In January, the government was forced to put on hold the sale of Central Electronics Limited after doubts were raised about the winning bidder's financial track record, the cases pending against it in the NCLT and questionable inter-connections among bidders. 
Pawan Hans: A national asset
Pawan Hans was founded in 1985 as a joint venture of the Ministry of Civil Aviation and the public sector Oil and Natural Gas Corporation (ONGC). It is the largest helicopter service provider in the country. 
In the past three years, Pawan Hans has been registering losses. In FY18-19, it recorded its worst loss of around Rs 70 crore, which has improved to losses of around Rs 18.5 crore in FY19-20 and around Rs 17.6 crore in FY20-21. This came after a sharp profit that it registered in FY16-17 of Rs 254 crore. That year, the government converted the debt of Rs 130 crore that Pawan Hans owed it into equity and wrote off interest dues of around Rs 339 crore – which is what had resulted in the high profit. In the year that preceded it, that is FY15-16, the company had made a profit of around Rs 57 crore. In the year that followed, that is FY17-18, the company made a profit of around Rs 20 crore. The chart and table below track its revenue and profits since 2016.
Financial Performance of Pawan Hans Limited (all figures in Rs crore)
| | | | | | | |
| --- | --- | --- | --- | --- | --- | --- |
| Financial year | FY16 | FY17 | FY18 | FY19 | FY20 | FY21 |
| Revenue | 491.67 | 507.73 | 458.02 | 414 | 376.75 | 401.71 |
| Profit | 57.17 | 254.09 | 20.23 | -70.49 | -18.53 | -17.61 |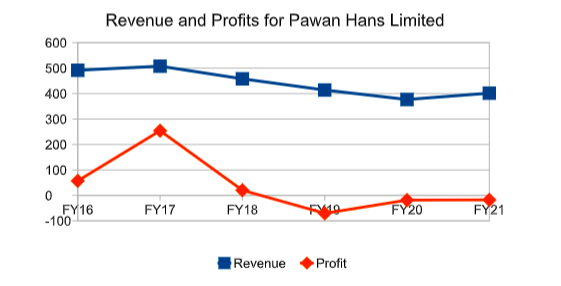 In the information memorandum seeking expressions of interest in Pawan Hans issued by SBI Capital Markets (that had been appointed transaction adviser for the disinvestment process) in December 2020, various explanations are provided for why the company's revenue started to fall in 2016, leading to the company going into losses two years later (notwithstanding the extraordinary gains owing to the debt write off and debt to equity conversion by the government in 2017). The document said that three accidents in 2015 accounted for a drop in revenue from operations from 2016 onwards. Due to these accidents, the insurance cost of the helicopters had also risen, the document added. Revenue further declined in 2020 due to the aging of helicopters. As of March 31, 2020, the document said, five helicopters are not operational as they could not be repaired due to spare parts not being available, and one helicopter had been dispatched to Russia for an overhaul. Revenue from operations had further been impacted, the document said, due to the decline in revenue from consultancy services towards development of heliports.
Despite these fluctuations in its financial performance however, Pawan Hans is a national asset. Its fleet of 43 helicopters (of which 37 are currently operational) serves the offshore operations of oil and gas companies and provides transportation in the Andaman & Nicobar Islands and Lakshadweep. It connects remote and inaccessible parts of the country, including areas of north-east India, Jammu & Kashmir and Uttarakhand, for tourists and VIPs as well as for government personnel.
Pawan Hans also provides its helicopters for search and rescue operations during natural calamities, carries personnel and material for the Border Security Force, the Border Roads Organisation, supports the Power Grid Corporation, and helps in the surveillance of pipelines of not just ONGC, but GAIL and Oil India Limited as well. Pawan Hans helicopters have been deployed by the security forces and have been chartered for a variety of purposes by private persons and government bodies.
Will the Star9 Mobility consortium be able to handle this diverse range of activities? Let us look at the record and capabilities of its three constituent companies.
Maharaja Aviation Private Limited, operator with three choppers
Maharaja Aviation was incorporated on October 8, 2008 in Indore. Its directors are Sumit Sawhney and Suchin Sawhney. According to a April 15, 2022 Director-General of Civil Aviation (DGCA) report, this company is "a non-scheduled aircraft operator and operates three small helicopters" – two four-seaters and one three-seater.
Between 2013-14 and 2020-21, the company earned a profit only once, ₹4.92 lakh in 2019-20. In this period, the highest revenue it earned was ₹9.13 crore in 2017-18. On March 31, 2021, Maharaja Aviation's total assets were worth ₹1.35 crore, and the company's total borrowing stood at ₹8.07 crore. Its net worth was negative at minus ₹7.59 crore. 
Maharaja Aviation's Facebook page has publicized some high profile clients who availed of its helicopter services through 2017 and 2018. These include Bollywood actor and BJP MP Hema Malini, Bollywood actor Akshay Kumar, yoga guru Baba Ramdev and his business partner Acharya Balkrishna (who is CEO and MD of Patanjali Ayurved Limited).
Choppy journey of Big Charter Private Limited 
Big Charter was incorporated in Mumbai on December 13, 2014 by a former pilot with the erstwhile Kingfisher Airlines, Captain Sanjay Mandavia. The company's LinkedIn page states that it is in the business of truck transportation. Mandavia is a founding member of the Flight Simulation Technique Centre, a company that provides flight simulation services to train pilots of various aircraft. 
In 2020, Big Charter won a tender floated by the Meghalaya Transport Corporation to operate a direct flight between Shillong and Delhi twice a week. It started the operation under the name 'flybig' airlines in December 2020, with a Bombardier Dash 8 Q400 turboprop aircraft leased from SpiceJet. A few months later, for reasons that are not clear, SpiceJet discontinued its aircraft lease contract with Big Charter and the Shillong to Delhi service stopped. An agitated Meghalaya government then served a show-cause notice on the company in December 2021.
After Big Charter failed to resume operations, Mohendro Raspang, an opposition Member of the Legislative Assembly (MLA) asked the state's transport minister: "Is it prudent to sign an agreement with an operator who has no aircraft or shouldn't we look at options where we sign an agreement with an operator who has at least one or two aircraft of its own?" 
Dasakhiatbha Lamare, Meghalaya's Transport Minister replied that 'flybig' has "promised us that it will avail an aircraft…(a) Bombardier Q400." He added: "Since this was the first experience, it was a lesson for us. Let us see by the end of this month if the airline can provide us the services we need or else we will take another step."
By the middle of 2021, Big Charter was reported to be in financial distress and was looking for investors with deep pockets. It started defaulting on payment of salaries and taxes. Many employees, including its chief executive officer (CEO) and chief financial officer (CFO), left the company. At that juncture, it was operating its two ATR aircraft to 13 destinations on 16 daily flights.
In its annual returns for 2020-21, the company mentioned three principal business activities that generated the following proportions of its income: passenger and charter services (24.85 per cent), fees for training students (18.35 per cent) and foreign commission (56.8 per cent). In 2019-20, for the first time, the company booked a profit of a little over one lakh rupees. This figure jumped to 98.45 lakh rupees the following financial year. Big Charter had a net worth of approximately Rs 9.5 crore on March 31, 2021. 
On March 26, 2022, the Ministry of Civil Aviation tweeted that 'flybig' airlines had signed a letter of intent to acquire up to ten Twin Otter Series 400 aircraft from Canada's de Havilland Air "to assist in serving small and remote communities which previously didn't have access to air travel." 
Ten Twitter handles were tagged by the Ministry of Civil Aviation (MoCA) – those of Union Minister of Civil Aviation JyotiradityaScindia; the Federation of Indian Chambers of Commerce and Industry of India (FICCI); Usha Pandhee and Amber Dubey, both joint secretaries in the MoCA; the main and ministerial offices of the Press Information Bureau; General V K Singh, Minister of State, Civil Aviation; Amrit Mahotsav (a government initiative to celebrate 75 years of India's independence); Wings India 2022 (a three-day event on civil aviation that was organised by the Union government in Hyderabad during 24-27 March) and Pawan Hans Ltd.
Why did MoCA chose to tweet information about a small regional airline with two leased aircraft signing a letter of intent to procure 10 small aircraft? Why was Pawan Hans tagged? How was the public sector company connected to the deal involving Big Charter's 'flybig' given the former is a helicopter company and has nothing to with airplanes? Was the tweet an indication of what was to come?
These questions are significant because the transfer of a controlling interest in Pawan Hans to the consortium that included the owner of 'flybig' airlines – Big Charter – was announced a whole month later, on April 29. 
The registration details of 'flybig' published by DGCA states that as on April 15, 2022, it operated two leased ATR 72-212A type aircraft, each with 72 seats. The airline had added a Q400 aircraft on a wet-lease from Ethiopian Airlines with crew to its fleet on April 28. (In a wet-lease, the organisation that owns the aircraft provides crew members along with the leased aircraft to another organisation and is also responsible for maintenance of the aircraft and insurance cover.)
Little known of Cayman-based Almas Global Opportunity Fund SPC
The third member of the consortium that constitutes Star9 Mobility, Almas Global Opportunity Fund SPC (AGOF), is an entity registered in the Caribbean tax haven, the Cayman Islands. AGOF's website discloses little about the company but mentions a wide array of sectors in which it invests.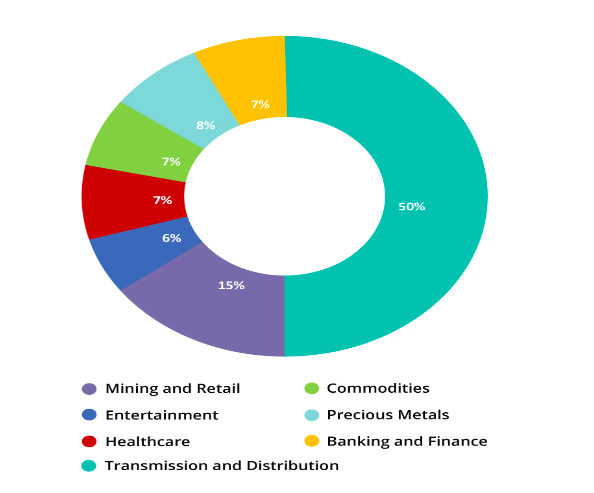 This fund, as it claims, was incorporated in November 2017. Its minimalist website states that the "primary objective of the Fund is to provide its shareholders with maximum short to medium term capital appreciation through a combination of debt and equity investment. Fund many sub-funds that diversify over different strategies like Trade Finance, Real Estate, Fixed Income and Renewable Energy." 
The website of the parent company of the fund, Almas Capital Limited, adds: "The Fund is in Segregated Portfolio Company (SPC) structure, and invests in companies through Debt or Equity."
Almas Capital introduces itself as a Dubai-based "financial services company" and like the website of the fund, the information that has been publicly provided is sparse. Unlike several other similar corporate entities, information about the people behind the company including their educational and professional background is absent. The Almas Capital website does not have an address and names no employee or contact person but lists a generic email address and a United Arab Emirates (UAE) phone number.
The section of the website titled "track record" is reproduced below.

The information given indicates that the company has not yet invested or raised funds. 
In December 2021, several publications in India reported that a start-up named Jupitice, an AI/ML (artificial intelligence/machine learning) and blockchain based technology platform, had announced that Almas Capital (also known as Almas Caps) had raised $4 million for the start-up. This is not mentioned on the website of Almas Capital. These news reports mention Amardeep Sharma as the managing director of Almas Capital. 
According to his LinkedIn profile, Sharma was the managing director of Almas Capital between March 2017 and November 2020. Subsequently, he has been the senior executive officer and member of the board of directors of Greenback Capital Limited.
Who then are the people behind Almas Capital, which raised $4 million for Jupitice and leads the Star9 Mobility consortium (by virtue of owning the single largest stake in it) that acquired control over Pawan Hans?
The answer lies in the website of another company, Greenback Capital. Unlike Almas Capital, this website provides details about the company's core team and other employees. Amardeep Sharma is the chairman and member of the company's board of directors. And, it turns out, on its website Greenback Capital claims to be the company that raised funds for Jupitice.
Greenback Capital has a regulated licence and is registered with the Dubai International Financial Centre (DIFC). It was incorporated on 28 October 2020 and has an office in the DIFC. Amardeep Sharma, Charudutta Joshi and Ashit `Mahendra Mehta are its directors.
The firm's website doesn't mention Mehta anywhere but lists two more directors, Ramen Ray Mandal and Habeeb Ahmed. Mandal is a director in Star9 Mobility. Mehta is one of the directors in Parmes Diamonds Exports Private Limited, a Surat-based diamond export firm.  
NCLT verdict against Almas Global Opportunity Fund
On April 22, 2022, the Kolkata bench of the National Company Law Tribunal (NCLT) passed an order in a case that involved Almas Global.
The case concerned the acquisition of EMC Limited, a Kolkata based company that provides systems used in power transmission and distribution equipment, by Almas Global, through the Corporate Insolvency Resolution Process. Almas Global Opportunity Fund had successfully bid to acquire EMC Limited after the company had entered the insolvency resolution process in 2019. According to the case before the NCLT that had been brought by the resolution professional, Almas Global had failed to pay around Rs 568 crore to EMC's creditors under the resolution plan that it had proposed, and which had been accepted. Further, the petitioner to the NCLT alleged that Almas Global was repeatedly making a variety of excuses for failing to pay and discharge its duties towards implementing the resolution plan.
The NCLT's order flayed the conduct of Almas Global and accused it of "wilful contravention of the approved Resolution Plan." The tribunal ordered that two performance bank guarantees amounting to Rs 30 crore submitted by Almas Global be forfeited, and that the company and its officers be proceeded against. Specifically, the NCLT called for a copy of its order in the case to be sent to the Secretary, Ministry of Corporate Affairs and to the Insolvency and Bankruptcy Board of India, the agency authorised to initiate a complaint against Almas Global and its officers.
The NCLT's order noted multiple violations by the company and its authorised representative, Amardeep Sharma. It said that Sharma "tried to mislead the court" and that Almas Global "has taken the entire process for a ride."
Interestingly, in one of his affidavits filed before the tribunal, Sharma claimed that he couldn't disclose commercial information related to the funding of the resolution plan due to the confidentiality laws prevailing in the Cayman Islands, a tax haven. The NCLT described this move as "impudent" and said that "it seems to assume that the judicial authorities in India cannot understand anything beyond the limited territorial jurisdiction of India." and "It is so brazen that it is almost laughable, if not for the solemnity of these proceedings," the tribunal continued, about the affidavit.
The NCLT said that its order should be sent to the Secretary, Ministry of Corporate Affairs. The secretary reports to the minister – in this case, Union Finance Minister Nirmala Sitharaman (who is also in charge of the Ministry of Corporate Affairs) and a member of the Cabinet Committee on Economic Affairs (CCEA) that approved the disinvestment plan of Pawan Hans Limited on April 29. 
Was Sitharaman aware of the order by the adjudicating authority asking the ministry to take legal action against Almas Global Opportunity Fund and its representative Amardeep Sharma? Did she share this information with her ministerial colleagues in the CCEA? Even after knowing these facts, what prompted the government to go ahead with the offer submitted by Star9 Mobility? Did the consortium disclose the names and other details of the "real" or "beneficiary" owners of Almas Global and the way it would raise funds for the acquisition to the CCEA?
Eligibility criteria fully met?
The story does not end here. "The Preliminary Information Memorandum for Inviting Expression of Interest for Strategic Disinvestment of Pawan Hans Limited by Government of India," published on December 8, 2020, explains the Eligibility Criteria for the Interested Bidders (IB) from page 47 onwards in the document.
It is unclear if Star9 Mobility meets two relevant eligibility criteria. The first criterion is that Almas Global must be registered with the Securities and Exchange Board of India (SEBI), the regulator of the country's financial markets, as an Alternative Investment Fund (AIF) to make it eligible to invest in India. However, the names of Almas Capital Limited, Almas Global Opportunity Fund and, Greenback Capital are not listed in SEBI's published list of Registered AIFs.
Then comes the issue of net worth. The financial criteria for eligibility state that a bidder for a public sector company (including Pawan Hans) must have a minimum net worth of Rs 300 crore, taken as a sum of the net worth of all the members of the consortium. For a consortium comprising both Air Transit Service Operators (ATSOs) and non-ATSOs, the criteria state the following: ATSOs can hold up to 51 percent equity stake in a consortium and if their net worth is negative, it will be considered as nil for the purposes of the bid, and the non-ATSO entity/entities that hold/s the rest in the consortium must make up the minimum net worth requirement of Rs 300 crore.

As the bids had to be submitted before the closure of the financial year, that is, March 31, 2022, it is safe to assume that the net worth of these three companies would have been evaluated based on their fully audited financial results of the previous financial year, 2020-21. According to these criteria, Maharaja Aviation had a negative net worth of Rs 7.59 crore. Big Charter's net worth, on March 31, 2021, was around Rs 9.5 crore. These two companies are ATSOs. Thus, if the consortium had to have a total net worth of Rs 300 crore, the difference would have to be made up by Almas. 
No information is publicly available on AGOF's net worth. The NCLT order clearly stated that Almas Global Opportunity Fund could not raise enough money to pay the dues to EMC's creditors of around Rs 568 crore for nearly one and half years. In such a scenario, it is the responsibility of the CCEA to clarify as to how it concluded that Star9 Mobility, including Almas Global, had the required net worth of Rs 300 crore to be a bidder for Pawan Hans? If Almas Capital and Greenback are the same, the Dubai International Financial Centre clearly mentions that Greenback has a share capital of just $1 million that is held by Amardeep Sharma.
Unnamed government sources 'clarify'
In the days following the announcement of the sale, with the Congress party questioning the government on the disinvestment process, a clarification has appeared in a section of the media, quoting anonymous government officials. 
In an article published on 6 May, The Hindu quoted an unnamed "senior official" of the Department of Investment and Public Asset Management (DIPAM) claiming: "One of the distorted arguments we have heard is that the successful entity has a net worth of ₹1 lakh instead of the ₹300-crore net worth we had stipulated...This is a misinterpretation of facts at best." 
The news report quoted the unnamed DIPAM official adding: "After the preliminary information memorandum was issued, the three partners of the winning consortium had submitted proof of a combined net worth of ₹699.49 crore. This was updated again at the time we called for bids to ₹710.08 crore…At both stages, all three submitted their updated financial statements for the past 12 months."
An article in India Today, also published on May 6, contains an identical quote attributed to a "senior DIPAM source," and includes what appears to be a screenshot from an unidentified document, which is a table listing the members of the Star9 Mobility consortium, their stake in the consortium, their status as ATSOs or non-ATSOs, and their net worth. Maharaja Aviation and Big Charter are both shown as ATSOs with nil net worth, and Almas Global, the non-ATSO, is shown as having a net worth of Rs 691 crore.
If these claims are true, it would mean that Almas Global turned over financial information to the government as a part of its bid that it refused to hand over to the NCLT in the case regarding EMC Limited, wherein it had cited the confidentiality laws of Cayman Islands. Why this discrepancy? 
If documents are available with the government proving Almas Global's net worth, shouldn't these be available for public scrutiny, by a constitutional authority such as the Comptroller and Auditor General?
Who are the real players behind this sale of a national asset? And who are the actual beneficiaries? 
We emailed questionnaires to the following eleven individuals in the afternoon of Monday 9 May: Union Minister of Civil Aviation Jyotiraditya Scindia; Secretary, Civil Aviation, Pradeep Singh Kharola; Union Minister of Finance and Corporate Affairs Nirmala Sitharaman; Minister of State for Finance and Corporate Affairs Pankaj Choudhary; Finance Secretary Dr T V Somanathan; Secretary, Corporate Affairs, Rajesh Verma; Minister for Road Transport and Highways Nitin Gadkari (who is also a member of the Cabinet Committee on Economic Affairs);Secretary, Road Transport and Highways GiridharAramane,  Captain Sanjay Mandavia of Big Charter; Sumit Sawhney of Maharaja Aviation; and Amardeep Sharma of Greenback Capital.
Till the time of publication, no response had been received from any of the eleven persons named above. The article will be updated as and when their responses are received.
The authors are independent journalist
Get the latest reports & analysis with people's perspective on Protests, movements & deep analytical videos, discussions of the current affairs in your Telegram app. Subscribe to NewsClick's Telegram channel & get Real-Time updates on stories, as they get published on our website.
Subscribe Newsclick On Telegram