'Protector' of Jati-Mati-Bheti: BJP Government Brutally Evicts Indigenous Poor in Assam
Hundreds of houses were bulldozed and dismantled, and 400 families were asked to leave their homes as they had occupied the forest area illegally.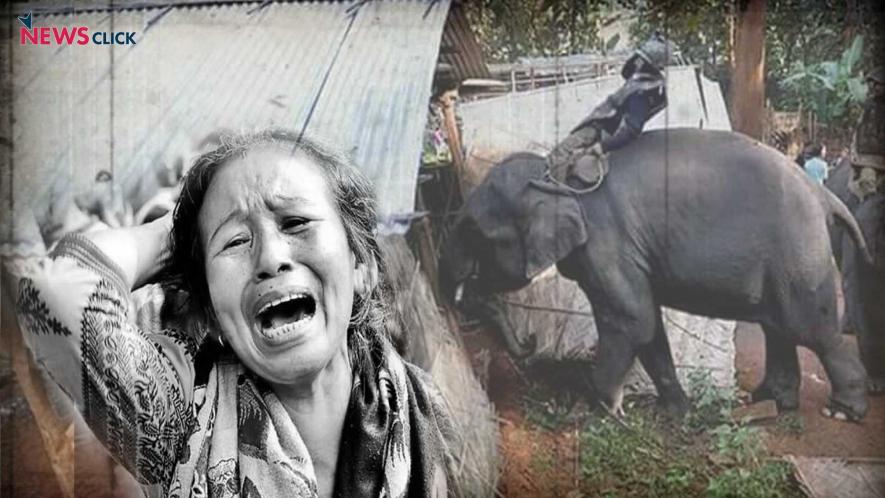 Newsclick Image by Nitesh Kumar
Reports from the Amsang area near Guwahati, Assam have been coming in, on the hundreds of homes that are being brutally demolished by the BJP government. Since the morning of November 27, an emergency-like situation has allegedly been unleashed in Assam. A brutal eviction of the indigenous poor, and an all-out attack on peoples' organisation, Krishak Mukti Sangram Samiti (KMSS), is taking place.
The BJP won in Assam promising to protect the indigenous people's jati, mati and bheti (community, home and hearth). But instead, 400 families belonging to poor peasant and working class of Mising, Karbi, Rabha, Dimasa, Bodo, Koch, Kalita, Ahom and other indigenous communities, were forcefully evicted from their homes without any notice. This was done with the entire State machinery on the play: 1,500 police personnel with guns, tear gas shells, 15 elephants, 20 excavators, 20 Executive Magistrates, and the entire Forest department, District Admin, Assam Power Distribution Corp Ltd, State Disaster Response Force, Health and other emergency services.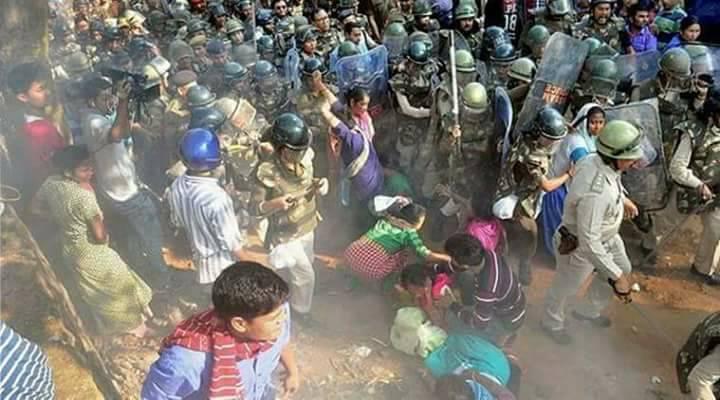 This is however not the first time an eviction drive was carried out in Amchang Wildlife Sanctuary. Last month, 300 houses were dismantled and families were asked to leave the illegally occupied forest area during the operation conducted by the Forest department with the support of Kamrup (Metro) District Administration, police, health department, Assam Power Distribution Company Ltd (APDCL). The operation included more than 500 police and forest personnel, elephants, cranes, wage labourers with toolkits, to make Amchang Wildlife Sanctuary encroachment-free. The eviction drive was discontinued after state-wide protests. The state government resumed the drive on November 27 after it was kept on hold in August this year following a Gauhati high court order.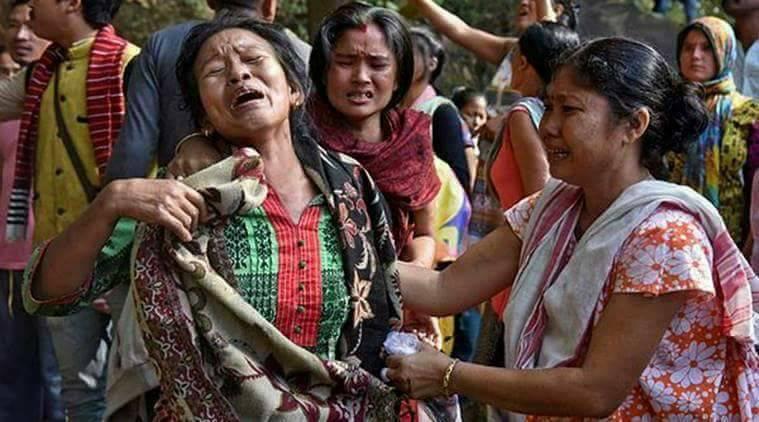 At present, the people are spending their nights in the open under chilling winter temperatures, many are injured, and some are in the ICU; even schools were not spared from the bulldozers. The people evicted are those who fled from mostly Dhemaji and Majuli due to the loss of their entire land in flood. The Government failed to give them an alternate place to settle and they have been under periodical evictions. And all this is because the BJP government is engaging in a wilful misinterpretation of the HC order, which did not specify a date for clearing 'encroachments'.
The area falls under Dispur Legislative Assembly constituency, which is represented by BJP's Atul Bora.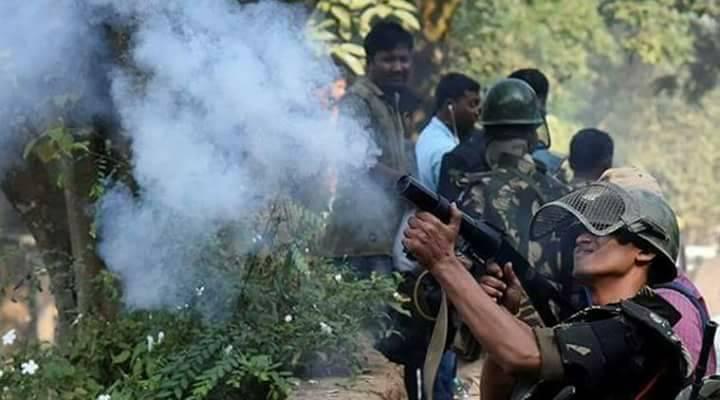 "We are from flood-affected Dhakuakhana area. My family has been staying here for the last 12 years. Where will I go now? The government did not think for once that school exams of our children are going on," an affected woman told PTI.
A senior citizen, whose concrete house was bulldozed, claimed that no notice for the eviction was served and most of the families have been voting with their photo identity cards from the same place.
"If we are staying here illegally, then why did the present MLA of this area from the ruling party come and seek votes from us before the election? Why did he come to an illegal settlement inside a forest? We were given electricity connections by the previous government," he said.
The All Assam Tribal Sangha (AATS), the umbrella organisation of tribal groups, said, "Instead of allotting land rights to the forest dwellers who had settled before 2005 under the Scheduled Tribes and Other Traditional Forest Dwellers (Recognition of Forest Right) Act, 2006, the government is trying to evict them in a barbaric manner. We will launch a massive statewide protest if the eviction drive does not stop immediately," warned AATS general secretary Aditya Khakhlari.
Under the garb of a high court notice to evict the protected forest area, this incidence leaves several questions unanswered.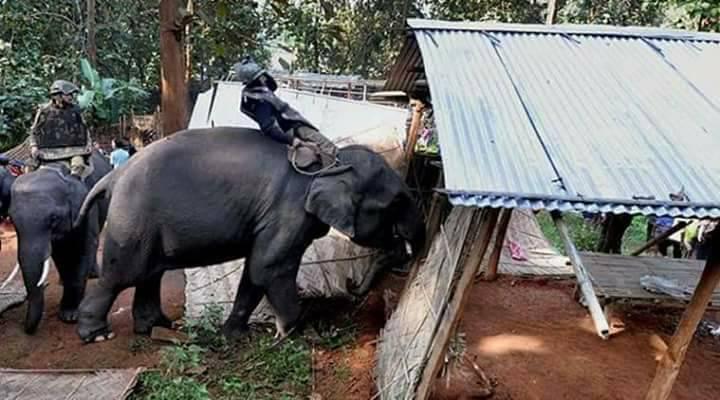 The claim by inhabitants of the forest is that Cement companies - AG Cement, Raksha Cement and CMCL Cement, Tea Gardens, coke calcinations, brick kilns are the real encroachers who create havoc with the environment in this reserved forest area. In 2013, the Krishak Mukti Sangram Samiti (KMSS), a peasant organisation based in Assam, moved the National Green Tribunal against Dispur's alleged inaction to a central directive to close down three cement plants situated close to Amchang wildlife sanctuary on the city's outskirts.
According to Pollution Control Board sources in Guwahati, the state has 912 permanent brick kilns, set up mostly on agricultural land and of these, 193 do not have the necessary permission of the board to operate. As a result, several kiln units, the sources pointed out, have been daily contributing to pollution.
Since 2013, the KMSS and some citizens' groups have been demanding the closure of the cement and coke plants operating in the proximity of Amching (78.64 square km) and Pobitora (38.80 square km) wildlife sanctuaries, as these have an adverse impact on wildlife and ecologically sensitive areas. The two sanctuaries, situated on the eastern fringe of Guwahati, is home to animals like rhino, leopards, flying fox, slow loris, Assamese macaque, hoolock gibbon and many rare birds.
"The CMCL Cements, which sells Star brand cement, is about 2km aerial distance from Pobitora and 4km from Amching. The KMSS will continue to oppose any industrial activity having an adverse impact on our eco-sensitive zones," KMSS activist Akhil Gogoi had said.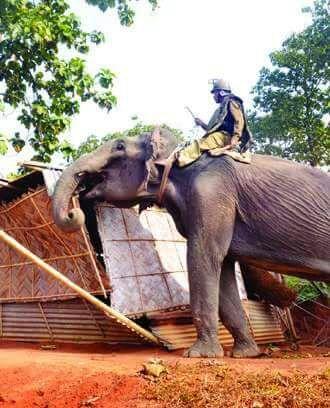 When questions about aforementioned concerns were raised, the government of 'Jati-Mati-Bheti' and Forest Minister Pramila Rani Brahma openly defended the Cement companies and called the local population 'encroachers'.
KMSS leader and advisor Bedanta Lashkar, Joint Gen Secretary Dharjya Konwar, and activist Gopi Saikia were arrested from various parts of the city. Bedanta and Gopi were not present at the site, but picked up while on their way, on a motorcycle in the middle of the city. They were charged with various sections of the IPC and sent to 14 days of Jail custody.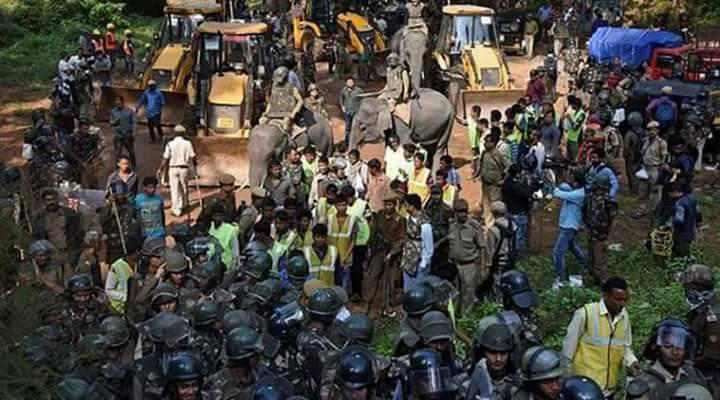 All processes of Justice and Human Rights have meanwhile been subverted. On the morning of November 28, Bedanta's family members and a few KMSS activists reached the CJM court where police arrested the three people standing outside the Court including Bedanta's father and two senior KMSS activists. Meanwhile, the witch-hunt for other KMSS leaders is on, as they have been forced to be on the run without any allegations on their heads. This comes after KMSS leader and popular peasant leader Akhil Gogoi was put under National Security Act for one year by the anti-poor, pro-corporate government.
Get the latest reports & analysis with people's perspective on Protests, movements & deep analytical videos, discussions of the current affairs in your Telegram app. Subscribe to NewsClick's Telegram channel & get Real-Time updates on stories, as they get published on our website.
Subscribe Newsclick On Telegram