Protesting CAPF Candidates Claim Harassment by UP Police
The candidates marching to Delhi had cleared the CAPF recruitment process in 2018, but the government did not offer them the jobs. All of them are now overage and stare at a bleak future.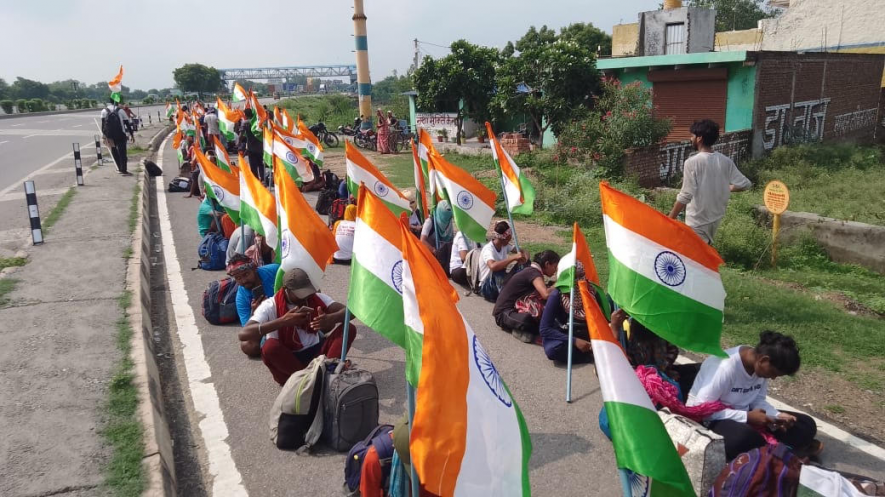 Agra/Mathura: Raja Kumar (28) and his younger brother Suraj Kumar (24), who have been walking with blistered feet and injuries in the blazing sun for about 950 kilometres over the last 58 days from Nagpur, entered Uttar Pradesh on Friday. They are amongst 150 young men and women peacefully protesting against the SSC GD 2018 recruitment for constables in the Central Armed Police Forces (CAPF).
Raja, the sole breadwinner of the family, hails from Jharkhand's Palamu district and works as a daily wager in his hometown, but for the last 58 days, both the brothers have made highway their home. While going on foot to Delhi, Raja and others had to be admitted to hospitals after their health deteriorated due to exertion.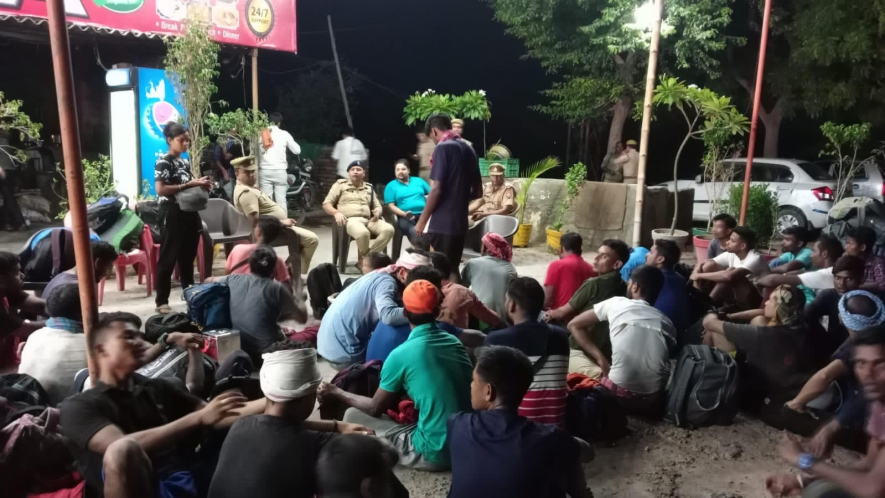 Describing the nightmare of a 1,000 km journey, Suraj said a group of 150 youth kicked off its journey from Nagpur in Maharashtra and crossed four state borders, including Madhya Pradesh, Rajasthan, Uttar Pradesh and Haryana. But little did they know what future awaits them in India's largest state.
"Agra was the first district in Uttar Pradesh we had entered. It was July 15, and we were scheduled to stay at Guru ka Taal gurudwara for the night. A medical check-up was arranged by the district administration for us the next morning, but we barely knew it was a trap to detain us. On July 16, after a medical check-up, we were about to begin our journey towards Delhi, but before we could proceed, the gurudwara was turned into a police cantonment. We were detained at night."
"They took our phone numbers, names and noted down our addresses to mount pressure so we would withdraw our foot march to Delhi. When we resisted saying peaceful protest is our democratic right, the UP police threatened us. We were forcefully thrown in four different buses on the same night. We were pleading that we would go in the morning, but they did not listen to us," said a distraught Raja, who recently surpassed the age limit, told NewsClick, adding that their group had crossed five different state borders but no one tortured, mentally harassed them as the UP police did.
They alleged that the purpose of UP police leaving at four different places - Morena in Madhya Pradesh, Dholpur and Bharatpur in Rajasthan, Aligarh and Mathura in Uttar Pradesh at midnight was to break their morale so that they could not reunite again and not succeed in reaching to the final destination which is the national capital.
However, they reunited at Jai Gurudev Mandir in Mathura after ten hours of being scattered on July 16. Again Mathura police detained them for hours. "What task was left by the Agra police was completed by their counterparts in Mathura police. We were treated inhumanly by the Mathura police. We were forced to sit on the road in 44-degree temperature for hours without food," said Nilesh More, a protester who has not visited his home for the last two months in Nanded district in Maharashtra told NewsClick.
In Mathura, the police inspector stopped and intimidated them by saying, "This is Uttar Pradesh; from here, the whole country runs. There are 80 Lok Sabha seats here. This is the birthplace of Lord Ram and Lord Krishna. The atmosphere here is also different. We are inspectors. Here everything happens according to the law," Vishal Langde, one of the candidates leading the foot march, told NewsClick.
'WARDI DO YA ARTHI DO'
As the group walks in the scorching heat, the mobile phone speakers keep the spirits up with intermittent chants of 'Inquilab Zindabad' and Bharat Mata Ki Jai'. Some of them sport T-shirts which read slogans like 'Hum apna haq maang rahein, nahi kis se bheekh maang rahe' (we are demanding our rights, not begging) and placards written 'Wardi do ya Arthi do' (give us military dress or, let us die').
Since June 1, 150 youths, including 22 girls who had applied for jobs in various central paramilitary forces (CAPF), have been on a foot march to Delhi. They hope to meet Home Minister Amit Shah and Union Defence Minister Rajnath Singh and voice their grievances.
While walking towards Delhi during their 'Paidal March', the group interacts with people trying to sensitise them about their issues and why they are protesting.
The youths alleged that they have cleared all the stages of exams yet have not been given the jobs. In 2018, applications were invited for 60,000-odd jobs, and only 55,000 were filled up. The youths are among the 5,000 left, they say. Many students are staring at a bleak future as they have crossed the age limit and so they can't reapply for any of these exams.
"60,000 total posts were announced in 2018, out of which 4,500 vacant posts should be filled, giving priority to us. Our fight is to fill those vacant seats," said one of the candidates.
It must be mentioned that all the 150 youths taking part in 'Paidal March' have qualified a written test, physical test, and medical examination, which are three basic parameters to being a Central Armed Police Force. However, they were not made to the final list.
Union Minister of State for Home Nityanand Rai, while answering a question regarding vacant posts in the CAPF in the Rajya Sabha in September 2020, had said that the Border Security Force (BSF) has the highest number of vacancies (28,926), followed by the Central Reserve Police Force (CRPF) (26,506), the Central Industrial Security Force (CISF) (23906), the Sashastra Seema Bal (SSB) (18,643), the Indo-Tibetan Border Police (ITBP) (5,784) and the Assam Rifles (7,328).
In total, there are over one lakh and eleven thousand vacant posts in the CAPF, and the majority of these vacancies are in the grade of constable.
However, this time around, the SSC GD notification 2021 was released for just 25,271 vacancies (22,424 vacancies for male candidates and 2,847 for females) in the CAPF, which is less than half the number of jobs offered in 2018 (60,210). Moreover, the selected candidates from 2018 who have not been offered an appointment letter questioned why they are not recruiting 4,295 candidates who had already qualified for the exam. They also asked why it only offers 25,000 jobs when over one lakh posts are vacant.
The SSC GD exam is one of the largest recruitment schemes for constables in the paramilitary forces. According to SSC's 2018-19 annual report, over 52 lakh candidates across India had applied for the exam.
ONE YEAR OF LONG STRUGGLE CONTINUES
The protests were first held by candidates from all over the country at Jantar Mantar, Delhi, over a year ago, but to no avail.
Later, in March this year, the group staged a protest and hunger strike for over 72 days at Samvidhan Chowk in Nagpur.
"In Nagpur, Union Transport Minister Nitin Gadkari and MP Ramdas Athawale assured us of help. But it was proved as mere lip service, so we decided to march to Delhi (at a distance of about 1,100km from Nagpur). Soon those from other states also joined," they said.
The group of 150 youth, both men and women, have been marching for more than one-and-half-month. They cover 35-40 km in a day. They spend their nights in open areas, gurudwaras, banquet halls and in open tents where they prepare their own food. They say sometimes the villagers provide them food seeing their pathetic condition; sometimes, they have to beg. In 58 days of journey, many candidates have been in critical condition, yet they continue to march towards Delhi.
"The villagers on the way have been feeding us. Government schools and similar buildings have been our shelter, but we often camp in the open. It gets tough, especially for the girls," Amita Salam, an Adivasi candidate from Kondagaon in Chhattisgarh who had not visited her home for the last 17 months due to protest, told NewsClick.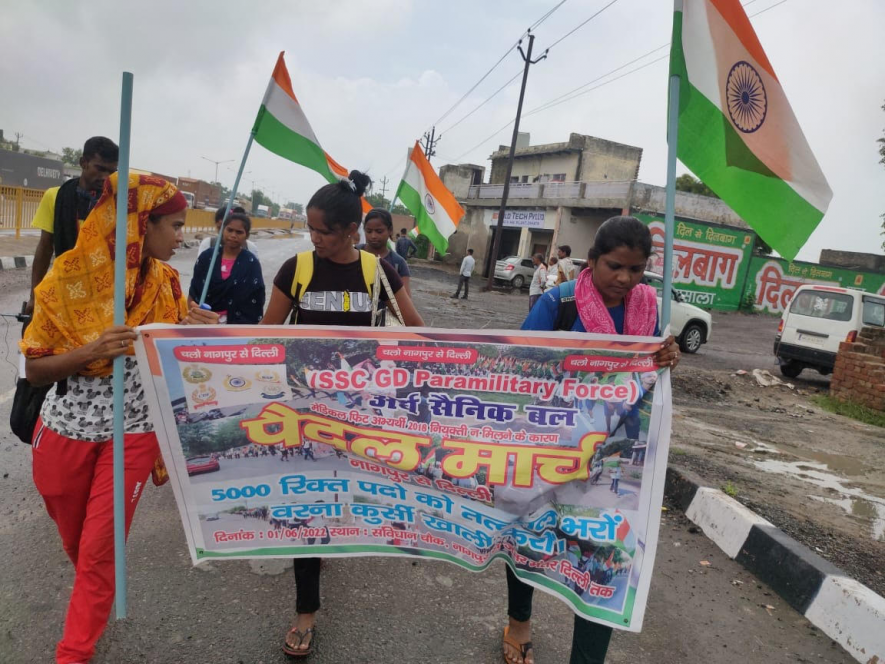 'Ghar wale kehte hain jab itne din se bahar ho to ab naukri le kar aana warna mat aana', (Our family members taunt us saying if you have been outside for so many months, come with job otherwise don't come, our relatives also assassinate my character for staying outside from home for so long; this how we have been going through for long, but who cares, we are not rich, we are children of Adivasi and dalit, we are not worthy of seeking the attention of the government," Amita told NewsClick while tears were rolling down her cheeks.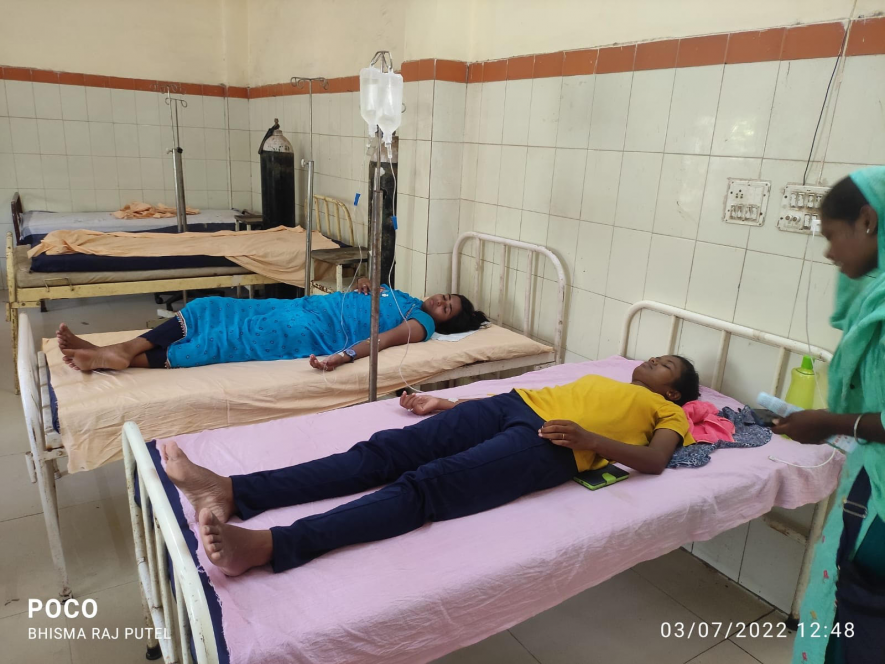 Amita was one among those who sat on hunger strike for 22 days and was taken to the hospital in critical condition. Neither her deteriorating health nor taunts could deter her from continuing the struggle for her rights. She is not alone in the group; there are 22 female candidates from Maharashtra, Odisha, West Bengal and Chhattisgarh, mostly from marginalised backgrounds, on the roads for the last 58 days.
Amita's only regret was that she could not complete her B.Sc during this hassle period.
"I had completed my BSC second year in 2021, but due to a financial crisis, I dropped out. I have nothing in my hand. I survived by working small jobs in a shopping complex, a beautician shop for one-and-half-year," she said.
"For the last 58 days, we have been on the road. Our journey has been quite difficult. As girls, we can not either bathe in the open or go for defecation in the open like boys. Besides, periods make our journey more unbearable," said another girl who has been with the group since its inception of the protest at Jantar Mantar February last year.
Meanwhile, Nityanand Rai told Rajya Sabha on Wednesday that a total of 84,405 posts are vacant in six Central Armed Police Forces (CAPFs) and will likely be filled by December next year.
Of the 84,405 vacancies, the maximum (29,985) are available in CRPF, Rai said in a written response to a query by YSRCP MP Prabhakar Reddy Vemireddy.
There are 19,254 vacancies in BSF, 11,402 in SSB, 10,918 in CISF, 3,187 in ITBP and 9,659 in the Assam Rifles, he said.
Reacting to the vacant posts, the minister said that the examination for filling up 25,271 posts of constable (general duty) has already been conducted.
All photos received by special arrangement.
Get the latest reports & analysis with people's perspective on Protests, movements & deep analytical videos, discussions of the current affairs in your Telegram app. Subscribe to NewsClick's Telegram channel & get Real-Time updates on stories, as they get published on our website.
Subscribe Newsclick On Telegram