Protests Across Gujarat Against the Arrest of MLA Jignesh Mevani
Dalits of Gujarat may once again come out on the streets in huge numbers as they did to protest against the Una flogging incident in 2016.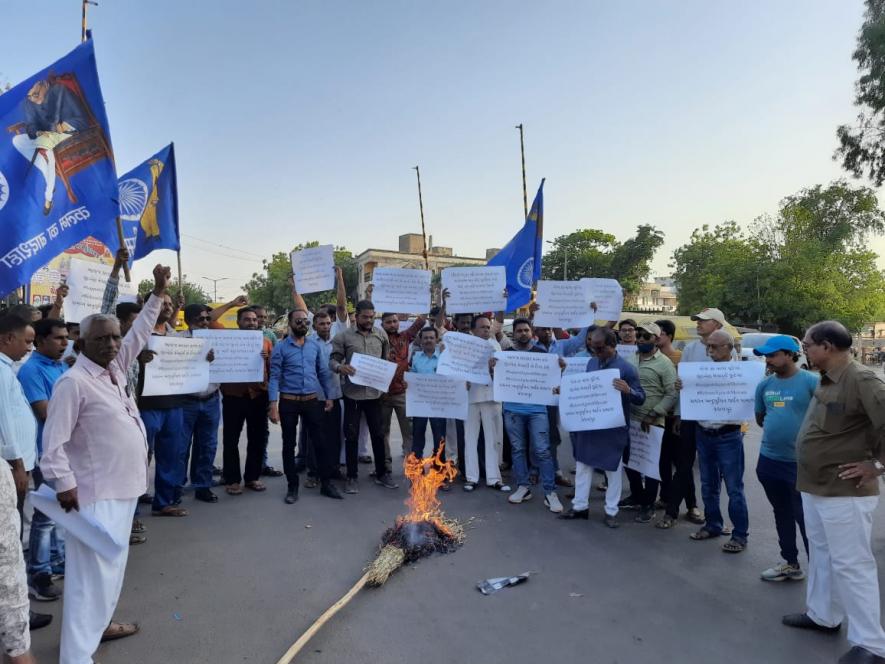 Activists protesting at Sarangpur, Ahmedabad
A day after the arrest of Vadgam MLA Jignesh Mevani by Assam police from Palanpur circuit house, Banaskantha, dalits have come out in protests across Gujarat.
On April 21, dalit women led by Rashtriya Dalit Adhikar Manch (RDAM) members LaximbenMehariya, and Hemaben protested in Saroda village, Dholka Taluka, Ahmedabad. The protestors were detained and later released on the same day.
The same day dalit activists of RDAM staged a 'rasta roko' as a mark of protest inKotdaSangani taluka of Rajkot. Protests were also organised in Bhavnagar, Gadhra and Sutrapada in Gir Somnath, Rapar in Kutch, Dhanera in Banaskantha and Botad on April 22 and 23.
On April 22, dalit activists staged a rasta roko in the Yashodanagar, Asarva and Bapunagar areas of Ahmedabad.
"Dalits are disappointed over the brazen arrest of Jignesh Mevani. Everyone has freedom of speech, but we dread to think of the plight of other dalit activists when such an incident can happen with an elected member of the Legislative Assembly of a state. He (Mevani) is more than an MLA for us; he is our fellow activist. The dalits of Gujarat are not only disturbed over Mevani's arrest, but the harassment of our RDAM members – Jagdish Chavda and Kamlesh Katariya by Gujarat police," Yash Makwana, a member of RDAM, told the NewsClick.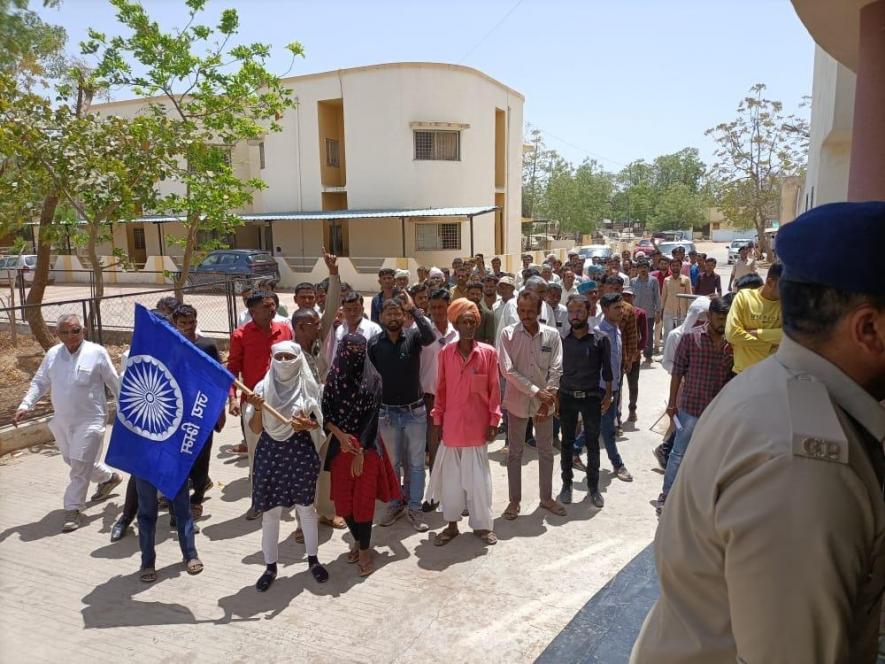 "About 150 protestors were detained by local police after our protest in Yashodanagar and released after a few hours. However, protests are only intensifying each day. Dalits of Gujarat may once again come out on the streets in huge numbers like they to protest against the Una flogging incident in 2016," added Makwana.
Noticeably, Kamlesh Katariya, the personal assistant of Mevani and a member of RDAM, was picked by Crime Branch Ahmedabad amid the protest in Yashodanagar. At the same time, a team of police searched his home in Rakhiyal, Ahmedabad.
"My wife called and informed me that police had come to search my home at around 3.30 in the afternoon. But I was picked up at Asarva by police before I could reach home. I was released the same night. I returned home to find it upside down. My family was scared for my safety. I was told police checked every corner of my home. They knocked on the walls to check if they were hollow, pulled out the mattress, checked the bathroom, wheat containers and even our children's school bags," Kamlesh Katariya told the NewsClick.
"They did all this while I was sitting on the premises of Ahmedabad Crime Branch where they took my mobile," shared Katariya.
Another team of police searched Jagdish Chavda's home in Meghaninagar around the same time, the same day.
"I was out in the neighbourhood for some work when my brother called to inform us that about 18 to 20 police personnel had come to our home. My family and neighbours got scared at the number of police arriving at my home. They searched my home for about 40 minutes and did not answer any questions we asked. I was only shown a search order that had the names of Jignesh Mevani, Kamlesh Katariya and mine. After turning my home upside down, they asked me to take them to my Chandkheda home and café. They searched every corner of my Chandkheda home, seized the computer and even noted the size of the rooms," said Jagdish Chavda.
"After that, they took me to the premises of the Crime Branch in Gaekwad Haveli, Ahmedabad and made me sit in a dark room alone for a long time. About an hour later, some police personnel entered the room asked me questions regarding my association with Mevani and took my mobile," added Chavda.
Both Katariya and Chavda were made to sign documents acknowledging the seizure of their mobile phones and other electronic gadgets and told that they would have to collect their phones from Assam about a month later.
"Kamlesh Katariya and I were made to sit in two rooms on the premises of the Crime Branch at the same time. But we knew only after we were released. Since Mevani's arrest, Gujarat police have tried all tricks in their pockets to put pressure on us. But this doesn't scare us; the protests will on till Mevani is released and safe," said Chavda from the spot of protest at Sarangpur, Ahmedabad, on April 24 that saw a turnout of more than 200 people.
"Tomorrow, we are planning another protest in Ahmedabad. We will march to Collector's office in Vadaj and sit on a dharna," said Yash Makwana.
"If Mevani is not granted bail on Monday, the protests will intensify across the state. We are even talking about jelbhalo andolan as our next move," added Makwana.
Get the latest reports & analysis with people's perspective on Protests, movements & deep analytical videos, discussions of the current affairs in your Telegram app. Subscribe to NewsClick's Telegram channel & get Real-Time updates on stories, as they get published on our website.
Subscribe Newsclick On Telegram