Pulwama Attack: Aggressive Diplomacy, Not War, is a Solution, say Experts
Security and intelligence experts raise questions on several lapses, want accountability to be fixed, and favour reopening of political dialogue on Kashmir.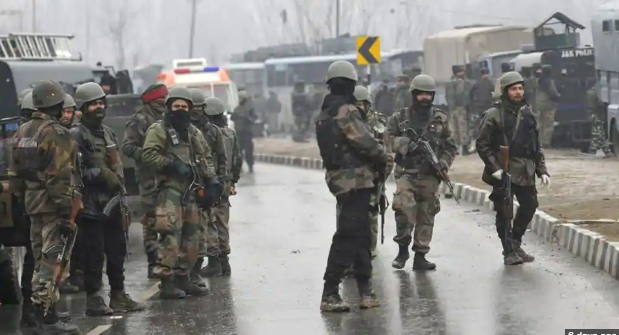 Image Coutesy: Hindustan Times
New Delhi: It has been eight days now since the attack on a convoy of the Central Reserve Police Force (CRPF) at Pulwama in Kashmir on February 14. Following the ghastly killing of at least 40 soldiers on the 370-km Jammu-Srinagar-Uri national highway after a suicide car bomber rammed his explosives-laden car into the fifth bus from the front of the convoy, war-mongering by senior journalists in television newsrooms and a section of the society has reached a crescendo.
But is war a solution? Newsclick spoke to several veterans of the armed forces, former top police officers and security experts who unequivocally said "War is a problem, not a solution". To the people who have never seen war, screaming in studios or streets calling for war is very easy, but its execution on the ground and the ramifications on the ground are far-reaching and not in favour of the country, they said.
The experts said there were "severe lapses on our part and therefore, instead of calling for war or attacking fellow Indians who belong to Kashmir and study in different part of the country, the accountability of the officials concerned should be fixed.
Five Intelligence Agencies in J&K
In a highly militarised zone like Jammu and Kashmir, there are at least five intelligence agencies that work simultaneously on the same task -- collecting inputs regarding possible acts of terror by state as well as none-state actors. The experts questioned how a car laden with explosives weighing around 350 kg of RDX or IED – as reported – reach the most protected highway in the country where the convoy comprising around 2,400 soldiers was moving in 78 vehicles.
According to them, an attack of this magnitude requires months of planning. Is the intelligence network so broken down that it could issue only routine alerts that were ignored? All civilian vehicles are supposed to be checked. How did a private vehicle driven by a suicide bomber, carrying such heavy payload infiltrate the CRPF convoy without raising any suspicion? How did terrorists know when and where to strike to wreak such devastation? Bad weather is being blamed for the accumulation of two convoys. But was that a compelling enough reason to gather over 2,500 troops and offer a high-risk target? These are some questions that the experts raised.
Introspect and Accept Faults
"Yes, there were lapses that led to the attack. Before pointing fingers at others, we must introspect and accept our faults. Why was the route not sanitised completely? Why was the attacker's car allowed to speed? What was the Kashmir police doing?" asked Vice Air Marshal (retired) Kapil Kak.
Former Major General Amin Naik Ipsi raised questions on the length of the convoy. "Definitely, there has been intelligence failure somewhere. As reported, 350 kg of explosives was brought and used in the attack. This means, there was a group of people working on this. There would be a communication system going around and that system should be have been picked up in addition to human intelligence," he said, adding that "with a convoy of 78 vehicles, you are giving a target of around 4 km. Had this not happened, the attack would not have taken place".
Giving routine intelligence inputs, said General (retired) Tej Kaul, was meaningless in a region which was disturbed and where something keeps happening almost every day. "The brazen display of hyper nationalism and using these moments of grief to foment tensions across the country for electoral gains can be achieved, but accountability of those who are responsible for intelligence gatherings should be fixed. The government of the day should also be asked why the soldiers were not moved by air when there was security threat," he added.
There are reports – which have been rejected by the government – that the CRPF had urged the Ministry of Home Affairs to airlift the soldiers, but the request was reportedly turned down.  
         
Vikram Singh, former director-general of the Uttar Pradesh police, also said there were "serious flaws" in this ambush that happened in Pulwama. "Three barriers were put up earlier and those were dismantled during the regime of former Chief Minister Mehbooba Mufti. One person broke open the first cordon, then he overcame the second and when he was about to overcome the third, there was an exchange of fire and the man is now in jail. Those three barriers should be restored immediately. It is not what the public wants or what the vote catching gimmick requires. Security cannot be compromised," he said.
Singh said "Mixing of civilian vehicles with paramilitary vehicles is not desirable. You can say that this has been going on for years, but when you had the combat indicators and tension in the air, you should not have taken the risk. You should have sanitised the road opening process (ROP) most securely. You should have used technology, like you have a system akin to doppler radar that could have possibly anticipated and evaluated and screened all possible vehicles with undesirable material. This technology is available. If terrorists have access to latest technologies, our paramilitary forces should also have technology that is superior, at least a generation ahead of what the terrorists have."
Asked about the government claim that the Intelligence Bureau (IB) had sent inputs in advance, he said, "Whatever the intelligence input was and howsoever vague it was, it was the duty of the local police to refine, forecall and run the extra mile to examine the depth and merits of  the inputs it had. It is only once in a blue moon that one comes across pinpointed and accurate intelligence."
War – a Solution or a Problem?  
Any good soldier, said Ipsi, would not want a war because it will kill more people and the economy, which is already strained, will further suffer losses. "As far as the principle of action is concerned, a cowardly attack has been carried out and action should be taken on it. But there are various means of action, including the one being launched by the military. How, when and what will be the process, let the government and the military decide," he said.
Ipsi added, "We will have to find out the means by which terrorism can be stopped permanently. It can be done by dialogue, diplomatic or economic pressures, pressures from various countries or even militarily."
Ajai Sahni, an author and an expert on counter-terrorism, who is the executive director of the Institute for Conflict Management in New Delhi, which maintains the South Asia Terrorism Portal, a website focusing on terrorism in South Asia, dubs the current regime as "anti-national".
"It (the government) is behaving in a manner that is consistently destabilising the situation in Kashmir. You have gone up from 99 fatalities in 2012 to nearly 450 fatalities in Jammu and Kashmir last year. Then you can redefine terrorism altogether and say we have no problem in this country at all. This is complete nonsense," he said.
Asked about the solution and the "fitting" reply that India should give to the perpetrators, Sahni said, "The solution to the present problem is to stop the way you (the government) are acting. The solution is to normalise the democratic politics functioning in Jammu and Kashmir. Treat communities with respect. What is needed is direct and narrowly targeted operations only against terrorists. The Army is doing that, the security forces are doing that. They have intelligence-based operations. Where is that intelligence coming from? It is coming from the people of Jammu and Kashmir. Be very clear that separatists in Jammu and Kashmir is an Islamic extremist movement. Now, extremism based on religious identities is a mirror image of other such movements. You can't say their extremism is communal but my extremism is secular. These narratives feed each other. Every time you say that all Muslims are terrorists, you strengthen the narrative of Islamists. It is not something that is based on real belief, it is only opportunistic directed towards electoral gains."
Regarding withdrawal of security cover to several leaders, including separatists, Sahni said it was "childish, vicious, knee jerk and meaningless actions". "They do not reconcile with people who understand the magisterial authority of the state and commitments of the state. The problem with the meaningless gesture is if a separatist gets killed, the situation will worsen," he said in clear terms.
Asked about going for a war or a major military action, he clarified, "What is needed is effective action and what I would describe it strategic responses are based on capacities. The government has done nothing to augment our defence and internal capacities over the past five years. Previous regimes for decades have weakened our security system. Last year, a Parliament Standing Committee on Defence had come up with a report that said 68% of all defence equipment with armed forces is in the 'vintage category'. And they pointed out that India did not have the ammunition to fight a 10-day war against Pakistan. You have had five years of this government and they have done nothing to address the problem. In real terms, both internal security and defence budgets have been shrinking years after years. They give a 5-6% increase every year that does not even enough to cover inflation.  Plus, the revenue expenditure has been expanding within the given budget. As a result, only a tiny fraction – may be 5-6%– is committed to what is called capital expenditure. Now, capital expenditure is what builds capacity. Whatever this government does now, is only going to be a knee jerk reaction. Something that is intended to address the problem of optics."
Sahni considers any retaliatory action against Pakistan would be "irrelevant" to fight terrorism J&K. "Whether it happens or not, it is irrelevant. Pakistan these days is riding high on what it sees as imminent victory in Afghanistan. So, I see escalation in terrorism in Jammu and Kashmir is almost inevitable despite strike," he said.
If we go for war – he said – we will have to fight it two fronts – Pakistan and China. "When we are not ready to go for a full with Pakistan, how can we fight another war with Pakistan?" he asked.
According to Vice Air Marshal Kak, India has several options to take on Pakistan to revenge the Pulwama attack. "It can be by means of surgical strike on the LoC, without violation the border, or by several other means. But India must be ready for the consequences. We did it in the past but what did we achieve? Instead of bringing militancy and infiltration down, it has drastically gone up. Pakistan must have identified its vulnerable areas from where India can mount attack. There must be preparations to retaliate," he said and added, "But believe me, war is no solution to the present crisis. The issue can only be resolved through dialogue only. You will have to engage all stakeholders. The more important issue is how the central government and the government in the state would bring about socio-economic development in a secure environment."
India – he suggested – should engage the democratic government in Pakistan and help it to overcome these challenges. "It may be time for Prime Minister Narendra Modi to start the re-engagement process; however, slowly calibrated it may be, in the initial stages. Even before the general elections of 2014, Modi had said he would have no alternative but to engage Pakistan. Anger is not a policy. The four- point formula initiated by then Prime Minister Atal Bihari Vajpayee and Pakistan President Pervez Musharraf had appropriately tweaked to include additional inputs by the political leadership of Jammu and Kashmir. I would like to suggest that Vajpayee's statesmanship-like model should be emulated by Modi. The process initiated by Vajpayee and continued by Manmohan Singh between 2003 and 2006 was a great leap forward – not just addressing the problem of Kashmir that involved Pakistan, but problems in Kashmir that entails the Centre's dialogue with all political parties in the state," he added.
General Kaul said war has never ever solved any problem. "Crying for it may satisfy the collective conscience of the society. Both of us (India and Pakistan) are nuclear countries. It should not be forgotten that the war will be fought by the sons, husbands, fathers and brothers. They will have to sacrifice their lives, not the war mongers who have a political agenda," he added.
The governments of both the nations – he said – should try their best to de-escalate the tensions and come to the negotiation table to resolve the issue permanently. "Dialogue is the only solution, not the war," he added.
 
'Aggressive Diplomacy'
Former Research and Analysis Wing (R&AW) chief AS Dulat ,too, advocated "aggressive diplomacy" instead of "coercive action" as the way forward to tide over the current turmoil in Jammu and Kashmir.
"The tension can only be de-escalated through aggressive diplomacy. In the aftermath of Kargil attack in 1999 and attack on Parliament in 2001, only this line worked successfully. It is needed to give Pakistan a message that such attacks cannot continue," he added.
Dulat, who has earlier served as special director in IB and is regarded as one of India's leading experts on Kashmir, said he has always advocated dialogue.  But he said talking about resuming dialogue at this moment will brand him as "anti-national".
On Prime Minister Modi saying the armed forces had been given a free hand, Dulat said, "See all such statements in the light of upcoming elections. It is nothing but a political rhetoric. The forces are free to do what is correct and legitimate. But that does not mean that you go on a killing spree or something. Freehand does not mean that you enter homes and kill people. It means that if people are attacking, you can shoot back," he said.
Kashmir is Ours, but not Kashmiris
Reacting to the series of attacks on Kashmiris, some hotels denying entry to the guests from the Valley, teachers from the region being terminated by different educational institutions and several colleges and institutes giving in writing that they won't give admission to Kashmiri students from the next session, Ex-DGP Singh said, "We as a resolute nation should give the impression that we belong to everyone and everyone belongs to us irrespective of whether the person belongs to Kashmir or Kanyakumari. All Indians are one. Had anyone who gives the impression that Kashmir or Kashmiris are any different, he or she is not doing any service to the Constitution or the nation. And the person should be taken to task and law should take its course. The VIPs who are spitting venom are not responsibly discharging their constitutional duty."
Sahni alleged that right-wing groups across the country had been given a free-hand to polarise the society in the name of Pulwama attack in the wake of the 2019 Lok Sabha elections. "There is no strong word from the government and the police against these goons. You just want to win the elections using the tragic incident," he alleged.
Dulat also said the death of the soldiers are being "unfortunately been exploited for political gains".
The great progressive poet Sahir Ludhianvi had once said:
Whether blood be ours or theirs, it's the blood of humankind.
Whether wars be waged in the East or West, it is the murder of world-peace.
Whether houses be bombed or borders, the temple of the soul is wounded.
War is a problem itself. How will war resolve problems?
Today it will rain fire and blood, tomorrow, hunger and scarcity.
Get the latest reports & analysis with people's perspective on Protests, movements & deep analytical videos, discussions of the current affairs in your Telegram app. Subscribe to NewsClick's Telegram channel & get Real-Time updates on stories, as they get published on our website.
Subscribe Newsclick On Telegram