Pulwama Aftermath: Kashmiris Continue to be Targeted While SC Issues Order for Protection
Across the country, Kashmiris are being targeted in one form or another, from suspensions and rustications from educational institutes to incidents of mob violence.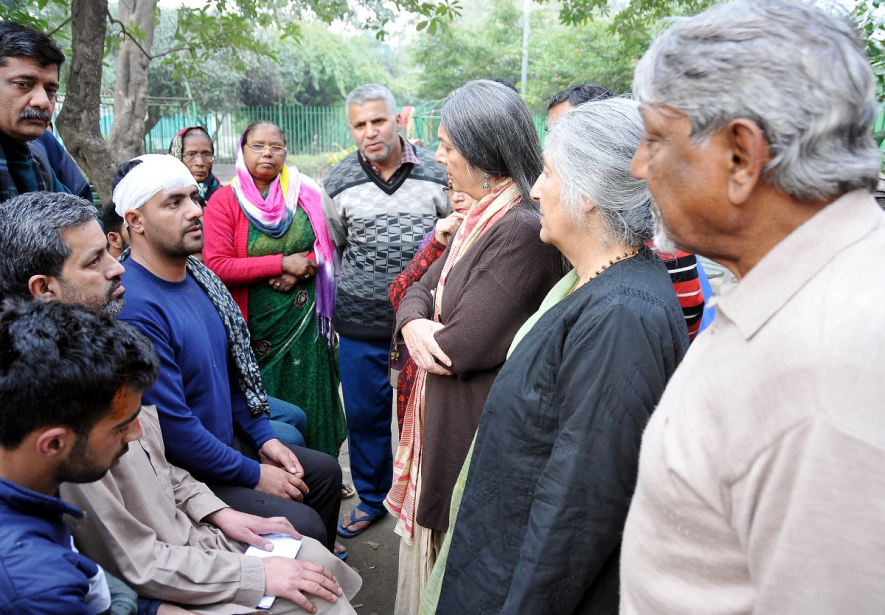 File photograph of CPI(M) Politburo members Brinda Karat and Subhashini Ali visiting attacked Kashmiris at Delhi.
Today, the Supreme Court issued a notice to the central government and 11 states, seeking their intervention to prevent the alleged attacks on Kashmiri students. As per a report in Live Law, "The Supreme Court has directed that the nodal officers as per the list furnished by the Attorney General take necessary steps to prevent acts of violence, discrimination and other coercive acts against Kashmiris and other minorities in the wake of the February 14 Pulwama attack."
The notice has been issued to Jammu and Kashmir, Maharashtra, Punjab, Uttarakhand, Bihar, Uttar Pradesh, Haryana, Meghalaya, Chandigarh, West Bengal, Delhi and National Capital Region (NCR).
The Supreme Court order came in the backdrop of several incidents of mob violence and harassment of Kashmiris being reported from various states. These incidents, along with threats and intimidation by the right-wing mob, have created panic among students who are temporarily fleeing from colleges. However, what is intriguing is the deafening silence of the Centre.
Former English professor at Kashmir University, Basharat Shameem said, "The silence of the BJP government be it PM or HM is shocking. It must also be emphasised that even the leaders of the opposition Congress which brags about secularism have also largely maintained silence over the issue. The government has failed Kashmiris again on this, which is evident the way the Supreme Court had to remind it of its obligations through its order."
The heightened communal tensions in various states of India are being seen as the work of right-wing forces like Bajrang Dal and Vishwa Hindu Parishad. The college administrations have also suggested Kashmiri students to leave for some time. A student from Pacific University, Udaipur, requesting anonymity said, "The administration asked us to take 10 days off and then return as the situation is not suitable. The situation has been grim. The administration is unable to handle the mobs led by Bajrang Dal, Rashtriya Swayamsevak Sangh and VHP members."
Also Read: Contextualising Pulwama Attack and the Rise of New Kashmiri Militancy
Meanwhile, Jammu and Kashmir police, political parties in the region of Kashmir, Khalsa Aid organisation and volunteers have provided helpline numbers for Kashmiris in need of assistance outside the state. In Chandigarh and Dehradun, Khalsa Aid—a UK based humanitarian relief Sikh NGO— has stepped up to help the Kashmiri students in distress.
Another student from Ambala said, "As the tensions heightened in our college in Ambala, we were directed to go to Chandigarh, where Khalsa Aid helped us. They provided us food and buses to reach Jammu, from where we got buses that brough us to Kashmir. We, Kashmiri students, are thankful to Khalsa Aid."
While thanking the Sikh community for the help, Kashmiris have offered services to the Sikhs. A tweet by an advocate Neelofar Masood offering free services to Sikhs show the gratitude of Kashmiris.
My legal firm M/s N.M. associates has started to provide free legal services to all needy from Sikh community since yesterday which we intend to continue upto end of this year...as a mark of respect towards them for standing & upkeeping communal Harmony. #longlivebrotherhood

— Adv Neelofar Masood. (@AdvNeelofar) February 21, 2019
Kashmiri Students Suspended and Expelled
Meanwhile, even as the SC issues an order to protect Kashmiris, students across the country continue to face harassment in one form or another. Around 19 Kashmiri students, outside the state, have been expelled from various colleges.
Several reports of Kashmiri students being suspended and others being targeted have also come into the picture.
Reportedly, seven students have been expelled from the Quantum University in Roorkee area of Dehradun. As per the reports, the rustication order issued by the college authorities, asked students to leave the campus "with immediate effect." The suspended students are Fahim Farooq Bhat, Aukib Reyaz Hurrah, Farhana Imtiyaz, Mohasub Ayoub, Arooj Younus Nasti, Salman Khan and Anisa Khaleel. The rustication order read, "This is to inform that the students have been rusticated from the campus with immediate effect. They are hereby advised to leave the campus by today evening due to involvement in destructive activities in presence of SO Bhagwanpur."
Also Read: Pulwama Aftermath: Kashmiri Professor Forced To Resign From Lovely Professional University
In the National Institute of Medical Sciences in Jaipur, four Kashmiri females have been suspended by the authorities. The female students were allegedly suspended for posting a WhatsApp picture. As per the reports, it was alleged that the female students were celebrating the Pulwama suicide bomb attack. The female students, Talveen Manzoor, Iqra, Zohra Nazir, and Uzma Nazir, studying in the second- year, were also slapped with sedition charges.
Speaking to a local daily, Rising Kashmir, Uzma Nazir's sister, Suraya said, "We were worried about our sister. The college authorities are telling that the investigation of the issue is going on. Her examination is scheduled from February 22 but they have told her not to appear in exams and return home soon after they are freed."
In Bangalore, three students, namely, Zakir Maqbool, Haris Manzoor and Gowhar Mushtaq, have been arrested from two colleges namely, Spurthy College and Chinai college. Also, two more Kashmiri students have been arrested from SUS Engineering College Tangori Jalandar. The students were, again, suspended over their social media posts.
A Kashmiri girl student has been rusticated from SGT University, Gurgaon, Delhi, for her social media posts.
Several incidents of mob violence have also been reported—from a Kashmiri shawl trader who was beaten up by a mob in West Bengal's Nadia district to two Kashmiri students, studying in a college in Yavatmal city assaulted by a mob and forced to say "Vande Mataram" and "Bharat Mata ki Jai," has created discontent among the students. Yesterday, after the Yavatmal city incident, many Kashmiris fled the college and left for their homes.
Basharat Shameem said, "Kashmiri students and traders are being attacked by the right-wing mobs across the country. Kashmiri students are being suspended and jailed on frivolous social media posts. Even Kashmiri employees are being terminated in some universities. This is highly distressing and will further exacerbate the alienation among the Kashmiris in general and the youth, in particular.  Are they being told that only your land is important, but not you, through this wave of harassment? This is creating a further divide and gulf between Kashmir and the rest of India which will ultimately benefit none."
Read More: Kashmir Without Kashmiris?
Get the latest reports & analysis with people's perspective on Protests, movements & deep analytical videos, discussions of the current affairs in your Telegram app. Subscribe to NewsClick's Telegram channel & get Real-Time updates on stories, as they get published on our website.
Subscribe Newsclick On Telegram