Punjab: After Taking Oath, Bhagwant Mann has too Much on His Plate
From mounting debt to revenue leakages, sand mining mafia and drug menace, the new AAP Chief Minister has many challenges ahead.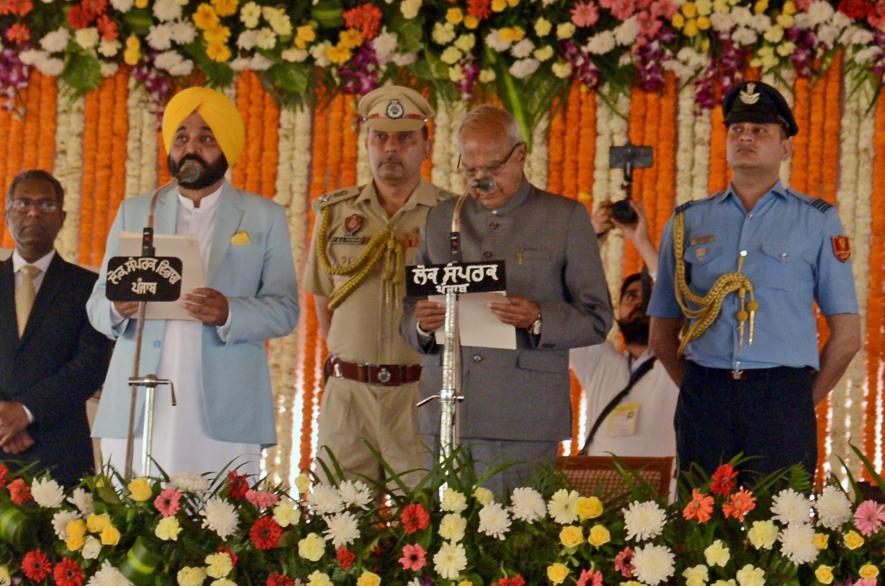 Bhagwant Mann takes oath as Punjab Chief Minister
New Delhi: In his pre-Independence novel, Karmbhoomi, celebrated Hindi novelist Munshi Premchand writes about the ordeal of commoners who faced harassment by local officials whenever British officers camped near the village. Local residents would be tortured and forced to supply essentials, including their animals, if the colonial rulers wanted delicacies on their dining tables. Much like characters of the novel, the villagers of Khatkhat Kalan were in for a rude shock when they found their standing wheat crop would be flattened for the oath-taking ceremony of the newly elected Chief Minister of Punjab, Bhagwant Mann.
Khatkhat Kalan is the traditional home of legendary freedom fighter Bhagat Singh. After much uproar, the administration said the villagers will be paid Rs 45,000 per acre for the crop loss. 
Even if one takes the word of new Punjab chief minister on face value about the beginning of a "new era" in the history of the state, Mann has a plethora of issues to deal with. To begin with, the new Aam Aadmi Party (AAP) government will have to leakages in its revenue.
A look at the Punjab government's financial statements suggests that it has currently a debt of Rs 2.82 lakh crore and has paid Rs 20,315 crore as just interest during the current financial year. It paid Rs 38,828 crore in total debt servicing in 2021-22.
Punjab's worrisome financial situation could also be gauged from the budget speech of former state finance minister, Manpreet Singh Badal, who said the state's total revenue receipts were Rs 95,258 crore (budget estimate or BE) whereas it would be incurring an expenditure of Rs 16,8015 core (BE).
On the debt position, Badal had said that the total outstanding debt of the state, as on 31.03.2021, is projected at Rs. 2,52,880 crore, which is 42% of gross state domestic product (GSDP) for 2020-21 (RE or revised estimate) and the outstanding debt is likely to be Rs. 2,73,703 crore in 2021-22 BE, which is 45% of GSDP.
Economists have estimate Punjab's total debt at around Rs 2.82 lakh crore now. The major loss to state's exchequer comes from leakages owing to illegal sand and gravel mining, illegal liquor sales and undue favours to private transport companies owned by politicians at the cost of state-owned Punjab Roadways and Punbus.
Ranjit Singh Ghuman, professor of economics, Centre for Research in Rural and Industrial Development (CRRID), Chandigarh, and professor emeritus at Guru Nanak Dev University, Amritsar, is of the view that recovery from the current crisis requires strong political and bureaucratic will to usher in good governance.
Talking to NewsClick over the phone, Ghuman said the mandate clearly showed the frustration of people with regard to traditional parties -- Congress and Shiromani Akali Dal (SAD) -- over their respective government's inaction on pressing issues.
"Our revised analysis suggests that the state is losing Rs 28,500 crore due to leakages in revenue, which can be broadly attributed to tax evasion by mafia associated with illegal mining, cable, illicit liquor and transport. To deal with this deep rooted crisis, the government needs to send a stern message to people involved in tax evasion that this will not be tolerated."
Ghuman said it was clear now that dearth of revenue was affecting state's capacity to generate employment opportunities. 
"No private entity would invest in a state whose financial credentials are weak. To enable private investment, the government needs to invest in its infrastructure. This did not happen. Moreover, the Akali Dal and Congress created a perception that private investors will have to pay share if they want to run businesses here. This created a credibility crisis for the state," he said.
He said subsequent governments did not pay attention to 14.65 lakh micro, small and medium enterprises (MSMEs), which create 30% employment in Punjab, facing financial difficulties. "I also do not buy the argument of leaders that industries cannot come to Punjab because it's a border state. If this is the case, why are industries flourishing in Himachal Pradesh. The political leadership has never taken interest in lobbying for the state so that it gets benefits that Himachal Pradesh and Jammu and Kashmir enjoy," he added.
Over the years, experts have opined that much of Punjab's debt crisis emanated from populist measures in the form of loan waivers ahead of polls. Prior to the announcement of Assembly polls, former Chief Minister Charanjit Singh Channi announced loan waivers worth Rs 2 lakh on farmers, for which the state government cleared Rs 1,200 crore in December last year.
When asked about the impact of such announcements and loss of revenue, Ghuman said, "the government can save its money if it focuses more on targeted subsidies. Why should rich get loan waivers ? It is completely anti-development. For Punjab to prosper, fixing these leakages are must. Our youth is migrating to western countries because they do not find employment opportunities in the state."
As per one study, 1.5 lakh youth leave Punjab for western countries, including the US, Canada, Australia and New Zealand. The exodus costs the state around Rs 60,000 crore per annum as money flows out in form of hefty tuition fee, visa fee and other heads.
Balwinder Singh Tiwana, retired professor of economics in Punjabi University maintains that fixing leakages need a long-term commitment and plan where communities must be taken into confidence and engaged.
Talking to NewsClick over phone, Tiwana said: "The AAP government has an enormous task if it wants to bring the state out of debt and generate employment opportunities. As far as the question of different mafias cutting the revenue is concerned, we really need to think how much revenue can be saved. I am doubtful if these rogue elements will cease to exist."
Former Minister Amrinder Raja Warring tried to check unauthorised transport by raiding their buses on roads. He estimated that Punjab was losing Rs 2 crore per day from buses alone and in four years it had lost about Rs 5,200 crore.
Whistle blowers have also been alleging a deep nexus because regional transport authorities which have fixed the time-table of buses as per the interests of private transporters." We are witnessing a change in political leadership, but what are they going to do with bureaucracy sunk deep in corruption? If Mann asks about loss of revenue in different departments, will these bureaucrats portray an honest picture? I do not think so, he said.
Warring suggested that the new AAP government could form time- bound committees of independent and honest experts who could navigate it through the crisis. Similarly, the loss of revenue may be checked if communities are involved.
"There are several types of meetings that can be made online. Tapping black economy is another thing for which measures can be taken too. The government can take some administrative reforms immediately, but increasing income is altogether a different ball game that requires long-term planning. For initial days, AAP too will be running the government on debt," he added.
Dr Paramjit Singh, assistant professor of economics at Panjab University, Chandigarh, told NewsClick that new government must take a class-based approach to resolve the current crisis. "Many states governments are under debt and this can be partially attributed to the Centre's denial to give them their dues. The government now needs to understand where it should guide its resources - in non-developmental activities as well as developmental activities?"  he said, adding that "paying power subsidies and other benefits, such as monthly income of Rs 1,000 to every woman above the age of 18, are non-developmental activities."
He said the government should not stop its expenditure on developmental activities, like health and education. AAP has announced its expenditure budget but did not reveal revenue budget. "They have announced that they will provide free electricity up to 12 hours to farmers. The government should understand that rural Punjab is divided among different classes. A marginalised farmer owning 2 acres will not have a tubewell connection, whereas a farmer with 50 acre may have five tubewell connections. He is rich. Why should he get free electricity?" he said, adding that the government should put a rider about usage so that it is used efficiently.
The state's power subsidy bill is expected to be Rs 10,621 crore during current financial year.
Chief Minister Mann will also need to deal with the drug menace affecting 3% of the youth population. SAD leaders have been maintaining that Punjab remains on the edge of the Golden Crescent -- Iran, Afghanistan, Pakistan and India -- which produce 90% of the world's opium and the route is used for smuggling opium and cocaine into western countries.
In the 1980s, opium was smuggled from Afghanistan through Iran and Balkan countries. Smugglers also used the Central Asia and Yugoslavia route to transport it. However, disintegration of the Soviet Union disturbed this route. The Taliban who came to power in Afghanistan encouraged production of poppy and smuggled it into Pakistan. Later, it would travel to India via Punjab and transported to the rest of the world from Bombay.
Ghuman, who has conducted a study on  'Dynamics of Drug Addiction and Abuse in North West India: Social, Economic and Political Implications' along with Jatinder Singh and Gurinder Kaur, argued that the nexus of politicians, police officials and drug smugglers had made it impossible to take any action against the culprits.
"Our study found that cocaine was made in the heart of Amritsar and a DSP (Deputy Superintendent of Police) was taking bribe for facilitating it. What did they (authorities) do to curb local production and distribution?" he added.
The study maintained that common drugs consumed by addicts include heroin, afeem, bhukki, bhang and pharmaceutical drugs like tramadol and buprenorphine. The four types of drugs together account for a lion's share of drug consumption. The usage of heroin is quite significant.
Significantly, 10% of the addicts started taking drugs before the age of 14 years. Another 65% started taking drugs between the age group of 15-20 years. Further 18% started taking drugs between the age group of 21-25 years. This comes to 93%. The first intoxicant taken was a mainly a hard drug, the study found.
Ghuman said the outgoing party (Congress) and AAP must understand that the people of Punjab are in no mood to tolerate mishandling of the state, which has "cost us dearly!"
Get the latest reports & analysis with people's perspective on Protests, movements & deep analytical videos, discussions of the current affairs in your Telegram app. Subscribe to NewsClick's Telegram channel & get Real-Time updates on stories, as they get published on our website.
Subscribe Newsclick On Telegram