Punjab: Farmers Organisations to Protest Centre's Letter on Wheat MSP on April 18
Move to reduce procurement on the pretext of quality, is nothing but "penalising" farmers for weather variations, said farmer leaders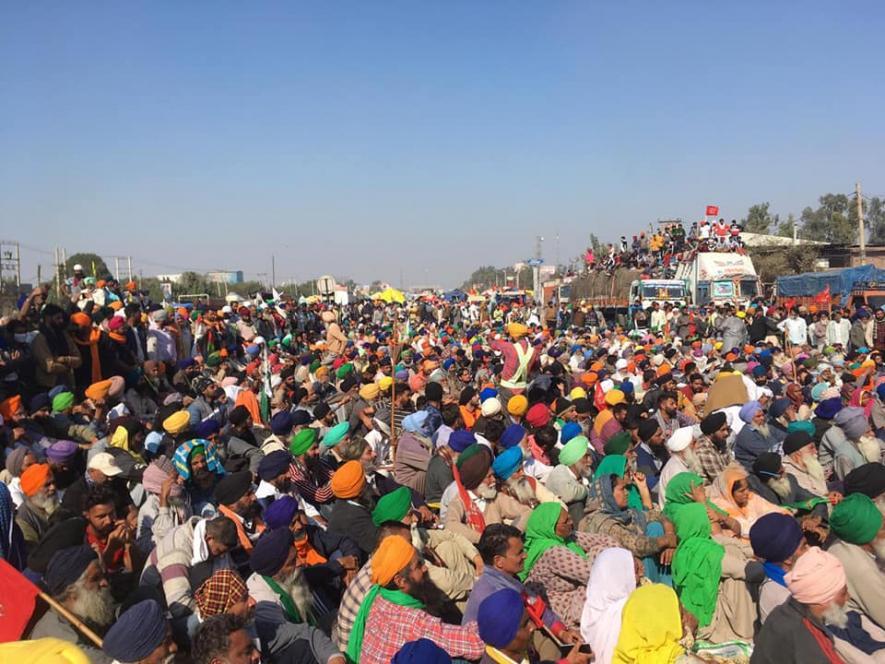 New Delhi: Lashing out at the letter issued by Ministry of Consumer Affairs, Food and Public Distribution proposing a cut into minimum support price (MSP) of wheat up to Rs 31.87 per quintal, farmers organisations in Punjab said that it depicts "insensitivity" towards those who have already lost produce owing to unseasonal rains and hailstorms.
The letter, issued by Joint Secretary Rajinder Kumar, reads:  "The limit of shrivelled and broken grains in the entire state of Punjab and Chandigarh (UT) is being relaxed upto 18 percent against existing limit of 6 percent under uniform specifications with 1/4th of one full value cut for every additional relaxation of 2 percent or part thereof. The state government has to deduct imposed value cut from the minimum support price of wheat.i.e. Rs 2125 per quintal…further value cut of Rs 31.87 per quintal will be deducted on wheat having shrivelled and broken grains above 16 percent and upto 18 percent."
The letter further added that the "limit of lustre loss wheat containing upto 10 percent affected kernels will be purchased without any value cut and above 10 percent and upto 80 percent will be purchased with 1/4th of full value cut on flat basis in the entire state of Punjab and Chandigarh (UT)."
Reacting to the letter, farmers organisations were angry that the Centre was "penalising farmers for natural calamities like unseasonal rains and hailstorms beyond their control."
Jagmohan Singh, secretary, Bharatiya Kisan Union (Dakaunda), told NewsClick that farmers in the state were expecting 15% increase in yield but unseasonal rains and hailstorms from March 18 and afterward had decimated the crops. "Currently, there is 35% loss in yield. Thus, this decision is akin to rubbing salt on our wounds," said.
Baljeet Singh Grewal, secretary, All India Kisan Sabha (AIKS), Punjab, said that Centre should have announced a special package for North Indian states because unseasonal rains have affected all states and Punjab was no exception.
"The Centre needs to understand that we have already faced losses in terms of grains as well as fodder. We used to get 22 quintals per acre but currently only 12 quintals of produce could be yielded. We did not know about this order until the farmers complained that they got less money for produce this time," he said.
Grewal added that the current residual of crops was not suitable for fodder, hence they would have to spend on buying fodder, too. "The only relief for us is that private traders are paying us prices as per MSP because there is still a demand for wheat due to Ukraine-Russia war," he added.
Terming the Centre's letter as a "revenge" and "penalising of farmers after humiliating defeat over the three farm laws, Grewal said: "The farmers will choose to sell produce to private traders and it will weaken mandis, which will lose out on taxes."
He said all farmers unions in Punjab had decided to oppose this move and will congregate at 20 places on April 18 to oppose it.
Officials at the Punjab Agriculture University, however, maintain that figures regarding total production estimates will be clearer by the evening of April 17. The officials are expecting production of 16 million tonnes of wheat against the earlier estimates of 17.2 million tonnes. The state produced 14.8 tonnes of wheat last year.
The move is also being opposed by Samyukta Kisan Morcha (SKM), a collective of farmers organisations which spearheaded historic struggle for revoking three controversial farm laws at the borders of Delhi.
Terming the Centre's letter as "cheating the farmers", SKM said: "It is well known that the quality of crops suffered this season due to climate change and untimely rains. However, the government is now trying to penalise the farmers for this natural calamity by reducing the purchase price for grains through a value cut upto ₹ 31.87 per quintal."
In a statement, it said the government's decision to reduce the procurement price of wheat on the pretext of quality as nothing but an "excuse to cheat the farmers and deprive them of their rightful dues."
"Earlier, the Government used ceilings on quantity to reduce the procurement. Now the Government is trying to reduce the procurement under the excuse of quality, which is entirely unjustified. These anti-farmer policies are clearly a vendetta against the farmers for the historic farmers' movement which led to the PM having to bow down before the will of people," the statement read.
SKM said it would not tolerate any reduction in procurement on the grounds of quality, as quality variations due to climate change were not farmers' fault. The farmers' collective urged the Centre to withdraw the circular on price cut immediately and "do full procurement at MSP as in the previous years."
Get the latest reports & analysis with people's perspective on Protests, movements & deep analytical videos, discussions of the current affairs in your Telegram app. Subscribe to NewsClick's Telegram channel & get Real-Time updates on stories, as they get published on our website.
Subscribe Newsclick On Telegram