Punjab Flood Crisis Linked to Decades of Hollow Promises to People
After years of making employment contractual or short-term, the Punjab government simply does not have sufficient manpower to handle this disaster.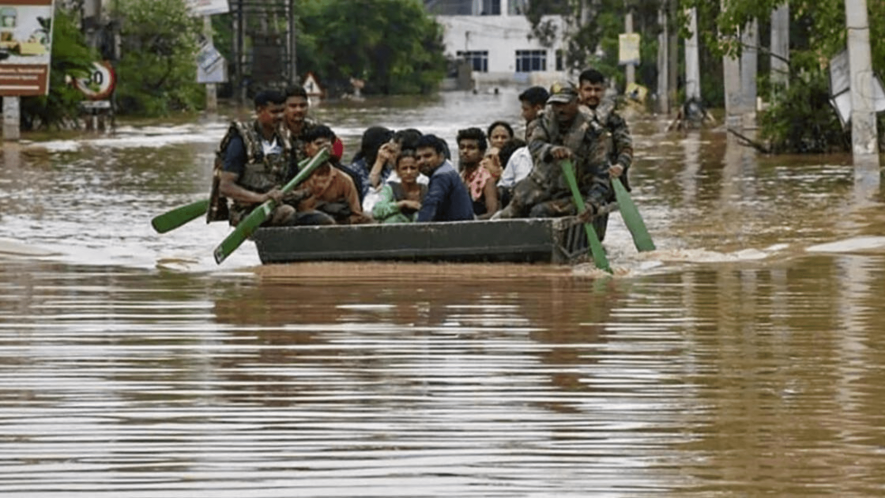 Army personnel during a flood relief and rescue operation in the Haryana, Punjab Chandigarh after flood-like sitituation in these areas following heavy monsoon rains. Image Courtesy: PTI
The people of Punjab will remember the rains this year for a long time, just like those aged fifty and above in the State recall 1988 for the heavy rains or even 1955, memories of which have been passed on to the younger generation. Indeed, it may have rained more heavily in earlier years, but 2023 definitely sets a landmark in terms of flooding in the State.
According to The Tribune newspaper, between 1 July and 29 July, the rainfall in Punjab was 52% higher than normal. In neighbouring Himachal Pradesh, the rain was 80% above normal. Even Haryana experienced 63% more rain. Even though the extent of rainfall was lower in Punjab than in its neighbouring States, the unprecedented fury of floods it faced spared few districts. The loss of lives, properties and crops was enormous.
Punjab experienced deficit rainfall in August, but nine districts are still seriously flood-affected. Most of the damage is a result of heavy rains and flooding in Himachal Pradesh, from where several prominent and small rivers enter Punjab, especially the Ghaggar, Satluj, Beas and Ravi. There are also many seasonal brooks, known as choe, which would flood during the rainy season but were dammed. Occasionally, during heavy rainfall in the hilly areas, some of these received flood waters.
As a result of all these conditions, Punjab is blessed with water resources but sometimes faces flood havoc. However, the fact that floods now cause more destruction than in earlier times raises issues concerning the people and the government of Punjab. A lot has already been written on how lopsided development in the country has disturbed the ecological balance. But we must highlight issues rarely discussed, which bear significance too.
First, we must talk about the people of Punjab, but without beating the same old bush of praising them for certain abilities. Remember—all humans work hard to survive, and the Punjabis are no exception to this rule. Punjab's economy is dominated by agriculture, and most people are connected with it directly or indirectly. Agricultural production provides the essential dynamic to Punjab's economy in a situation of low industrial base.
More than 60% of the people in Punjab live in villages, though not all are engaged in agriculture. The Green Revolution phenomenon of high agricultural productivity due to hybrid seeds, chemical fertilisers and irrigation led to an unprecedented process of extensive land use. More and more land was brought under cultivation, a process that covered all of Punjab. Villagers living along the major rivers started operating the river command area, where the construction of dams reduced the probability and possibility of flooding.
In some districts of Punjab, which had seasonal brooks flowing through them, dams encouraged peasants to encroach on the land. As a result, with few exceptions, the number and size of village ponds began to shrink due to the encroachments.
Urban development did not lag in encroaching upon water reservoirs and waterways. Kahn Singh Nabha's Mahan Kosh, written in the first half of the twentieth century, refers to many lakes in Amritsar. At this moment, Amritsar hardly has any traces left of those lakes. The same story repeated in all cities where encroachments occurred systematically. What is left of cities, not only in Punjab but in India, is concrete jungles that have blocked waterways, encroached upon lakes and reduced to a minimum the space for rainwater seepage.
It is essential to turn to the government and politics of Punjab in this context. Over the first two decades of the century, the State had governments and political parties in power that contributed to the decline in the development process. Two things are essential to mention here: First, the employment process, in which retiring employees would be replaced through fresh recruitment, was virtually stopped. New employment terms emerged, such as contractual, outsourced and temporary staff hired on fixed salaries. Almost all staff—teachers in schools, colleges, and universities, clerks, safai karamcharis, bus drivers, conductors, and across government departments—is now employed under these categories and with such terms and conditions.
Second, there was a significant setback to the continuous process of development and strengthening of infrastructure. The political parties that rose to power did little at the ground level to ensure upkeep. For example, irrigation canal water stopped reaching the farms at the tail-end years ago. Despite lip service to farmers, nothing practical was done to care for the agrarian sector.
At the same time, high-level corruption siphoned off money from the rural development projects allotted to the State. This is evident from the fact that the government of India has blocked the release of thousands of crores of rupees for rural development to Punjab because no proof of utilisation of earlier grants released to the Punjab government has been forthcoming.
The present Aam Aadmi Party (AAP) government is making a visible attempt to do what the earlier governments did not do in these areas—but it is too late to have an effect in a crisis.
All these factors contributed to the worsening flood situation in Punjab, and we must understand this. To begin with, consider the Southern part of Punjab, which has semi-arid land with limited underground water resources. With the arrival of canal irrigation, even this land turned fertile. The Ghaggar River passes through this region and has been notorious for floods for a long time. Still, its flood waters also would bring alluvial soil along, giving fields fertility. In response, most farmers would breach the embankments by drilling pipes through them. Over time, the embankments weakened. So, when the heavy floods came, they were breached at various spots.
And there were places where the flooded rivers first reclaimed their natural pathways and then breached the embankments. We thus have a crisis on our hands, but its disastrous effects might have been far less if the embankments had been protected.
Indeed, with the help of central agencies, the Punjab government has been trying its best to resolve the situation. But the point is that the Punjab government simply does not have sufficient manpower to handle this disaster. It is common sense that if your employees have no job security, benefits, or pension to sustain their families after retirement or death—why would they stake their lives to work for the State?
The positive aspect of Punjab society, which is hardly emulated in the rest of the country, is that the flood-affected people never had to purchase the required essentials at inflated rates. They were provided with all the necessary materials for a dignified existence free of cost. It is not only the gurdwaras, government agencies and voluntary organisations but the people themselves who volunteered to help flood victims.
The situation in 2023 seemed to replicate what Punjab's people did during the farmer movement in 2020-21. They rose to each others' aid in July and now again in August. Unfortunately, the media focus is on the political leaders visiting the flooded areas and meeting people. Only AAP leaders visited the flood-affected zones in July, while the Opposition parties kept criticising it.
This time, all parties seem engaged in flood relief work. So, there is not much public criticism of the government in the media. It is very evident that the floods are a result of unprecedented rainfall in neighbouring Himachal Pradesh. But such wisdom should have dawned earlier. After the flood, there would be plenty of time to introspect Punjab and India's development model.
The author was a professor of sociology at Guru Nanak Dev University, Amritsar, and former president of the Indian Sociological Society. The views are personal.
Get the latest reports & analysis with people's perspective on Protests, movements & deep analytical videos, discussions of the current affairs in your Telegram app. Subscribe to NewsClick's Telegram channel & get Real-Time updates on stories, as they get published on our website.
Subscribe Newsclick On Telegram