Queer Rights are Human Rights, say Students at 'Pride March' in Delhi University
The march, organised by SFI, called for all marginalised communities to join hands to fight for their rights.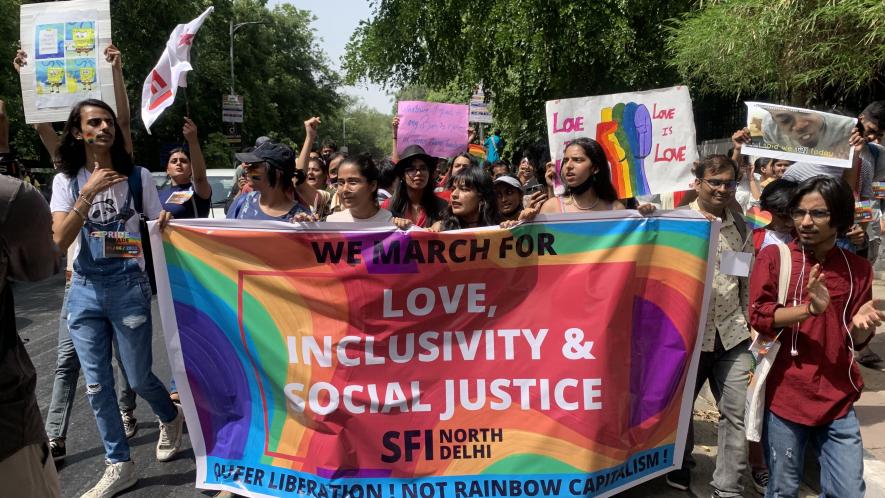 New Delhi; There were songs, and there was assertion that "we will love who we want." Powerful slogans like 'Love is Love' and 'Queer will not live in fear' were heard at the 'Pride Parade' at Arts Faculty in Delhi University, organised by the Students Federation of India (SFI) on Wednesday.
June 1 marks the beginning of 'pride month' observed in honour of the Stonewall Uprising in 1969 in New York when gay and lesbian rights activists protested for a week to oppose systemic oppression of queer communities. Till 1966, it was illegal to serve alcohol to gay persons in public bars in the New York State. Similarly, homosexuality was considered an offence. In 1969, Seymour Pine, a deputy inspector raided Stonewall Bar in New York City to detain gay persons. The raid created a huge uproar among people, who protested over a week demanding queer rights. The protests are known to be a watershed moment in the movement to reclaim rights of the queer community.
On Wednesday, participants in the 'pride march' said queer communities in India were facing a double assault as the "politics of masculinity" had tightened its grip over the country in previous few years, coupled with predatory market forces "commoditising their feelings."
Holding a placard reading 'We are queer, we would not live in fear', Komal, a student at Delhi School of Journalism said students from all genders had joined hands to assert that it was their freedom to choose their partners and societies and governments cannot intervene in the private lives of citizens.
Talking to NewsClick, Komal said: "When we see the politics of masculinity around us, it becomes amply clear that they only want to see us in terms of men and women establishing relations on predetermined lines. If you conduct yourselves other than this, you are labelled as "wrong" and in need for "correction". Nature made us this way. History suggests that gay and lesbian communities have always been there. They did not appear all of a sudden. These communities have always been oppressed and the present day Right wing politics wants to continue with it. Through this march, we are saying that this is not acceptable." She said the veil around morality would come down soon as people in the leadership position were expressing their orientation more clearly now.
Uttara, Komal's batchmate, said the feelings of the queer communities are being commoditised and people need to understand the difference between "queer liberation and rainbow capitalism."
"It's pride month and you will find all multinational brands offering discounts and coupons as if they really support the queer communities. Whereas they just want to add more capital in their coffers and this is just a means to make more profit."
Uttara said: "If these brands really support queer communities in their struggle, they can extend support in any month, not necessarily June! If you are an ally in this struggle, be with us throughout." She said educational institutions and communities also need to be more responsive. "Wherever you go, you will find toilets for men and women. Did you find toilets for transgender communities? Similarly, if a same sex couple is married, can they find living space for themselves in a homophobic society?" she added.
Jessica and Rati, students of humanities at Miranda House, the struggle for rights of queer communities begins at home and ignorance around the issue had complicated situation.
After the culmination of the march, Rati shared the example of her friend who had to leave her family to live a life of her choice. "It takes a lot of courage to accept your identity in front of your parents. Even when they approach their families, parents often link it with honour. Some may ask you to get cured as if it is some illness. So, the struggle is onerous. The most healing thing that one can do is to accept as they are," she said.
However, Jessica identified the issue as "humanitarian" and emphasised that queer rights are human rights. "In the end, we are all humans and everybody has rights. This should sum up the case," she added.
Azeez, a student of Jamia Millia Islamia, who came to participate in the parade, told NewsClick that it was becoming necessary for all movements to come together to put up a fight against "oppressive politics" that is hell bent on imposing a universal character on its citizens.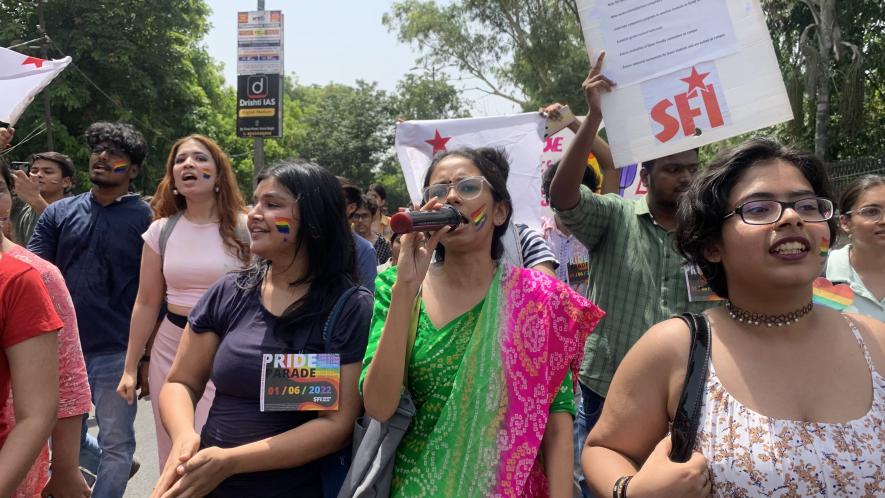 "We must realise that inclusivity cannot be limited to one community alone. A movement for dalit liberation, queer liberation or movement against Islamophobia, each has its own significance. Intersectionality among movements is a must. The best form of feminism is intersectional feminism, where we also consider other factors, such as class. You have to see it from the prism of class, be it a movement for environmental justice, queer and dalit liberation. So, when we talk about oppression of Muslims, we are not only asking for liberation of Muslims from brahminical oppression but also liberation for Pasmanda Muslims from Ashraf Muslims. If we remove class, we may not achieve the desired yield," he said.
The parade also saw participation from Jawaharlal Lal Nehru University. Aishe Ghosh, president, JNU Students Union, said love cannot be determined by the choices given by our societies. It has to be personal.
"We believe that love cannot be bound in prefixed structures. Societies are evolving and the people from sexually marginalised communities are expressing themselves confidently about their choices. It is possible that a man may love another man or a woman loves another woman. It is for societies to accept this. The understanding of love is often biased. Matrimonial advertisements in national dailies compel you to think in a particular social, cultural and economic way."
Ghosh said through this march, students wanted to convey that "we need to accept these communities as they are. Universities are places to learn. Through this march, the students will learn that having a different sexual orientation is not a taboo. Second, we also wanted to talk about safety. When we talk about safety, it is often limited to safety of girl students. What about the safety of students of all genders. Why do we not  have gender -neutral toilets?" she added.
Get the latest reports & analysis with people's perspective on Protests, movements & deep analytical videos, discussions of the current affairs in your Telegram app. Subscribe to NewsClick's Telegram channel & get Real-Time updates on stories, as they get published on our website.
Subscribe Newsclick On Telegram