Questions Abound on Govt's New Notification on Citizenship for Non-Muslim Refugees in 5 States
While CAA rules are yet to be framed, the Centre has opened a window for non-Muslim minorities from Afghanistan, Bangladesh and Pakistan residing in 13 districts to apply for citizenship.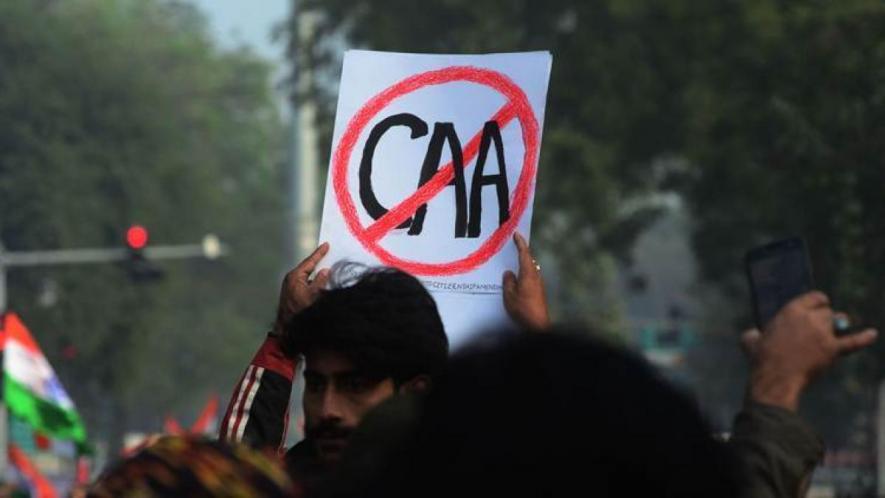 Representational Image. Image Courtesy: The Indian Express
The Central government has empowered authorities of five states to invite applications for citizenship on the lines of provisions based on religion, as chalked out in the contentious Citizenship Amendment Act 2019 (CAA), which had sparked massive protests across the country. With rules under the CAA still not framed or notified, this move has raised many eyebrows.
On May 28, the Union Ministry of Home Affairs (MHA) issued a Gazette notification under the 2009 rules of the Citizenship Act, 1955, asking non-Muslims belonging to Afghanistan, Bangladesh and Pakistan and residing in 13 districts of Gujarat, Rajasthan, Chhattisgarh, Haryana and Punjab to apply for Indian citizenship.
Read Also: Give Online Applications for Indian Citizenship Under CAA: MHA
"In exercise of powers conferred under Section 16 of the Citizenship Act, 1955 (57 of 1955), the central government hereby directs that powers exercisable by it for registration as citizen of India under Section 5, or for grant of certificate of naturalisation under section 6 of the Citizenship Act 1955 in respect of any person belonging to a
minority community in Afghanistan, Bangladesh and Pakistan namely, Hindus, Sikhs, Buddhists, Jains, Parsis and Christians, residing in the districts mentioned and the states mentioned below....," the notification said.
The district magistrates and home secretaries of these five states have been delegated the power by the MHA to receive and process the applications of these refugees for two years. The applications would have to be made online.
This has created confusion and outrage for bearing resemblance to the Citizenship Amendment Act 2019 (CAA), which aims to grant citizenship to these very six religious communities from the three neighbouring countries. However, the Act cannot be implemented yet as the rules under the law have not been notified. Incidentally, over hundred petitions over the law, most challenging the constitutional validity of CAA, have been pending with the Supreme Court for well over a year.
Communist Party of India (Marxist) general secretary Sitaram Yechury drew connection of the latest order with the CAA and called the move "subterfuge".  On the other side, RTI activist Saket Gokhale has issued a notice to MHA, asking it to explain how only non-Muslim refugees have been invited to apply for citizenship under Sections 5 and 6 of Citizenship Act, 1955, which do not mention anything about religion.
"Rules for CAA haven't yet been notified so it doesn't apply," his notice to MHA said. "Therefore, the specific provision in the aforementioned gazette notification empowering the relevant authorities for inviting applications for citizenship ONLY from minority communities i.e. Hindus, Sikhs, Buddhists, Jains, Parsis and Christians, is not only bad in law but is also a clear violation of Article 25 of the Constitution of India," the notice stated.
Speaking with NewsClick, Gokhale said: "Generally, the power to approve citizenship lies with the Foreigner Division of the Home Ministry. This notification is not just inviting applications, but mainly empowering the local authorities to decide on these applications. Now, for example, a Hindu refugee living in one of these districts can apply for citizenship to the Collector but he would not be granted citizenship under the CAA as the rules under the law have not yet been notified."
Explaining why he raised issue with the latest notification, Gokhale said: "If the government is not granting citizenship under CAA, then they should not have mentioned religious minorities from the three countries. They could have just said that district collectors are now empowered to take applications from refugees. The bone of contention is that only these specific communities have been mentioned in the notification, everyone except for Muslims."
Questionable Move?
Criticising the government's new notification, the Joint Forum against NRC (National Register of Citizens), a common platform of various people's organisations in West Bengal, has written to the Home Ministry.
"The Ministry can delegate only such powers, which the Ministry itself can exercise as per law. The power to grant citizenship to persons belonging to 'minority community in Afghanistan, Bangladesh and Pakistan, namely, Hindus, Sikhs, Buddhists, Jains, Parsis and Christians' has not yet accrued to the Union Home Ministry, because the Rules under the Citizenship Amendment Act, 2019 have not been notified yet," the forum's letter said.
Prasenjit Bose, convener of the Joint Forum against NRC, who filed a petition at the Supreme Court challenging the constitutional validity of the law, condemned the notification seeking the citizenship applications based on religion, as the constitutionality of the CAA was still sub-judice.
Bose told Newsclick that his petition, like many others, has not only challenged the CAA but also sought quashing of similar gazette notifications issued by the MHA in 2016 and 2018 seeking citizenship applications from non-Muslim migrants from Bangladesh, Pakistan and Afghanistan..
The latest notification is not directly connected to the CAA and it does not mention the law as well. This scope of applications is extended to minorities from the three nations who fulfil all conditions applicable to any foreign citizen seeking citizenship by naturalisation after a minimum of 11 years of residency in India, according to news agency, PTI. Under the CAA, the period for this category was reduced to five years.
However, as per the Citizenship Act 1955, citizenship is granted in India by birth, descent, registration and naturalisation and subsequent amendments to the law have also not mentioned religion as a criterion. Even in subsequent amendments to the 1955 Act, religion never played a role. It was only in the 2019 amendment that religion came to play a key part as the law aimed to grant citizenship to six non-Muslim communities from three Muslim majority countries -- Bangladesh, Pakistan and Afghanistan.
Speaking with Newsclick about the MHA's gazette notification,  Faizan Mustafa, a legal scholar and Vice-Chancellor of NALSAR University of Law in Hyderabad, said: "This power of Home Ministry has also been delegated earlier to facilitate giving of citizenship to refugees after 1965 and 1971 Indo-Pak wars. But at that time, neither the provision of ineligibility of illegal migrants was there, nor was it said that if people belonging to certain religions entered illegally into India, they would be eligible for citizenship. So, the criticism to the extent that ideally the government should first come up with the rules under the CAA first, is right."
The fresh notification grants power to Collectors of Morbi, Rajkot, Patan and Vadodara in Gujarat; Durg and Balodabazar in Chhattisgarh; Jalore, Udaipur, Pali, Barmer and Sirohi in Rajasthan ; Faridabad in Haryana and Jalandhar in Punjab. Besides, the Home Secretaries of Haryana and Punjab can exercise this power in the states, except the district of Faridabad in Haryana and Jalandhar in Punjab.
Mustafa further said: "When CAA was debated in Parliament and its rationale was questioned, the government said that these (Bangladesh, Pakistan, Afghanistan) were Muslim majority countries where religious minorities were facing persecution. In CAA itself, this crucial expression 'religious persecution' was missing. So, once the rules are notified, those will have to include religious persecution. Now, we are using CAA in certain districts without proof of religious persecution."
Mustafa added: "It is also because proof of religious persecution is difficult and each individual has to show that he/she was persecuted and family members were persecuted as well. You cannot say, for example, that all Christians in Pakistan are persecuted."
The Centre's argument of 'religious persecution' has been countered in the past one and a half years by many legal and constitutional experts, including Mustafa, as it 'conveniently' ignores persecuted communities like Shia and Ahmadiyya Muslims in Pakistan; Hazaras, Tajiks and Uzbeks in Afghanistan and atheists in Bangladesh.
The Citizenship Amendment Bill was first introduced in 2016 by Prime Minister Narendra Modi-led National Democratic Alliance government, but was referred to a Joint Parliamentary Committee. It was tabled again in 2019 and eventually passed in both Houses of Parliament amid massive protests across India. However, as the CAA was an election promise of the Bharatiya Janata Party that came to power in 2014, the groundwork for it was being done since 2015, said petitioner Bose.
THE GROUNDWORK
Bose was referring to the fact that the BJP-led government in September 2015 amended the Passport (Entry into India) Rules, 1950, and the Foreigners Order, 1948, to exempt "persons belonging to minority communities in Bangladesh and Pakistan, namely, Hindus, Sikhs, Buddhists, Jains, Parsis and Christians who were compelled to seek shelter in India due to religious persecution or fear of religious persecution and entered into India on or before the 31st December, 2014" without valid documents or with valid documents which later expired.
Later, in 2016, Afghanistan was also added to this exemption. The amendments were criticised for being "sudden" and ambiguous on their relationship to the granting of citizenship.
These amendments were later used in the CAA 2019 to extend protection to these six religious communities of the three said countries from being categorised as 'illegal migrants' while fast-tracking their citizenship applications. The Citizenship Act, 1955, defines an 'illegal migrant' through two categories of persons -- first, any foreigner who enters India without a valid passport or any other travel document and second, one who enters India with valid passport
or any other travel document but remains in India beyond the permitted period of time.
"The 2015 and 2016 executive orders (that amended the Passport and Foreigners rules) said that proceeding against the illegal migrants belonging to the six communities will come to a halt. Otherwise, as per law, there have to be proceedings against them, such as deportation and expungement. But till CAA became a law, it was not possible to give them citizenship because our laws say illegal migrants cannot become citizens," said Mustafa.
He added that "the CAA is being challenged on the ground that the law is not colour-blind, that is to say it discriminates solely based on religion."
This very circumventing of the illegal migration provision for the non-Muslim groups by the CAA has been challenged by a number of petitions before the Supreme Court. For instance, Bose argues in his petition in this regard that "it is apparent that CAA is violative of Article 14 and Article 21, in that it uses religion as a dominant or the only criteria. That as a consequence of CAA, the non-Muslim residents who illegally migrated from Afghanistan, Pakistan and Bangladesh will be able to apply for citizenship through registration and naturalisation," and adds that "Similarly placed Muslim residents, irrespective of how persecuted they are, will continue to be barred".
Get the latest reports & analysis with people's perspective on Protests, movements & deep analytical videos, discussions of the current affairs in your Telegram app. Subscribe to NewsClick's Telegram channel & get Real-Time updates on stories, as they get published on our website.
Subscribe Newsclick On Telegram