Raging Pandemic and Unreliable Monsoon: The Unending Sorrow of the Homeless
According to the Census 2011 the country has more than 1.7 million homeless people, among whom 938,384 live in urban areas. However, the number of homeless persons remains grossly under-documented till date.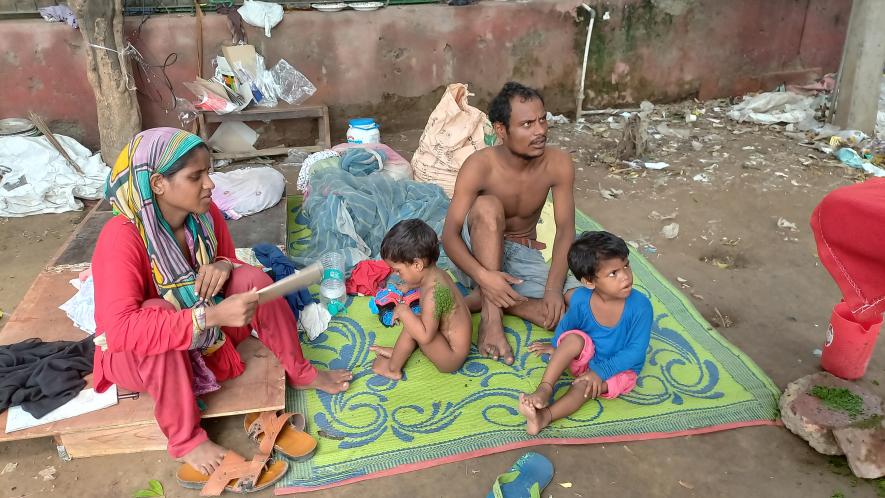 Sultana and her husband, Sheikh Mofizul, are still struggling to come to terms with the death of their newborn. There is a lot to deal with – the loss of livelihood, death of a 13-day-old child, the deteriorating health of their two other children, the lack of two square meals a day and, most importantly, a roof over their heads.
When severe rainfall struck the capital in July, their newborn got sick. "The rain was torrential... He got a fever. By morning, he was dead," says Sultana, a blank look on her face. Next to her, her two-year-old son wailed from the pain caused by blisters. 
Grinding neem leaves to tend to his son's blisters, Mofizul says, "It was July 13... It has not been a month since we lost our child. We do not have money to purchase medicines for our other children. What else can we do aside from trying this to give him some relief?" Mofizul could not manage to pay the daily rent of Rs 400 for the battery auto-rickshaw that he used to ferry passengers in during the lockdown. "There were no passengers then. And now, there is no way for us to earn money."      
Lodged in old Delhi's Urdu Park, Sultana and Mofizul are among thousands of homeless people in the national capital, and in the country, who suffer year after year from abject poverty and the government's lack of an action plan for them during the monsoon. The raging COVID-19 pandemic and the subsequent loss of livelihood has left them more vulnerable this year. There is no comprehensive data on the number of homeless persons who lost their lives during the monsoons in the country.  
Access to clean drinking water and toilets remain the other biggest challenges among the people living in the streets. 
Dr. Alok Aggarwal, head of paediatrics at the Delhi-government-run Lal Bahadur Shastri Hospital, sayschildren living in the open are susceptible to skin infections during the monsoon. In the absence of hygienic conditions and a lack of access to safe drinking water, they are likely to be vulnerable to loose motions and diarrhoea. "Cases of malnutrition would be another major challenge when it comes to homeless children if they do not meet adequate nutrition levels and are exposed to unhygienic surroundings," he says.
According to the Census 2011 the country has more than 1.7 million homeless people, among whom 938,384 live in urban areas. However, the number of homeless persons remains grossly under-documented till date. Advocacy group Housing and Land Rights Network (HLRN) pointed out that independent estimates show the total number of homeless persons in India is around 2.3 million. Civil society organisations say there are around two lakh homeless persons in Delhi alone.   
"If we earn, we get to eat. If we do not earn, we do not get food," says Sultana, who made a living by picking up rags. The family has now been pushed further to the margins – they rely on begging for food.      
A recent rapid assessment survey conducted by HLRN in Delhi to gauge the impact of the second wave of COVID-19 showed that 9% of those living outdoors were unable to eat a single meal daily during the lockdown this year, and 58% of them were able to secure one meal a day. Over 91% of the respondents did not have any work or income during the lockdown, it says.
Left to Fend for Themselves
"I have lived in the streets all my life. But Corona (COVID-19) has made life much more difficult. Our situation has not changed over the years; the police keep harassing us," says Shayari, around 45 years of age, who lives in the streets of Moti Bagh in south Delhi. She sells balloons and flowers at traffic lights in Delhi.     
Around 10 families who have taken refuge in Urdu Park for years now describe an almost cat and mouse game with the municipal corporation everyday. 
The families have to pack up their belongings and move to the streets when corporation officials come to the spot. The monsoon magnifies their troubles – no place to hang their wet clothes, officials dousing their makeshift earthen chulhas with water and negotiating the stagnant rainwater.  
"I am nine months pregnant. It is such an effort to pack up all our staff when the officials come to evict us from the spot. The police call us encroachers. Where do we go?" asks Gulafsha.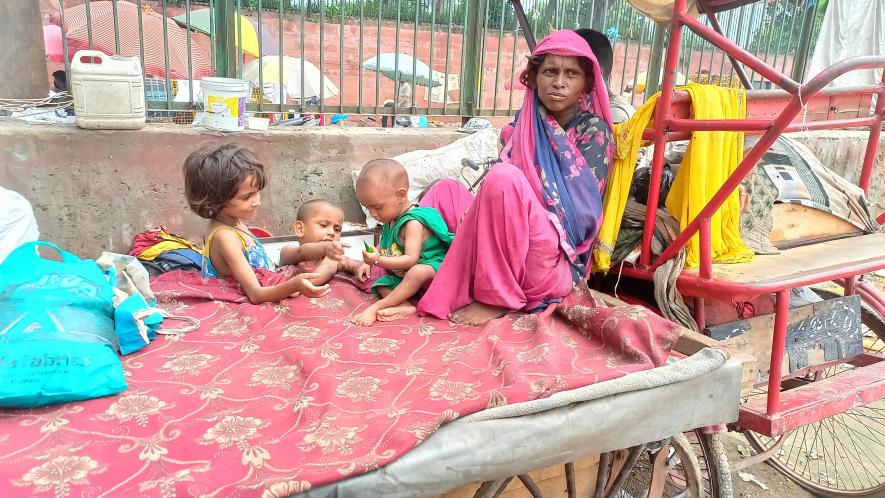 Ruby, who lives with her children and a differently-abled husband, expressed her frustration on having to move around all their essential items for a few hours. "Even the officials know we will come back to this spot in a few hours. What is the point of these visits? Imagine a frail person like me having to move so many things by myself," says Ruby.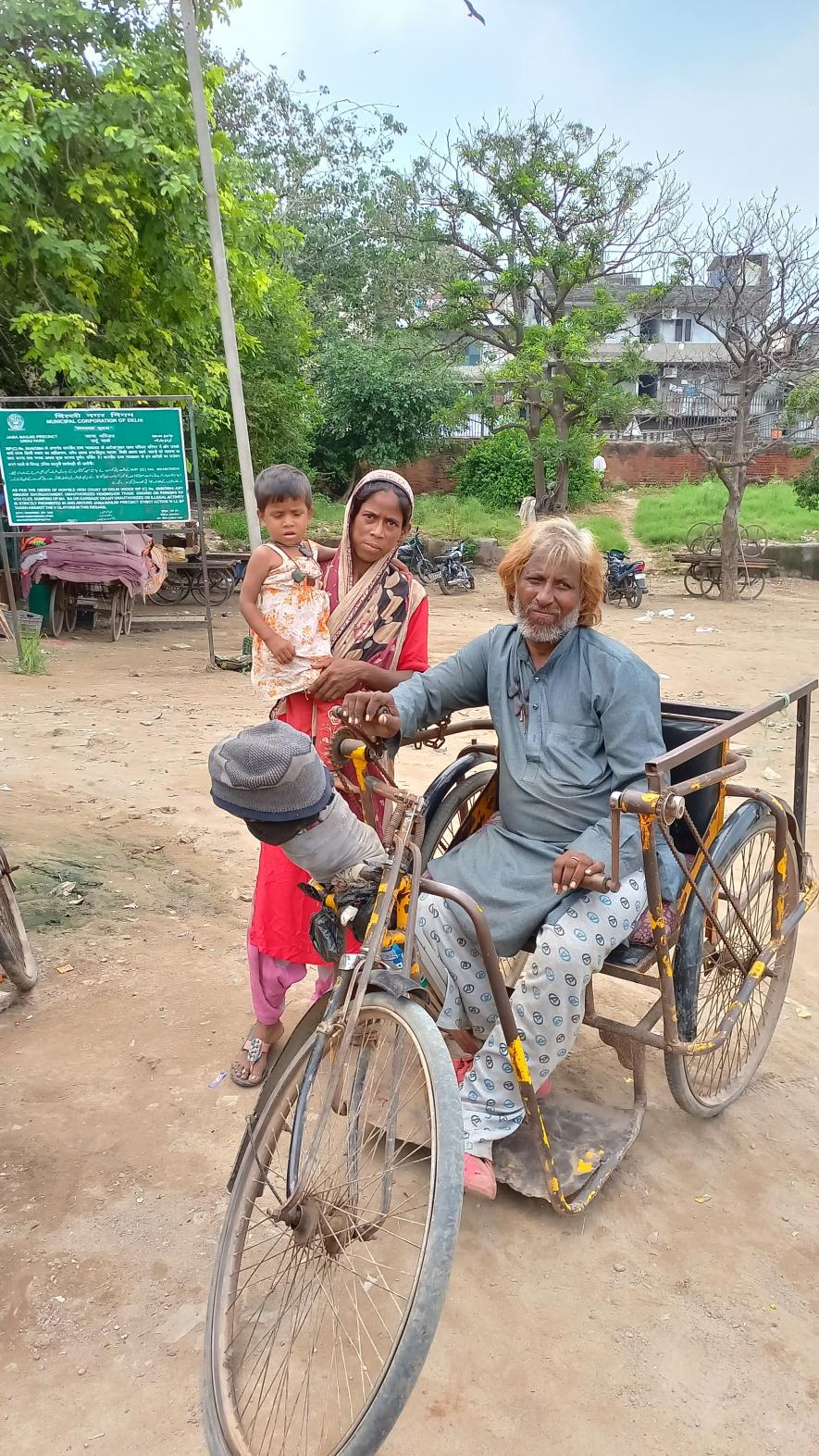 Ashok Pandey, programme coordinator, HLRN says that the state should aim to preserve the dignity of the homeless persons. "It is unfortunate that there is no respite for the homeless persons even during the pandemic. There is a need for coordination of state agencies to provide basic amenities and hygienic living conditions to the families living in streets during this time," says Pandey. 
While there is a lack of adequate shelter homes in the capital to house persons living in the streets, the way ahead is not just institutionalising people, Pandey points out. 
"Shelter homes are an interim solution. There is an immediate need for the government to issue rental vouchers so that homeless families can lead normal lives," he says. There are 209 shelter homes run by the Delhi Urban Shelter Improvement Board as of now (DUSIB). 
There is a lack of comprehensive policy making around homelessness, says Sunil Kumar Aledia, executive director, Centre for Holistic Development. "The government does draw up some plans to tackle the challenges that the homeless population faces during the summer and winter months. When it comes to the monsoons there is no basic plan in place. There is no accountability of any of the agencies regarding lives lost or severe inconveniences faced by people. Our field experiences show both children and elderly suffer from extreme health consequences due to staying in the open during this season," says Aledia.  
Bipin Rai, member, DUSIB, says there are no clear plans for the monsoon, as Delhi does not have a prolonged monsoon. "Unlike Mumbai which has harsh monsoon, Delhi only has infrequent rain. In addition to the existing shelter homes, we make additional arrangements in summer and winter to house people living in the streets," he adds. 
Notably, Delhi received record rainfall of 507 mm in July – over 140% the normal measure. This was its second-highest rainfall received ever, according to the Indian Meteorological Department (IMD).    
Cycle of Poverty 
Gudiya was certain that her children would never miss out on an education, despite them living in poverty. Both she and her husband – a safai karamchari and a rickshaw puller respectively – lost their sources of income during the first wave of the pandemic. "Of my five kids, the younger ones keep falling sick after getting drenched in the rain. I also encourage the two children who go to classes run by an NGO to go beg at the temple on Saturdays. We have no money to eat or buy medicines," says Gudiya, who lives on the footpath near Kali Mandir in Connaught Place. 
According to an analysis by UNICEF and Save the Children, the number of children living in multi-dimensional poverty has increased to around 1.2 billion globally since COVID-19 hit. This would translate to a 15% rise in the number of children living in deprivation in low and middle-income countries, it said. This would also mean that an increasing number of children would be struggling to go to schools.  
The despair of an uncertain future is palpable in 12-year-old Fatima's voice. "I loved school, and Hindi. I thought I will be a Hindi teacher when I grow up. I do not think it would be possible anymore," says Fatima.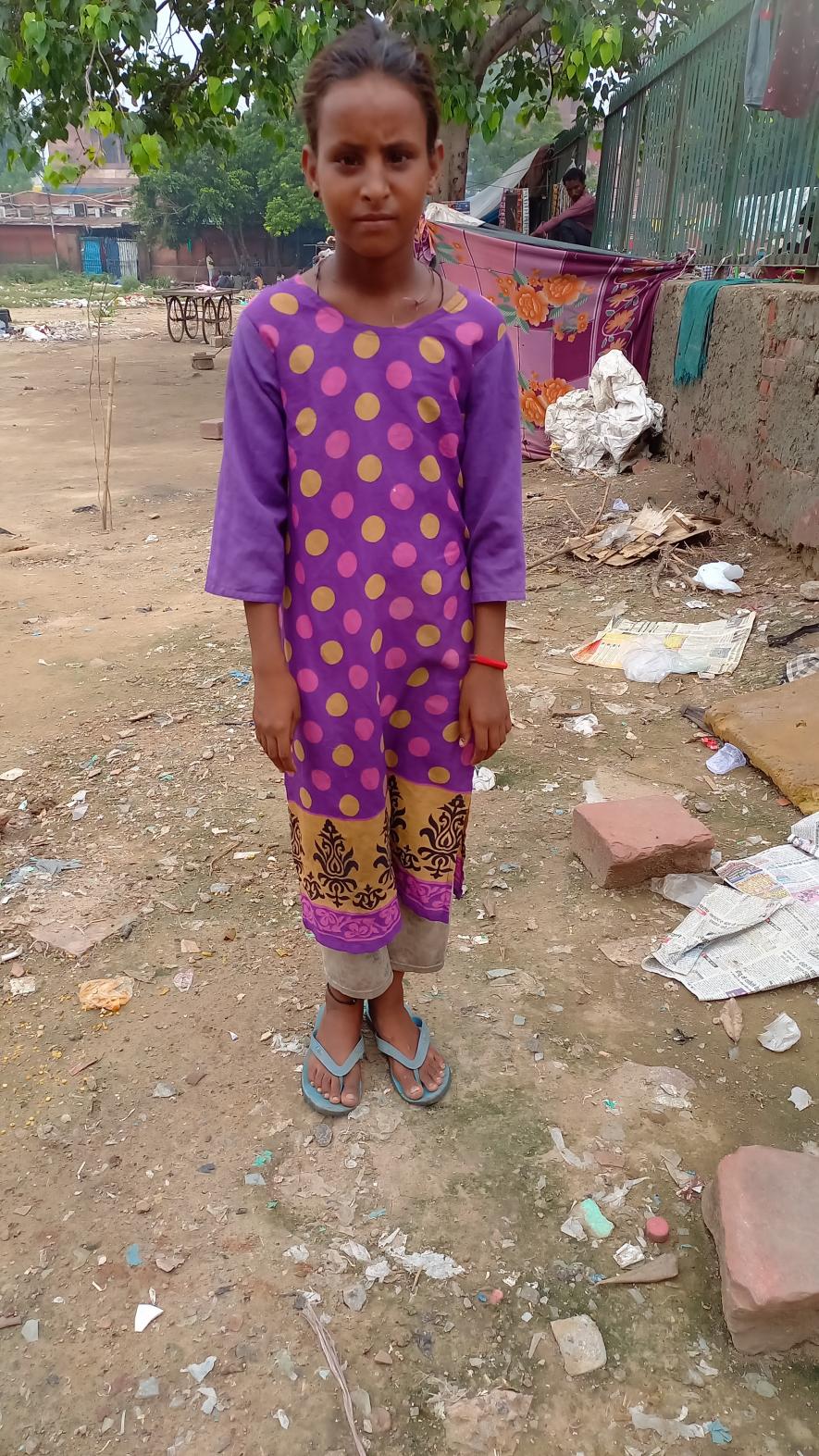 As schools continue to remain shut and the digital divide exposes the fault lines of inequality, children stare at a bleak future and inter-generational poverty.   
"I go to school to pick up worksheets. But the teacher keeps insisting that we bring smartphones. My parents cannot give me one," says Fatima, before rushing to a class conducted by the NGO Salaam Baalak Trust in a shelter home nearby. "I feel bad about not having a phone. I am getting late for my class. I have to learn however I can," she adds. 
P.N. Mishra from Salaam Baalak Trust says children staying in shelter homes and in near-by areas have a better opportunity to access classes run by civil society organisations. "But there is no denying that there will be a significant number of drop-outs among kids who are living on the streets," he says.  
Ankit Vyas, programme coordinator, Inequality and Education, OXFAM says: "Homeless children already suffer from multiple deprivations.Given that they lack access to nutritional food and shelter, the continued delivery of education through online modes will push these children to permanently drop out of the school system." OXFAM's 'The Inequality Virus' report published earlier this year had shown how the 'long disruption of schooling' was a potential risk for doubling the drop-out rate among the poor.
The mental anguish caused by lockdown and the looming uncertainty also continue to bog children down. 
Mohammed Tarique, director, Koshish – a field action project on homelessness and destitution by the Tata Institute of Social Sciences – says the pandemic has impacted  homeless citizens in multiple ways. This ranges from loss of earning opportunities to drying up of meagre savings. "Children saw their parents struggling to arrange meals; they saw them being beaten up or humiliated when they stepped out to look for work; they saw them anxious about the future. This is bound to have an impact on them for a long time," he says. 
Most of the relief interventions are designed in a way that leaves out the destitute. "They continue to suffer silently," says Tarique. 
The writer is an independent journalist based in New Delhi. The views are personal. 
Get the latest reports & analysis with people's perspective on Protests, movements & deep analytical videos, discussions of the current affairs in your Telegram app. Subscribe to NewsClick's Telegram channel & get Real-Time updates on stories, as they get published on our website.
Subscribe Newsclick On Telegram