Is Rahul Gandhi a Hero without a Story?
Bharat Jodo Yatra has drawn public attention, but Opposition still has to challenge core BJP narratives.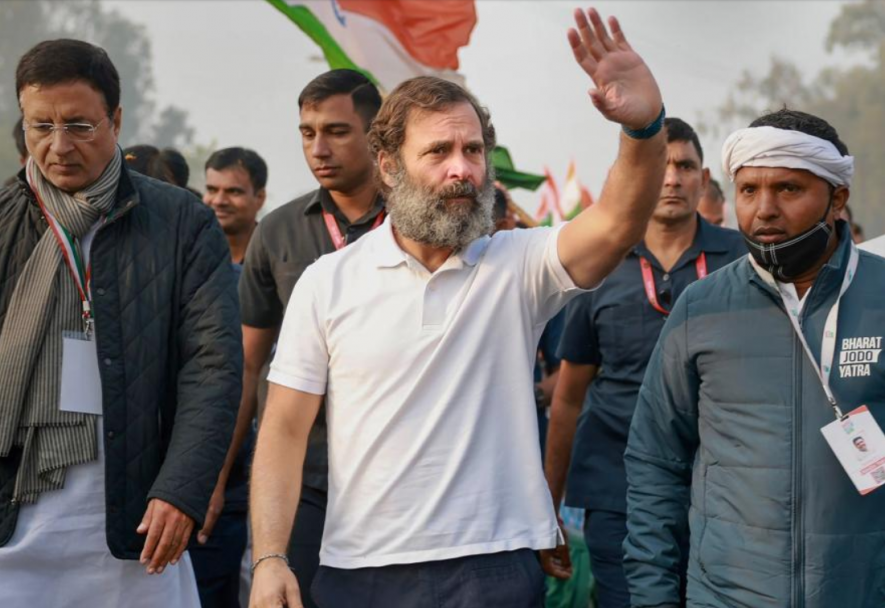 Historian Yuval Noah Harari has made perceptive observations about how humans think and relate to reality. He believes they "think in stories" and "try to make sense of the world by telling stories". He says human beings have a troubled relationship with the truth, and there will never be a society that values truth over power. Similarly, facts, data and graphs cannot replace stories, although stories could be based on facts and evidence. Congress leader Rahul Gandhi's intervention in the President's speech in Parliament on 7 February raises many issues relevant to the public domain—but what is still missing is a story.
Rahul connected the proximity of Prime Minister Narendra Modi and conglomerate Gautam Adani to strongly argue that the Bharatiya Janata Party (BJP), in turn, benefits through secret election bonds. This is a good beginning, considering the sordid days of the failed Rafael deal campaign that rolled out numbers, discrepancies in payments, and the "Chowkidar Chor Hai—the security guard is the thief' slogan. However, all Rahul stated in Parliament still begs the question: Why should the ordinary person on the street bother about Modi's friendship with Adani?
Monopoly and crony capitalism don't seem to make sense for the ordinary man or woman. What will make sense is a story related to the facts, which connects the dots and convinces them it does concern them. The problem of monopoly capitalism is related to the budget cuts in subsidies, the siphoning of taxpayers' money, the reduction of budget allocations to education and health, and the steep cuts in funding to the MG-NREGA. The current regime's survival seems linked to the impoverishment of the majority. But people will harbour doubts about how we can explain the welfarism of the current regime—which is what Modi stressed in his response to Rahul. Modi's strength is his ability to "think in stories" and like the person on the street, making his words relatable. It is this relatability that makes the truth, and not the other way around. In modern societies, the power to create relatability becomes the truth.
One way to gain strength by telling a story is to pre-empt events yet to come. It provides people with a lens to see things. Stories are not merely experiential but also evaluative. They have emotions that teach us how to understand the links between issues and events. Rahul did good to invoke the policy to invest US$ 50 billion to build the world's largest green hydrogen ecosystem [reportedly on hold now]. He ended by saying it meant the project would be "given to Adani". People will watch if this is what actually happens.
But again, the Modi regime has created a positive narrative that India must take pride in having produced a billionaire.
Similarly, the RSS is depicting the Hindenburg report, clubbed with the BBC documentary on Modi, as attacks on India and attempts to privilege China. Rahul and the Opposition need to take these narratives seriously and counter them effectively—not value them in terms of the veracity of their facts and not dismiss them as bizarre and outlandish. Again, Modi has his ear to the ground and changes his pitch accordingly. He might blatantly contradict himself, as with his recent outreach to Muslims, his appeal against the cancel culture's calls to boycott popular movies, and his statesman-like response to the earthquake in Turkey, among others. These might be seen as opportunism, but they might come across as earnestness to common people: as if Modi is reaching out and listening to the mood on the ground. It is one way to counter the mood being created by the Opposition. This factor comes across as sincerity and generates trust, not the other way around. Modi sees trust as an everyday referendum. Those in Opposition cannot set a narrative in stone, but they must pay attention to the micro-level changes to create a more effective counter-narrative.
Many felt exhilarated at the response to the just-concluded Bharat Jodo Yatra. But ask the most ardent supporter of the yatra if it would translate into votes—and they look unsure and sceptical. This uncertainty exists because the yatra has drawn attention without displacing the core narrative of the BJP. It has not yet succeeded in displacing and breaching the consolidated Hindu vote. Dominant narratives have to be breached from within and then replaced with new ones. It cannot be an exclusively external challenge. Rahul and the Opposition cannot succeed unless they challenge Modi and BJP as the exclusive representatives of the Hindus. That can only happen by taking Hindu identity and Hindu anxieties seriously. That is, the strong sense of belonging this identity has provided to people in light of the faceless rise of neoliberalism.
The Opposition also needs to make a meaningful difference between the sense of belonging the Hindu identity provides and the possibility of it being polarised into toxic majoritarianism. Rahul will have to question the BJP's "emotional identification with the Hindus" in asking why migrants who walked thousands of kilometres home during the COVID-19 lockdown do not come across as Hindus for the BJP. Why do Hindus have to be only those who hate protestors in Shaheen Bagh? The Hindu identity must be claimed not through abstract debates between Hindutva and Hinduism but in everyday concreteness. Similarly, Hindu anxieties need to be taken seriously, independent of their potential to become communal. As Rahul has taken a steadfast position against toxic Hindutva, he needs to express strong resentment against toxic minorityism, which can be obscurantist and expansionist.
In a polarised context, this alone will help defend the rightful voices of minorities without inviting Hindu anxieties. Without doing this, his claims to Hinduness through temple-hopping cannot assure the Hindus, even if much of what is happening is a constructed narrative without factual veracity. Anxieties and trauma, whether personal or collective, are rarely restricted to facts. They are complex responses to the condition of precarity.
Finally, fear, being implicated in legal cases, and intimidation and control over the media are undoubtedly playing a role in keeping up Modi's trumped-up image. Rahul has raised a pertinent connection between fear and hatred throughout his yatra. But another connection he needs to think of is between fear and anger. Is it that those living under conditions of fear forget to be angry with the regime? Do they forget to be angry over inflation and unemployment? Fear is killing the space for alternative narratives and forcing people to say, "Jaisa chal raha hai, chalne dijiye—Let things remain as they are." But it is the alternative story that can kill fear. That can only happen by moving beyond party lines and narrow electoral interests. The yatra has made a beginning, but a strong story that will stick with common people has not yet emerged.
The author is an associate professor at the Centre for Political Studies, Jawaharlal Nehru University. The views are personal.
Get the latest reports & analysis with people's perspective on Protests, movements & deep analytical videos, discussions of the current affairs in your Telegram app. Subscribe to NewsClick's Telegram channel & get Real-Time updates on stories, as they get published on our website.
Subscribe Newsclick On Telegram