Rahul Gandhi Never Offended OBCs, BJP Only Wants a Hook in him
Rhetoric is nine-tenths of politics, but the ruling party finds it unacceptable in rivals.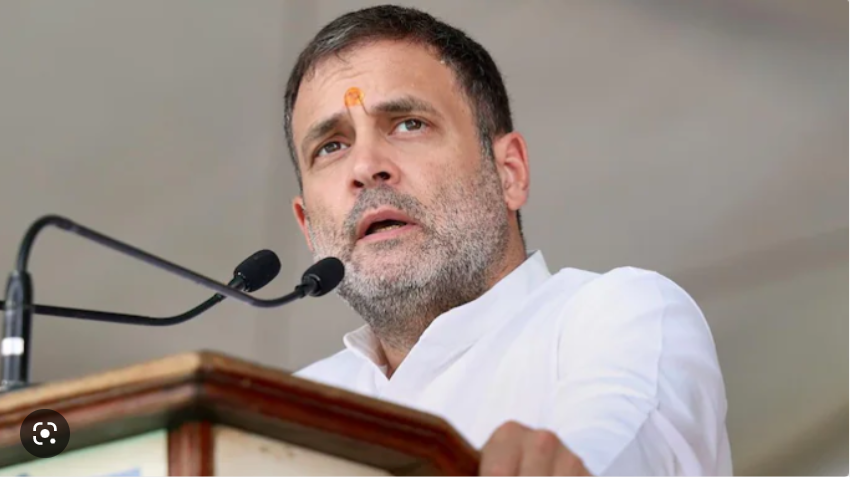 congress leader Rahul Gandhi. Image Courtesy: PTI
American professor of history Timothy Snyder wrote in his 2017 book, On Tyranny: Twenty Lessons from the Twentieth Century, "Tyrants seek the hook on which to hang you. Try not to have hooks." In quite the same way, the Bharatiya Janata Party is eternally vigilant for a hook to hang Congress leader Rahul Gandhi. Its leaders constantly search for anything they can project as Gandhi's misstep. His conviction by a Surat magistrate's court in the defamation case filed against him in 2019 has clearly become part of its carefully-calibrated search for a hook. But even the conviction has not ended the ruling party's campaign. It is now painting Gandhi as someone opposed to the backward classes, based on the same 2019 speech.
The BJP's desperate search for a hook against Gandhi was intensified by his rousing Lok Sabha speech, in which he interrogated Prime Minister Narendra Modi for his alleged nexus with corporate giant Adani Group. Though a significant portion of this speech was deleted from the Lok Sabha record, Gandhi flagged the dangers to Indian democracy on a recent tour to the United Kingdom. He said in a speech in London that India would solve its own problems, for which BJP ministers started demanding his apology in Parliament. They said Gandhi wanted other countries to intervene in Indian affairs, although he said no such thing in London.
For the first time, members of the ruling party disallowed proceedings in Parliament, disturbing the House repeatedly with their allegations against Gandhi. Despite multiple requests for an opportunity to reply to the allegations in the House, the Speaker did not allow Gandhi time.
The moment Gandhi was convicted in the 2019 speech case (filed by Gujarat BJP legislator Purnesh Modi), the party started blaming him for disparaging the Other Backward Classes or OBCs. In the 2019 speech in Karnataka, Gandhi had said: "Why do all of them—these thieves—have Modi, Modi, Modi in their names? Nirav Modi, Lalit Modi, Narendra Modi. And if we search more, many such Modis will come out." This remark got Gandhi convicted, sentenced to two years of imprisonment—the maximum prescribed for criminal defamation—and fined Rs 15,000. Finally, here was the BJP's much-sought-after hook, which also disqualified Gandhi from his Lok Sabha membership.
Gandhi on Defamation Arising out of Political Matters
French political scientist Christophe Jaffrelot wrote recently that Gandhi's disqualification may be a "turning point". He observed, "Opposition leaders are not sentenced to jail for minor crimes like this one in liberal democracies." "India, therefore, is weakening its claim of being the 'mother of democracy' and 'Guru of the world'."
But long before, on 27 November 1909, Mahatma Gandhi commented on a defamation case filed by Lala Lajpat Rai against The Daily Express for some allegations it had levelled against him. The court awarded Rai £50 and costs, and the judge held that since Rai had been banished by [someone of the stature of] Lord [John] Morley, there "must be some reason". It prompted Mahatma Gandhi to observe: "Some of the judge's remarks in this case show that in a political case, it is extremely difficult to get justice from the court."
Is it fair to say that while Rai was denied justice by a British court in the colonial era, today, a BJP MLA can secure a conviction against a rhetorical speech because it is in power?
Khushbu Equated Modi Surname with Corruption in 2018
It is indeed curious that the BJP enlisted Khushbu Sundar, formerly a Congress spokesperson, as a BJP member despite her 2018 tweet that equated the Modi surname with corruption. She had tweeted, among other things, the following sentence: "Let's change the meaning of Modi to corruption... suits better..." This makes the BJP's ongoing campaign based on Gandhi's 2019 speech and conviction, which claims he defamed the backward classes, all the more paradoxical.
It simply means Khushbu's tweet stopped being defamatory because she left the Congress party and joined the BJP, while Gandhi had to face disqualification for using roughly the same words. It can only prove that the BJP has one standard for those who support it but another for its rivals.
Modi Surname is Syncretic
The BJP wilfully forgets that the surname Modi is not a monolith. No one caste, religion or community claims it exclusively, so the question of hurting OBCs does not arise. Hindus, Parsis and Muslims share this family name, and some belong to the Marwari business community, which certainly does not constitute a backward category. As Shyamlal Yadav, Kamal Saiyed and Gopal Kateshiya pointed out in The Indian Express recently, "...there is no community or caste by the name 'Modi' in the central list of OBCs for reservation in jobs and education". HP Modi, Uttar Pradesh governor from 1949 to 1952, was a Parsi, as were Piloo Mody, a prominent Lok Sabha member and president of the erstwhile Swatantra Party, Russi Mody of the Tata Group, and the famous film-maker, actor, and director, Sohrab Modi. Lalit Modi, whom Gandhi mentioned in his 2019 speech, has fled India and does not belong to a caste group categorised in India among backward classes. Industrialist Gujarmal Modi was not from a backward community, nor is Nirav Modi, who has also left India. The late Syed Modi, a national-level badminton player, was a Muslim.
This is why the BJP's campaign claiming Gandhi defamed the OBCs with his remarks on the Modi surname is utterly baseless. All it achieves is rake up identity-based rhetoric and retrospectively justify Gandhi's conviction. It is one with the other fictional narrative that Gandhi sought foreign intervention on Indian soil. Both are falsehoods, but how long they will sustain is the big question. Raising public opinion to counter it is the only way out. The Congress campaign and Opposition parties' and public intellectuals' efforts to counter false narratives offer some hope for Indian democracy.
The author was Officer on Special Duty to President of India KR Narayanan. The views are personal.
Get the latest reports & analysis with people's perspective on Protests, movements & deep analytical videos, discussions of the current affairs in your Telegram app. Subscribe to NewsClick's Telegram channel & get Real-Time updates on stories, as they get published on our website.
Subscribe Newsclick On Telegram