Rajasthan: From Contract Workers to Bonded Labourers, How Samvida Karmis Feel Betrayed
Thousands of men and women protest against the Rajasthan government for not fulfilling the manifesto promise of making contractual workers permanent.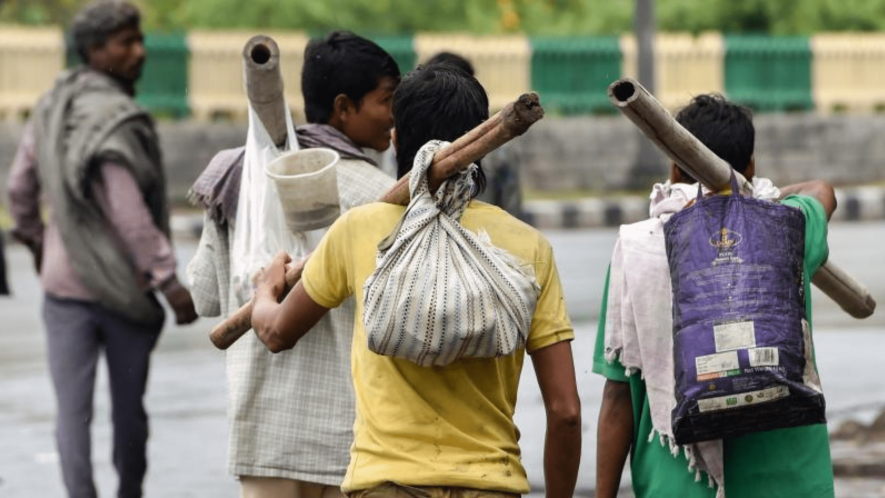 Representational Image. Image Courtesy: PTI
New Delhi: On July 17, contractual workers across Rajasthan gathered outside the Vidhan Sabha in Jaipur to register their protest against non-fulfilment of the government's promise to regularise jobs. The protestors gave an ultimatum of 24 hours, but little did they know that their attempts would fail. 
The protest followed an amendment in rules for Samvida Karmis (contractual workers) in 2022. The demand to regularise their jobs has been long-standing. In 2018, the current regime, led by the Congress, had even mentioned in their election manifesto that they would make contractual jobs permanent. However, in 2022, the government made an amendment to the contractual workers' rule. About 1,10,000 workers were assured of permanent jobs with all the facilities and better. But the workers soon realised that the amendment was not in their favour. They allege that instead they have been slaves to the government for the next five years due the annual contract.
The protest was organised under the banner of Sanyukt Samvida Mukti Morcha, a movement combining all the government departments. The contractual workers basically were from five departments - health, education, urban development, panchayat samiti and minority department. Before the recent protest, all the departments used to fight individual battles for permanent jobs. 
On July 17, while the protestors protested and raised slogans, around 8 p,m, the police allegedly detained two of their leaders, Ramjit Patel and Narendra Choudhary. Followed by this, protestors were allegedly lathi-charged and chased until everybody dispersed. Patel told NewsClick that the police kept them detained until they were sure nobody was coming back to join the protest. 
'Picked up from garbage and thrown into a pit'
In 2008, the Congress regime, with Ashok Gehlot as Chief Minister, had introduced the system of contractual workers in government departments. These workers were paid a meagre salary but were assured of getting a permanent job. 
However, the regime changed, but the contractual workers remain where they were. NewsClick spoke to some computer operators in the medical department who have been working as contractual workers for the past 11 years. They said they were still paid only Rs 8,500 a month. 
The amendment says that this year onward, every contractual worker would now have to sign a five-year bond. Hence, their jobs won't be lost. Their next salary increment, however, would be after nine years from 2023. The workers feel this amounts to being bonded labourers who would have to do the same job as a regular employee for a much lower salary. 
"We do not get any provident fund, bonuses, or even holidays as given to the regular employees. Forget that, we don't even have childcare leave. Our salary is less than half of what is paid to the permanent employees. We have no option but to intensify our protest, " said Patel, who is a contractual teacher.
The workers also feel that the numbers (of contractual employees) stated by the government are not true. Even among those considered contractual, many were left out. When asked who was being left out, Patel said, "What about school cooks and helpers? What about anganwadi workers? Many other such departments have not been counted. If you calculate the actual number of workers, it is over four lakh." 
These workers are not only deprived of all benefits, they are not even paid a daily allowance to help keep their life going.
The most pitiable state is of the approximately 4,000 computer operators in medical departments across districts. Prateek Sharma is a computer operator from Kota. "We had also protested in April, only our department. Our colleagues walked barefoot from Karauli to Jaipur. All of us even went on strike from March 27 to April 3. We submitted letters and appealed a hundred times, but the government just turned a deaf ear towards us," he told NewsClick.
Sharma's financial condition is poor, and he somehow manages to make ends meet with his father helping his family out monetarily. However, the pension that his father gets from his former job will soon come to an end. Therefore, it is really important for him to get a regular job before that to feed his two kids and wife since he's the only breadwinner. 
The mental trauma of these computer operators is greater than the monetary aspect. They feel they are not being given the importance they deserve.
"We are the first to interact with patients whenever they come for a check-up. We are the ones who enter their data and add the names of medicines required for them. We are the backbone and can't afford to make an error," said Sharma. While the operators shoulder such crucial responsibilities, there seems minimal scope for them to land a permanent job. 
Job as difficult as a regular employee
NewsClick spoke with some permanent teachers in the education department, who narrated how contractual teachers in the name of 'guest teachers' were being exploited. 
Mahavir Sihag is a high school teacher based in Jaipur. Although he has a regular job, he supports the Union of Contractual Teachers. 
"Their job is absolutely the same. They do exactly what we do and give the same number of hours, sometimes even more. But the difference between what the government pays us and them is beyond explanation," he told NewsClick. He said some of these teachers had served the same school for over 10 years.
Asked why the government has not been regularising these jobs, Sihag said this was all to save money. He said this helps the government with cost-cutting and also pointed out the unfilled vacancies for teachers across the state.
"The government had started appointing permanent teachers in schools across the state. But soon after the amendment to the contractual worker's policy, they started taking in teachers for a five-year period. In all the new English medium schools, this is how hiring is being done," he added.
With another Assembly election nearing, one more regime has failed to deliver its promise to contractual workers, and the workers have no option but to continue their struggle.
Get the latest reports & analysis with people's perspective on Protests, movements & deep analytical videos, discussions of the current affairs in your Telegram app. Subscribe to NewsClick's Telegram channel & get Real-Time updates on stories, as they get published on our website.
Subscribe Newsclick On Telegram